If you're an astrology influencer or run a related business, creating captivating posts for your followers can be a challenge due to the vastness of the niche. However, it's not impossible! By leveraging your expertise and crafting engaging content, you can pique your audience's interest, spark conversations, and establish yourself as a go-to source for astrology insights and guidance.
Let us help you curate unique posts for your Instagram page that will be informative, creative, and, lastly, not boring! Here are some content ideas for astrology that will impress your followers!
1. Healing with astrology
A lot of people have claimed the healing power of astrology. Healing with astrology is focused on healing the mind and body of people.
The astrological chart can help in understanding various aspects of life, like karmic energies, planetary influence on your life, or understanding yourself, like life, strengths, and weaknesses. You can share personal experiences of how astrology has helped heal their lives.
Vedic practices like mantra chanting and their vibrations, planetary energies, and alignment, or yoga and meditation for healing can be another content idea in this domain. Talk about foods and lifestyles that benefit karmic energies.
2. Talk About Dream Interpretation
The analysis of dreams is integral to astrology. In astrology, predictions are made based on the motion of the planets.
Well, we do not say every dream will have a meaning. Most of the dreams we see are meaningless. As per dream astrology, the soul and unconscious mind leave messages that can be interpreted.
In your Instagram posts, you can talk about what different dreams mean. You can talk about a few dream symbols that play a key role in dream analysis, like your childhood home, death, traveling, accidents, etc.
3. Personal Reflections
Astrology can be a great tool for self-analysis and self-introspection. A lot of people have started heading towards astrology to understand and evaluate their relationships as well.
You cannot solely depend on astrology to fully understand yourself. But it can certainly provide building blocks that help you evaluate and analyze yourself.
Astrology gives people the freedom to question and simultaneously answer who they are. In your content for Instagram, you can write about how astrology helped you better understand yourself.
You can also cover personality and archetype based on the birth chart, which helps people gain a better reflection of themselves. Furthermore, create content that teaches people about their behavior.
4. Famous Astrologers
If your astrology page has all the content we talked about and you are still searching for fresh content, why not create a post that speaks of experts in your domain?
The content idea will cover astrologers who are famous and authentic. This will allow your followers to explore more people in your domain. On the other hand, the experts might revert to you. Lastly, who does not like getting featured?
You can share your views on astrologers. Or you can even schedule an interview with them and add it as a post. The interview can include a discussion of astrology concepts.
5. Famous Astrology Books
Similar to the previous content idea we covered, this is about picking the best astrology books and posting a list of them.
Read a book and post a review of it. Alternatively, you can also create a post covering a snippet from an astrology book you love. This way, you can have multiple posts from your favorite book itself.
You can also collaborate with the authors of the astrology books, which will enhance the engagement of your Instagram page!
6. Cover All the zodiac signs
It is a common belief that astrology is all about signs, but the truth is that astrology is much more than just signs.
You can create detailed posts about sun and moon signs and zodiac signs, along with the element associated with the sign. The best idea for you is to focus on each sign individually.
Alternatively, you can also create a post that talks about one particular aspect of all the signs. With this idea, you will never fall short of content for your astrology page because covering each sign with posts will literally take forever.
Well, we do not suggest your content should always solely focus on signs. Monotony will draw your audience away. But this content idea, integrated with other content ideas, will draw more attention to your page.
Lastly, we all love reading about ourselves, and the fact that we actually relate to what our star signs tell us about ourselves just makes it easier!
7. Add fun with memes
Social media has brought entertainment into our lives. And without a doubt, we can say that you must have laughed at some post that casually describes your star or zodiac sign.
With every sign, the fun content is unlimited. So make your content spicy and entertain your audience by posting memes that are related to astrology! Followers that laugh are followers you make happy!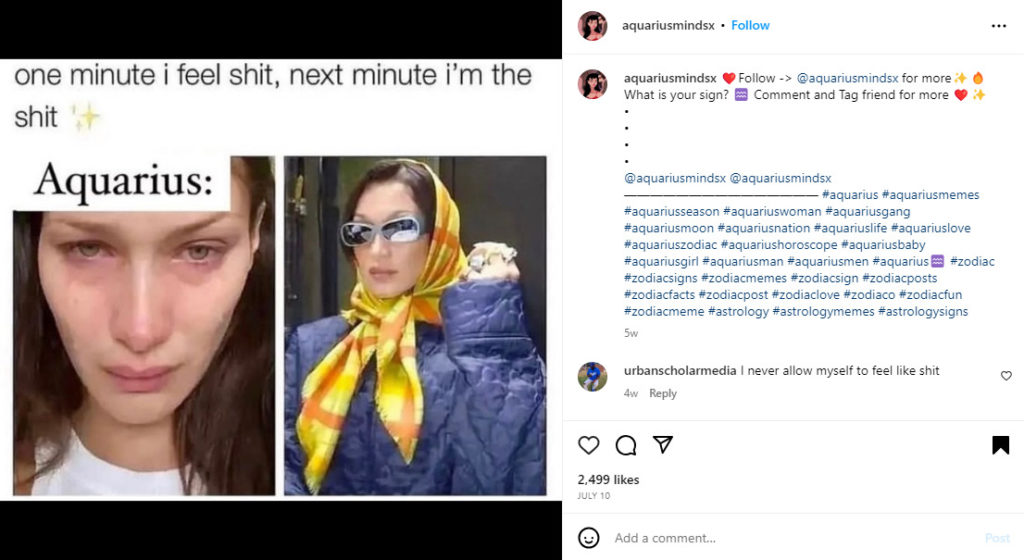 8. Omens and Astrology
It is believed that omens are used to foretell the future using specific elements. For Instagram content ideas in astrology, you can talk about different omens that are popular in astrology.
You can also cover superstitions, myths, and some of the real-life experiences where omens were true. You can also explain the significance and reasons why Omens should be trusted.
Cover different types of good and bad omens and increase awareness among your followers regarding them. The astrological aspect gives importance to eclipses when omens are concerned.
You can grab the attention of your audience by explaining this astrological phenomenon. Omens are also a part of horoscope analysis, so here is another content idea for your page!
9. Cover Different Parts of Astrology
Most people are confident about their knowledge of astrology, even if all they know about it is their zodiac signs. Content on your Instagram page can focus on all different aspects of astrology.
To be honest, astrology is wide, so it will be a real challenge to cover everything about it. But starting somewhere is better than nothing!
You can talk about star signs, the effects of the sun and moon, how an eclipse affects your energies or the role of ruling planets. You can also cover interconnected concepts with astrology, like palm reading or numerology.
10. Rule Out the Myths
Myths are everywhere. A lot of people have a very superficial knowledge of astrology, just facilitating the revolving myths and misconceptions related to astrology.
If you have in-depth knowledge of astrology, you can start helping people by providing credible and correct information. For example, many people believe they only have one sign. But there is so much information that we are unaware of that one sign.

Another example is that if you are a Taurus, it means that when the sun was in Taurus, you were born. Did you know it? If you are an expert, the answer will be yes. But a common man wouldn't know this. So, help people learn and find credible information using the content on your page.
11. Love and Relationships
If you are from India, you must already be aware of how serious Indian families are about matching all the stars, planets, and whatnot! This indicates that astrology affects a crucial part of love and relationships.
Make your Instagram content worthy for your audience by appalling a few of the things you know about astrology, which monitors love lives.
12. Take up Real Stories and Case studies
One idea for content, if you are in the astrology niche, is to share real-life stories or case studies involving astrology. We all see a lot of people mindlessly talking about their astrological signs.

Whenever people want to believe a belief, all they look for are facts and proof. Real-life cases and case studies can be an effective way to provide authenticity to astrological beliefs. Additionally, it will allow people to be more confident about it.
Wrapping It Up
Creating post ideas for a niche can get monotonous sometimes. And the worst thing that monotony does is block your mind. For times when you need to relax your brain and still get creative ideas for Instagram posts, we covered it all for you.
We talked about different content ideas for an Instagram page for niche Astrology. With astrology, there can be so many content ideas. You can talk about the basics of astrology in your posts or elaborate on the more difficult topics of astrology.
For your followers to understand authenticity, include real-life experiences and experts from the same domain. It can help you curate content that your target audience will love. With this, we hope the blog helped you and made the formulation of content ideas easier for your page!
You may also like,
Friendship day post ideas for Instagram