Are you looking for Charity Day Post Ideas? The International Day of Non-Profits or Charity is an international day celebrated every year on 5th September. In '12, the auspicious day was declared by the United Nations General Assembly, one of the six principal organs of the UN. The main motto of the International Charity Day is to increase awareness. Also, it is important because it provides a common platform for charity-related programs worldwide for charitable, individual, and volunteer organizations for their own national, local, international, and regional programs.
The day was chosen because 5th September is the death anniversary of Mother Teressa, a legend who loved every living being. It was to honor and remember the sacrifices Mother Teressa made for underprivileged people and kids. She received the prestigious Nobel Peace Prize for the work she did to overcome poverty and distress. In this article, we are going to have a look at twenty Charity Day Post Ideas for Social Media. So, keep reading.
Charity Day post ideas:
1. Share Impact Stories
You might have a lot of inspiring stories of individuals that are associated with your organization. You can create a post where you can describe those stories in which you have helped underprivileged people change his or her lives. Also, you can include information about the challenges of those underprivileged people and what your charity did for them. If you include inspiring stories and your actions, more people will get inspired and be more aware. These small steps will bring out positive changes in the society.
2. Donation Matching
You can arrange Donation Matching so that on World Charity Day, donations will be matched by a big company that can easily sponsor. In this way, gifts and donations will be maximized, and a large number of underprivileged people can get their share. You can share your content on social media so that more and more companies can come up with a sponsorship program.
3. Behind-the-Scenes
Who doesn't love to watch BTS (Behind The Scene)? On Sep 5, one of the Charity Day post ideas could be posting BTS of your work. For example, you can post how your organization works. You can, basically, show a peek into your charity's day-to-day operations.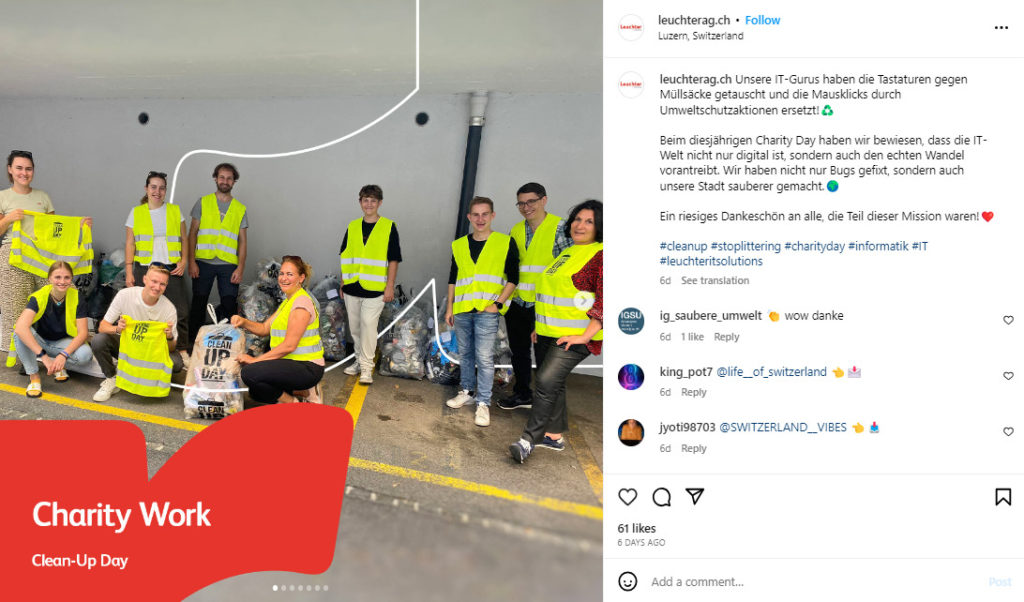 Also, you can share photos or videos of the hard-working staff members who might be working, preparing supplies, or planning projects to show the effort behind your mission.
4. Volunteer Spotlight
Other Charity Day post ideas can be introducing volunteers, selecting a face of the organization, or sharing stories of the volunteers. In Non-profits, volunteers work very hard to complete heavy targets of the organization. You can share their inspiring stories so that they can influence more people.
5. Virtual Fundraising Event
Non-profits often invite bigger and flourishing personalities who can inspire more people to help the poor. You can organize an event where you can invite a great personality. After planning and plotting, you can announce the event on your social media platform. When you start the live-streaming, viewers will be able to watch guest speakers and performances and donate in real-time. Make sure you provide a schedule to build anticipation to the max.
6. Interactive Quizzes
Quizzes can be one of the best Charity Day post ideas. You can create a quiz related to your cause. For example, "Test Your Knowledge About Hunger" or "What's Your Environmental Impact?" The foremost advantage of such activities will be education. People will get to know a lot from these quizzes, and it will engage them in a better way.
7. Throwback Thursday
You can also share candid photos or videos from your charity's past. You can make an amazing edit and post it. People will find it influencing and will watch it till the end, which increases the watch time of your content. In those videos or photos, you can explain their significance and how they paved the way for your current initiatives.
8. Call to Action
You can craft convincing messages encouraging followers to take a specific action. For example, they can share a post to spread awareness or donate to make a difference. Ask them to tag you or your organization so that you can mention them in your stories. All this will encourage your followers to donate and participate in international charity day.
9. Mini Documentaries
One of the common Charity Day Post Ideas is to create short documentaries featuring beneficiaries of your charity's work. You can try to make it so heart-felt that people can feel goosebumps. You can highlight all your faces of the documentary's stories, struggles, and the transformation they have experienced. It will help in growing awareness among social media users.
10. Interactive Polls
In the stories or in your broadcast channels, you can create polls in which you can ask them which aspect of your charity's work they're most passionate about. It can help you understand your followers' interests which can directly help you in your social media handles' growth. Also, if you get feedback from your followers, you can use it in your charity's growth which will help those underprivileged citizens dependent on you.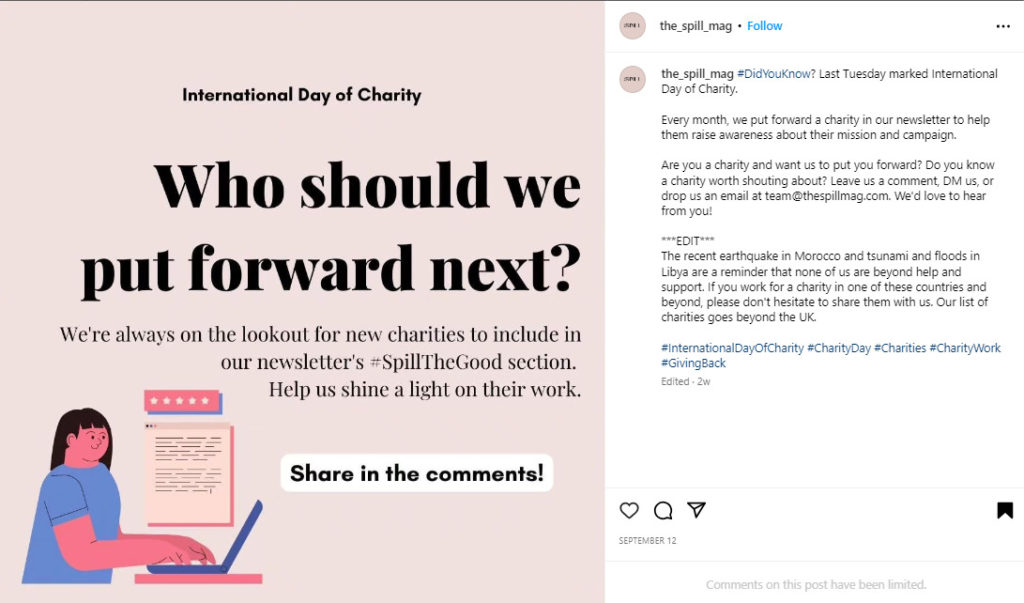 11. Educational Graphics
You can create visually appealing graphics that explain key facts and figures about the issue you address. It will help your followers to understand the problem, which is quite huge, and the solutions from your charity's point of view. It can be educational content, and if you raise issues related to charity and underprivileged citizens on Charity Day, people will become more aware.
12. Collaboration with Influencers
To gain more on the important day, you can collaborate with influencers. The ones with a lot of account reach can help you spread your content for a good cause. It will help your account to reach a huge number of users, and your account will reach its target audience. You can choose a relevant influencer for collaboration. Furthermore, describe why they're passionate about your cause and how their followers can get interested.
13. Inspirational Quotes
You can search for really inspiring quotes because quotes are something that certainly makes an impact on people's minds in fewer words. Nowadays, people stay on video when there is music, so add background music. After that, add quotes related to giving, kindness, and making a difference. The quotes you selected can be connected to your charity's mission. This will help you encourage your followers to share their thoughts in the comments or DMs.
14. Social Media Challenges
On Instagram or other popular social media platforms, challenges are quite demanding. You can start a challenge by describing the rules and everything on your handle. In such challenges, participants can complete a specific action to raise funds for their cause. These funds can be used in the development of the ones dependent on your organization. Also, you can encourage the participants to share their efforts.
15. Employee Spotlight
Your nonprofit organization might have several inspiring faces who work all day to contribute to your organization's mission. You can feature those staff members with their photos and their inspiring roles. Also, you can add their personal stories. You can take their short interview in which they will explain why they joined your charity and what drives them to make a difference.
16. Live Q&A Session
After so many Charity Day post ideas, now is the time to build a small community. You must announce a live session where your team will select the most popular or important questions. After that, they can answer the questions asked by the followers. The questions can be about your charity's work and goals. Also, they can ask you the process as to how can they support your cause.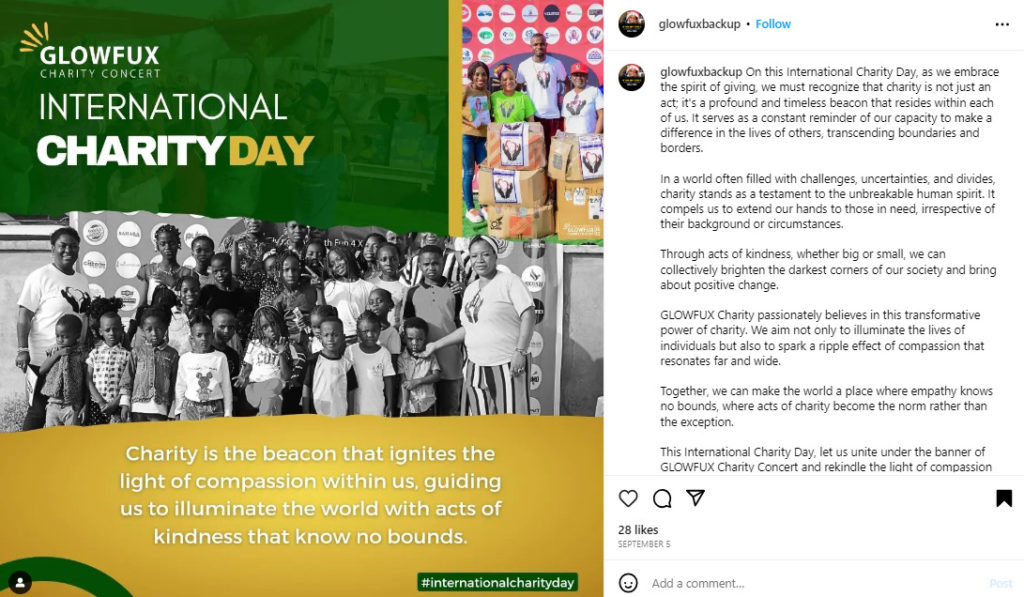 17. Virtual Reality Tour
You can arrange a virtual reality experience for your followers. It can be possible when you show the areas your charity operates in. You can give a tour of your charity areas. You can show the people, the work, and everything in a short video. With these things, people will share your content, and they might show interest in contributing to your charity work.
18. User-Generated Content
When some of your followers or supporters come up with their efforts, ideas, and encouragements, ask them to share their experiences. These followers can share their experiences, the nature of the people in your charity, your motto, and much more in their content. You can their content to show authenticity and engagement. It will certainly inspire others.
19. Infographics
You can create visual representations of key data related to your charity's splendid achievements. Also, you can show the funds raised by your charity. You can explain your plans with the donations and how many goals you meet every month or year. One of the most important things is that your followers should understand your motto, so you must create understandable content that can be easy to understand and share.
20. Thank You Campaign
Now, it's time to show gratitude to your supporters. You can express gratitude to all the donors and the hard-working volunteers. Also, you can thank all the amazing supporters, be it social media followers or the ones working with you on the ground. You can share heart-touching stories of lovely beneficiaries who directly benefited from their contributions.
Wrapping It Up
Charity Day is an amazing chance for your non-profit organization to leverage social media power to raise awareness for a good cause. You must take advantage of the occasion and engage your audience with your content to drive support for your good cause. It can help in building a community that will be helpful in your positive mission. Well, now you have twenty Charity Day post ideas mentioned above for social media. The list will help you create a meaningful and impactful online presence during the International Charity Day.
You may also like,
Social Media Marketing using AI for Dentists
Top AI tools every social media manager should know