Creating some post ideas for St. Patrick's Day is necessary as you plan out your March social media calendar. Holidays are a terrific opportunity to share content with your audience and rejoice with your clients. If it makes sense, you may even utilize the holidays to advertise your goods and services!
One of those holidays where almost every company may make money in some form is St. Patrick's Day. Everyone can celebrate it, even if you're not Irish, at anything from neighborhood pubs to dentist offices. We have created a variety of St. Patrick's Day social media post ideas that we hope will motivate you to dawn your favorite green attire and have a little fun.
Every festival and occasion is a fantastic market opportunity. People enjoy parties, and they also frequently spend extra money on special occasions.
This is why it's a good idea to prepare some specific material for St. Patrick's Day, even if you have little to no ties to Ireland or Irish culture. The Catholic holiday honoring Ireland's patron saint is known as St. Patrick's Day. Although it began as a religious holiday observed mostly in Ireland, it expanded with the Irish diaspora and is now recognized as a day to honor all things Irish in other countries. In this blog, we will be discussing the St. Patrick's day social media posts ideas.
History of St. Patrick's day
The Church didn't institute a feast day honoring Ireland's patron saint until 1631. Due to the fact that St. Patrick's Day comes during Lent, it evolved into a day for Christians to relax from the fasting requirements of the weeks before Easter. By the 1700s, the holiday had begun to evolve in a way that was unmistakably more joyous than its creators had intended.
Irish immigration to the United States had a significant role in the gradual transformation of St. Patrick's Day from a religious holiday to a secular one. The first parade was conducted in 1737 in Boston, which had a sizable Irish community; New York City followed suit 25 years later. In addition to Chicago, whose river has been dyed green since 1962.
St. Patrick's day social media posts ideas
1. St. Patrick's Day party ideas
St. Patrick's Day celebrations are always fun whether or not you are Irish. To get the celebration going, you should certainly have some fun St. Patrick's Day party ideas. You obviously want it to be a memorable day and that your guests have a good time at the celebration.
Giving out special presents after the event is one approach to make the memories last. These St. Patrick's Day activities, party games, menu suggestions, and decorations will wow your visitors. The fact that it's a holiday doesn't need you to spend extravagantly!
2. Creating a tutorial
Another choice is to develop a guide or recipe for a dish, activity, or craft with a St. Patrick's Day theme. There is a ton of space for imagination here. If you're a makeup artist, you may include green eyeshadow in a lesson. You may publish a recipe for a "lucky" green smoothie if you work in the wellness sector.
You may create a brief instructional using Stories, share a finished product photo with instructions in the caption, or produce a fast video to upload to your account.
3. Sharing some fun facts
Do the people you follow and sell to enjoy learning new things? If so, they'll enjoy learning some interesting facts about Ireland and St. Patrick's Day. You can use this occasion to discuss the holiday's history, mythology, and some facts. Create some infographics or simple branded images using the colors and typography of your company. Just make sure you connect the data to your company in some way.
4. Green shakes, mocktails and cocktail ideas
It is not a requirement to be Irish to observe St. Patrick's Day. Just make sure you dress in green. However, it helps to prepare some delectable food, drink something healthy, and learn a few funny jokes if you truly want to celebrate. It could be time to change if you're still drinking cheap beer that contains food coloring. These simple green drinks, which include whiskey, rum, vodka, and more, will not only liven up your festivities but also go great with all of your favorite alcoholic St. Patrick's Day sweets.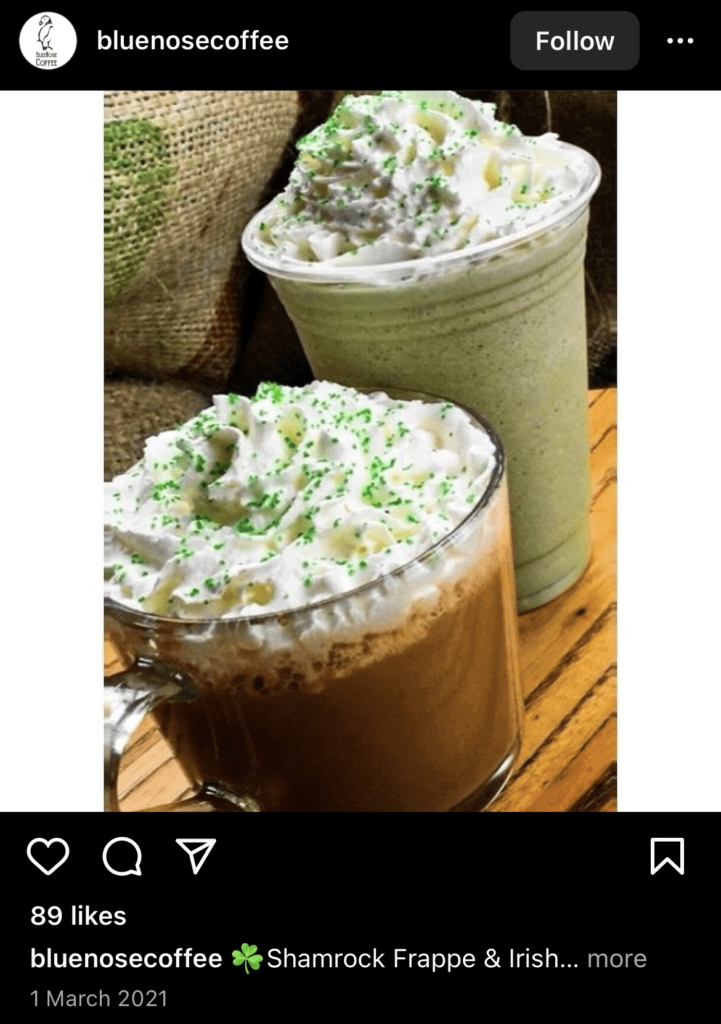 5. Go Green
Here are some simple actions you may do during the day to Go Green and save energy:
When you leave a room, turn out the lights.
As you are brushing your teeth, turn off the water.
Ride a bike, walk, take the bus, or carpool to work.
In your office or outside, is it still a little chilly? Let the sunlight in by opening the blinds. Instead of cranking up the thermostat or putting on the space heater, layer up.
Instead of consuming many disposable water bottles during the day, carry a water bottle with you. Bring a reusable shopping bag with you when you go shopping to avoid using plastic bags. Don't have one? Many stores sell them at an inexpensive price.
6. St. Patrick's Day Parade posts
The parade on Saint Patrick's Day is a method to celebrate the day with joy. Every year, this procession is enthusiastically held in several locations. In North America, the Saint Patrick's Day parade started. Traditional bands, the military, fire brigades, volunteer groups, cultural organizations, philanthropic organizations, etc. are typically among the participants. Today, it is observed as a carnival all around the world.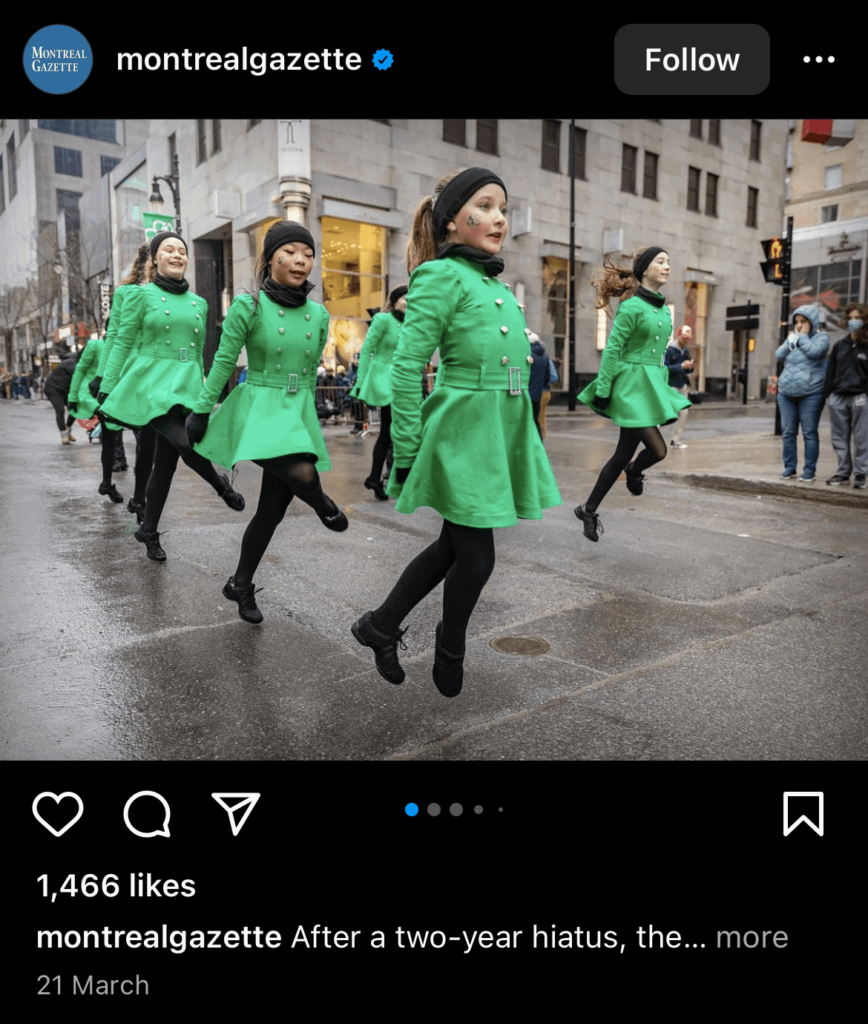 Public parades, traditional music performances, and festivals are all part of the festivities. It is usual to wear green at the feast or the procession since Saint Patrick used the three-leaved shamrock to describe the Holy Trinity. To honor Irish culture and tradition, people dress in green or wear shamrocks.
7. St. Patrick's day memes
Everybody, everything, and even the internet are Irish on St. Patrick's Day. Like Christmas carols in December, Irish drinking tunes resound through pubs. People dress to the nines in their best "Kiss me, I'm Irish" tees and headbands with sparkling four-leaf clover antennas. Facebook feeds are flooded with adorable images of animals in leprechaun costumes. If you still don't have the St. Patrick's Day spirit, make yourself a green cocktail, light up an inflatable Irish bar, turn on "Wild Rover," and browse the internet for St. Patrick's Day memes.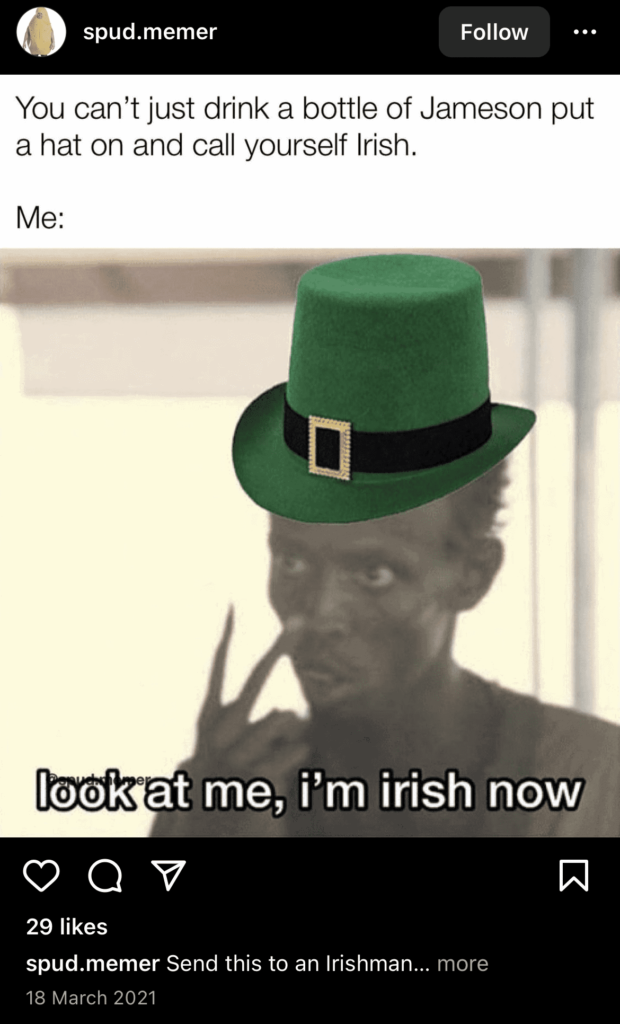 8. Green, Irish, Clover themed bakes, desserts and foods
Enjoy beautiful St. Patrick's Day treats including adorable shamrock cookies, Irish crème cheesecake, and eye-catching rainbow cupcakes to satisfy your sweet taste. Whether lime-infused, minty, or green, each of these St. Patrick's Day meal suggestions ensures a good day.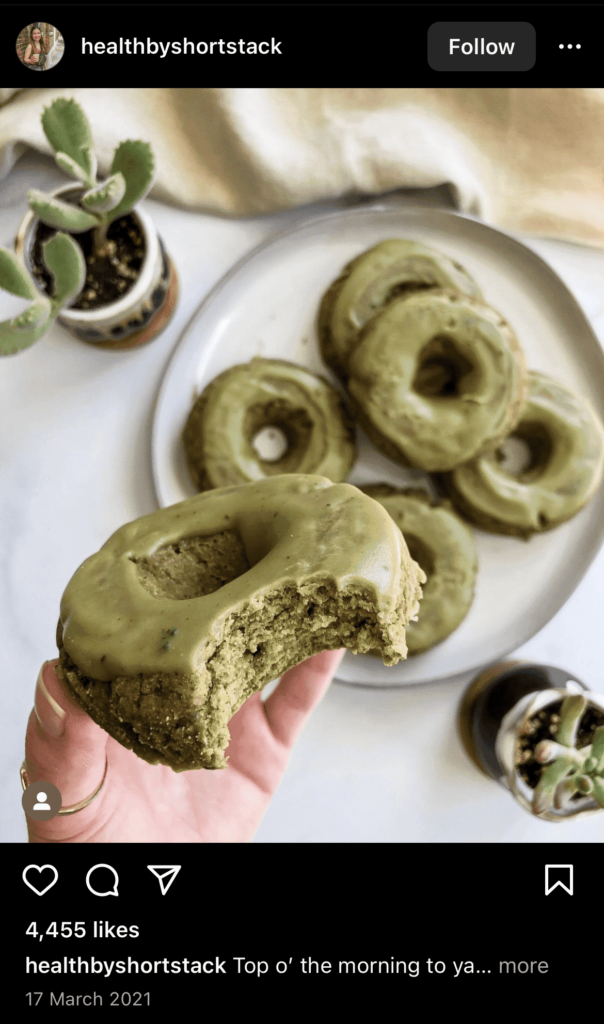 9. Captions for St. Patrick's day social media posts ideas
The following are some of the captions for Social Media Post:
"Wishing you miles and miles of Irish smiles for golden joyous hours," the greeting goes.
"This sends you a wish for every petal on the shamrock: good health, good luck, and happiness for today and every day."
"May hardship follow you everywhere you go, and may your blessings outweigh the shamrocks that sprout."
"You may have Irish luck wherever you go and in all you do!
"Little piece of Irish luck come your way, a song in your heart, and the warm smiles of the ones you love fill your day."
"May good fortune chase you each dawn and night, may your pockets be loaded and your heart be light."
The melody of joyful music and the twang of Irish laughter fill your heart with joy may lasts forever.
"May our friendship's hinges never corrode. And none of our beer ever goes bad."
10. Costumes and Dress up
According to a St. Patrick's Day custom, if you're not wearing green, you'll get a pinch. This year, all you need to do to demonstrate your Irish pride—even if you work from home—is to add a touch of green to your attire.
Wrapping It Up
People are encouraged to get together for parades, parties, and drinks at the local pub on St. Patrick's Day since it is a social holiday. Online St. Patrick's Day celebrations bring people together for quality time spent bonding and having fun even if their friends, family, or coworkers are miles apart. At the end of winter, the holiday is a much-needed pick-me-up, and online celebrations may boost moods and drive away loneliness. So share a post this St. Patrick's day and get your audience engaged.