In the world of TikTok and its viral and engaging videos, you can dabble into a little bit of everything when you want to make a post. Filters, voiceover, and other creative effects are just the beginning here. However, despite being so famous for videos, TikTok is also a creative platform for pictures! You can create a slideshow of them on TikTok.
Yes, you heard that right. Now you can even make your picture posts look engaging and creative by turning them into a slideshow. Slideshows provide users with the ability to produce dynamic, aesthetically appealing information that draws people in. An innovative and entertaining method to display several photographs or movies in a TikTok video is by making a slideshow.
Welcome to this step-by-step guide to learn how you can create a TikTok slideshow. We'll also provide you with some tips and techniques on how to create captivating slideshows and utilize the art of storytelling.
Creating a Slideshow on TikTok
Creating a slideshow can be done using both pictures and videos. Once you have selected the photos or videos you wish to add to your slideshow, you can further make it creative by adding effects, filters, texts, or even music! Here's how to start:
Step 1: Open the TikTok app
Launch the TikTok app on your mobile device.
Step 2: Tap on the "+" button
Tap on the "+" button at the bottom center of the screen to create a new TikTok video.
Step 3: Select photos or videos for your slideshow
Tap the "Upload" button to select the photos or videos you want to include in your slideshow. You can choose multiple files from your device's gallery.
Step 4: Arrange the order of your photos or videos
Once you have selected the files, you can arrange the order in which they will appear in your slideshow. Tap and hold on a file, then drag it to the desired position.
Step 5: Add effects and filters (optional)
TikTok offers a variety of effects and filters that you can apply to your slideshow. Tap on the "Effects" or "Filters" button to explore the available options and choose the ones you like.
Step 6: Set the duration for each slide
By default, TikTok sets the duration for each slide to 3 seconds. If you want to change the duration, tap the "Duration" button and adjust the slider to your desired length.
Step 7: Add text, stickers, or music (optional)
If you want to add text, stickers, or music to your slideshow, you can do so by tapping on the respective buttons and selecting the desired options.
Step 8: Preview and edit your slideshow
Once you have finished customizing your slideshow, tap on the "Next" button to preview your video. If you want to make any further edits, you can do so by tapping on the respective buttons.
Step 9: Post your slideshow
Finally, when you are satisfied with your slideshow, tap on the "Post" button to share it with your TikTok followers. You can also save the video to your device or share it on other social media platforms.
Tips and tricks for creating captivating Slideshows:
Since slideshows on TikTok are a fun way to use pictures instead of videos to captivate your audience, it's important to make sure they're well-crafted. If you're planning on doing something different, you might as well hit every nail and wow your audience with every trick in the book! Here are some pro tips for you to take your slideshows to the next level:
#1 Choosing the Right Content
Select a Theme or Concept:
The foundation of any post, be it a slideshow or a TikTok video, lies in choosing the type of content that resonates with the audience. The trick to do this right is to define your target population well and then update your knowledge of the current trends.
However, that's not enough! It's important that the content you choose also matches your overall theme and style. This will help create a cohesive and visually appealing slideshow. Remember: A mismatch between the creator and the content will only make it difficult for the audience to connect to it.
Use High-Quality Images and Videos
The slideshow you create needs to be attention-grabbing and engaging. Using images that may be pixelated and blurry will only make the audience's experience an unpleasant one. High-resolution images not only show your dedication and professionalism but also end up being a visual feast for your audience!
Incorporate Variety
To avoid making your slideshow monotonous, use a mix and blend of images, videos, and texts. This will help keep your audience engaged and looking for more.
However, it's important that you don't accidentally overwhelm your audience with too many elements in one slide!
#2 Creating Engaging Transitions
Experiment with Different Transition Effects
This is another technique to keep your audience engaged without adding too many elements to one slide. You can try out different transition effects, such as fades, zooms, and flips. This helps in making your slideshow more dynamic and visually appealing.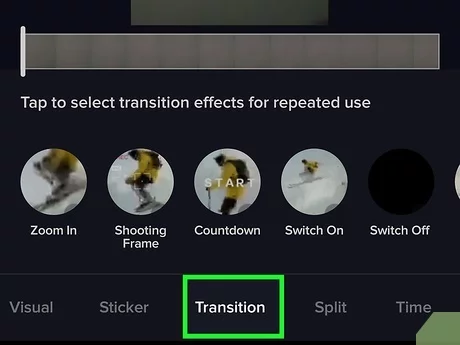 Sync Transitions with the Beat of the Music
Giving some beats to your slideshow so that your audience can jam to it is always a good idea. The beats or music allow the audience to feel the visuals in a different sense. Not only that, but music makes the slideshow all the more impactful.
Use Text Overlays for Smooth Transitions
Using transitions, as mentioned before, can help you engage the audience. However, the viewer might get disconnected from your slideshow between changing slides. To avoid that, you can use text overlays as signposts, providing context or a little bit of humor. It will help you smoothly transition between slides.
Wrapping it up
To make your content more fun and creative, slideshows are a great alternative to try out. To make it interesting, use pictures and videos together, and follow the steps outlined in this guide to learn how to create slideshows and also make them super engaging!
This is your cue to go ahead and experiment with slideshows, effects, filters, transitions, and music! Happy creating!
Related articles
How To See Your Reposts On TikTok
How to Undo a Repost on TikTok