8 Creative October content ideas for Instagram posts.
October is the month of the autumnal equinox in the Northern Hemisphere and the spring equinox in the Southern Hemisphere. Creating amazing October content ideas for Instagram posts becomes important to keep your audience engaged. It is also the month when the days are getting shorter and the nights are getting longer. October is a month of cool, crisp days and chilly nights in the Northern Hemisphere. The leaves of the trees start to turn yellow, orange, and red, and then they start to fall off the trees. October is a month of preparation for the winter months ahead. These features give us October content ideas for Instagram posts.
In the Southern Hemisphere, October is a month of warm days and cool nights. The leaves of the trees start to turn green, and the flowers start to bloom. And October is a month of fun, as we celebrate Halloween and all the many wonderful things that this time of year has to offer. October is also a great month for creative content on Instagram.
A brief insight into creative October content ideas for Instagram posts –
Some October content ideas for Instagram are as follows,
1. Get festive with Halloween-themed posts.
2. Share autumnal photos of the changing leaves.
3. Share photos and recipes for your favorite fall foods.
4. Give your followers a behind-the-scenes look at your business.
5. Share your thoughts on the current state of the world.
6. Offer tips and advice for a successful October.
7. Share your favorite Halloween costumes from years past.
8. Get people pumped for the upcoming holiday season.
While this month is all about autumn vibes and winter sets in, it is also about Halloween and its celebration. There is a lot about this month that can be shown off on social media, especially Instagram. It is a month of winter setting in through many regions. The winter fashion ideas and makeup ideas can be used to show as content. Fall weather and sceneries, fall decoration and even fall interior can be used as content for Instagram posts. The fall foods that are cooked over October will create a very interesting October content idea for Instagram.
Keep going through this blog to get an insight on various ideas to post on Instagram month with creative October content ideas.
Creative October content ideas for Instagram posts – Examples.
As we transition from September to October, the leaves begin to change color and the air becomes crisp. For many of us, this is the most wonderful time of the year. We can finally break out our cozy sweaters and enjoy all the fall activities. This month is great for posting a variety of October content ideas on Instagram. In this blog post, we'll share with you some of our favorite October content ideas, perfect for spicing up your feed this fall. From Halloween-themed posts to autumnal colors and beyond, we've got you covered. So get ready to get inspired and start planning your October content calendar today! And if you want to generate customized snappy content automatically in minutes, use the Predis.ai tool.
1. Fall for the month –
It's October which means that the leaves are changing, the weather is cooling off, and Halloween is just around the corner! If you're looking for some creative content ideas for your Instagram posts this month, then look no further. Here are some ideas to get you started: Post a picture of your favorite fall activity. Whether it's going for a hike in the woods, visiting a pumpkin patch, or taking a scenic drive, share your love for all things autumn with your followers.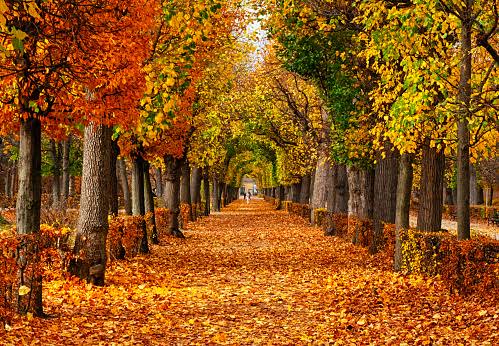 Post a picture of your favorite fall food. From pumpkin spice lattes to Thanksgiving turkey, there are so many delicious fall foods to choose from. Share a photo of your favorite fall treat and make your followers drool. Take advantage of the cooler weather and beautiful scenery by going for a hike or walking in the woods. Be sure to snap some pictures along the way! Another Fall staple is the pumpkin. You can use pumpkins as props in creative ways, or simply take pictures of them in all their orange glory. Of course, one of the most iconic things about Fall is the leaves changing color. You can capture this beauty by taking pictures of leaves in your yard, on a nature walk, or even in your neighborhood.
2. Halloween mood –
If you're looking for some creative content ideas for your Instagram posts this October, look no further! Get into the Halloween spirit with some spooky decorations! Show off your Halloween costume! Share some Halloween-themed recipes with your followers. Share some fun facts about Halloween with your followers. Get creative with your pumpkin carving! Share some tips on how to make the perfect Halloween costume. You can also share some photos of you and your friends at Halloween parties. Sharing some photos of your Halloween haul is also a good October content idea!
If you're looking for some creative ideas for your Halloween decoration posts on Instagram, look no further! Here are 8 fun and festive ideas to get you started:
1. Spooky spider webs
2. Jack-o-lanterns
3. Haunted houses
4. Creepy crawlies
5. Skeletons
6. Ghosts
7. Witches
8. Pumpkins
Get into the Halloween spirit by decorating your home or office space with spooky (but fun!) decorations. Snap a few photos and share them on your Instagram stories or feed. If you love fashion, put together a few Halloween-inspired outfits and share them on your feed or stories. You can even do a poll asking your followers which look is their favorite. Whatever your interests or hobbies are, there's sure to be a way to incorporate them into some fun Halloween content for your Instagram account. Be creative and have fun with it!
Share a sneak peek of your costume or make a fun meme about it. show off your amazing pumpkin carving skills. Get your home ready for trick-or-treaters with some spooky (or cute!) decorations and be sure to snap some pictures.
3. Sweater weather –
As the leaves begin to change color and the temperatures start to drop, there's no better time to break out the sweaters and cozy up with a warm cup of coffee. And what better way to celebrate the season than by sharing some creative and festive content on Instagram? Share a photo of your favorite fall fashion – whether it's cozy sweaters, leggings, and boots, or a cute scarf and hat. Whatever you decide to share, make sure to use the hashtag #SweaterWeather to join in on the fun!
One of the key pieces for fall is a great coat. If you don't have one already, invest in a quality coat that will keep you warm all season long. Look for something in a neutral color like black, gray, or camel, which will go with everything. Another wardrobe staple for fall is a pair of boots. Again, choose a neutral color like black or brown, and make sure they're comfortable enough to walk in – you'll be wearing them a lot! wearing them a lot means, posting them a lot. Fill your Instagram feed with fashion inspirations and ideas for October content ideas.
Fall fashion for October content ideas for Instagram posts –
layered look – This is a great way to stay warm while still looking stylish. Start with a basic tee or tank top, then add a cardigan or sweater on top. Finish off the look with a scarf, jacket, or both. dark florals.
Floral prints are always popular in the spring and summer, but they can be just as stunning in the cooler months. Look for dark, rich colors and pair them with solid-colored separates.
Turtlenecks – These are ideal for layering or wearing on their own. Turtlenecks can be dressed up or down, making them a versatile addition to your wardrobe. ankle boots. Ankle boots are a fall staple and go with just about anything. Pair them with jeans, skirts, or dresses – the possibilities are endless.
4. Just latte things –
Some ideas for Fall food pictures that you will be able to post for this October Instagram as as below –
1. Cinnamon apple oatmeal with crushed nuts on top
2. Seasonal fruit salad with maple syrup dressing
3. Butternut squash soup with crispy fried sage leaves
4. Roasted Brussels sprouts with balsamic glaze
5. Sweet potato wedges with honey rosemary dipping sauce
6. Maple pecan scones
7. Pumpkin spice latte
8. Apple cider donuts
9. Caramelized onion and Gruyere tart 10. Pumpkin pie.
Other ways of posting the food on Instagram during the month of october are –
Seasonal produce: Seasonal fruits and vegetables are a great way to add some fall flavor to your Instagram posts. Think apples, pears, pumpkins, and squashes.
Cozy comfort foods: There's nothing like cozy comfort food to get you through the cooler months. Think warm soups, stews, casseroles, and pies.
Autumnal drinks: From pumpkin spice lattes to hard apple cider, there are plenty of delicious autumnal drinks on Instagram.
Harvest-themed decorations: From scarecrows to hay bales to fall leaves, there are endless ways to decorate your home or office for the fall season. Fall activities: From apple picking to hiking to leaf peeping, there are plenty of fun fall activities to document on Instagram.
5. Orange hues: October content ideas for Instagram Posts
When it comes to decorating for the season, October calls for a specific color palette. And that palette is all about orange. From pumpkins to leaves to Halloween decorations, orange is everywhere in October. And it's not just the traditional orange, either. Think all the shades of orange, from a deep, rich burnt orange to a light, delicate peach. If you're looking for some inspiration on how to use this color palette in your own home, here are a few ideas:
Pumpkins are a must in October, and they make for great decoration both inside and outside the home. Line your porch with pumpkins of all sizes and colors, or use them as centerpieces on your dining room table.
For a more subtle approach, incorporate oranges into your fall floral arrangements. Add some dried corn stalks and leaves for a touch of autumn. Looking to add a pop of color to your home for Halloween? Paint your front door orange and add a wreath of black and orange leaves. Or, make some fun and festive Halloween banners using construction paper in all shades of orange.
6. Go with the reels –
If you're looking for some creative ideas for your Instagram Reels in October, look no further! Here are some fun and easy ideas to get you started:
1. Pumpkin spice everything – get creative with all the pumpkin spice-flavored foods and drinks out there and show your followers how to enjoy them to the fullest!
2. Fall fashion – show off your best autumnal looks and inspire your followers to stay stylish even as the temperature drops.
3. Halloween fun – whether you're getting into the spooky spirit or just poking fun at all the Halloween hype, let your followers know that you're ready for some Halloween fun!
4. Thanksgiving prep – share your tips and tricks for getting ready for the big day, from cooking the perfect turkey to setting a beautiful table.
5. Cozy autumn vibes – let your followers know that you're all about cozy nights in, fireside chats, and all the best things about fall. As the weather gets cooler, there's nothing better than curling up by the fire with a good book or movie. Share your cozy fireside set-up with your followers!
6. Halloween costumes. October is the perfect time to start brainstorming your Halloween costume. Show off your creative process with a reel of you putting together your costumes!
7. Beauty of Autumn –
As the leaves start to change color and the weather cools down, there's no denying that autumn is one of the most beautiful times of the year. If you're looking for some autumn-themed content ideas for your posts, here are a few suggestions:
-A guide to the best autumn beauty products to help combat the drier, cooler air -Your guide to the perfect autumn wardrobe
– what to wear to stay stylish and comfortable as the weather changes
-A roundup of the best autumn recipes, from cozy soups and stews to warming desserts -Top tips for enjoying the great outdoors in autumn, from the best places to go leaf
-peeping into the best hiking trails
-A celebration of all things pumpkin
– recipes, décor, activities, and more Whatever angle you decide to take, autumn is a wonderful time to celebrate the changing seasons and all the beauty that comes with it. So get creative and have fun with it!
Autumn related October content ideas for Instagram
From the stunning scenery to the cozy weather, there are plenty of reasons to love autumn. Here are a few of our favorite things about the season:
The Scenery: One of the best things about autumn is the scenery. From the changing leaves to the pumpkin patches, there's so much to appreciate. And whether you live in the country or the city, there's no shortage of beautiful places to take in the sights.
The Weather: We know, we know. The weather can be a bit of a mixed bag in autumn. But we can't help but love the cooler temperatures after a long summer. Plus, there's nothing quite like curling up with a cup of coffee or tea and a good book on a chilly autumn day.
The Holidays: Autumn is the perfect time for cozy holidays like Halloween and Thanksgiving. What could be better than spending time with family, friends, and loved ones while surrounded by the beauty of the season?
All of these things when posted on Instagram will increase the beauty of the feed and make it look more in sync with the Autumn weather.
8. October content ideas for quotes and Halloween stories –

As the leaves begin to change color and the crisp autumn air sets in, we can't help but get excited for all that October has in store. From haunted houses and hayrides to pumpkin spice lattes and cozy fireside nights, this month is full of fun and memories waiting to be made. And what better way to get inspired for all the adventures October has in store than by reading some of the best quotes about this month?
Quotes: October content ideas for Instagram posts –
We've rounded up some of our favorite October quotes below, perfect for sharing on Instagram. So go ahead and get inspired—after all, Fall is here!
"Autumn…the year's last, loveliest smile." – William Cullen Bryant
"I'm so glad I live in a world where there are Octobers." – L.M. Montgomery, Anne of Green Gables
"October is crisp days and cool nights, a time to curl up around the dancing flames and sink into a good book." – Sarah Morgan
"In the entire circle of the year, there are no days so delightful as those of a fine October when the trees are bare to the mild blue of the sky and the red leaves bestow a warmth of color on the gray stone." – Alexander Smith
"The colors of Fall…are so beautiful, it makes you want to live forever." – Unknown
"Frosty, fiery mornings and all the leaves are turning." – J.A. Shedd
"October…giving beauty and taking it away." – Unknown
"The woods are lovely, dark, and deep, but I have promises to keep, and miles to go before I sleep." – Robert Frost "October is the time for memories: memories of sun-warmed days and cool evenings, memories of laughter and song." – author unknown
"October is a second spring when every leaf is a flower." – Albert Camus "For in this month of dark days no one is quite themselves." – J. K. Rowling, Harry Potter and the Goblet of Fire
"In the mellow October days, when the chestnut burrs split and let their treasure fall, what a glory of golden fruits they reveal!" – Edward Thomas
"Delicious autumn! My very soul is wedded to it, and if I were a bird I would fly about the earth seeking the successive autumns." – George Eliot
Halloween stories and October stories –
As we approach October, many people start thinking about Halloween and all the fun that comes with it. From spooky costumes to haunted houses, there is no shortage of ways to celebrate the holiday. But what about the stories behind Halloween? There are many different stories and legends that have been passed down over the years about the holiday and its origins. Some of these stories are light-hearted and fun, while others are more dark and sinister. But all of them help to add to the overall atmosphere of the holiday.
One popular story is that Halloween is a Christian holiday that was originally intended to celebrate All Saints Day. However, over time, it became more associated with the pagan holiday of Samhain. This story has some truth to it, as the holiday does indeed have Christian origins. However, the pagan connection is also very strong, and many of the traditions that we associate with Halloween today come from Samhain.
Another popular story is that the Jack-o-Lantern is derived from an Irish legend about a man named Stingy Jack. According to the legend, Jack was a man who was very stingy with his money. He was so stingy that he once tricked the Devil into climbing a tree. Once the Devil was up in the tree, Jack carved a cross into the bark, trapping the Devil. When Jack died, he was not allowed into heaven because of his stingy ways. However, he was also not allowed into hell because of the trick he had played on the Devil. As a result, he was forced to wander the earth for eternity. He is said to carry around a lantern to light his way, and this is how the Jack-o-Lantern came to be.
Wrapping It Up
All the above Instagram posts can be used for October content ideas. Pictures with various ideas from this blog like Winter fashion, cozy fashion, and home décor can be used for enhancing your Instagram feed. These ideas can be used right from the start of the month to create an October-themed Instagram feed.
Other than the above-mentioned ideas, there are several important days in October. These days can be used for posting stories and reels on Instagram. There are various important days like World animation day, World pasta says, World coffee day, and World smile day. Apart from Halloween as a festive season, these occasions can also be used to make a creative Instagram story or post, or even a reel.
New to social media management or Instagram?
There is no doubt that stories increase engagement. But creating Stories as well as Instagram poll games is only scratching the surface of what a social media manager does. So, these blogs listed below will get you started. They will also provide helpful insights on best practices to follow (and those to avoid) on social media:
For more social media tips and updates, follow us on our Instagram!