If you're looking to start an online business, one of the first things to consider after you've made your business plan is the e-commerce platform to choose. WooCommerce and Shopify are two of the biggest names in the industry, and definitely with shortlisting.
One that isn't so much of a household name is BigCommerce, but on the surface, it feels like a very strong proposition. Today, I'm going to pit this underdog against the big baddies.
The Shopify vs BigCommerce vs WooCommerce showdown might just be closer than we expected. Before we get started with the comparison though, here's a little brief on the three different platforms.
Shopify
Shopify is an all-inclusive cloud-based platform you can use to start an online store. It lets you organise the layout of your store through themes, and integrate tools and apps to add additional features to your website.
It is designed to appeal to beginner e-commerce store owners and experienced entrepreneurs alike. However, Shopify's users largely consist of small-business owners, with revenue less than $100,000. The most popular products sold on Shopify are from the "Style and Fashion" vertical (13% of websites on this platform specialise in these products).
For large enterprises, Shopify has introduced Shopify Plus. This has higher-priority customer support, the ability to handle very large (and plenty) orders and more advanced analytics.
BigCommerce
Similar to Shopify, BigCommerce is an online store builder used by startups, small businesses, and multi-million dollar giants alike. Technically, it's similar to Shopify in almost every regard. It has all the tools, templates and features you need to make a professional website.
In fact, you can see that the company is aiming to go head-to-head with Shopify looking at its pricing plans. They're almost identically priced to Shopify's, with each plan providing just a little more value on paper (discussed in the Pricing and Features section).
WooCommerce
WooCommerce, unlike the other two platforms, is a plugin built on top of WordPress. It helps convert your WordPress website into an online store. As of 2021, WooCommerce is the most popular solution for building online stores. It is estimated that nearly 30% of all online stores today are built using WooCommerce.
WooCommerce is open-source in nature, meaning any developer can modify and extend code on the platform. This adds a new level of flexibility and versatility to what you can build on the platform. This appeals to experienced e-commerce owners who know exactly what they want from their platform.
That said, it's still incredibly easy for absolute beginners on this platform, with a large variety of themes and plugins you can use to build a professional-looking website without much knowledge of the technicalities.
Shopify vs BigCommerce vs WooCommerce: Pricing and Features
Shopify
Shopify has three pricing plans that range from $29/month to $299/month. Here is a detailed breakdown of their features.
| | | |
| --- | --- | --- |
| Basic Shopify ($29/m) | Shopify ($79/m) | Advanced Shopify ($299/m) |
| Unlimited products | Unlimited products | Unlimited products |
| 2 staff accounts | 5 staff accounts | 15 staff accounts |
| 24/7 support | 24/7 support | 24/7 support |
| Up to 4 inventory locations | Up to 5 inventory locations | Up to 8 inventory locations |
| Free SSL certificate | Free SSL certificate | Free SSL certificate |
| – | Standard store reports | Advanced store reports |
| Manual order creation | Manual order creation | Manual order creation |
| Gift cards/discount codes | Gift cards/discount codes | Gift cards/discount codes |
| 2% transaction fees | 1% transaction fees | 0.5% transaction fees |
For Shopify, it is generally recommended to start with the basic plan, then upgrade as you scale up your business and increase your revenues. Note that upgrading may actually prove to be more cost-effective for your business. This is due to the reduced transaction fees and the detailed store analytics with higher plans.
Also, not that you will have to purchase a custom domain separately. You can do this through Shopify, and custom domains start from $14/year.
BigCommerce
One look at BigCommerce's pricing plans and you'll notice how strikingly similar they are to Shopify's.
| | | |
| --- | --- | --- |
| Standard ($29.95/m) | Plus ($79.95/m) | Pro ($299.95/m) |
| Unlimited staff accounts | Unlimited staff accounts | Unlimited staff accounts |
| Unlimited products and file storage | Unlimited products and file storage | Unlimited products and file storage |
| 24/7 support | 24/7 support | 24/7 support |
| All major sales channels | All major sales channels | All major sales channels |
| Gift cards/discount codes | Gift cards/discount codes | Gift cards/discount codes |
| Reporting tools | Reporting tools | Reporting tools |
| – | Customer segmentation | Customer segmentation |
| – | Abandoned cart saver | Abandoned cart saver |
| Up to $50k of sales p.a | Up to $180k of sales p.a | Up to $400k of sales p.a |
| No transaction fees | No transaction fees | No transaction fees |
In a Shopify vs BigCommerce comparison alone, BigCommerce seems like better value than Shopify. The zero transaction fee and unlimited staff accounts are especially tempting. However, note that all payments through PayPal will call for transaction fees that decrease as you upgrade your plan.
WooCommerce
Unlike the other two offerings in this comparison, WooCommerce does not have conventional pricing plans, so you'll have to pay separately for different features and aspects of managing your website. For this comparison, I've taken the sound cost estimates from building a WooCommerce store from Website Builder Expert.
| WooCommerce Estimated Cost | Basic Site | Mid-Range Site | Advanced Site |
| --- | --- | --- | --- |
| Hosting cost | $6.95 p.m. | $8.95 p.m. | $12.95 p.m. |
| Domain name | $15 p.a. | $15 p.a. | $15 p.a. |
| Theme | Free theme from WooCommerce | Free theme from WooCommerce | $35-129 Professional theme for $35-$129 |
| Transaction fees | Dependent on sales volume | Dependent on sales volume | Dependent on sales volume, plus $100-400 p.a. for scalable features |
| Plugin costs | Free | $25-100 p.a. | $100-150 p.a. |
| Security costs | $10 p.a. | $150 p.a. | $150-450 p.a. |
| Developer Fees | Free | Free | $1,000-6,000 p.a |
| Approximate Annual Total | $110 | $300+ | $1,500+ |
This approximate annual total will vary greatly depending on your own preferences for your website.
Shopify vs BigCommerce vs WooCommerce: Integrations
Despite how good an e-commerce platform is by itself, a comprehensive range of integrations will always be a huge benefit to you. These integrations and add-ons are very valuable when you are trying to customise every last bit of your website as per your taste. They can also go a long way in improving the overall user experience of your online store.
Here's how well these platforms fare in their integrations.
Shopify
Shopify has a dedicated, user-friendly app store where you can purchase and install third-party add-ons. According to TechCrunch, you'll find over 6,000 available apps in the app store. On average, a store owner on Shopify will use about 6 of these to improve the quality of their website and experience).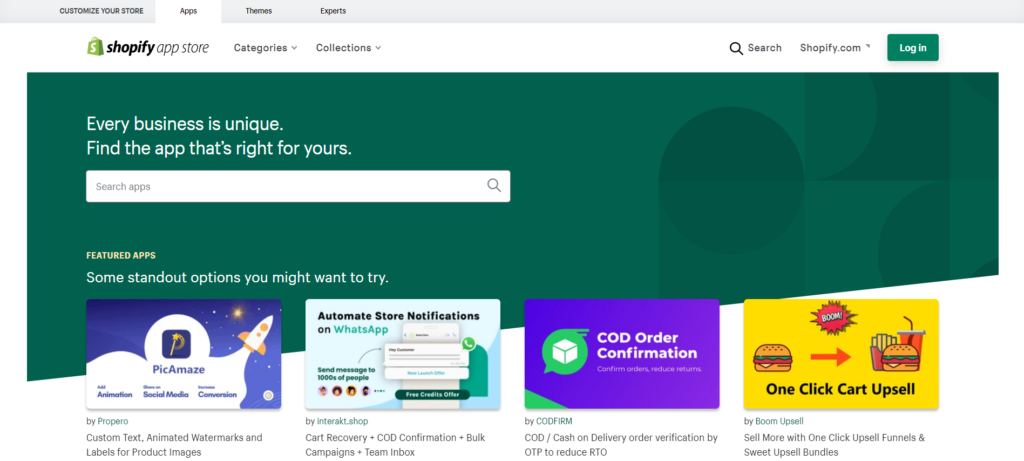 These apps can be used in several aspects of running your website; marketing, order fulfilment, conversion, shipping, customer service, you name it. The prices of these apps vary largely depending on the purpose they serve. For example, Loox, an aesthetic product reviews add-on will run you $10 per month. On the other hand, Loop Returns and Exchanges, which is a full-fledged manager for returns and exchanges, starts at $59 per month.
However these apps greatly improve the quality of your website, and if you use them smartly, they'll generate a decent enough RoI for you! In my experience, I didn't find Shopify's app store to be lacking in any way. The collection of apps and themes here is more than enough to fully refine your website and make it efficient.
I've made a list of 7 apps on Shopify's app store that I'd consider absolute essentials. Go check that blog out!
BigCommerce
As BigCommerce is a flexible and open SaaS platform, it offers a pretty extensive marketplace as well. You can't really compare this to Shopify's app store, though. While Shopify offers around 6,000 apps, BigCommerce is estimated to have around 1,000 in their marketplace.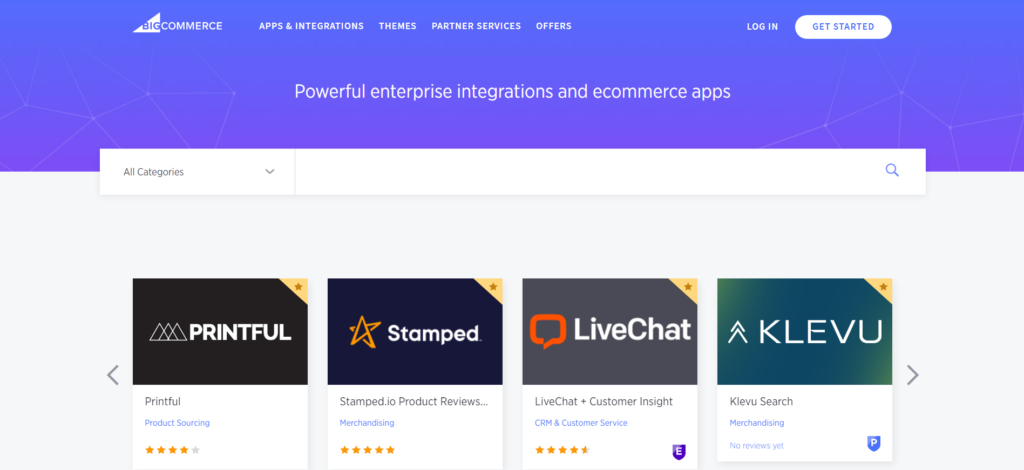 In my time of browsing BigCommerce's Apps Marketplace, I noticed that the breadth of the apps available is not really lacking, but there aren't too many offerings for the same kind of app. This will be a downside for people looking for variety.
Also, some app categories have to be developed further. For example, there are several apps to integrate donations on checkout with Shopify (the one I prefer is Give and Grow). However, BigCommerce doesn't seem to have any reliable options for this purpose.
On the other hand, BigCommerce offers a complete MailChimp integration, whereas Shopify does not. This integration will be crucial for so many entrepreneurs globally, that use Mailchimp as their primary email marketing platform.
WooCommerce
WooCommerce is an open-source platform, and this significantly reduces the barriers for developers to provide their own plugins that you can integrate with your online store. It has a whopping 59,000+ plugins; that number really makes the marketplaces of the other two apps look insignificant.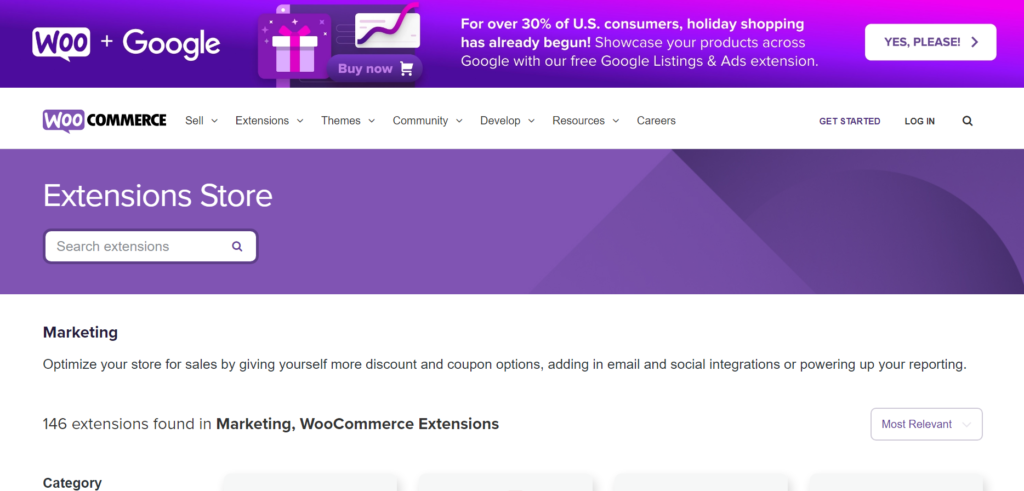 Also, what works as a bigger advantage for WooCommerce is that you can hire a WordPress developer to make any specific plugin you need for your website. This makes websites built on WooCommerce far more customisable than Shopify or BigCommerce.
While 59,000 plugins seem like overkill, WooCommerce is still the clear winner for this component of the comparison.
Shopify vs BigCommerce vs WooCommerce: Verdict
All three of these are probably your best options for starting a website anywhere in the world. As a beginner, you'll be thrilled to experience the ease of use that all three of these platforms offer, and you'll be able to get a professional website up and running in absolutely no time.
In the Shopify vs BigCommerce debate, I'd say they are evenly matched. BigCommerce has plans that are of slightly better value, but Shopify offers more apps and extensions. It depends highly on personal preference. Would I recommend these two as alternatives to WooCommerce? Absolutely! You'll be pleasantly surprised by how much they offer.
At the end of the day, the best choice for you depends on who you are, and what your priorities are. We at Predis, are huge fans of the open-source nature of WordPress as it offers an extra layer of flexibility, so this has been our go-to weapon!
New to e-commerce?
After you settle the Shopify vs BigCommerce vs WooCommerce debate for yourself, it's time to think about social media. A lot of online stores I've researched over timedon't focus on social media, and have dormant pages, which in my opinion, is a huge missed opportunity.
To create quality social media content efficiently, I highly recommend giving a shot to Predis.ai. This app assists you in creating quality social media posts with three main features:
1. Post creator:
As an app used alongside e-commerce platforms, Predis.ai can add products from your website as inputs to create beautiful social media posts around them.
After this post has been generated automatically, you can choose to edit several aspects of it within Predis.ai itself i.e. the caption, hashtag and creative. In the 'Suggestions' tab shown below, you also get insights on your created post's expected performance, based on your account's history. Especially as solopreneurs or creators, this will save you a LOT of time spent ideating for post ideas.
2. Content calendar:
You can conveniently view all your posts through a built-in content calendar. These can be sorted by a 'month' view (as seen below) or a 'list' view. Further, all your posts created on Predis.ai can be easily viewed and edited on this interface. The content calendar will also ensure you stay on track to fulfil your social media obligations and keep making quality posts that draw traffic to your website.
3. Content analysis:
Looking outwards, and towards other handles can give you amazing insights on what content you should ideally be posting. Predis.ai lets you effortlessly analyse how your competitors' posts have been performing on Instagram. Through this, you can easily find out what content is performing well for them, and what isn't clicking within their audience. A great feature, if you're looking for content that will be popular amongst your target audience, and for straying away from content that won't.