TikTok videos are the latest rage in the realm of social media, captivating audiences with their infectious creativity.
With more TikTok users now curating engaging videos than ever, the ability to preserve these videos has become increasingly valuable for sharing and revisiting memorable content.
Saving TikTok drafts to your camera roll involves more than just a tap. However, once you're familiar with the steps, it becomes easy to manage.
Curious about how to do this smoothly? We've got you covered. In this post, we will explore how you can save TikTok drafts directly to your camera roll, ensuring that your creative content is not only secure but also ready for sharing on various platforms.
What are TikTok Drafts?
TikTok drafts refer to unpublished content with limited visibility that enables users to make last-minute content adjustments, edits, and previews before posting for the followers.
The primary function of these drafts is to provide a convenient way for users to pause their content creation and return to it later. Moreover, it's a good practice to initially save your new creations as drafts on TikTok, rather than publishing them straight away.
Remember, it's always easier to prevent problems by reviewing your content carefully than to deal with the consequences, such as a suspended TikTok account.
So make sure you utilize TikTok drafts wisely to fine-tune your content, ensure it aligns with TikTok's community guidelines, and create engaging videos that resonate with your audience.
How to Make a TikTok Draft?
TikTok videos are a major hit among Gen Z and beyond. TikTok boasts a huge reach, spanning across 40 countries with an impressive presence in over 150 markets and supporting 35 languages.
Whether you're someone who frequently posts exciting content, films multiple videos in a single day, or just loves to utilize free time to curate creative videos, utilizing TikTok's drafts feature can be a game-changer.

Here's a straightforward five-step guide on how to create TikTok drafts:

Step 1: Head onto the TikTok App on your Android or iPhone

Step 2: Click on the "+" icon to start recording a video

Step 3: After you finish recording, tap "next"

Step 4: Add "special effects" from the bottom-left corner of the preview window if you want to add any text, filters, stickers, gifs, and effects to your TikTok draft.

Step 5: Now, click on the "Drafts" option. This way, you can save your draft instantly.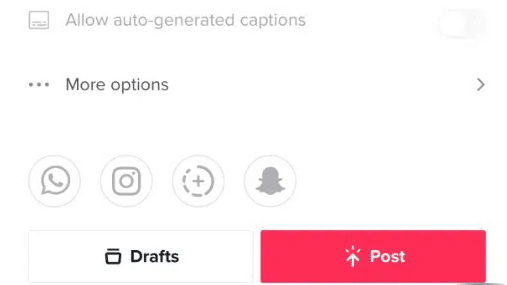 Once you save your video as a draft, you can access it anytime effortlessly! In case you are confused about how to locate the drafts, check out our next section.
How to Find TikTok Drafts?
TikTok drafts not only enable you to create captivating content at your own pace but also offer a convenient storage space for your creative endeavors.
Follow the steps mentioned below to locate your saved drafts whenever you want:
Step1: Launch the TikTok App on your device
Step 2: Press the "me" option located in the lower right corner

Step 3: The option to view the draft's folder will appear on the following page, next to the published content. You can find your current number of "video drafts" here.
Choose and Click on the video you want to edit and post.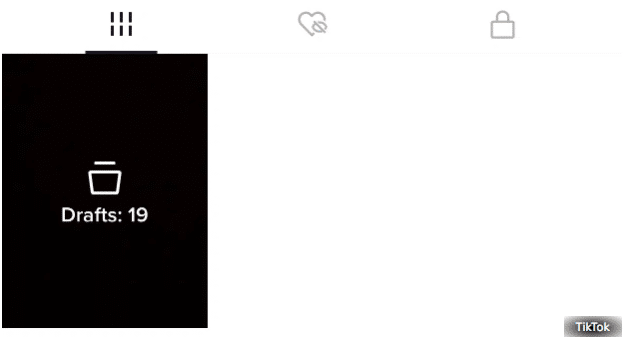 How to Save TikTok Drafts to Camera Roll?
You get two choices when saving a TikTok video to your camera roll. Using the built-in screen recording functionality on your iOS or Android smartphone, you can record its screen. Alternatively, you may make the video private and then upload it again to make changes at a later time.
Although the first technique results in issues like loss of quality and redundant icons on the video, the second option requires additional steps but yields a final output of high quality.
Saving your TikTok drafts to camera roll ascertains that your videos are securely stored and effortlessly accessible.
Follow the steps below to save TikTok drafts to the camera roll in an easy manner:
Step 1: Go to "Drafts" on the TikTok App and Select the Video You Want to Save
To begin, review your drafts section. Click on your Profile option, and next, choose the drafts folder, which is the first one on the right.
Scroll through your TikTok drafts and click on the one you want to save to your camera roll.
Step 2: Post Your TikTok Draft to the Feed
Once you select the draft you wish to save, click on "Next" at the bottom of the screen.
You will be navigated to the drafts video settings page, where you need to change the privacy option. Next, select "Only Me" in the "Who can watch this video" menu.
Step 3: Tap on the Video You Have Posted to Open It
Press the lock icon to see the videos that have been made private and visible only to you. After that, choose the video you wish to save to your camera roll.
Step 4: Tap on the "Three Dot Icon" to Save the Video to Your Camera Roll
Next, click on the three-dot icon and head on to save TikTok to the camera roll.
Make sure you enable the "save to the device" option by swiping the button to the right.
You can now locate the saved draft in your device's camera roll.
Wrapping Up
While it may appear slightly inconvenient that TikTok doesn't offer a direct way to save your drafts without the watermark and other elements, there is a practical workaround available.
You can use the camera on your device to shoot videos. This way, if you want to modify it or make any alterations or errors, you will always have access to the original, high-quality, unmarked video.
If you are looking for more guides related to TikTok and social media in general, check out our comprehensive yet easy-to-understand guides on Predis.ai.