Since TikTok is the world's most popular social media short video platform, people naturally have a lot of questions about it, and "How to delete drafts on TikTok?" is one of them.
TikTok currently has nearly 2 billion users worldwide. It has been in demand for short entertainment videos and news and is becoming a promising place for brand marketing day by day. TikTok Ad has over 1 billion potential audience in the US alone. See the TikTok craze in the US with interesting stats here. Charli D'Amelio, the most successful TikToker, earned $17.5 million in 2022. Millennials and business professionals who are not on this platform today may be missing out on a lot.
So we understand your engagement, participation, and need for TikTok.
As it is a very large platform, it has many functionalities, and it takes time to understand them fully, but you need to know some basic things for daily use. One of the most frequently asked questions is, "How to delete drafts on TikTok?" This is exactly what you want to know, right? We'll show you the whole process with all your doubts cleared.
What is the TikTok Draft?
If you film or upload something to TikTok but are not ready to publish it, you can save it as a draft. This draft feature on TikTok allows users to preview their content before publishing and edit it if needed.
This is how users end up accumulating a lot of drafts. Some are to be posted, and some are not required to be deleted. Now we will see how to delete drafts on TikTok.
Accessing the Drafts Section
Open your TikTok app.
Click on your "profile" icon in the below right corner.
3. On your profile page, go to the "Drafts" section. You will find all the drafts you have saved.
4. Tap on the draft you want to delete.
Deleting Drafts
Once open the draft, You will see a select option in the right corner above. Click on the "select" icon.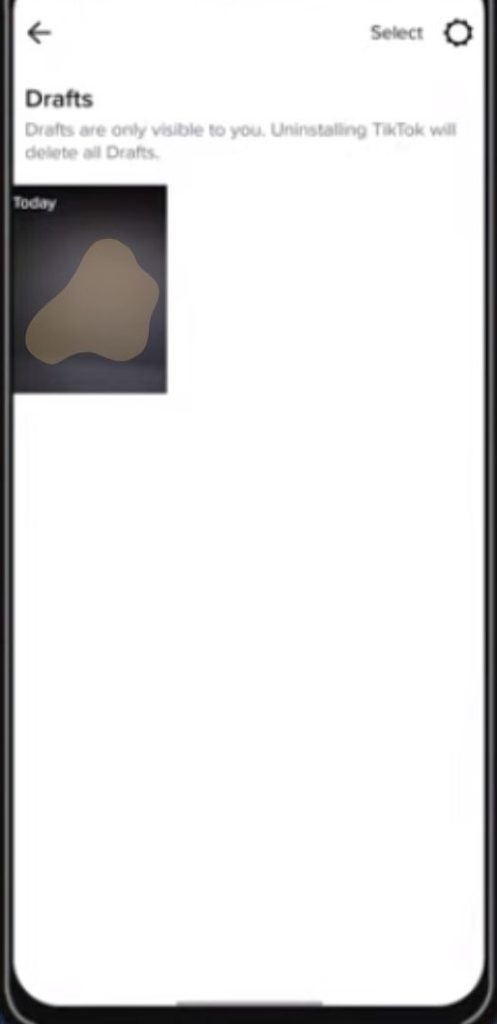 2. Once you select, a "Delete" option will appear below.
3. Click on "Delete". A confirmation message will appear. Tap on Delete again to confirm and your draft will be deleted from your TikTok account.
Check out the below video for a better understanding
Wrapping it Up
By following these steps, you can easily delete drafts on TikTok.
Whether you want to free up space or remove unwanted content, deleting drafts is a straightforward process.
Once a draft is deleted, it cannot be recovered, so make sure to double-check. Now you can manage your drafts effectively
Related articles:
How to see your repost on TikTok