Would you like to explore how to enable the repost feature on TikTok? As you know, TikTok has around 1 billion monthly active users. Now, to let its users enjoy the app smoothly, TikTok brings out new features from time to time. One of them is the repost feature introduced in 2022, where the users can share videos they like with their followers. Though reposting someone else's video was a long process, this new feature makes sure that you can share videos quickly. Remember to always acknowledge the original creator of the video while reposting.
In this blog, you will learn what reposting means along with its benefits for your TikTok marketing strategy. We will tell you how to enable repost on TikTok and how to repost or undo a repost video on TikTok. Moreover, you will learn how to maximize your reach on TikTok. So let's begin and take a look at the benefits of reposting on TikTok.
How to Enable the Repost Feature on TikTok?
Wondering how to enable repost on TikTok? If you want to make your sharing easy on TikTok, you can use the new repost feature. Now to use this feature you will need to enable the repost feature on your TikTok account. Follow these steps to enable the repost feature:
1. To start with, open your TikTok to log in to your account.
2. Tap the profile tab at the bottom right corner of the screen.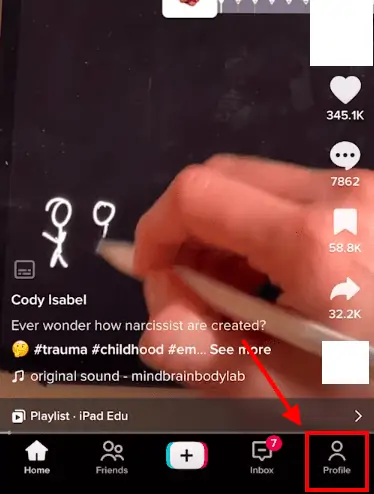 3. Click on the menu at the top right corner of your profile.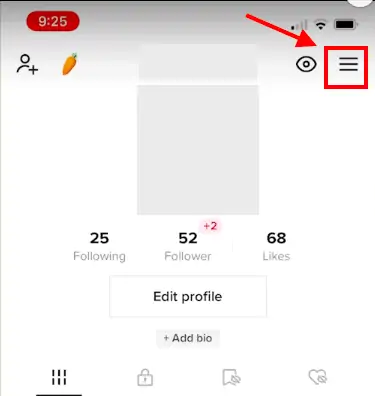 4. Select settings and privacy from the menu, furthermore, select privacy from settings and privacy.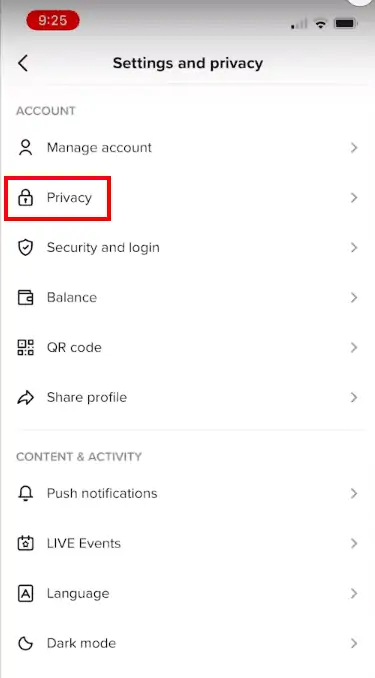 5. Scroll down to find the repost option and turn on the toggle to enable reposting on your TikTok account.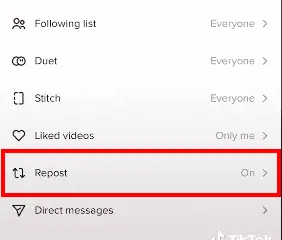 How to repost a video on TikTok
Reposting a video on TikTok is a simple and easy to handle process. You can enjoy easy sharing on TikTok with the help of the repost feature. Here's how to do it:
Open the TikTok app on your device.
Search and select the video that you want to repost.
In the lower right corner of the video, you'll see a "Share" button, which is represented by a white arrow icon.
Upon clicking the "Share" button, a pop-up window will appear, presenting you with various sharing choices such as Facebook, Twitter, and WhatsApp. Choose the "Repost" option, identifiable by a white arrow enclosed within a yellow circle.
And just like that, the video you've selected will be automatically reposted onto your profile.
This uncomplicated procedure allows you to seamlessly share videos with your TikTok audience. Be it your audience, family or friends, once you enable the repost feature, you can enjoy reposting.
What are the benefits of reposting on TikTok?
Reposting a video means sharing a video you like on TikTok with other users. It's a way to show your favorite videos to the people who follow both you and the original creator. Now, this can be easily done using the repost feature. It's just like you retweet on Twitter or share a post on Facebook. To start with, the videos you repost do not show up on your profile. Instead, they'll only appear in the feed of the people who follow both you and the creator of the original video.
But how does reposting a video help you in any way? Be it a brand or a content creator, reposting has many benefits for your TikTok marketing strategy. It can work wonders for you in different ways such as:
1. Acknowledge your biggest fans
Isn't it a great feeling that a brand or a creator you adore acknowledges you? For brands as well as creators, there are many people out there who love your products and videos. Perhaps, many of them might be creating content about your brand and products. As for creators, many of your fans may create content regularly inspired by your videos.
Now if you truly appreciate them and want them to remain as your loyal fans, reposting is a great way. You can repost the content they create showcasing your brand or inspired by your videos to show your acknowledgment. Your fans and followers will feel appreciated by your gesture eventually strengthening their loyalty towards you.
Not to forget TikTok doesn't mention who reposted the video unless the person behind the action is following you. So, they may not know about your kind gesture towards them, but there is still an option. You can use the comment section to let the original creator know about the repost. Other than that, asking for permission to repost will also help.
2. Provide Social Proof through UGC
Trusting a brand isn't easy unless your customers get social proof of the quality of your products. This is where you can use User-generated content i.e. UGC for your help. TikTok allows you to share videos created by your customers of product features and quality, reviews, success stories and more.
Now these UGC will provide testimony for the quality of your product and build your brand credibility. Thus, potential customers will find it easy to trust your brand and quality and make a purchase. The same applies to the creators on TikTok. When you repost your customer videos of the courses and merchandise you sell, it will provide social proof for you. New customers attract towards your brand when they see other people raving about your services.
3. Share Valuable Information
It's not necessary to always repost a video that benefits you. In fact, you should also consider reposting videos that are of value and benefit to your customers. They can be industry insights, tips and tricks, step-by-step instructions or anything that is of use to your customers.
Reposting or sharing valuable information will help keep your customers engaged and valued. Since it's not always an easy task to regularly come up with fresh content, these informational reposts will work great. You can keep a continuous engagement with your audience with valuable content without the effort of creating fresh content.
4. Connect with Influential Creators and Thought Leaders
You must have a proper and strong network base if you want to maximize your reach on TikTok. This is why you have to build a strong base by making connections with influential creators and thought leaders. They usually have massive reach with a follower base that mostly includes relevant users.
So, when you repost content from these creators and thought leaders, you get a chance to engage with them and get noticed. This will help boost your reach and eventually build a strong connection with these creators and leaders. When they start noticing you, they may respond to your gesture by reposting your videos or featuring you in their content.
5. Build relationships with other brands and creators
While reposting a video from another brand, you show your approval and support for the video and brand. It highlights the fact that you find the content valuable to share with your audience. Eventually, the original creator will be grateful to you as your reposting will be beneficial for them. Thus allowing you to build relations with those brands and creators.
If you are lucky enough to draw their attention towards your repost, they may check out your TikTok account. Moreover, the reposted videos may also create collaboration opportunities with those brands.
Best practices of reposting on TikTok:
1. Reposting High-Quality Content
When you're using the repost feature, it's really important to pick out content that's of really good quality. It should also resonate well with what you showcase on your profile.
Keep an eye out for videos that have some serious editing skills that catch the eye with their visuals. Also, check those that show solid engagement from the TikTok community.
When you repost these kinds of high-quality gems, you're not just hitting the share button – you're potentially opening the door to a bigger crowd of followers and making your presence on TikTok reach new heights. It's all about showing your audience the kind of content that gets them excited and engaged.
2. Provide Context to Your Reposts
Now whenever you repost a video, TikTok provides you with an option to "Add Your Thoughts." Since you decided to repost a video, there may be a specific reason behind this action. Although not every repost needs to have a reason, you should try your best to share your reason every time.
while reposting a video, you should try to share your thoughts on why you want to repost it. Does it contain something that your audience can benefit from? Is the video positively affecting you? Maybe you repost it so that your followers can learn something from the content. Whatever the reason, for certain videos it's just important to add some context as to why you repost it.
3. Make Sure the Content Aligns with Your Brand
Since TikTok has made it easier to repost, it doesn't mean you have to share every video on impulse. You may come across videos that make you giggle or something that interests you as an individual. However, it doesn't mean it's suitable for you to repost it considering your brand values, identity and message.
If you are a content creator, you need to consider these things. All of this is to maintain the brand image and reputation that you have built so far. This makes it necessary to maintain your image on the platform on a professional level. Certain videos you repost may not align with your brand and profile, eventually, ruining all your hard work till time.
4. Selective about which Accounts to Repost from
Other than being selective of the content you repost, you need to check the account that posted the original content. Sometimes, the account may not share the same brand values that you share. So it's better to visit the original creator's account. Check the other videos that are present on the account.
Do they match your brand values? Is the tone used in the content similar to the tone you use to deliver your message? Do they share content related to your brand or industry regularly? Remember, reposting is to recognize influencers and customers who have been faithful towards your brand throughout many years.
5. Giving Credit to the Original Creator
When you're reposting a video, it's really important to make sure you give proper credit to the person who originally created it. A simple way to do this is by mentioning the original creator's username right in your caption or in the description of the video. This isn't just a gesture of respect towards the original content maker; it's also a smart move for your own TikTok reputation.
By acknowledging the creators behind the content you're sharing, you're showing your audience that you're all about fairness and collaboration, which can really boost your standing in the TikTok community. It's like a win-win: you get to share cool stuff, and you're building up your positive image at the same time.
6. Engaging with the TikTok Community
The repost feature is more than just sharing videos – it's a way to really connect with the TikTok community. When you repost a video, don't just stop at that. Go ahead and drop a comment on the original video, showing your genuine appreciation for the content. It's like giving credit where credit is due and sparking up a conversation in the process.
And here's a cool tip: Engage with other users who've reposted the same video. It's a neat way to build connections within the community. By doing this, you're not only making your presence felt but also boosting your visibility on the platform.
How to undo a repost? 
Are you having second thoughts about the content you just reposted on TikTok? Does the content not match the value of your brand values? Though there might be numerous reasons to do so, you can still carry out the process to undo repost with these steps:
Open your TikTok profile and select the video you want to undo repost for.
Click on the share button, you will find a remove repost button in the place of repost button.
Click on remove repost and your videos will no longer show on the for you page of your friends and followers.
Why can't you repost on TikTok?
Are you finding it difficult to repost a video on TikTok? Some of you may not easily find the repost button on your TikTok profile. Now, this may occur due to several factors which are as follows:
1. Every app needs regular updates and sometimes an update is necessary to use the new feature. So try to update your app to be able to use the repost feature. This might help you find the repost button this time on your TikTok app.
2. TikTok hasn't made the repost feature available for everybody yet. Thus, you may not be able to repost a video, but you can come back occasionally to check the availability.
3. Unable to repost a video may also be because of the creator's permission. The creator can turn off the permission to repost for any video they want. If you can't repost that video, maybe the creator doesn't want you to repost it.
4. You can also try clearing your TikTok app cache. Since the cached data sometimes prevents you from using the latest features of your app, it's better to clear the cache. This may now help you to freely repost the videos you want.
How to prevent others from reposting your content?
Sometimes you may just want your content to be exclusive and available only on your profile. It depends on you whether you want to let other people repost your video. But if you do not want anyone to repost your content, you just need to disable the repost feature.
Open up your TikTok profile.
Click on the menu that you see in the top right corner of your profile.
Select the 'settings and privacy.'
Scroll down and select repost.
Switch off the repost toggle to disable the feature.
Other ways to share from the TikTok app
Not every one of your friends or family might use TikTok. If you repost a video, that means you must like it. Thus reposting allows you to share the video you like with others. However, TikTok also allows you to share videos outside the platform. You can click on share, and share it via any of the options appearing in the pop-up. The opinions available to share the video include the following:
SMS or WhatsApp: you can easily share the video through SMS or WhatsApp. Simply click on one of these options, and you can share your video with a link and cover photo of the video.
Twitter, Facebook and Instagram: You can also share videos by clicking on these shortcut social media buttons. Your accounts will receive the video. Additionally, you can DM the video you want to share on your friend's social media platform.
Email: You don't need to write the complete email. TikTok will write the email as well as the subject line for you, all you need to do is add the address of the receiver.
Direct message in-app: You can share TikTok videos with users on TikTok by directly messaging the video on your profile. click on their profile icon on top of the share or search for their username in the search bar. You will find the search bar in the "More" which is at the bottom line of the profile icon.
Wrapping it up
Reposting is a helpful feature provided by TikTok for its users by which you can easily share videos on the platform. However, It's not just simple sharing. You can build strong bonds and relations with customers and influencers which will impact your overall marketing strategy.
Share videos within seconds after learning how to enable repost on TikTok and smoothly manage the functioning of the repost feature. Everything from enabling repost to how to repost, undo repost and disable repost with proper steps are here for your help. Moreover, you will learn to maximize your reach on the platform with the proper tips provided here.
Now you can easily manage and fully concentrate on your TikTok marketing strategy. You can leave the stress of creating your video content on Predis.ai. With the help of Predis TikTok video maker, you can create compelling TikTok videos. Don't miss this amazing opportunity!!!
Related articles
How To See Your Reposts On TikTok
Frequently Asked Questions
Is it possible to see who reposted my video on TikTok?
At present, TikTok doesn't allow you to see the specific users who have reposted your video.
Who all will be able to see the videos that I repost on TikTok?
Your friends on TikTok and the people you follow who follow you back can see the video you repost on TikTok.
Can I repost someone's video without their permission?
To avoid violating the community guidelines, it's always better that you ask for permission before reposting a video.