Are you struggling to create engaging Cinco de Mayo Social Media Post Ideas for your business?
As the holiday approaches, like you, many businesses are searching for ways to connect with their audience and join the celebrations. But with so many businesses vying for attention on social media, it can take time to stand out and create content that resonates with your target audience.
That's why we've put together this blog with 13 Cinco de Mayo social media post ideas that can bring great engagement in social media. Whether you're a small business owner, a marketer, or a social media manager, you'll find plenty of inspiration to create captivating content for your audience.
So, let's dive in and discover the best ways to make your social media presence shine this Cinco de Mayo!
Cinco de Mayo and Its Celebratory Significance
Despite being a Mexican holiday, Cinco de Mayo has gained immense popularity in the United States, where it is often mistaken for Mexico's Independence Day. In reality, the day marks the Battle of Puebla, where the Mexican Army achieved an unlikely victory against the French forces.
Today, Cinco de Mayo is a vibrant celebration of Mexican culture and heritage. Businesses can create exciting and engaging social media content around the event, driving customer engagement and boosting sales.
13 Fun and Creative Cinco de Mayo Social Media Post Ideas
As the warm breeze of spring rolls in and the vibrant colors of flowers bloom, we can feel the excitement building up for the upcoming Cinco de Mayo celebration.
We understand the importance of creating content that showcases your business and connects with your audience personally. That's why we've carefully curated these ideas to help you engage with your followers and build a strong social media presence.
From festive visuals to interactive content, we'll cover everything you need to know to make your Cinco de Mayo social media posts stand out. You'll learn how to tap into the holiday spirit, showcase your brand's personality, and drive engagement with your audience.
So, let's get ready to spice up your social media presence with 13 fun and creative ideas.
1. Share a Photo of a Mexican Dish
The best way to entice people in Cinco de Mayo is by showing them a mouth-watering photo of their favorite dish. Whether it's tacos, guacamole, fajitas, or quesadillas, sharing a delicious photo of the most popular Mexican food item will excite people and help you increase sales on this special day.
Even if you run a business unrelated to food and drink, you can still boost brand awareness by posting photos of yourself and your staff enjoying festive food and drink. Alternatively, you could donate to a relevant charity and encourage your audience to do the same.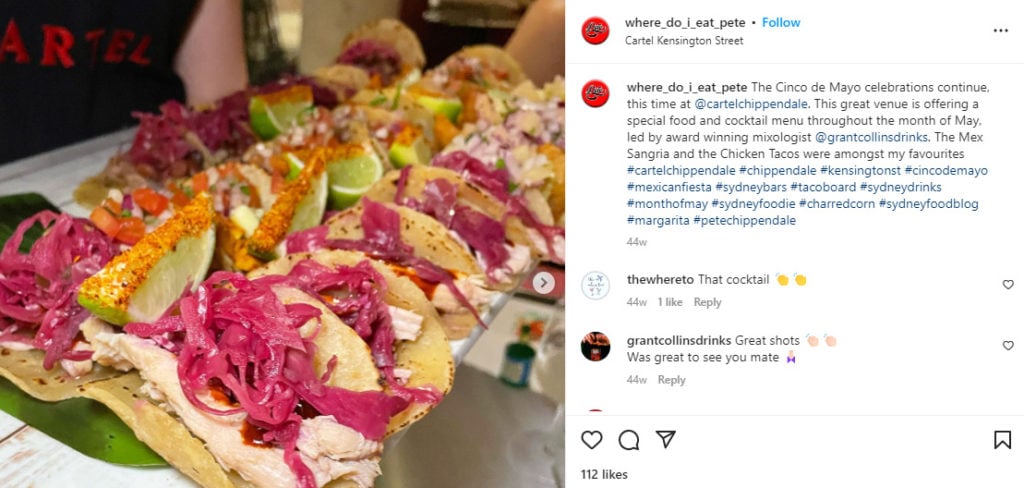 2. Share Some Recipe Ideas with Your Audience
If you're in the food and drink industry, one of the easiest ways to engage your audience and inspire them to visit your restaurant in Cinco de Mayo is by sharing some easy recipes they can enjoy at home.
If you have an online store and sell Mexican food-related products, for instance, you could share a recipe for homemade tacos, explaining how to make the tacos and what ingredients people need to buy from your store. Similarly, if you own a café or restaurant, you could share some simple recipes for margaritas and other Cinco de Mayo-themed cocktails.
3. Share Background Information on Cinco de Mayo
While many enjoy celebrating Cinco de Mayo with copious amounts of food and drink, this is just one facet of this vibrant holiday. You can capitalize on this by sharing historical facts with your social media audience. You could also share some details on Cinco de Mayo celebrations in Mexico and other parts of the world.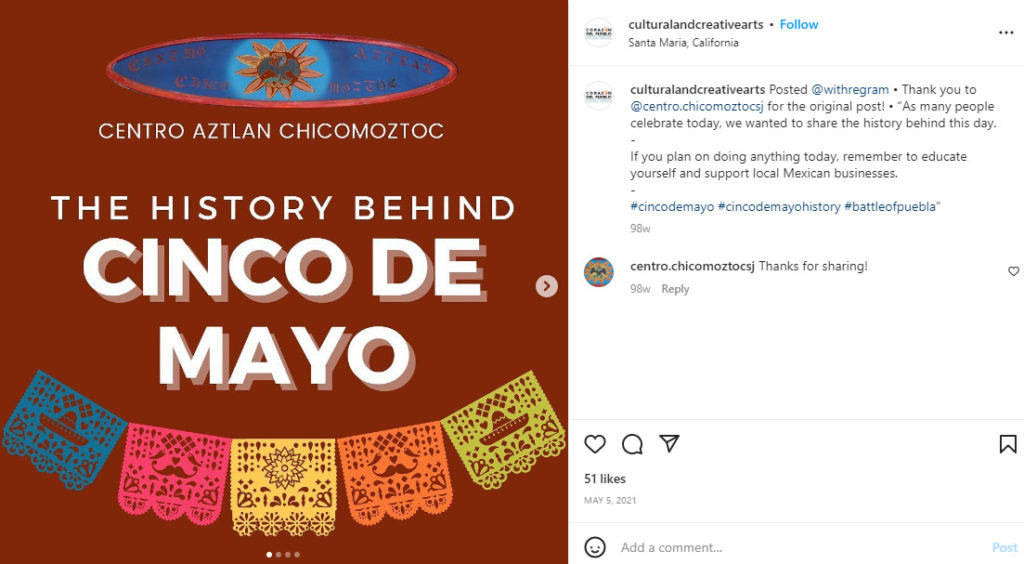 If you're in retail, for instance, you could share some interesting insights about the history of Cinco de Mayo and then encourage people to visit your store, where they can find Mexican-themed merchandise.
4. Post an Image with a Short Message to Celebrate the Occasion
Post a festive image related to Cinco de Mayo, such as a colorful sombrero, a lively mariachi band, or a mouthwatering Mexican dish, accompanied by a short message wishing your followers a "Feliz Cinco de Mayo."
This simple yet effective post will show your audience that you celebrate their holiday and its significance, fostering a sense of connection with your brand.
5. Promote Your Products and Services with a Cinco de Mayo-Themed Offer
Making your followers aware of your business relationship with Cinco de Mayo is a great way to increase social media visibility. Let them know what products and services you offer for the occasion.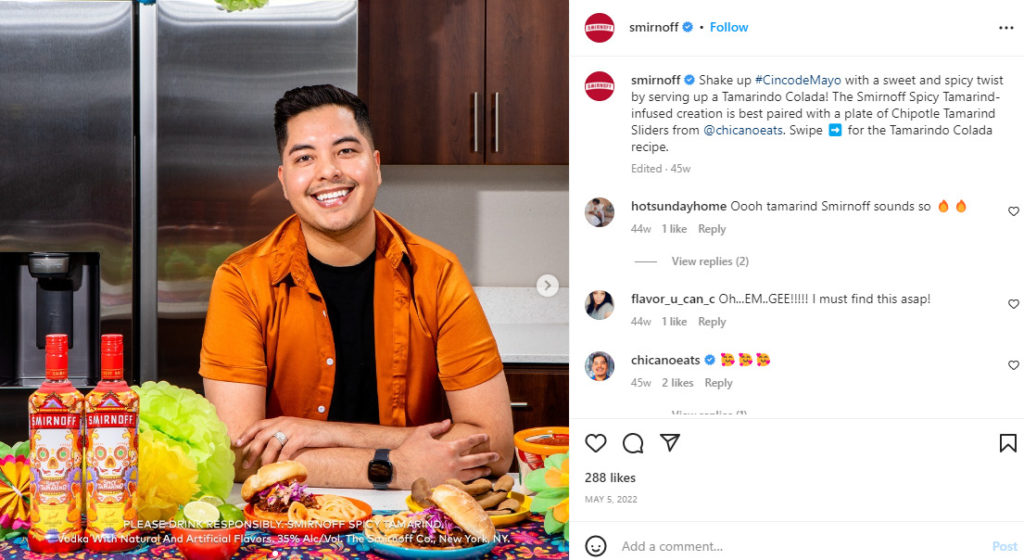 As a business, it's always a good idea to leverage special events and holidays to increase visibility and engage with your followers. With Cinco de Mayo just around the corner, this is a great opportunity to showcase your Mexican cuisine or lifestyle products and services. You can tell your followers what special offers you have in store for them, whether it's a discount on your signature dishes or a limited-time promotion on your products.
6. Give Your Audience an Insight Into Your Company's Culture
Cinco de Mayo is a great opportunity to share your company's culture and history with your followers, fostering a sense of trust and connection. Present the traditions that are in the workplace to celebrate the festival. So people can resonate with your brand.
Consider reaching out to employees from Latin American countries to hear their perspectives on what Cinco de Mayo means to them. Sharing their insights can showcase the human element of your brand, making it more relatable and appealing to your audience.
7. Host a Live Virtual Event or Celebration
People are still wary of public gatherings because of the COVID-19 pandemic. That doesn't mean Cinco de Mayo can't be celebrated, however. Why not host a themed virtual celebration with games and live music?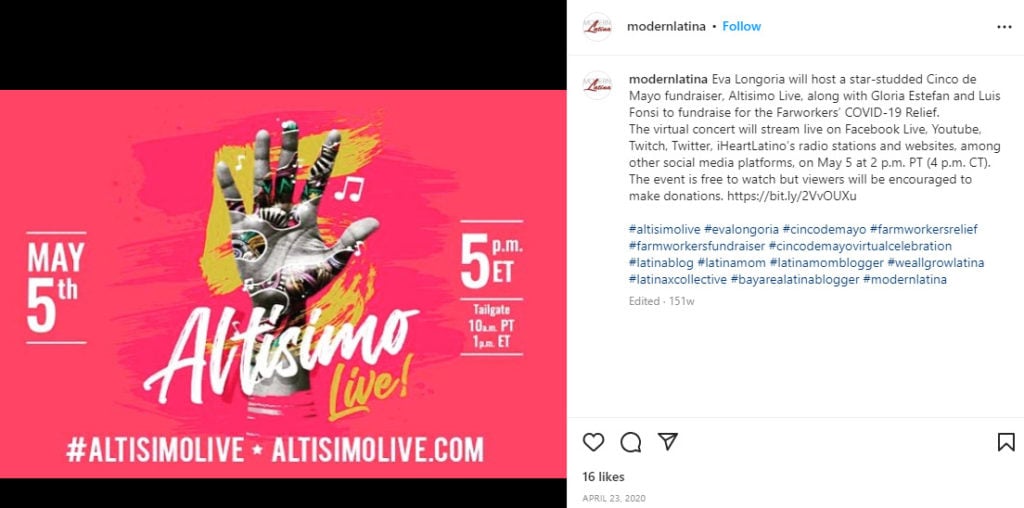 You could even host a tasting session in which you walk your followers through some traditional Mexican foods and beverages. This is an exciting way to engage your audience, and it could help strengthen customer relationships.
8. Create Some User-Generated Content by Encouraging Your Followers to Post Their Own Cinco de Mayo Images
Encourage your followers to post images of their own Cinco de Mayo celebrations on social media, using your brand's hashtags and tagging your accounts. If they comply, you can share their content on your own channels, boosting brand awareness by showing that your customers value your company enough to post images relating to it.
There are many ways to go about this – you could set up a physical space at one of your locations where customers can take photos and upload them to social media, or simply ask them to use your hashtags when they post their Cinco de Mayo content online.
9. Post a Holiday-themed Meme
Everyone loves a good meme!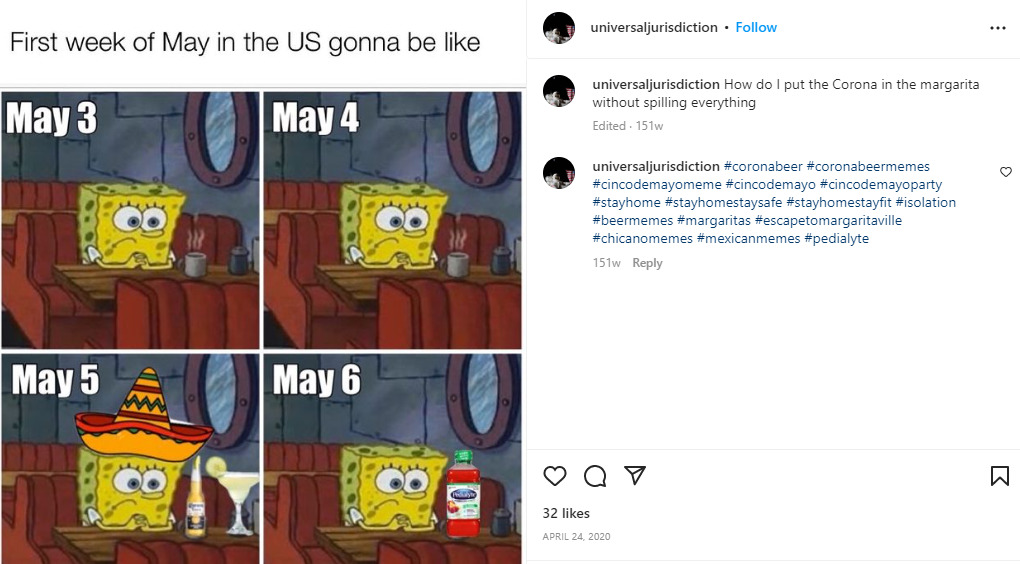 Share a humorous Cinco de Mayo-related meme that resonates with your target audience. This lighthearted approach can help humanize your brand and make your followers feel more connected to your business.
10. Run a Contest or Giveaway
Organize a Cinco de Mayo-themed contest or giveaway to encourage user-generated content and increase engagement.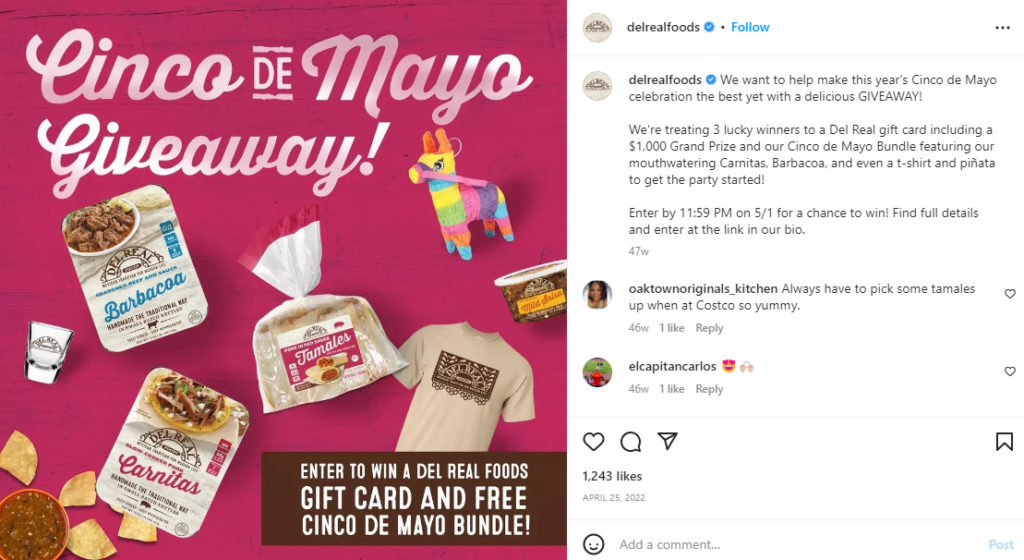 For instance, you could ask your followers to share their favorite Mexican recipe or post a selfie wearing traditional Mexican attire. Offer a prize, such as a discount or a free product, to the winners to incentivize participation.
11. Showcase Local Mexican Culture
Feature local Mexican artists, musicians, or craftspeople in your social media posts, highlighting their work and its connection to Cinco de Mayo. This celebrates the holiday, supports local talent, and fosters a sense of community.
12. Create a Special Employees-Only Cinco de Mayo Celebration Video
Showcase your company culture by sharing a video of your employees celebrating Cinco de Mayo together. This could be a montage of clips showing team members enjoying Mexican food or participating in traditional activities like breaking a pinata.
Sharing such behind-the-scenes content can help humanize your brand and create a stronger bond with your audience.
13. Highlight a Customer Who Recently Used Your Services or Products
Feature a customer who recently enjoyed your products or services in a Cinco de Mayo-themed post. Ask them to share their experience, a testimonial, and a photo or video. This can help build trust and credibility with your audience and showcase the value of your offerings.
Did you know you can create posts for Cinco de Mayo or any other occasion or scenario just from a simple text?
Create social media posts by just giving a small text input and get creatives, captions, hashtags, reels and carousels with the help of Predis.ai!
Wrapping It Up
Cinco de Mayo presents an excellent opportunity for businesses to engage with their audience, showcase their brand personality, and drive engagement on social media. By implementing these Cinco de Mayo social media post ideas, you can captivate your followers, build a stronger online presence, and create a lasting impression on your audience.
Remember to stay true to your brand's voice and values, and most importantly, have fun with it! Cinco de Mayo is a time to celebrate and embrace the holiday spirit, so don't be afraid to let loose and get creative. We hope these ideas have inspired you to create content that resonates with your audience and helps your business shine this holiday season.
So, let's raise a margarita and toast to a successful Cinco de Mayo celebration on social media!