10 Creative & Fun Independence Day Post Ideas For 4th July
Looking for some fun and creative Independence day post ideas to help you celebrate Independence Day on Instagram? The 4th of July is a highly meaningful day for all Americans since it commemorates the signing of the Declaration of Independence and all things 'America.' You're probably racing around getting your critical Fourth of July party items and dusting off your favorite red/white/blue attire, but before you can get to the fun stuff, we want to make sure you go through the best Independence day post ideas for 4th of July.
Some great 4th of July Independence Day post ideas are Photo of Your Favorite Patriotic Outfit, Fourth of July with a BBQ, a Patriotic Picnic, Independence day Parade, Patriotic Nail Art, Patriotic Treats and Recipes, 4th of July Fireworks.
So it is time to start Designing + scheduling your 4th of July Instagram post ahead of time! Nothing is more frustrating than having trouble thinking of an Instagram post idea on the spur of the moment when all you need to do is have fun with family and friends and eat wonderful food.
We at Predis.ai have put on our heads to come up with new Instagram post ideas for the Fourth of July, and we believe we have something special here.
10 Independence Day Instagram Post Ideas For 4th July
Here are a few Fourth of July-themed post ideas to get you started. Whatever you choose to share, make sure to use the hashtag #IndependenceDay to join in on the fun!
1. Post a Photo of Your Favorite Patriotic Outfit
Looking for some ideas to show your patriotism this Independence Day? Why not post a photo of your favorite patriotic outfit on Instagram? You could wear a shirt with the American flag or a dress in the colors of the flag. Or, you could accessorize with patriotic jewelry or a scarf. Whatever you choose, make sure you tag it with #IndependenceDay and #Patriotic.
2. Celebrate the Fourth of July with a BBQ
What's better than spending the Fourth of July with family and friends? Celebrating it outdoors at a BBQ, of course! Take some photos of the fun and share them on Instagram with the hashtag #FourthofJulyBBQ. You could also make some patriotic food like hot dogs wrapped in bacon or hamburgers with bacon.
Add the hashtag #Patriotic for a little extra oomph. If yo/u're grilling, try some patriotic flavors like corn on the grill or grilled beans. Make some drinks like lemonade with red and white swirls or a sipping punch made with bourbon, pineapple juice, and sparkling wine.
3. Host a "Patriotic Picnic"
No Fourth of July picnic is complete without some awesome patriotic decorations! So, set up a table with a red and white checkered tablecloth, punch bowl, and straw napkins. Then, gather your friends and family for a memorable Independence Day picnic. Add festive straw napkins in red, white, and blue. Host a successful picnic by choosing the right dinnerware.
Add some fun to your picnic dinnerware with utensils! Pick out fun and festive forks, knives, and spoons. Make sure each item is made of sturdy materials like stainless steel or plastic. Add some extra fun to your picnic decorations! Choose balloons in the colors of the American flag. Also, include some patriotic-themed toys and games for the kids to enjoy. And, don't forget the wine! Have a great Fourth of July picnic with these awesome picnic supplies!
4. Share a Picture of Your Hometown's Fourth of July Parade
If you're looking for Instagram post ideas for this Independence day, share a picture of your hometown's Fourth of July parade. The parade is a great way to show your patriotism and support for the country.
Plus, it's a great opportunity to get some great shots of the floats and people in your community. You can also share a video of the parade on Instagram! Add the hashtags #IndependenceDay and #Parade to your post to join in the fun.
5. Post a Throwback Photo of you and Your Friends Celebrating Independence Day
Independence Day may be over, but we will always celebrate our freedom to speak out, protest, and disagree with others. Choose a photo of you and your friends celebrating the Fourth of July in the past. Whatever the photo is, share it with the hashtag #Parade and #IndependenceDay to join in the fun.
6. Show off Your Patriotic Nail Art
It's that time of the year again! The entire country is celebrating a very special day—Independence Day. If you're looking for an Instagram post idea on this special occasion, you need to look no further.
Nail art is the perfect way to show off your love for the Fourth of July. Show off your patriotic spirit with a red, white, and blue manicure or display a map of the United States. Be creative and show everyone your Fourth of July nail art!
7. Bake Some Patriotic Treats
This year, why not try a fun new recipe that celebrates our freedom to enjoy the delicious treats we love? Consider making some easy-to-make treats like red, white, and blue cookies or some red, white, and blue cupcakes. Whether you're making treats for your family or hosting a party, celebrate American independence with a fun and delicious dessert!
8. Share Your Favorite Fourth of July recipes
Baking, grilling, and celebrating with family and friends are all ways to celebrate this special holiday. If you're looking to craft an Instagram post idea, share a recipe you love! It doesn't matter if you're the best baker in the world or you're a total newbie; there's bound to be a recipe out there that you love. What's great about sharing a recipe is that you get to brag about it too!
9. Watch the Fireworks With Your Dog
Independence Day can be a stressful time for some people. While some may be working on the house or preparing food, others may be looking for a fun activity to do with their pets. Consider taking your furry friend to watch the fireworks with you. After all, who doesn't love watching fireworks with their pets?
10. Have Fun With and Get Creative with your Independence day post idea!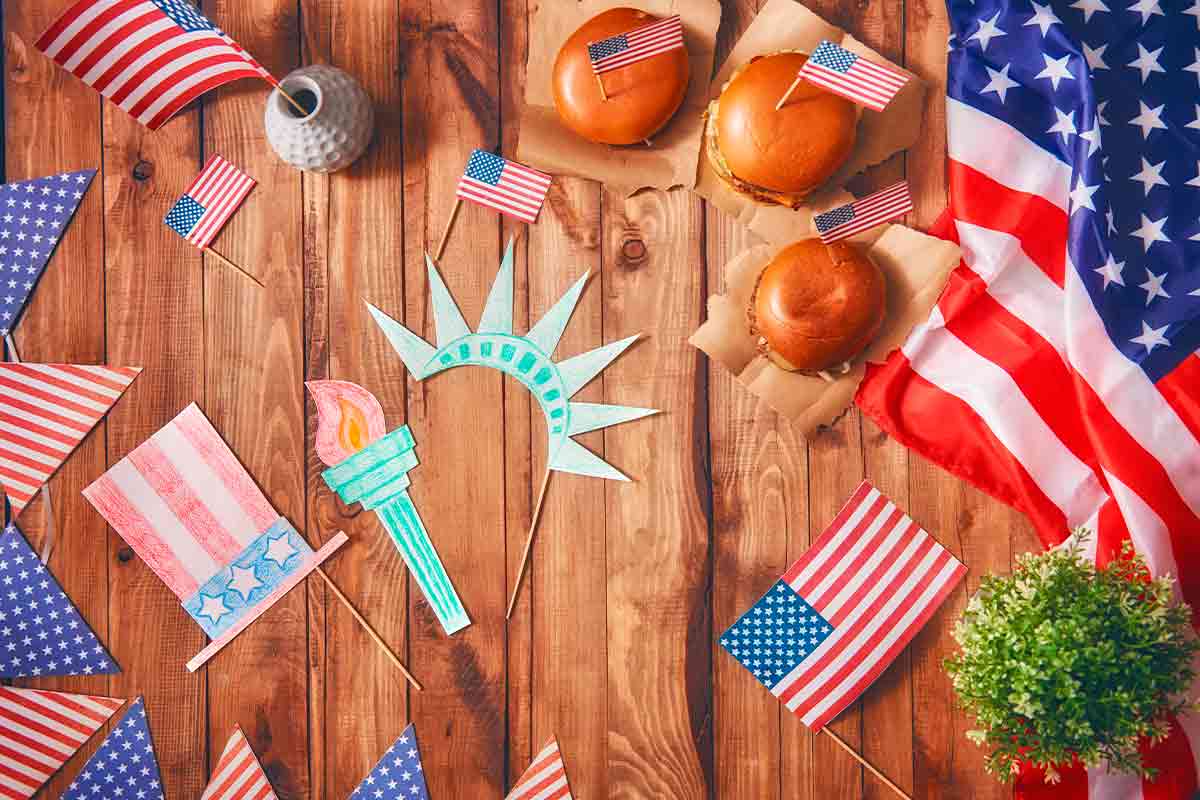 Let your imagination run wild and have fun with it! With so many Instagram photo filters, you can take any old photo and give it a makeover. Try playing around with the look of your post by using filters that creatively alter your photo's colors or contrast.
For example, try cropping in on an interesting object within your photo or play around with the background to make it stand out. Some Instagram users enjoy experimenting with different filters, making it a fun way to combine their love for photography with their independence day celebration posts.
Top 10 Independence day Instagram Post Ideas By Popular Brands
This holiday is observed primarily by the use of barbecues, parades, picnics, fireworks, and visits with friends and family. Many people like to celebrate this day by dressing in red, white, and blue and by eating food that has patriotic connotations. Therefore, many businesses choose to celebrate this day as well by offering discounts or other special deals to their customers.
Here are the top 10 Independence day Instagram post ideas by some of the most popular brands:
1. Xbox
2. Hollister Co.
3. Polo Ralph Lauren
4. NASA
5. WWE
6. Aeropostale
7. Assassin's Creed
8. Sony Alpha
9. OWSLA
10. Michael Kors
Wrapping It Up
Now that you know some great ideas for Independence Day Instagram posts, it's time to get creative and start sharing! Don't forget to use hashtags like #4thofjuly or #independenceday to reach a wider audience.
Thanks for reading! We hope you found these ideas helpful and that you have a great Fourth of July. Don't forget to tag us in your posts – we can't wait to see what you come up with!
New to social media management or Instagram?
There is no doubt that stories increase engagement. But creating Stories as well as Instagram poll games is only scratching the surface of what a social media manager does. So, these blogs listed below will get you started. They will also provide helpful insights on best practices to follow (and those to avoid) on social media:
For more social media tips and updates, follow us on our Instagram!