Star Trek Day is an important day for all Trekkies (die-hard fans of the Star Trek series) on social media. On 8th September 1988, Star the first episode of Star Trek: The Original Series was released. All sci-fi fiction enthusiasts celebrate this day to honor the iconic science fiction show. So if you are one of them and looking for Star Trek social media content ideas, you have come to the right place.
Star Trek Day lets its fans commemorate the milestones and achievements attained by the show. Not to forget, it gives them an opportunity to show their love for the series. Sometimes it is all about nostalgia and fond memories of the past, memories built with family and friends.
Why is Star Trek Loved So much?
There are many reasons to love Star Trek. With the characters being more relatable, the moral values, and a great message. The series profoundly influenced culture because of its groundbreaking concepts, memorable characters, and great storytelling.
The series has a commitment to diversity, with a cast of various races. Tackling social dilemmas back then was a great deal. The advancement of real-life technology inspired the technology used in the series. The series also holds educational values because of the scientific dilemmas and concepts in the show.
If you are one such Star Trek fan, we understand your enthusiasm for Star Trek Day. Share your love for the series using these Star trek day social media content ideas.
1. Star Trek Fun Facts
To celebrate the legacy of Star Trek Day, share content that shares some of the fascinating facts about star trek. Engage fans of Star Trek by sharing some of the less-known facts about it. People love to know more about things they are so fascinated by.
To celebrate is not the only thing you will do by sharing fun facts, but you will also encourage the audience to spark conversation. Connect with other fans using some unknown facts about the series. Sharing fun facts will also help identify and build a community with similar interests.
2. Star Trek Quiz
For Star Trek enthusiasts, a Star Trek quiz will be a hit. Star Trek Day is perfect for hosting a virtual quiz for all Star Trek lovers. We all love challenging ourselves when it is about a thing we love, so your audience will do the same. This will boost engagement on your post. 
It is fun to see the audience participating in quizzes about their favorite franchise. You can include questions as simple as "How many episodes are there in Star Trek". To challenge the audience, you can pick tricky questions that will amaze the audience. Formulate questions from characters, events, or powers of the series and see all the fans engaging with your content.
3. Star Trek Themed Content
Choose content that has elements from the Star Trek series for this Star Trek day to impress people who love the series. How to create content with a Star Trek theme? Select design elements from the series or pick characters from the series. If this does not fascinate you, pick the color palette of Star Trek to create content with this theme.
4. User-Generated Content
User-generated content(UGC) is content created by users and posted on a brand's channels. There are so many ways to gather user-generated content. If you are a brand, your customers are the best source for generating UGC. If you are a company, your employees can help in building UGC for your social media channels. Ask a question in your feed and create content from the responses.
5. Quotes Based Posts
Every series has quotes that influence us greatly. If you fail to get Star trek day social media content ideas, post your favorite quotes from the series as a post. A post is the most preferred type of content, but don't limit yourself to just posting photos. If you don't want to share a simple picture with a post, add a small clip from the series with your favorite quote.
In addition, you don't have to have one single quote. Create a post with different quotes in a carousel format for your social media channels. The reason why quotes are so popular in content strategies is that they are easily consumed by the audience and generate an emotional response from the viewers.
6. Star Trek Memes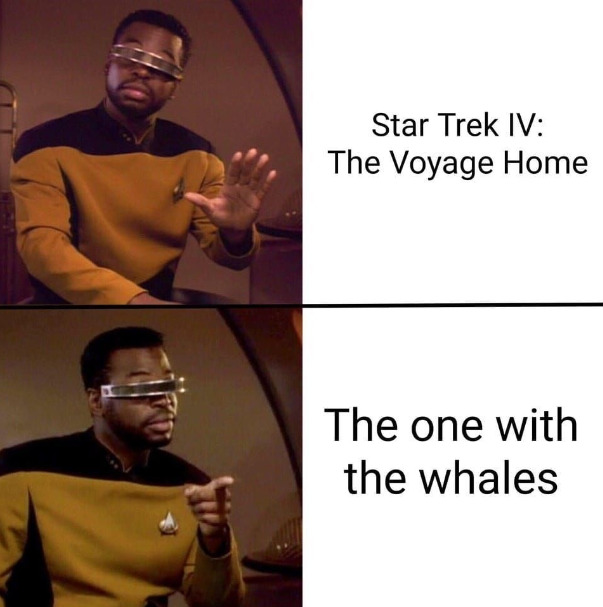 There are plenty of memes for Star Trek that you can use as content ideas for Star Trek Day. Being a treasure trove for humor, share puns and memes with your audience. Memes are a great addition to your Star trek day social media content ideas because they enhance engagement for your accounts, entertain your audience, and they are easy to make. To efficiently integrate memes into your content, here are a few tips. 
Ensure you post original memes. Repurposing humor from other channels is a bad idea if you want genuine engagement from the audience.
How does it look if jokes by comedians often miss the mark? Just like it, your humor content on social media should be tailored for your audience so that they understand and enjoy the memes.
If you are a brand, integrate the Star Trek series with your brand identity.
7. Star Trek Character Posts
Star Trek has so many characters that give you a perfect chance to revolve your content around them. From sharing a picture with a quote of the character to covering everything about that character, there are plenty of ideas for character posts from the series.
Share your favorite character and tell the audience why you love it so much. Or if there's a character you hated at first but started admiring as the show proceeded, share how your perception was changed. Encourage your audience to share their favorite characters to boost engagement on your channels.
8. Episode-based Posts
The original series of Star Trek has around 79 episodes in total. If you are lacking ideas for Star Trek Day posts for social media channels, the way to generate content is by using the episodes from the series.
Do you have a favorite memory from the series? Is there a quote from the series you love so much? Did a clip from the series make you cry or laugh a lot? Did you start loving a character from a specific scene?
If yes, you can use those clips from the series and create content for your social media this Star Trek Day. In a way, this content idea will be personalized, sharing a personal memory or feeling attached to the series as a content piece.
9. Star Trek Giveaway
Giveaways have been a great part of content strategies. On this Star Trek day, you can not miss planning and integrating a giveaway for your social media growth. What you give to the giveaway winners will depend on what type of business you are in.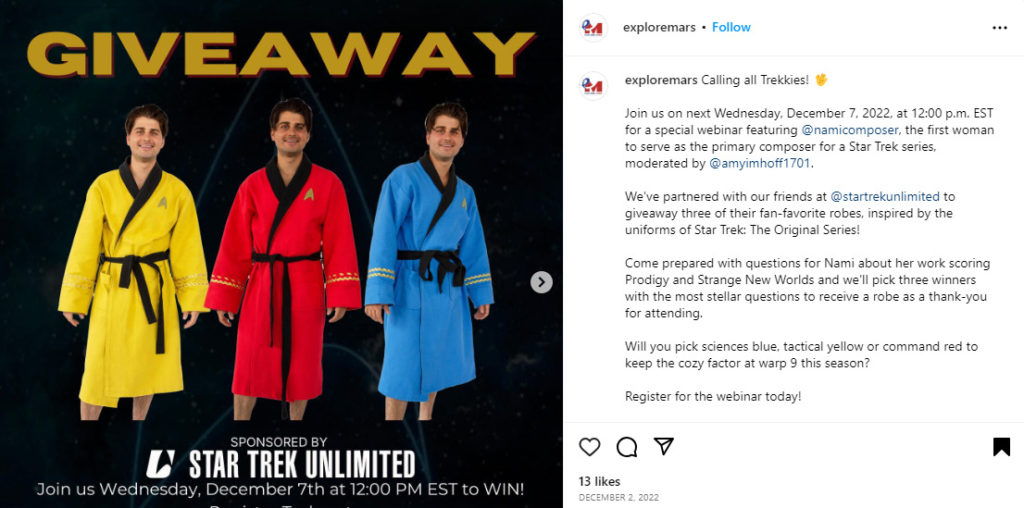 For example, if you are a clothing & fashion store, a T-shirt with a Star Trek character print is the best option. If you are a coffee shop owner, free coffee is the option for you. Whenever you choose a giveaway item, ensure the receiver finds it useful and memorable. The giveaway item should be unique and thoughtful.
10. Star Trek Hashtags
Hashtags are important to target your audience. However finding the right hashtags can be a bit tough. Most posts are bombarded with generic hashtags that drive no traffic to their content. Ensure that you don't make this mistake while you post content for Star Trek Day. Manually generated hashtags are efficient if you research deeply for them. To make the task easier, you can take the help of the Predis AI Instagram hashtag generator. 
Here are some of the hashtags you can use to level up your content strategy this Star Trek Day.
#StarTrekDay
#StarTrek
#Trekkie
#BoldlyGo
#LiveLongAndProsper
#SciFi
#GeekCulture
#NerdyNostalgia
#StarTrekTrivia
Wrapping It Up
Star Trek Day is an important day for all the Trekkies to share their love for the Iconic television show, Star Trek. The best to show your appreciation for this mind-blowing series is by sharing content that speaks about the greatness of the show.
There are so many ways to include content related to Star Trek in your social media content strategy. Using quotes, clips of episodes, characters, and snippets of the show are some effortless ways to create content for Star Trek Day.
To entertain your audience with your content, include humor with your content and share Star Trek memes to make your followers share laughter. UGC is another way to create exceptional content with the help of your audience or customers.
We hope you share the best content this Star Trek Day!
Related Articles
Automate Instagram Content Creation With the Help of AI
Getting Inspiration For Social Media Posts