Anastasia Beverly Hills is a world-renowned beauty brand, and one of the reasons for its success is its marketing strategy. In this blog, we'll look at some of Anastasia Beverly Hills Instagram marketing strategy.
We'll also look at how these strategies could be applied to other businesses, so you can take inspiration from the best and grow your own.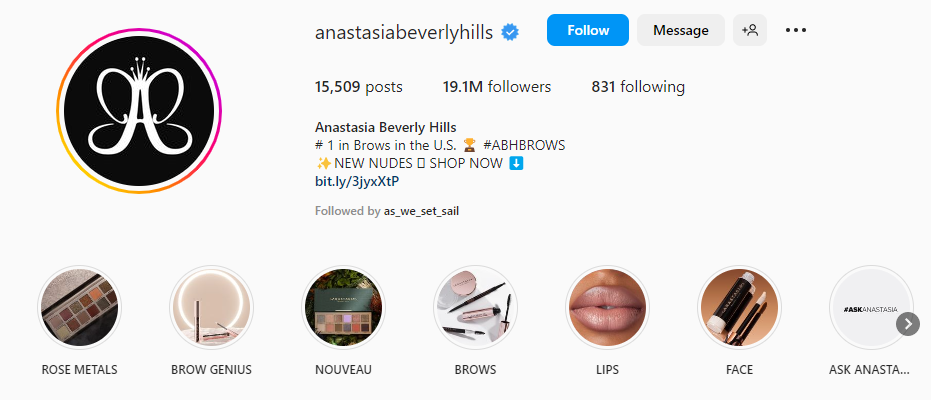 Anastasia Beverly Hills
Anastasia Beverly Hills or ABH as it is commonly known makes and retails cosmetic products. It was founded in 1997 by Romanian-born beauty expert Anastasia Soare. Since then, Anastasia Beverly Hills has become a global phenomenon, with its products being sold in over 50 countries. Claudia Soare, daughter of Anastasia Soare, is the President of ABH. The company is based in Beverly Hills, California.

They are best known for their high-quality, innovative products. Their products are loved by beauty enthusiasts all over the world for their ability to create flawless makeup looks. In addition to its signature contour kit, Anastasia Beverly Hills offers a wide range of products, including eyeshadows, lipsticks, skincare, and more.
We know it can get detailed and lengthy, here is a TL:DR,
Influencer Marketing and UGC
Polished Captions
Experiment with new Content Types
Correct use of Hashtags
Time and Frequency of posting
Giveaways
Anastasia Beverly Hills Instagram marketing strategy
Anastasia Beverly Hills has quickly emerged as one of the market's most popular beauty brands. In just a few short years, they've amassed a sizable social media following and a solid reputation for high-quality products. So, how did they do it? We will look at Anastasia Beverly Hills' marketing strategy. We'll look at how they use social media, their influencer strategy, and their overall branding strategy. Understanding Anastasia Beverly Hills' triumphs can teach us a lot about how to effectively market a beauty brand. This analysis was performed using Predis.ai Competitor Analysis.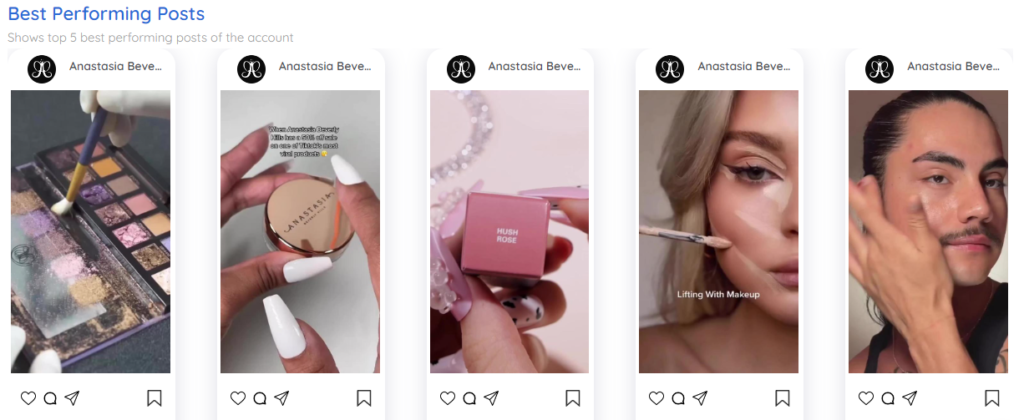 Download Anastasia Beverly Hills Instagram marketing strategy and update your own!
1. Influencers and UGC
Influencer content marketing has become one of the most popular ways to promote products and services on Instagram.
Anastasia Beverly Hills is one of the world's most well-known makeup brands, and they are well-known for their use of influencer marketing. This type of marketing consists of collaborating with well-known social media users who have a large following. Influencers then promote the brand to their followers, potentially resulting in a significant number of new customers for the company.
Anastasia Beverly Hills has had considerable success with influencer marketing, and they have teamed up with some of the top names on social media. This has enabled them to reach a broad range of individuals and put their products in front of potential customers.
When it comes to marketing on Instagram, influencer content is king. But how can you use it to market your business on Instagram like Anastasia Beverly Hills?
Approach the right influencers, both micro and macro. Build a relationship with them and negotiate a collaboration. Be sure to post the content on your handles.
Keep an eye out for good User Generated Content. Repurpose them into your handles.

2. Using polished captions
Hashtags alone are not enough to grow on social media. While the use of hashtags is effective in increasing engagement and reach, the use of captions can be more beneficial as it is the first thing that your audience will see after the creative or image. Your captions should be interesting, informative, and concise.
A quick scroll through Anastasia Beverly Hills' analysis by Predis.ai reveals a myriad of stunning images, each accompanied by a clever caption. The Anastasia Beverly Hills team knows how to pair a great photo with an even better caption, whether it's a ravishing selfie or a glamour shot.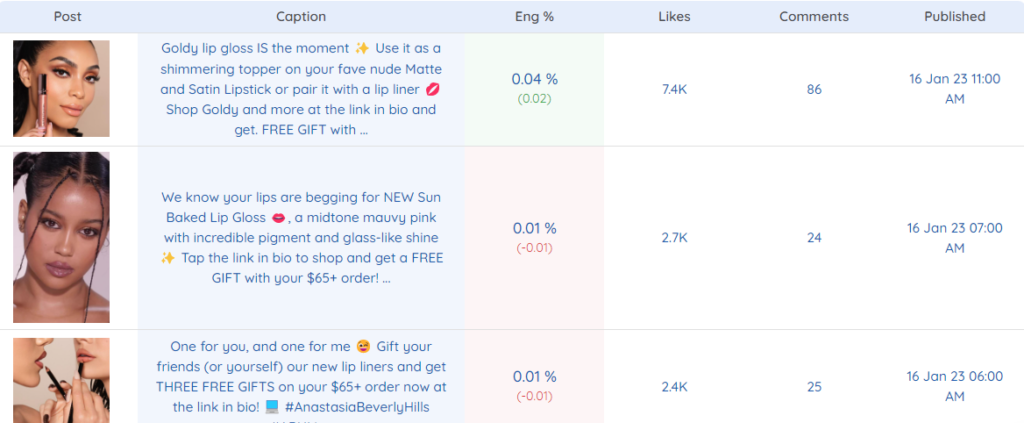 Some tips for using captions like @Anastasiabeverlyhills on Instagram include:
Keep it short and sweet: Captions should be brief and to the point. Try to use no more than two or three sentences.
Use keywords and hashtags: Use relevant keywords and hashtags in your captions to help improve your reach and engagement.
Use emojis: Emojis can be a great way to add personality to your captions.
3. Experiment with content types
As a business owner, you're always looking for new ways to reach your target audience and grow your customer base. The most viral content type on Instagram is reels. A well-planned and creative reel is bound to spread over Instagram and will thus get a lot of views and engagement.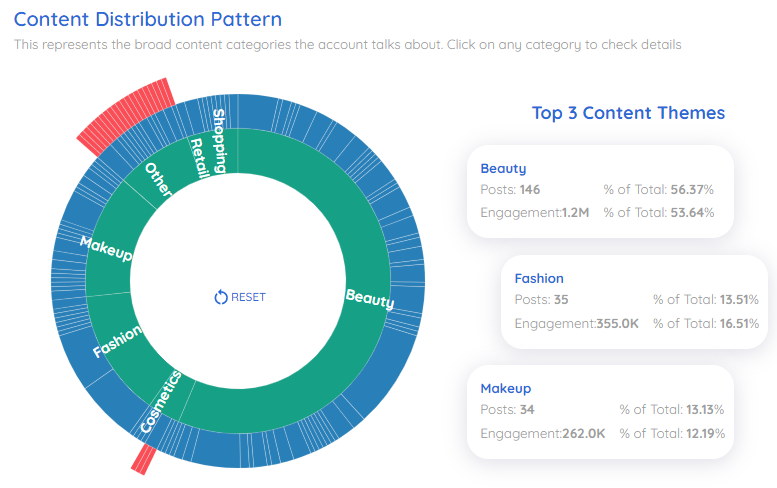 As seen on Predis.ai's competitor analysis, ABH are posting more videos than other content types. Also, in the Engagement Contribution, you can see that @Anastasiabeverlyhills is getting majority of their engagement through videos. This shows the importance of videos in social media marketing.

4. Using Hashtags for better reach
Relevant hashtags are important in getting more engagement. When used effectively, hashtags can help you reach your target audience and grow your following.
Anastasia Beverly Hills has its own branded hashtag: #AnastasiaBeverlyHills that is used in their posts as well as by the people who are using the brand. This makes the hashtag more prevalent and more people will come across this hashtag. The hashtag is then bound to become popular, which it is now.
The Instagram account of the brand is filled with stunning photos of their products in action, and they frequently use hashtags to promote their latest launches and products. Here are the top five hashtags used by Anastasia Beverly Hills: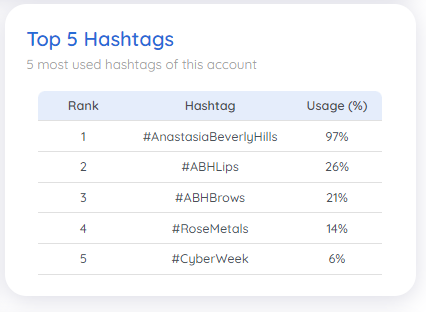 The major hashtag that was used by the brand as well as the influencers and brand users was #AnastasiaBeverlyHills.
Some tips for using hashtags on Instagram for businesses just like @Anastasiabeverlyhills:
Try to use relevant and popular hashtags
Use a mix of general and specific hashtags
It is better to use hashtags in the caption and in the comments
Try to use a hashtag with the brand name
5. Time and frequency of posting content
The time at which one posts content is also a factor that influences engagement. Anastasia Beverly Hills is posting when their followers are most active.
In the following chart, you can see the Post distribution and engagement across the week (Analysis done in the PST zone). They post their content between 5 AM and 3 PM (PST) and that is where they seem to get engagement.

The frequency of posting also matters. Below is the Posting activity for @Anastasiabeverlyhills. They are pretty consistent with their content. They post around two to three posts a day, with most of them being videos (shown in purple in the chart below).

In the engagement activity analyzed by predis.ai, you can see that most of their engagement comes from videos i.e. reels. This shows that they are perfectly leveraging newer content formats on Instagram.
6. Instagram Giveaways
Anastasia Beverly Hills has also launched a few giveaways on its Instagram account. This is a very good way of getting more engagement on your Instagram account. Giveaways are essentially something that business accounts host once in a while. They offer their product for free for one lucky winner or sometimes even a couple of them. That is why it attracts more people and hence the engagement of the Instagram account increases.
ABH has made use of this tactic and increased its following and engagement on its Instagram account. This is something business accounts can use to get more engagement on their posts.
Download Anastasia Beverly Hills Instagram marketing strategy and optimize your Instagram Marketing!
Wrapping it up
Building a social media presence for your business on Instagram can be a great way to connect with customers and create a community around your brand.
What makes Instagram especially well-suited for marketing is its visually-centric nature. Photos and videos on Instagram can tell a story and evoke emotion in a way that text alone cannot. This makes it an ideal platform for businesses to showcase their products or services and connect with potential customers on a more personal level.
It is clear from all the data that Anastasia Beverly Hills have a sound marketing strategy, which you can also apply to your Instagram page. It is important to post at a set time when your followers are active on Instagram. It's also good to post consistently and use new content formats.
You may also like,
Huda Beauty Instagram Strategy
A look into ColourPop's Instagram Marketing