ColourPop is an American cosmetics brand launched in 2014 by siblings Laura and John Nelson. The brand is well-known for its reasonable prices and collaborations based on current social media trends. ColourPop's marketing strategy has earned them the top spot on Instagram.
ColourPop's target market is younger audiences and they target them primarily through social media. Vloggers were the early adopters, discussing the brand on their channels, leading to success. ColourPop has seen substantial growth in the past 2 years. And now has 10.1 million Instagram followers and is frequently mentioned by vloggers and makeup enthusiasts.
Winning beauty and makeup awards from Glamour (2020), Allure (2019), Influenster (2018), Temptalia (2018, 2019), and OK! Magazine (2018), ColourPop is now a beauty brand that stands out against expensive rivals with ad creatives that highlight product quality.
Fourth Ray Beauty is the company's skincare brand, while Sol Body is its sister brand that focuses on other products.
In this article, we will be giving you a complete breakdown of ColourPop Marketing strategy in perspective of social media. The ColourPop Marketing Plan has been broken down into granular details so that you can emulate the same for your brand.
If you don't want to read the entire article, here is the TL;DR😊
1. Recurring influencer relationships lead to higher engagement and boost brand sales.
2. Staying Consistent and Leveraging the power of Instagram Reels.
3. Mastering the Hashtag Game.
4. Understanding the content that worked for ColourPop. (Live-in-action kind of content performed the best!)
We will also show you how you can do all of this by yourself in a few clicks!
So, let's dive into ColourPop's Marketing Strategy and find out what worked for them🔍:
1. Recurring influencer relationships lead to higher engagement and boost brand sales🚀
Recurring influencer relationships lead to boosting brand sales like Safiya Nygaard a beauty influencer, mentioned ColourPop's range six-piece lipstick collection announcing that the products were live and showcased a high level of engagement with over 0.9M likes in 2019, @colourpopcosmetics hit the most likes.
Colourpop influencer marketing has shown great results. Here are examples of Influencer videos that worked! As you can see, the engagement went almost 3 times of average!

A noteworthy thing is that ColourPop has been tagging influencers on every post. This also builds a certain level of trust with influencers as they know they can grow faster by getting in front of ColourPop's massive 10M audience!
2. Staying Consistent and Leveraging the power of Instagram Reels
As reels are the most engaging content on social media and are incredibly flexible in how they can be shared among audiences, they are much more versatile than feed posts. Users can easily share Reels with friends via Stories, and discover Reels on the Explore page, as the Instagram algorithm continues to favor this content format over others.
@colourpopcosmetics uses the same strategy to engage its audience and share content which will lead to higher engagement. Whereas, carousel and single posts equally play a role in Colourpop's Instagram marketing.
We can see the number of published posts on the y-axis, and a day-by-day analysis on the x-axis, with the color indicating the type of content of the posts.

As you can see, most of the posts created were videos (shown in purple on the chart) and uploaded as reels on Instagram. This is a major deviation from the standard approach that the other competitors took where they were happy posting single images on a non-consistent basis.
They post single-image posts, carousels, and reels on a regular basis. As seen, they usually post an average of 6 posts a day
The overall engagement analysis for @colourpopcosmetics shows that reels work the best compared to single-image posts and carousels.
If you want to check such analytics of any public Instagram Handle or Facebook Page, check us out!
In this chart, red represents video postings, while blue and green represent single-post and carousels respectively. Using Predis, we can examine the overall post performance and content distribution pattern.
This again proves that being consistent on social media and staying on top of the current trends and formats yields spectacular results and can make you stand out from your competition.
As we can see, they mostly post content between 7 AM and 6 PM. This shows that they post their content only when their followers are active, which seems to be working for them.
This clearly states that frequent collaborations with influencers, posting around six posts a day, and staying active on social media have worked well for ColourPop cosmetics resulting in a high level of engagement.
3. Mastering the Hashtag Game
Businesses and markets often forget to double down on hashtags to increase their visibility and make the Instagram algorithm know what your post is about.
ColourPop, on the other hand, leveraged the power of hashtags very methodically. ColourPop scaled its social media outreach through the power of the right hashtags, especially on Instagram. As is evident from their posts and also the analysis report generated by Predis, ColourPop used their brand name as hashtags as well as used them in the user-generated content to start trending on social media. If you look at their posts, they have used their name in hashtags as well. Using the right hashtags has helped ColourPop in finding the right audience for their product on Instagram.
ColourPop has been very consistent in using its brand hashtags. As you see, they use #colourpopcosmetics in half of their posts.
Doing research for hashtags is not that difficult. We Checked the most used hashtag sets used by ColourPop using Predis.ai and here are the results. Hashtag sets used by ColourPop the most are:
With the help of Predis.ai, we can see the overall hashtag engagement with the average number of likes and comments on recent posts.
Here are the most used hashtags by @colourpopcosmetics.

Using relevant, targeted hashtags on your posts and stories is one of the best ways to get discovered by new audiences on Instagram. Consistent hashtags and making up for the trend have worked for the brand, as #colourpopcosmetics is trending on Instagram, leading to 47% of usage. Hashtags such as #halloweenmakeup, and #DisneyAndColourPop have effectively increased in reach and have driven overall engagement through social media.
Here are the top 5 hashtags ColourPop cosmetics uses to boost its reach.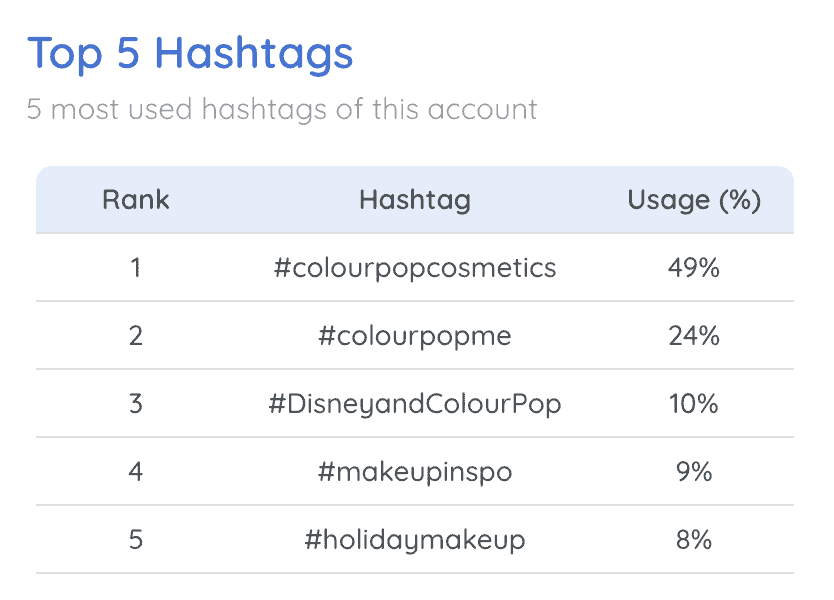 4. Understanding the content that worked for ColourPop.
Surprise! The best-performing content was Live-In-Action kind of videos
This is an interesting one. While running the competitor analysis for ColourPop on Predis, we found this content distribution pattern. Can you see what is interesting about this?
While most of the brands try to double down on a single message or tagline, ColourPop catered equally to all the important topics and themes of their industry and has generated valuable engagement from all of them.
Here's how the content is distributed. A few aspects of their content themes stand out. Being a beauty brand, the bulk of its content revolves around beauty, cosmetics, and fashion, with these categories taking up almost 62% of the published content, and their contribution to the engagement is 60%.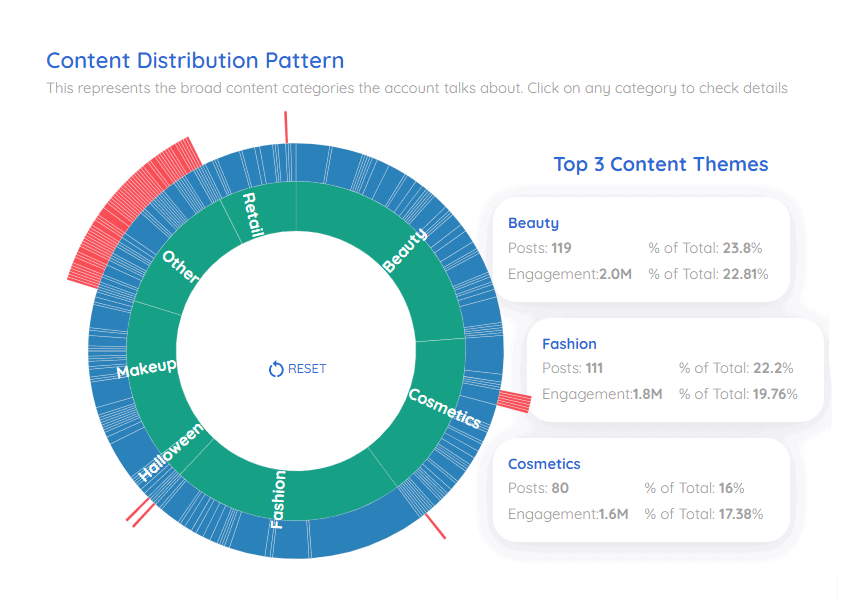 ColourPop, for example, had launched its Halloween collection with trending products and a popular mystery box. They used their content strategy and distributed the themes into posts and reels, using catchy keywords and hashtags like #sale and #halloweenmakeup. Days before Halloween, they started talking about the mystery box with useful products for Halloween makeup and retail, focusing more on giveaways and gift cards. As a result, the goal was not only to target a specific product but also to post content on a variety of topics and themes.
Also, as we covered above, Influencer propelled content worked the best. Even within that, when we analysed the winner, we saw that live-in-action kind of videos have outperformed every other piece of content.

Here are some examples of posts from the top-performing category.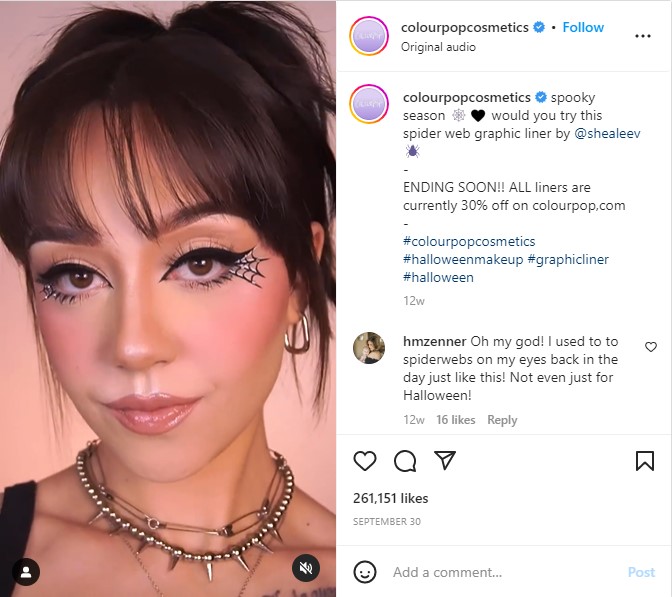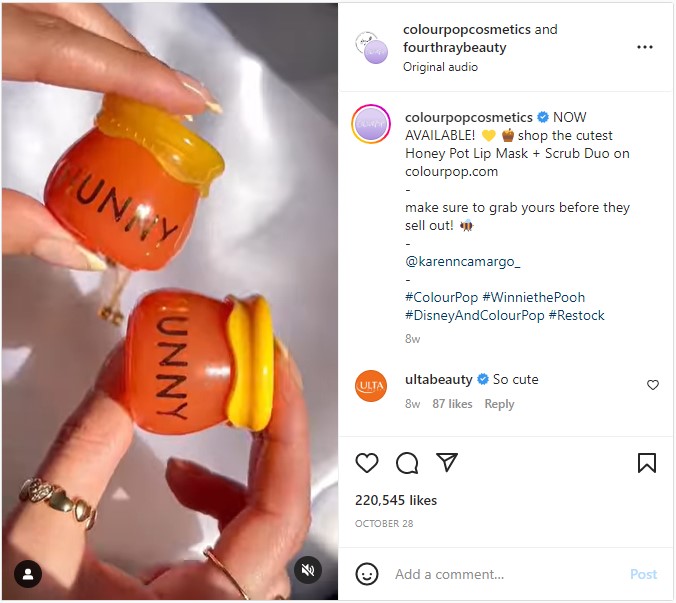 Looking at the Post Performance Analysis by Predis.ai, we can see that content focusing on only the products did not work as well compared to other content.

Leveraging Influencer marketing, User Generated Content, multiple posts every day, and the right use of hashtags gave ColourPop an advantage over its competitors on social media. If you also want to scale your business online, then you can try some of these strategies yourself.
Read Related,
Huda Beauty's Instagram Strategy.