You've got your online Shopify store all set up? Great! And now what do you do? If you've wondered about how you can track all the visitors lurking on your website, and how you can start targeting them, you've likely come to a solution. That solution is Google Analytics!
Using Google Analytics, you can track and analyze your website traffic, user behavior, and conversion rates. Google Analytics combined with your Shopify store will bring you some insight into how visitors interact with your website, including information about their demographics, their sources, popular content, user engagement, conversion rates, and more. This helps you stay ahead of your competition and grow your e-commerce business.
All of this is possible through a tracking code used by Google Analytics that you place on your website's pages. This code gathers information about user interactions and sends it to your Google Analytics account, where you can access and analyze the data through the Google Analytics dashboard. Ultimately, this helps you make data-driven decisions to enhance customer experiences, increase conversions, and improve overall business success.
In this step-by-step guide, we will walk you through the process of adding Google Analytics to your Shopify store.
Step I: Adding Google Analytics to Shopify
1. Create a Google Analytics account
Go to the Google Analytics website
Sign in with your Google account or create a new one
Once you're logged in, click on the "Start measuring" button.
You will be prompted to set up an account. Enter an Account Name (this is a name that represents your business or website) and other relevant details. Make sure to enter accurate information
Click on "Next" to proceed.
2. Get your Google Analytics tracking ID
After creating the account, you'll be prompted to set up a property. A property represents your website or app. Enter the Website Name, Website URL, Industry Category, and Reporting Time Zone.
Click on "Create" to proceed.
In the Admin section of your Google Analytics account, under the Property column, click on "Tracking Info", and then select "Tracking Code."
You'll see your Tracking ID displayed at the top of the page. It will look like "UA-XXXXXXXXX-X." Copy this tracking ID; you'll need it to integrate Google Analytics with your Shopify store.
Keep your tracking ID secure. It's a unique identifier for your website's data collection. Treat it like a password.
Step II: Adding Google Analytics to Shopify
1. Access your Shopify admin dashboard
Log in to your Shopify account.
Once logged in, you'll be in your Shopify admin dashboard.
In the left-hand menu, click on the "Online Store" section to expand it.
From the expanded menu, select "Preferences."
2. Enter your Google Analytics tracking ID
Scroll down within the Preferences section until you reach the "Google Analytics" section.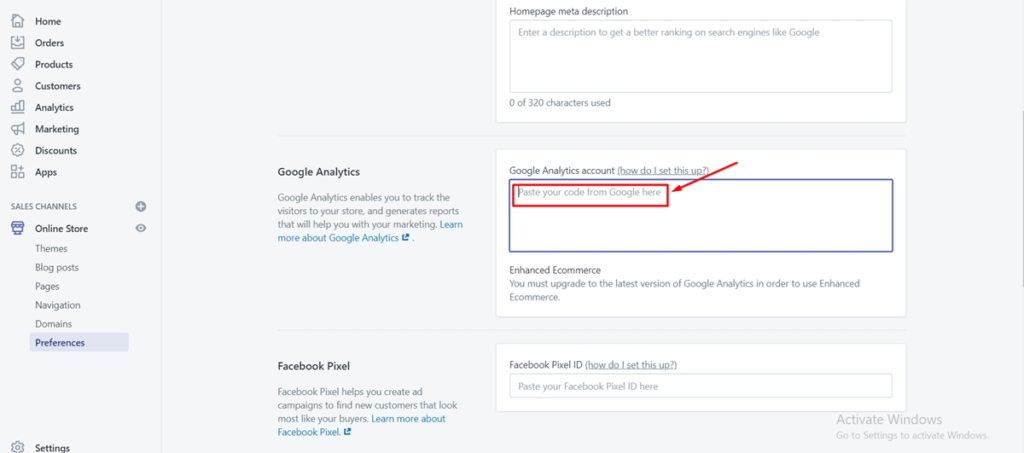 In the Google Analytics section, you'll see an option to "Manage Pixel." Click on this option.
A pop-up window will appear. Click on "Connect your Google account."
You'll be redirected to Google to authorize Shopify's access to your Google Analytics account. Sign in with the Google account that has access to your Google Analytics.
Once authorized, you'll see a list of Google Analytics properties associated with the connected Google account. Select the Tag ID for the GA4 property that you want to connect to your Shopify store.
After selecting the appropriate GA4 property, click on "Connect your Google Analytics 4 property."
3. Enable enhanced e-commerce tracking (optional)
Enabling enhanced e-commerce tracking provides more detailed insights into your store's sales and product performance. It's recommended for e-commerce stores.
If you want to enable enhanced e-commerce tracking, go back to the Google Analytics section on the Shopify page.
Within the Google Analytics section, you'll find an "Enable Enhanced E-commerce" checkbox. Click on this checkbox to enable enhanced e-commerce tracking.
Once enabled, click the "Save" button at the bottom of the page to apply the changes.
Step III: Verifying the Integration
Check if Google Analytics is tracking your Shopify store
Go back to your Google Analytics account.
In the left-hand menu, navigate to the "Real-Time" section. This section allows you to see live data about the current activity on your website.
Open your Shopify store in a new tab or window using your website's URL.
In the Google Analytics Real-Time section, you should see active users on your site. This will confirm that Google Analytics is tracking your Shopify store in real-time.
Note that there might be a slight delay in real-time tracking data appearing in Google Analytics. Don't be alarmed if there's a brief delay between site interactions and data showing up in the Real-Time report.
Test e-commerce tracking (optional)
Add a Product to Your Shopify Cart: Visit your Shopify store as a regular customer. Browse through your products and add one to the cart.
Proceed to the Checkout Page: Go through the process of proceeding to the checkout page.
Complete a Test Purchase: If you're comfortable doing so, you can complete a test purchase. This involves entering test payment information and completing the checkout process without actually making a real payment.
Make sure you're using a testing environment and not an actual live transaction. You don't want to affect your actual sales data.
Check E-commerce Data in Google Analytics: After performing the test purchase, go back to your Google Analytics account. Depending on the specific GA4 setup and reporting, navigate to the relevant section where you can find e-commerce data.
Look for data related to the test product added to the cart, the checkout process, and the completed purchase.
Step IV: Analyzing your Shopify store's data with Google Analytics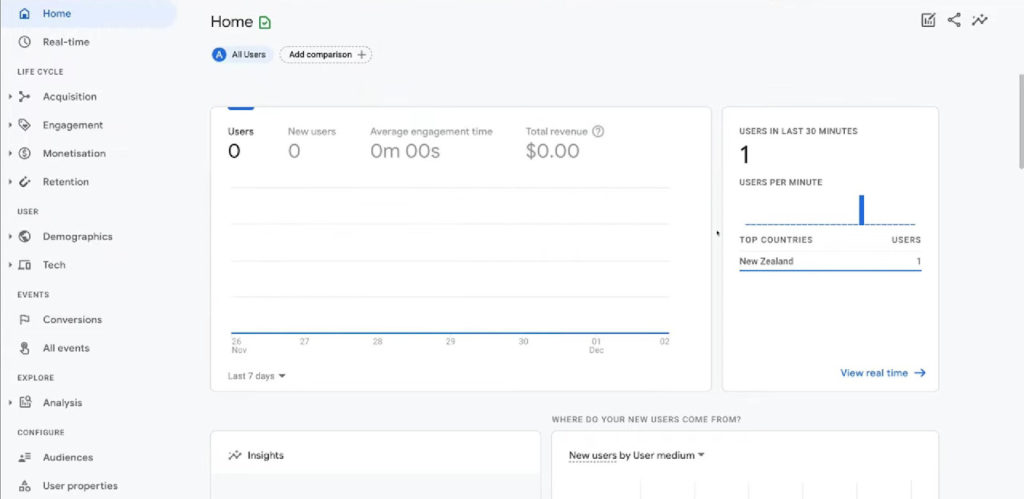 Overview of Google Analytics reports
Dashboard: Get a comprehensive understanding of your store's performance, including essential metrics like sessions, conversion rate, and revenue. All of these are crucial for you to assess your store's overall performance at a glance.
Real-Time: Monitor the live activity on your website, such as active users, top pages, and traffic sources. This will help you stay on top of new trends and immediately capitalize on the opportunity.
Audience: Understand your website visitors, including their demographics, interests, and behavior. These elements help you gain the knowledge you need to tailor your marketing efforts to meet their preferences.
Acquisition: Track the sources of your website traffic and measure the effectiveness of your marketing campaigns. This can even be done across channels
Behavior: This helps you gain insight into how users navigate through your website, including popular pages, exit pages, and site searches.
Conversions: This metric measures the success of your goals and tracks e-commerce transactions. This helps you understand what exactly drives up your sales.
Key metrics to track
Understanding these key metrics will help you refine your strategy to its best potential:
Sessions: The number of times users visit your website. This is a basic measure of understanding engagement
Conversion rate: The percentage of visitors who complete a desired action, such as making a purchase. That is a clear indication that the user got what they were looking for.
Average order value: The average amount spent by customers in a single transaction. Using this metric, you can optimize your pricing strategies.
Revenue: The total amount of sales generated by your Shopify store. Understanding this number will help you grow your sales and business in the future.
Traffic sources: Identify where your website traffic is coming from, such as organic search, social media, or paid advertising. Once you get the hang of it, you can look into channel allocation and refining your marketing campaigns.
Creating custom reports and goals
Custom reports: Using Google Analytics, you can build custom reports to track specific metrics or segments of your audience. Then, you can extract the data that matters the most to your business.
Goals: Set up goals to track specific actions on your website, such as newsletter sign-ups or product purchases. Tracking these actions will essentially help you understand user interaction and conversion success.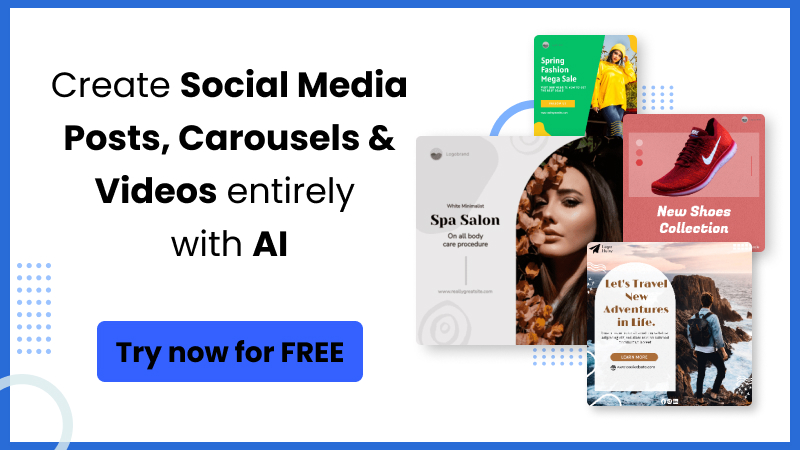 Step V: Using data to optimize your Shopify store
Adding Google Analytics and reading the data doesn't mean anything until you take active steps toward performance improvement.
Identify opportunities for improvement
Analyze customer behavior to identify pain points and areas for improvement
Identify products or pages that are struggling to engage users or convert. Turn these insights into actionable improvements.
A/B testing and optimization
Test different variations of your website to optimize conversion rates. Compare variations, learn from the data, and refine your website experience.
Use data from Google Analytics to make educated decisions. Numbers don't lie, and when coupled with strategic thinking, they can take your store to new heights.
Here is the Google Analytics for Beginners Tutorial:
Wrapping it up
Entering the e-commerce field with the Google Analytics tool with your Shopify store will be a game-changer for you. Google Analytics is not only about tracking numbers. It is about offering you new insights into your audience, your marketing strategies, and your store. It is an opportunity to sculpt your e-commerce business into its best version to attract customers, increase conversion rates, and boost sales.
With this step-by-step guide by your side, you can integrate Google Analytics and start leveraging its powerful features seamlessly.
Related articles
Marketing Automation for Shopify
How To Connect Instagram To Shopify Store
Best Shopify Tools For Marketing
Social Media Graphics Tools for Shopify