Instagram has more than 500 million users, 4.2 billion regular likes, and more than 95 million photographs and videos shared every day since 2010. We all love to see accounts that have a well-planned Instagram aesthetic. Brands who make use of this innovative social media channel often discover that the degree of visibility provided by Instagram is exceptional. Creating a successful, branded Instagram account takes more than simply gorgeous photographs. To be successful, you'll need to develop a distinct brand style, a well-curated feed, and an effective community management plan based on your brand identity i.e. a great Instagram aesthetic
When your clients come across your profile, the first thing they will react to and notice is your Instagram aesthetic. It includes the colors, layout, general mood, and tone that your brand's profile creates. And when these elements come together, you can be certain of gaining a new following. Alternatively, just push them aside.
When you have a fantastic Instagram aesthetic, your profile will be easy to read. It will also increase brand identification and awareness. As a result, the overall performance of your company will skyrocket.
An Instagram aesthetic has the unique potential to portray the personality of your company in a single image. And this will assist customers in recognizing your content among the multitude of others on their feed! So let's get started and learn how to develop a stunning Instagram aesthetic for your company.
Why is a Stunning Instagram Aesthetic Important for your Brand?
Simply stated, your Instagram aesthetic is one of the most effective strategies to get more followers and expand your account.
Considering company development has grown so reliant on social media, it is more important than ever to build your Instagram aesthetic! Instagram is growing in popularity as more users and business owners resort to it for better bargains.
This phenomenon elevates your Instagram profile to the same level as your website. Furthermore, the Instagram feed of your account is the first thing a customer notices when they visit your profile.
Having said that, you must understand how to leave them with a positive image of your business. When a visitor comes to your profile and understands what to do and what they can anticipate from you, they are more inclined to follow you.
Finally, one of the most important techniques to ensure the development of your company without manipulating the Instagram algorithm is to use the Instagram aesthetic.
8 Steps to create a stunning Instagram Aesthetic for your Brand
With so many other companies in the market, it might be difficult to distinguish your company out there. If you want to attract the attention of Instagrammers, your brand must be unique, which you can achieve with a visually beautiful Instagram aesthetic.
Here's how to design an appealing Instagram aesthetic for your business:
1. Characterize Your Brand Personality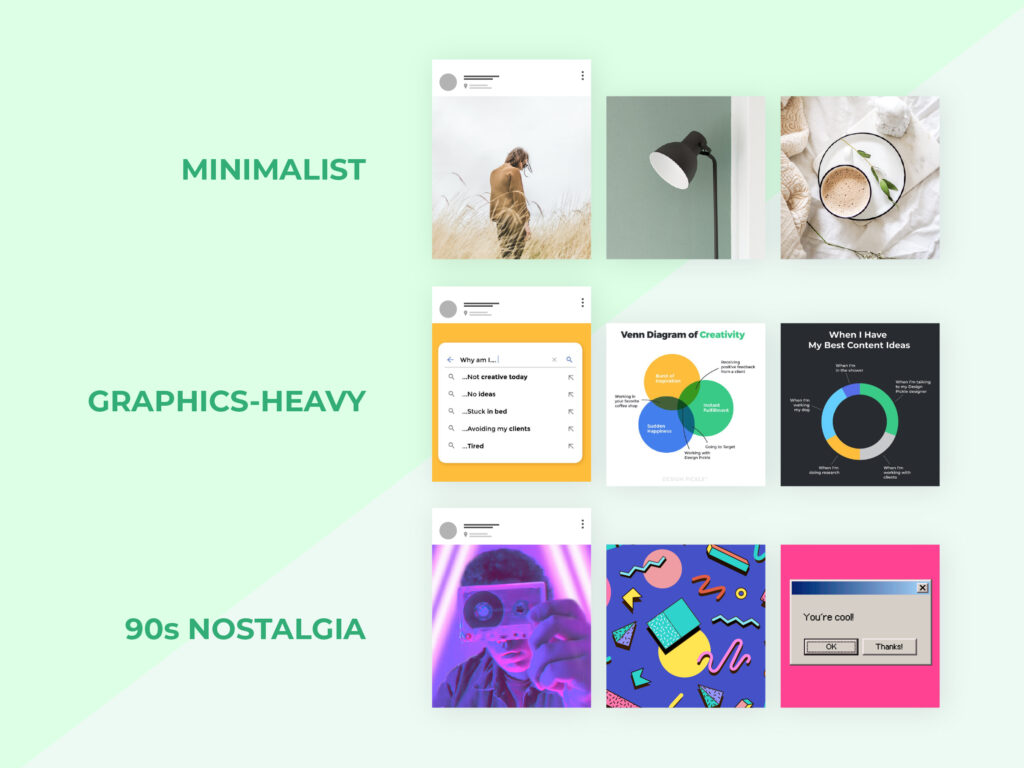 Even at first look, your Instagram aesthetic should be able to convey who you are. That is why it is critical to begin by precisely establishing your brand identity. What is your brand's identity? What distinguishes you from the competition?
This phase is significantly simpler for content providers since it simply requires you to define your brand. As you already know yourself well, it's primarily a matter of determining how to display yourself visually via your Instagram feed.
It may be difficult for brands since the process requires a careful examination of your fundamental beliefs and target audience. In other words, your brand's personality should be consistent with the audience you wish to target and the values you uphold.
For reference, a gentle and minimalist attitude might suit your brand's objectives of eliminating waste and keeping a sustainable lifestyle. If you want to connect with a bold and varied set of women, your personality should be feisty and as powerful as the ladies you want to connect with.
Begin by getting back to fundamentals and determining who you are as a brand. Then consider the adjectives that best describe your personality.
2. Establish the Visual Identity of your Brand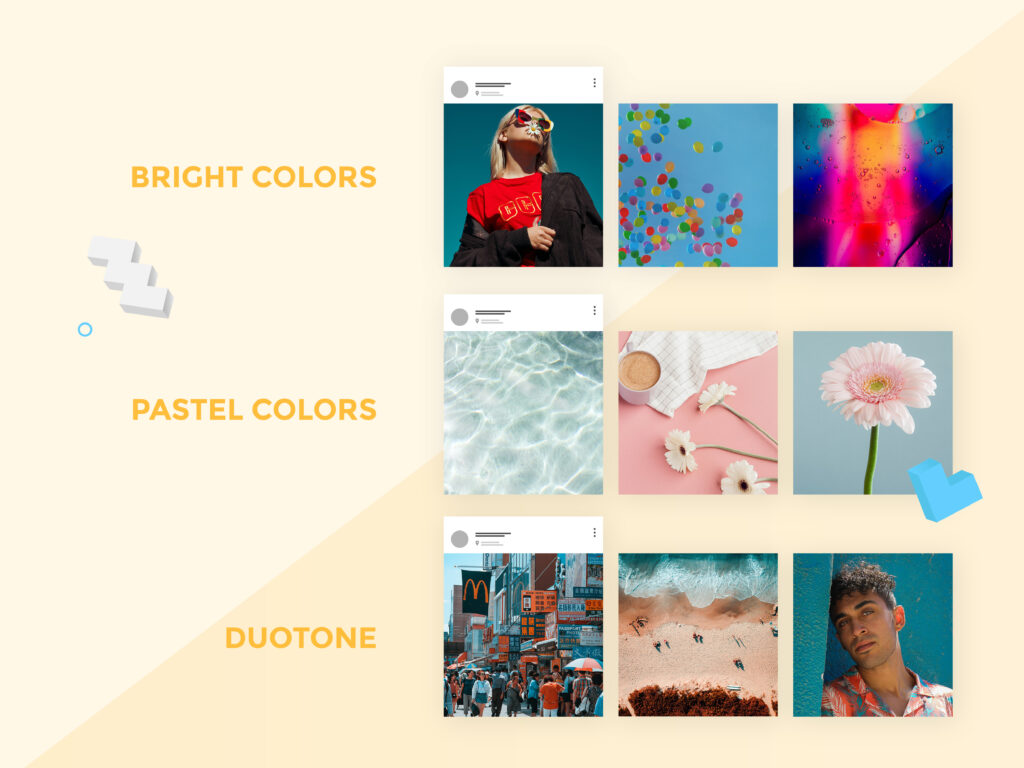 Next, focus on the images that would best represent your brand's identity. This doesn't have to be a comprehensive process, but having a basic notion of the brand style you want to preserve will help you create your Instagram aesthetic later down the road.
For example, if your brand identity is elegant and simple, you may want to match it with a clean, crisp, and minimalist visual identity. An exquisite and exclusive brand personality, on the other hand, may be better associated with a rich and dark visual identity.
Similarly, a vibrant and eye-catching visual identity may establish a joyful and creative brand personality. Meanwhile, you may tie a calm and down-to-earth brand attitude to a subdued and pleasant visual design.
Use these initial suggestions to create a broad description of the visual identity that would be most appropriate for your business. This will then assist you in deciding on the colors and other visual components to include in your Instagram design.
3. Choose Your Brand Colors for Instagram Aesthetic
The color scheme you employ is one of the most crucial parts of your Instagram look. The perfect color combination may effectively portray your business's visual identity on Instagram, just as the appropriate colors assist in establishing your brand. As a result, the color selection should be deliberate.
In general, firms may utilize the colors from their company emblem to create an Instagram aesthetic. This is a simple solution if your brand's colors already convey its personality.
Remember that various colors can produce different emotions, so be extremely selective with your color selection. Pastel pink, for example, might be connected with a more calm mood, whilst bright pink can be associated with a more joyful and active attitude.
Furthermore, the colors you choose should be complementary to one another. Otherwise, creating a style that is attractive to the eye and immediately linked with your company would be challenging.
4. Stick to a Style Guide for your Instagram Aesthetic
Now that you've established your brand style and colors, it's time to compile everything into a style guide. A style guide is essential if you want to retain clarity with your visual marketing efforts, even when you're not on Instagram.
Create the color palette for your Instagram look based on the colors you selected previously. The palette may include up to six colors that will be utilized regularly when producing material for your Instagram Feed posts, Reels, or Stories. This is true for all types of material, from images and videos to text entries.
Next, consider the fonts you'd want to use for text posts, text overlays, and Instagram Stories. Your brand typography, like your color palette, should appropriately express your brand personality. Also, be precise about which typefaces to use where. This means you should define which fonts to use for headers and which for body text.
Using the same filter on all of your Instagram photographs might help you achieve a more united visual identity. Make sure your Instagram aesthetic guide explicitly identifies the filter or preset to employ. This should correspond to the visual concept or general mood you wish to establish for your Instagram look.
In addition to the basic style components listed above, define any extra unique characteristics that your team should consider while developing Instagram content. Other brand-specific features such as backdrops, borders, frames, and images that may need to be included in the content are also included.
5. Leverage the Power of Editing
Photos can be shot anywhere and are impacted by a variety of factors. With this in mind, how can you ensure that your images adhere to your theme and color palette?
The first and best option is to employ pre-planned, professional photos. You can help guide the colors, components, and composition of your images this way. The post-processing required to give the photographs that on-brand appearance can then be handled by your photographer or professional photo editor.
However, amateur or phone images are acceptable on social media. Presets can very handy here. Presets are tried-and-true settings that you can use to give your images a polished, professional appearance.
A preset, on the other hand, will not have the same impact on every shot. It's vital to understand the ins and outs of photo editors like Lightroom so that you can tailor preset settings to specific photographs.
6. Keep your Instagram Feeds Balanced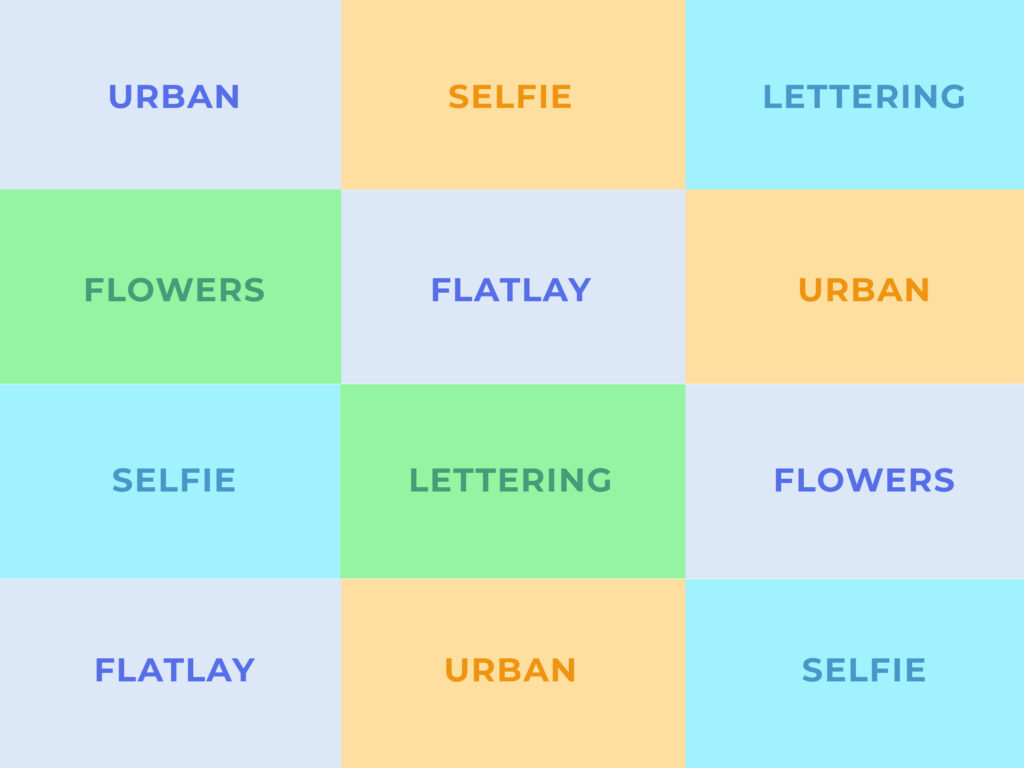 The first step in creating a balanced feed is categorizing your various article categories. You might have text-based visual announcements and quotations, close-up portraits, group photos, and object flat lays, for example. Make a point of not uploading the same sort of graphic again.
Minimal graphics might help to provide visual "breathing zones" between your more busy postings. It might be tempting to over-communicate by squeezing as many details as possible into a single post. But keep in mind that there will always be a future post – and another after that.
As a result, a smart rule of thumb is to arrange active photographs next to basic articles to create a peaceful, balanced atmosphere. Remember that first-time visitors to your account will not like a visually cluttered feed. They are more likely to react favorably to a feed that seems constant and well-curated.
7. Don't Restrict Instagram Aesthetic to Feeds Only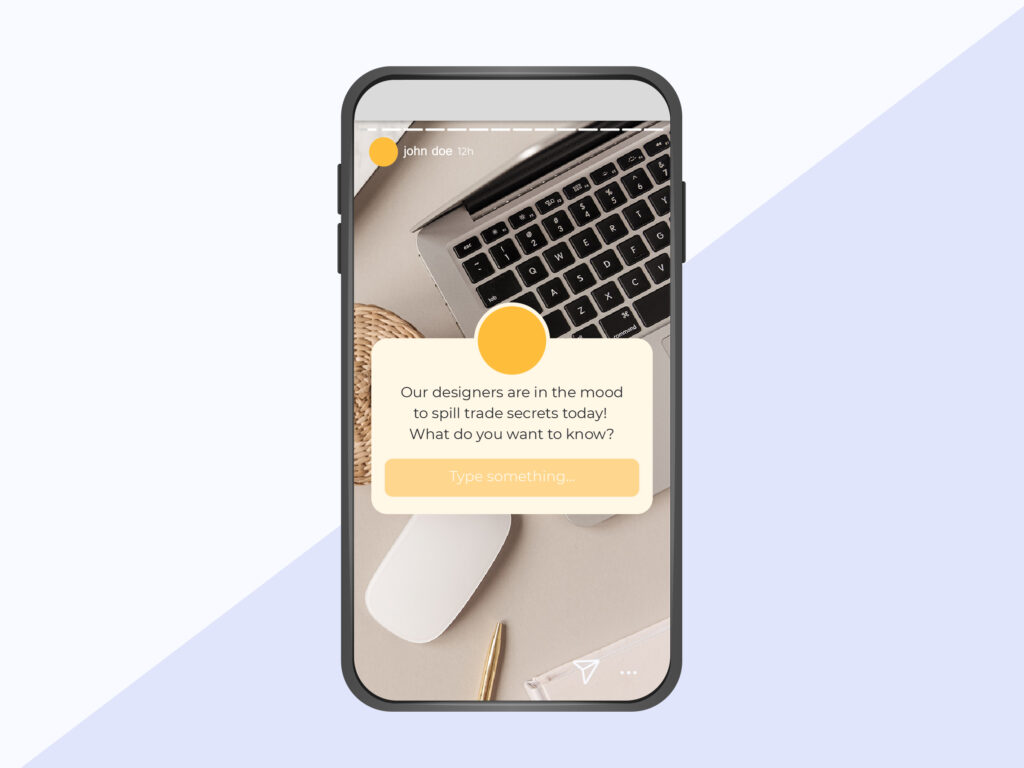 While your main Feed is the most visible, it is not the only thing that influences your Instagram appearance. Your style should extend beyond your Feed and include your profile photo, Stories, and even Highlights.
While templates should cover your Instagram Stories, don't pass up the opportunity to develop Highlight covers that flawlessly suit your brand style.
You may use several Highlights to group your Stories. Make certain that each category has a cover that is aesthetically consistent with the others.
8. Create a Content Calendar and Schedule Your Posts
It's almost hard to put up a coherent feed on the go. A visual grid planner can assist you in ensuring that your scheduled articles look great together.
Predis.ai is one such app. Platforms differ in their features, but you can usually anticipate an auto-posting capability, which means you can schedule your Instagram posts to publish at any time (even while you're asleep!).
The majority of free programs restrict you to one account and a specific amount of posts per month. This is sufficient for even newly established business Instagram profiles. Paid plans, on the other hand, could be worthwhile. They are often more powerful, enabling users to publish to other social media networks, manage numerous accounts, plan Instagram Stories, and do other things.
Instagram Aesthetic Examples That Can Inspire You
You can edit your Instagram material to match that requirement after you've established your brand identity and defined your target market. Instagram is a medium for fascinating content, and marketers can take advantage of this by posting consistently and creatively.
So, now that you know all of the steps to develop your Instagram appeal, we have some suggestions to keep you motivated!
1. Nike
Nike's Instagram feed extends beyond fantastic athletic clothing and footwear, with one of the highest followings. They have built a unique "Just Do It" philosophy and a methodical social media presence to mirror that inspiring brand image.
Nike has done an outstanding job of highlighting inspirational athletes to promote and advance their mission, as shown in the post above and the rest of the recent films released on their Instagram feed. You wear Nike if you want to achieve at the greatest level like these athletes.
2. Squarespace
If we're talking about well-curated content customized to an audience, Squarespace's Instagram is a must-see. The brand replicates this statement with a carefully curated feed, promising the easiest method to build a beautiful website.
Squarespace entices followers by presenting eye-catching photos that mirror the brand's minimalist ethos. Best of all, it includes photographs from customers, displaying success stories, and the many ways the Squarespace service can be utilized, which helps to engage followers and inspire future clients.
3. Red Bull
Red Bull conjures up images of great energy. That's why Red Bull's Instagram account is filled with incredible videos and photos, each one more exhilarating than the last.
When it comes to extreme sports and weekend vacations, Red Bull identifies their brand with an exuberant lifestyle that pushes limits. The coordinated sense of their postings is another way they build a story.
Take note of how the bulk of their posters is situated outside. It contributes to the perception that when you consume Red Bull, you live on the edge.
4. Tough Mudder
Tough Mudder has cultivated an image of overcoming a military-inspired challenge that requires collaboration, fortitude, and a lot of feeling like a complete "badass." Tough Mudder's Instagram feed is packed with photos of muddy racers wearing orange, which serves to symbolize the brightness and feeling of togetherness that prevails in an otherwise difficult scenario.
The beauty of Tough Mudder's Instagram feed is its ability to capture competitors' emotions as they go through the course. They have perfected the art of instilling sentiments of strength and the drive to complete a challenging goal that only a small number of individuals have accomplished.
The images of rigorous training and being part of a program that pushes you to your limits are both thrilling and fulfilling. Tough Mudder, as the name implies, has a curated Instagram account that focuses on persistence and toughness.
5. Taco Bell
Tacos and 'LiVE MAS!' come to mind when you think about Taco Bell. This implies that their social media pages, like their individual Instagram postings, will include a lot of tacos, bright colors, and a lifestyle that entails living quickly and 'on the move.'
Taco Bell's major audience is increasingly millennials; thus, they have concentrated on incorporating fun and authenticity into their style, which makes it simpler for them to generate interaction.
6. GoPro
GoPro's Instagram photographs perfectly exemplify what it means to capture a lifestyle full of adventure and activity through their product's lens. Their feed focuses on showing a range of one-of-a-kind situations that will inspire you to get out and film your travels.
Wrapping It Up
It takes a lot of effort to bring your desired Instagram look to reality. When you compare a brand's latest postings to those from a year ago, you'll see that their visual style has altered or developed.
This implies that if you're just starting, it's OK not to be a professional designer or photographer. It's OK to be a beginner and to improve your postings over time. Don't be frightened to experiment with new things.
Every few weeks or months, try out new filters, frames, and colors. Take images from various angles to see what works best. The more you publish, the more you'll learn about which tools and effects work best.
Simply concentrate on learning the fundamentals and creating the finest Instagram pictures every day. As your visual aesthetic matures, you'll learn to realize prior faults and refine your style.
For more social media tips and updates, follow us on our Instagram!