May the Fourth be with you. As a franchise fan, this is one of our favorite events, and surely many other fans feel the same way. Why not use social media this year to spread your love for Star Wars? We have some Star wars day social media post ideas to get you started.
This is an amazing opportunity for small and big business alike to create some variety in their social media content and engage with their followers in a better way.
What and when is Star Wars day?
May 4th, which for Star Wars fans around the world is known as Star Wars Day! This special day celebrates George Lucas' Star Wars franchise and is a day for fans to come together and celebrate all things Star Wars. So why is Star Wars Day celebrated on May 4th? There are a few theories out there, but the most likely explanation is that it's a play on the popular Star Wars phrase "May the Force be with you." This phrase is said to wish someone good luck and has become synonymous with the Star Wars franchise.
Star Wars Day celebrations can take many different forms, from simply watching the films with friends and family to attending special events and conventions dressed up as your favorite characters.
Star Wars is an epic space opera franchise created by American filmmaker George Lucas. Its movie franchise has captured the imaginations of millions of people around the world. Star Wars tells a story about good versus evil, light and dark, and how those forces can be used for good and bad depending on who wields them. The Star Wars universe consists of nine main films released between 1977 and 2019, as well as numerous spin-off movies, television shows, books, video games, and other media.
The original trilogy (Episodes IV, V, and VI) follows the story of Luke Skywalker as he joins forces with the Rebel Alliance to battle the evil Galactic Empire. The prequel trilogy (Episodes I, II, and III) chronicles the rise of Anakin Skywalker, the eventual fall to the dark side, and the rise of his son Luke. The anthology series (Rogue One and Solo) tells standalone stories set in the Star Wars universe.
Star Wars Day Social Media Post Ideas
Star Wars remains one of the most popular franchises even after nine films spanning four decades worth of content! Let's see how we can celebrate the epic franchise on social media.
1. Dress up as your favorite Star Wars character
Star Wars day is all about celebrating the series. Do you want to feel like you're in a galaxy far, far away? Then dress up as your favorite character! Whether you're a fan of the original trilogy or the newer movies, there's a character for you. Choose from iconic characters like Luke Skywalker, Leia Organa, Darth Vader, or Rey. Or go for a more obscure choice like Jyn Erso or Poe Dameron.
As a business you can use pictures and videos of your employees in their Star Wars costume. Their Halloween dress ups or photos from your parties.
No matter who you dress up as you're sure to have a fun time! Don't forget to post this on your stories or as a post for people to look at. One can also make cosplay reels on Instagram and post them to get a lot of engagement on Instagram.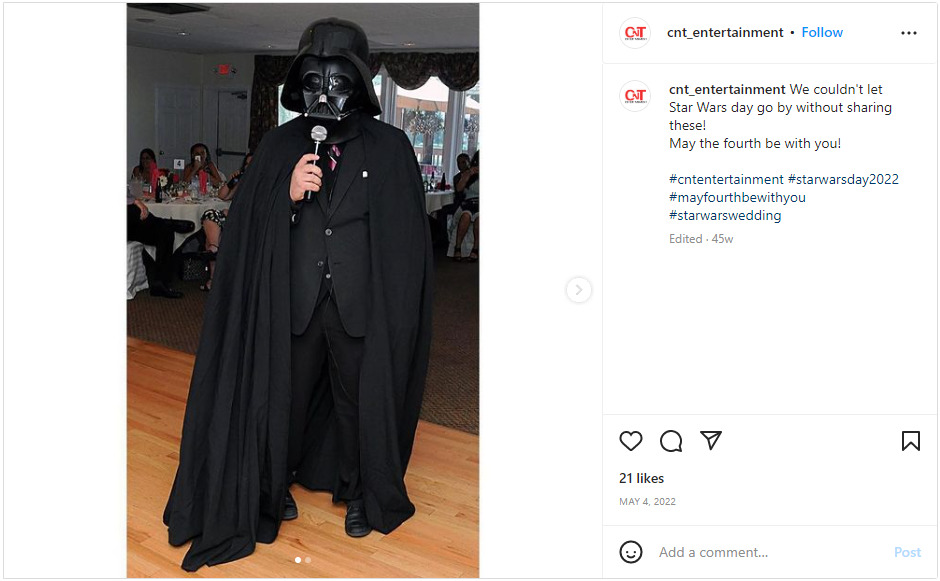 2. Get creative with Star Wars dialogues
There are a lot of dialogues from the movie that can be used to create posts and stories. "May the 4th be with you" or "May the force be with you" are famous dialogues that you can use in posts. How about a wordplay on your product or service? Or lip syncing to your favorite Star Wars dialog.
From Darth Vader's entrance in A New Hope to Rey's first lightsaber battle against Kylo Ren in The Last Jedi, there is no shortage of classic moments throughout the films that fans will recognize and appreciate seeing online.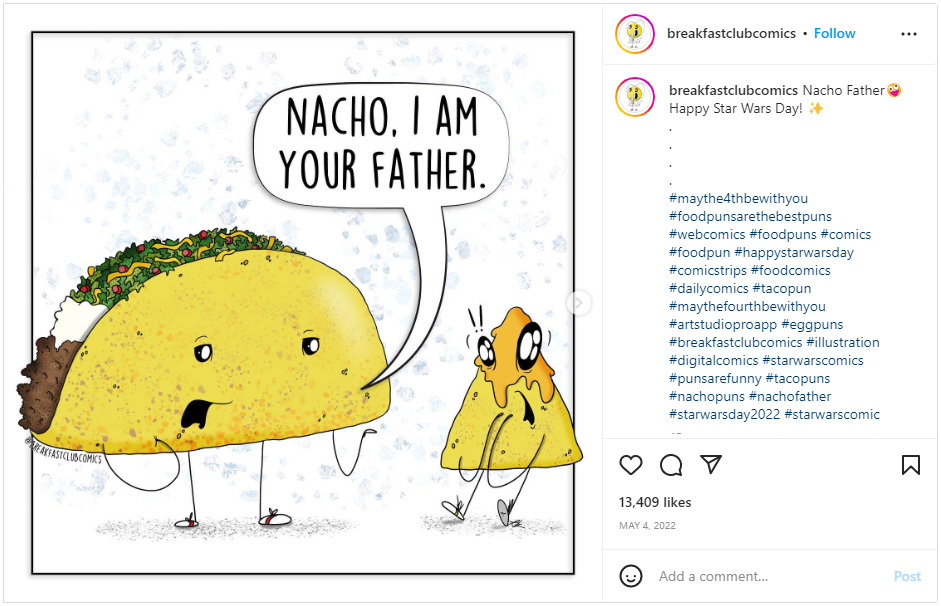 3. Best time to share your favorite character
Everyone has their own personal favorite character in the series – why not share their memorable clips? You can even add an image that captures their spirit perfectly.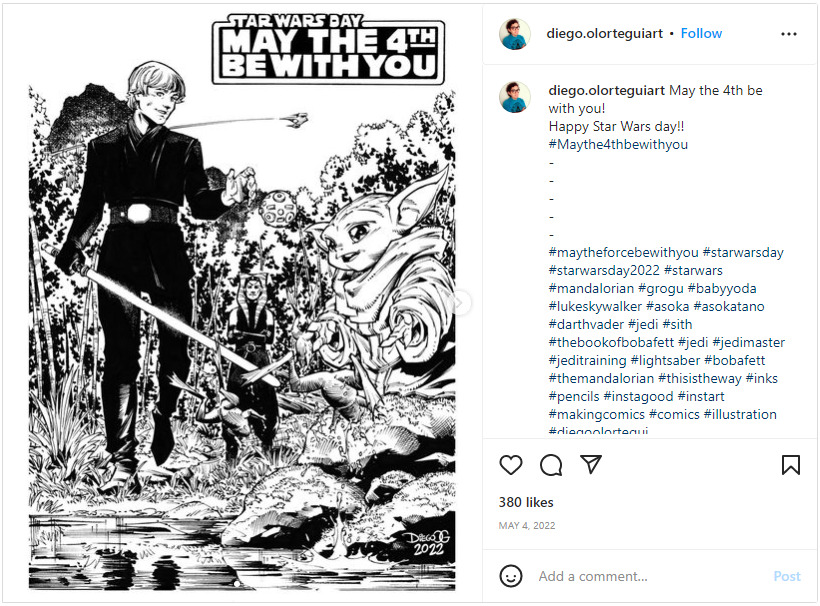 The Star Wars franchise has produced some of the most iconic characters in all of pop culture. The fourth of May is the best time to post your favorite characters on Instagram. You can find inspiration for this all over the internet. If your employees have some memorabilia, it is also a great idea to show off the Star Wars themed collections.
4. Star Wars day memes
Memes are often humorous, making them more likely to go viral online; this increases engagement with existing fans and new viewers who may not have seen or heard about Star Wars before. They provide an easy and fun way for people to interact with each other and share their thoughts and feelings about the movies. Memes can also help create a sense of community among Star Wars fans, allowing them to connect over shared interests.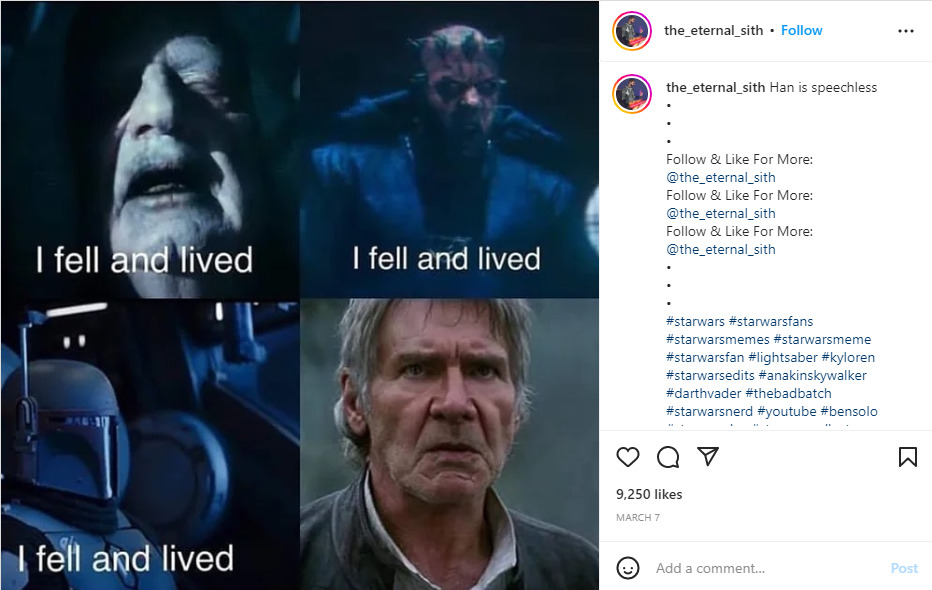 Use the meme in combination with your product and service and see the results you get. Obviously, you have to be creative about it.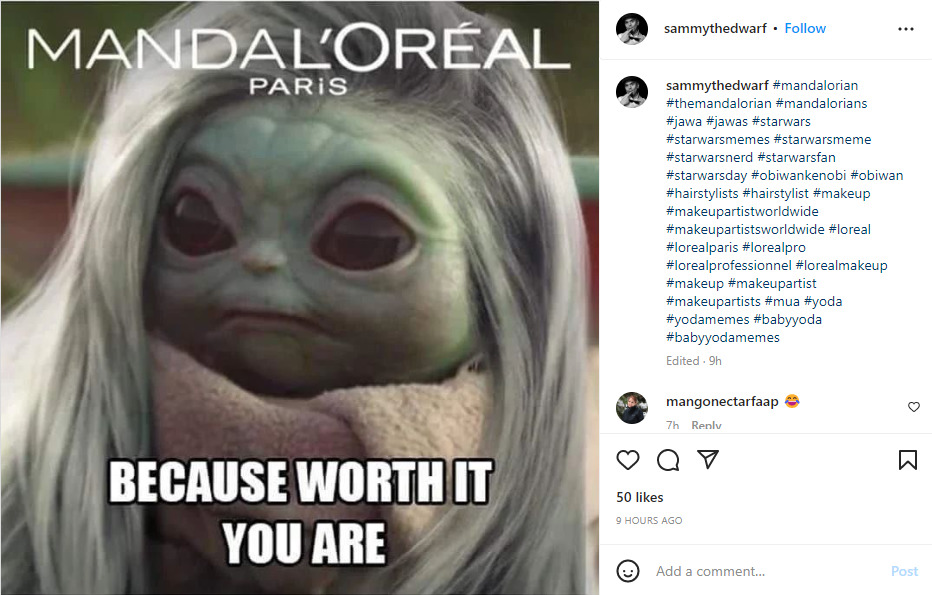 5. Fun facts about Star Wars
One can also share certain fun elements from the movie. For example, the various scenes filmed in the movie must have a background story. This can all be added to the stories or even in the form of a reel.
Here are some fun facts about the iconic movie franchise:
1. The original script for 1977's Star Wars was more than 200 pages long. Compare that to the average screenplay, which is around 120 pages.
2. Luke Skywalker's original name was going to be "Luke Starkiller."
3. A monkey was planned to portray Yoda at first.
The above mentioned facts along with other lesser known facts could be shared in social media as the fans will be intrigued to know about their favorite movie.
6. Star Wars day for businesses
Fans love products themed to their favorite TV show or movie. You can add Star Wars elements to your products to leverage them for business on Star Wars day. For example, If you are a baker, you can definitely make a Star Wars-themed cake and post it on social media. If one has a cafe or a restaurant, the place can be decorated with the Star Wars theme to lure more people. This can act as the best post on Instagram or even attract more customers through posts and stories.
If you are a brand that sells Star Wars merchandise, then this is the best time for you to lure more customers in. One can post about the bobble heads and various clothing with Star Wars as the theme. The movie can also be played in restaurants and various bars, which could make it to social media posts. If you are a toy store, then you could promote the Star Wars toys with posts on social media.
Improve your Hashtag game for Star Wars Day
You can use hashtags specific to Star Wars day to improve your reach and end up reaching more users. Improve your reach with the following hashtags.
#MayThe4thBeWithYou
#StarWarsDay
#MayTheForceBeWithYou
#Jedi
#Sith
#Skywalker
#LukeSkywalker
#PrincessLeia
#HanSolo
#Chewbacca
#Stormtrooper
#DarthVader
#TheEmpire
#TheRebellion
#Yoda
Use a tool like Predis.ai Hashtag Generator to get hashtags in a click for Star Wars Day.
Wrapping it up
There are many fun and creative ways to celebrate Star Wars Day on social media, whether you're a die-hard fan or just starting to discover the franchise. From sharing quotes and iconic scenes to creating artwork and cosplay, there are endless possibilities to show your love for this beloved sci-fi series. So grab your lightsaber and join the celebration with fellow Star Wars enthusiasts worldwide.
May the force be with you!