Instagram, like other web-based services these days, employs a cache to save data in order to speed up and optimize future usage. Storing data about the photographs you upload and view, as well as your search history, reduces the time required to revisit that material later.
The disadvantage of this, as with any unmanaged cache, is that if you leave it alone for too long, this could begin to block things up. A blocked cache can cause speed difficulties, but it can also increase the amount of storage space used by the Instagram app on your smartphone.
If you believe Instagram is becoming too fat, if it seems to be running slowly, or if you just want to, you clear cache manually. This option is available via both the mobile app and your online browser.
We'll look at how to clear Instagram cache on Android, iOS, and web browsers in this article.
What is Cache?
A cache is just your phone's area for temporary data storage. For those of you who are unfamiliar with cache, its primary purpose is to improve the performance of your phone when you access frequently used applications or websites.
In addition, the cache minimizes the quantity of data needed while running your mobile device. However, a buildup of cache might cause your device to slow down; therefore, it is recommended to clear it.
Instagram stores every search you do in the Search and Explore areas to improve app performance. To improve the user experience on Instagram, data pertaining to your favorite accounts or hashtags are saved.
What Will Happen After Clearing Your Instagram Cache?
Clearing your Instagram cache deletes all the data, picture, search, and exploration data that has been saved over time. There is no way to reverse the activity after it has been performed, short of performing the same searches and seeing the same photographs.
Clearing the cache may minimize the amount of storage space Instagram takes up and may cause it to load a little slower for a short period of time. The speed drop is due to Instagram having to re-cache data when you browse through photographs and do different searches. However, it will most likely only be apparent for a short period of time. On the other hand, if Instagram was operating slowly owing to a large cache, you may see an improvement as soon as items are wiped away.
Clearing your cache will not have any effect on your Instagram account. None of your submitted images, videos, posts, or Stories will be affected in any way – unless you count taking a little longer to load the first time you see them.
How to Clear Instagram Cache on Android?
As opposed to the iPhone, deleting the Instagram cache on Android is significantly simpler. On Android, we may erase the Instagram cache without having to delete the program.
Follow these instructions to clear Instagram cache if you are an Android user.
Navigate to the settings menu on your Android device.
Discover the 'Apps' section in the settings.
Find the Instagram App in the list of apps.
Click on the Instagram app.
On the detail page, there are two options.
When you select the 'Clear Cache' option, all locally saved Instagram cache data will be cleared (It will not delete any other data, including login details).
If you select 'Clear Data,' Instagram will delete all of your data, including your login information. In this scenario, you must re-log into your Instagram account.
How to Clear Instagram Cache on iOS?
If you wish to remove the Instagram cache from your iPhone without removing the app, one major difficulty is that we cannot erase the data alone on iPhones and iPad. Unfortunately, that is not currently possible.
Offload or remove the app from your device to erase the cache and app data on your iPhone. The only option is to delete/uninstall the Instagram app from your iPhone and reinstall it.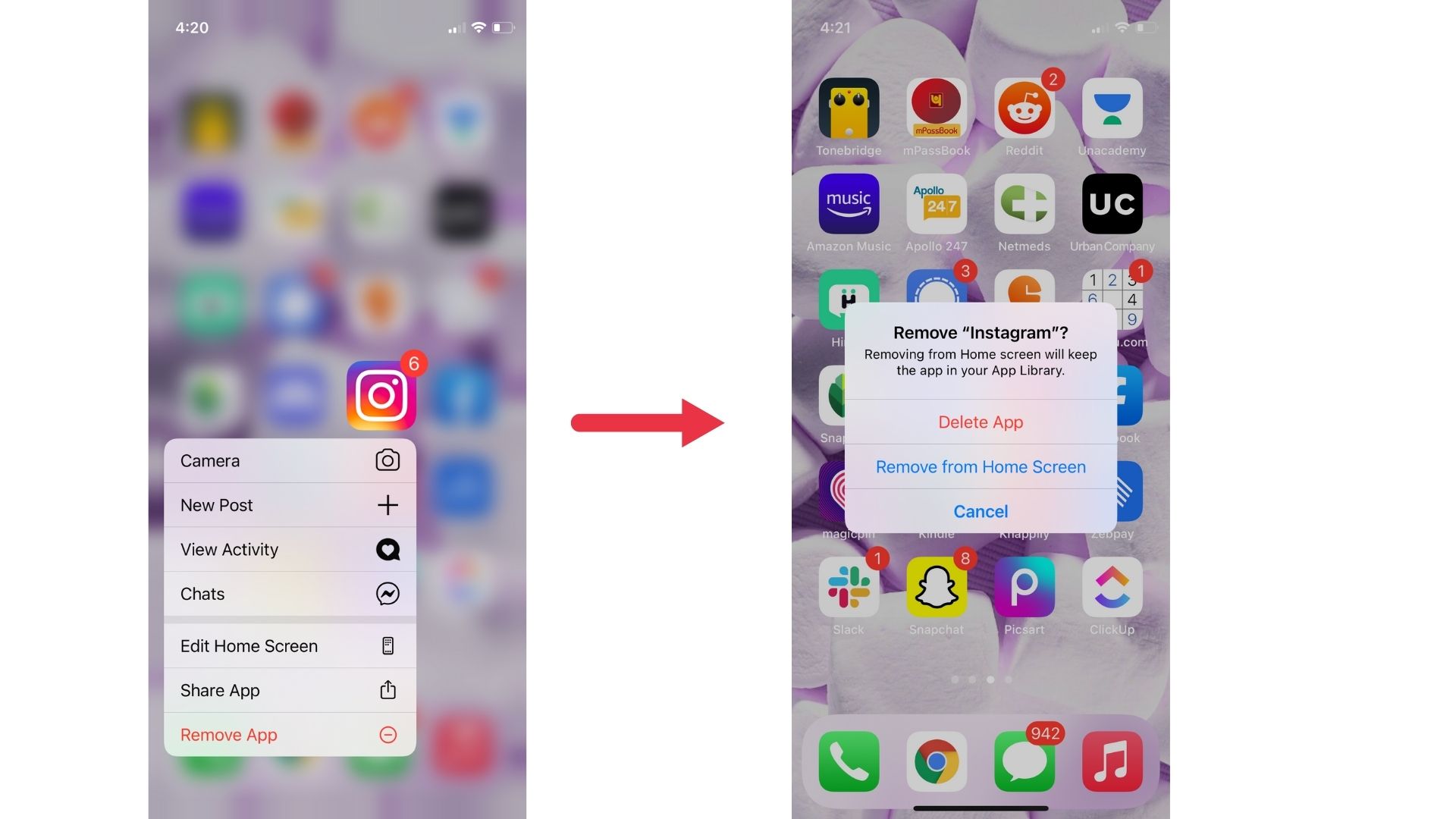 Go to the Settings app on your iPhone.
Click the 'General Settings' option in the settings box.
'iPhone Storage' can be found there.
All installed programs and their storage utilization are shown in the Storage section. Find Instagram app icon and remove it from your phone. Tap Delete App. It will erase all locally saved data.
Reinstall the Instagram app and start using it without any trouble.
You can repeat the process after a few months or when the program is taking too long to launch. It will erase or clear cache on Instagram and improve speed.
How to Clear Instagram Cache on Computer?
If you wish to delete the cache on Instagram on your computer or mobile browser, follow these steps: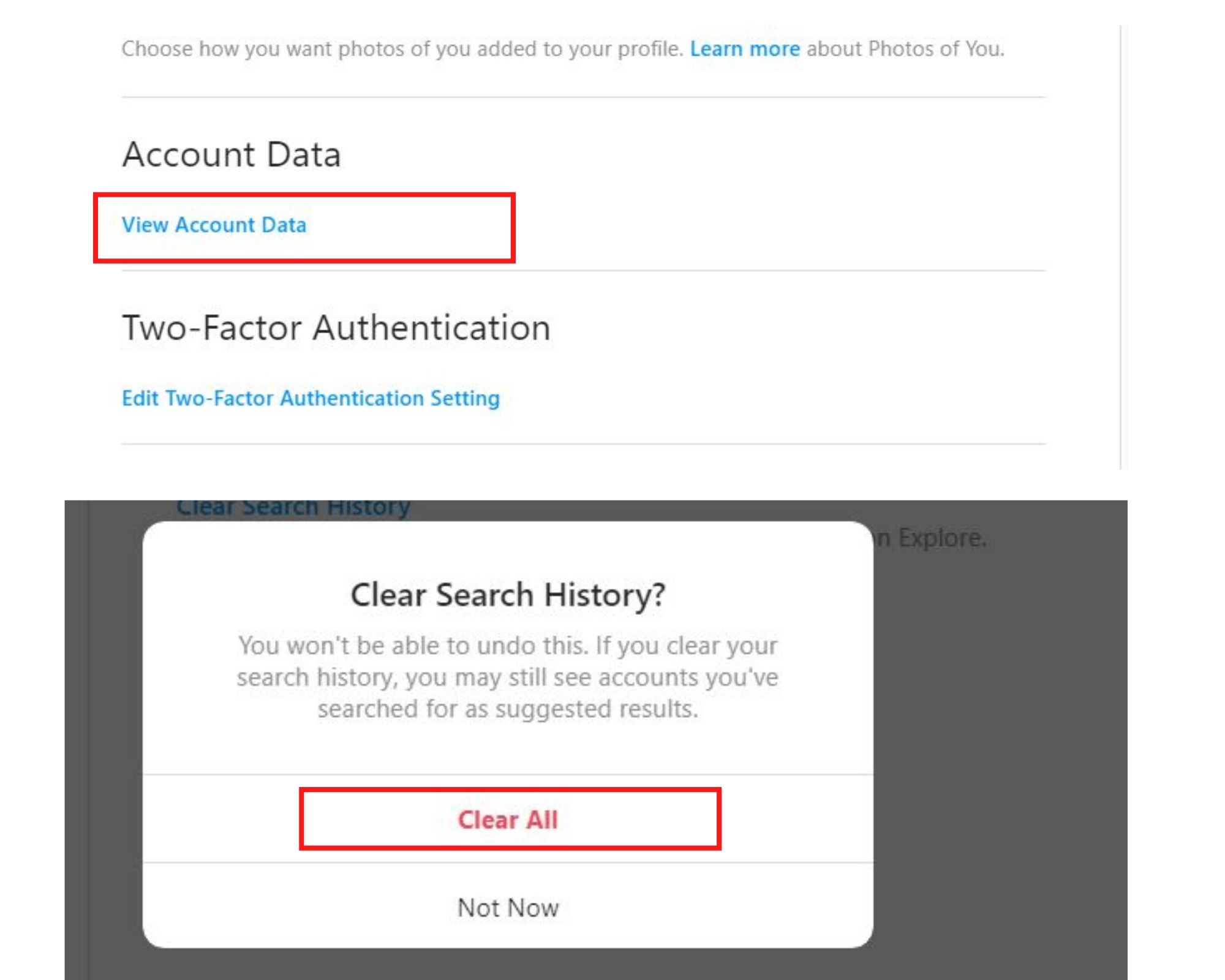 Go to www.instagram.com
Click 'Privacy and Security
Click 'View Account Data'
Select 'View all' under 'Search History'
Click 'Clear Search History' and then select 'Yes, I'm sure.'
Is it Necessary to Clear Instagram Cache?
Clearing the Instagram cache on iPhone or Android smartphone is not required. The Instagram cache is an important component that enhances the Instagram experience.
When you load an Instagram picture or post, the app saves it in the device cache. So, the next time you check the same post or picture, the Instagram cache maintained on your iPhone and Android devices helps to load the item fast.
It takes the info from your iPhone's and Android's cache data rather than the live server. As a result, it is a useful feature. However, as time goes on, the cache on your Android and iPhone devices grows, as does your device. Clearing the iPhone cache or the Android cache is also a good way to improve the speed of your smartphone.
Please keep in mind that after the Instagram cache is cleared, the next time you view a user's previously visited Instagram profile or Instagram story page. It will take a few seconds for them to load fully.
Is it really possible to clear Instagram Cache without deleting the Instagram app?
On Android, we can erase the cache and data without having to remove the program. The same is true in the case of the Instagram app. However, there is no such option on iPhones and iPads. To clear the cache and data on iPhone and iPad, you must uninstall or deactivate the app from your device.
Does Instagram Cache Really Slow Down Your Phone?
Directly, the cache on your Android or iOS smartphone will not slow it down. On the contrary, the cache reduces loading time, enhancing performance. However, if your phone runs out of memory, any cache, including the Instagram's cache, might cause it to slow down. 
In such a situation, you may erase the Instagram cache on your mobile device. As a result, caching the iPhone Instagram app will not slow down your iOS device. Similarly, until your memory is low, the Android Instagram app will not slow down.
Wrapping It Up
Every gadget has a storage area for temporary data. This is known as a cache. The primary purpose of data storage is to boost the performance of your smartphone while opening and utilizing a recurring program or loading web pages.
The cache also helps to reduce the amount of data utilized while using your smartphone. However, the cache might occasionally slow down your smartphone, so you may wish to clear it.
Instagram, for example, saves every search you perform in the 'Search' and 'Explore' areas to help you find your favorite accounts or hashtags faster.
There you have it! You now understand how to clear cache on Instagram in less than a minute. Please keep in mind that clearing the cache on Instagram will only improve performance.