Are you looking for some alternatives that are possibly even better than Jasper.ai caption generator? Well your search is now over! In this blog we'll be talking about some top Jasper.ai caption generator alternative options that will help your brand in creating original content.
Artificial Intelligence is no longer a buzzword, but a reality that has revolutionized various industries, including healthcare, finance, education, and e-commerce. AI tools have become an integral part of businesses, helping them make informed decisions and improve their bottom line. In this article, we will discuss the importance of AI tools like Jasper.ai caption generator and how they can benefit businesses of all sizes.
Before we begin, what is Jasper AI? Jasper AI Caption Generator is an advanced artificial intelligence-based tool that can generate captions for images and videos. It uses natural language processing techniques and machine learning algorithms. This further analyses the visual content and generates captions that are relevant and descriptive. This tool is designed to save time and effort for content creators, marketers, and social media managers who need to produce large volumes of content regularly.
AI tools revolutionizing social media
With advancements in AI technology, businesses can now automate tedious and repetitive tasks, reduce the risk of human error, and gain valuable insights into customer behavior. This enables them to make better-informed decisions that improve their products, services, and overall customer experience.
AI tools can analyze vast amounts of data in real time, identifying patterns and trends that humans would miss. This allows businesses to make data-driven decisions that improve their marketing, sales, and operations. With AI, businesses can now optimize their pricing strategies, personalize their marketing messages, and automate their supply chain.
In today's world, social media is a crucial aspect of digital marketing. Businesses are always in search of ways to make their content more engaging and appealing to the audience. One such way is to add captions to their posts that are not only descriptive but also interesting and attention-grabbing. However, creating captions can be a time-consuming and challenging task. This is where AI-powered caption generators come into play, making the process of creating captions more efficient and effortless.
Jasper AI is a popular caption generator that uses machine learning algorithms to generate captions for social media posts, blogs, and other content. However, some businesses may be looking for Jasper AI caption generator alternatives for various reasons, such as pricing, features, or ease of use.
Whether you're a small business or an enterprise-level company, finding the right caption generator can make a significant difference in your social media marketing efforts. In this blog, we'll explore some of the best Jasper AI caption generator alternatives that businesses can use to create captivating captions for their content.
So, let's dive in!
Jasper.ai Caption Generator Alternatives
Here's a list of some popular AI tools that can be your Jasper.ai Caption Generator Alternative:
1. Predis.ai Caption Generator:
Predis.ai is an AI-based social media content tool. Predis.ai generates complete social media posts including the creative, video, caption and hashtag.
Predis.ai uses a small input about your business, product or service and generates content in seconds. It can generate caption in different tones such as funny, formal, witty etc. The tool can generate posts, videos, and carousels.
Business, accounts and creators use Predis to create content at scale and schedule in advance to their social media platforms. The tool is competitively priced and also has a Free Forever plan.
2. Rytr:
Rytr AI is a great Jasper.ai caption generator alternative that can help you create captions and content for your business in a variety of languages and tonalities as well as other multimedia content.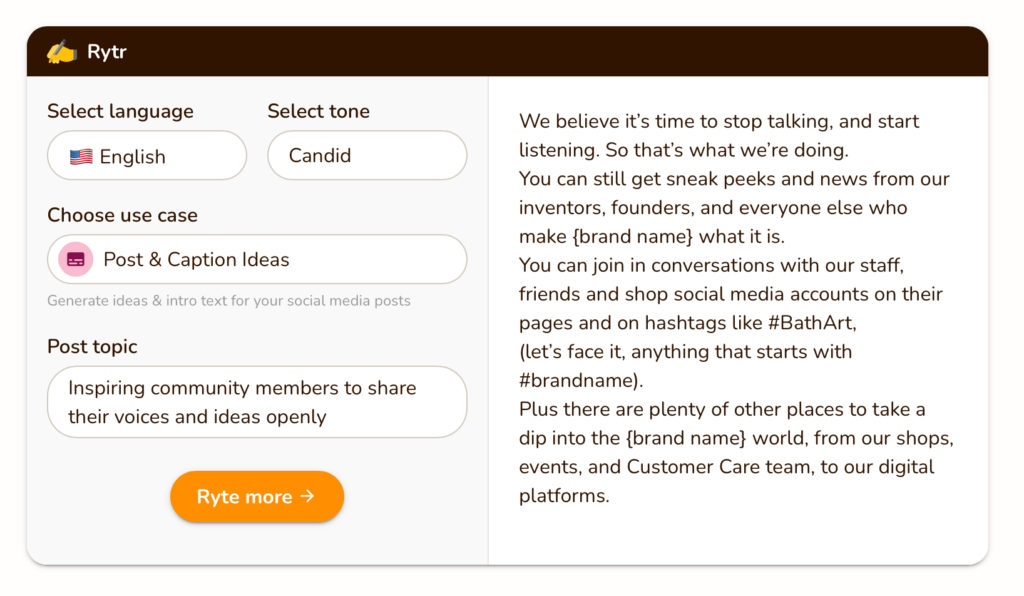 With a ton of free templates, it's pretty easy to get started. It also includes a browser extension which makes the process a lot more smoother. It has a free plan where you can create 5000 words per month and get quality content.
Rytr being budget-friendly and easy to use makes it a great option for entrepreneurs. It has positive factors like ease of creating content, good quality as well as great pricing plans.
3. Text.Cortex:
TextCortex helps you generate one of the top captions for your social media. This tool has been trained with a ton of top social media captions, making it really efficient.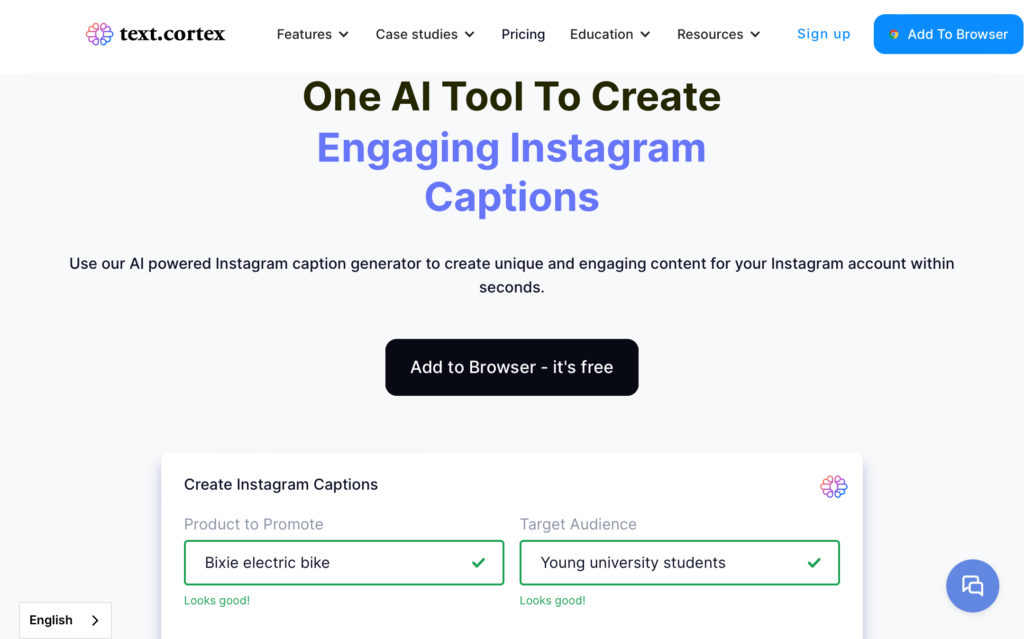 The tool is user-friendly, with an intuitive interface that makes it easy to generate captions without any technical skills. This can further help you to boost your Instagram sales and generate algorithm-friendly captions.
Additionally, TextCortex can generate captions in multiple languages, which makes it a useful tool for businesses that operate in multiple countries. It also comes with a free plan in which you can create 15 captions per day.
4. Writesonic:
WriteSonic is a great tool to create captions for your everyday social media content. These captions are not only algorithm friendly but also take little to no cost and effort.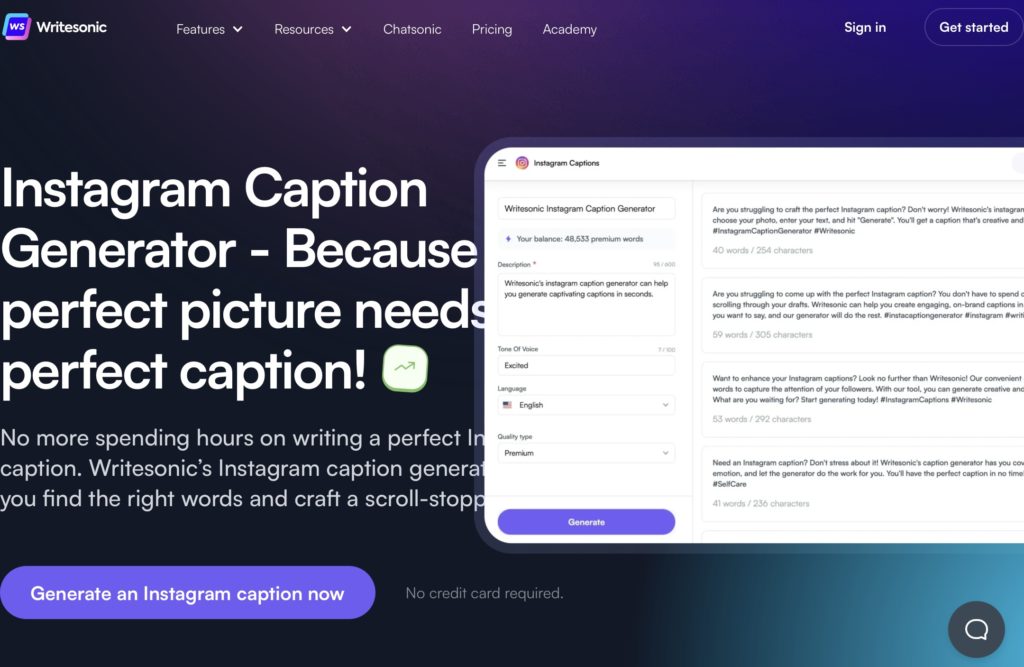 It comes with quite a few free templates and 24 language support which makes it perfect to save time and effort. This tool uses advanced machine learning algorithms to analyze the content and generate high-quality captions that are creative, engaging, and relevant to the content.
Writesonic has a free plan where you can use up to 6000 words as well as its other pricing plans are also pretty reasonable. With this tool, you can create original content for your social media and grow your brand.
5. Hypotenuse:
Hypotenuse is the tool for you if you want to create some unique and catchy content. With a ton of out-of-the-box content ideas, this can be a great efficient tool for your brand.
You can easily create seamless product descriptions and captions that will make your business stand out from the basic crowd in the algorithm. It also has the ability to maintain consistency in brand language.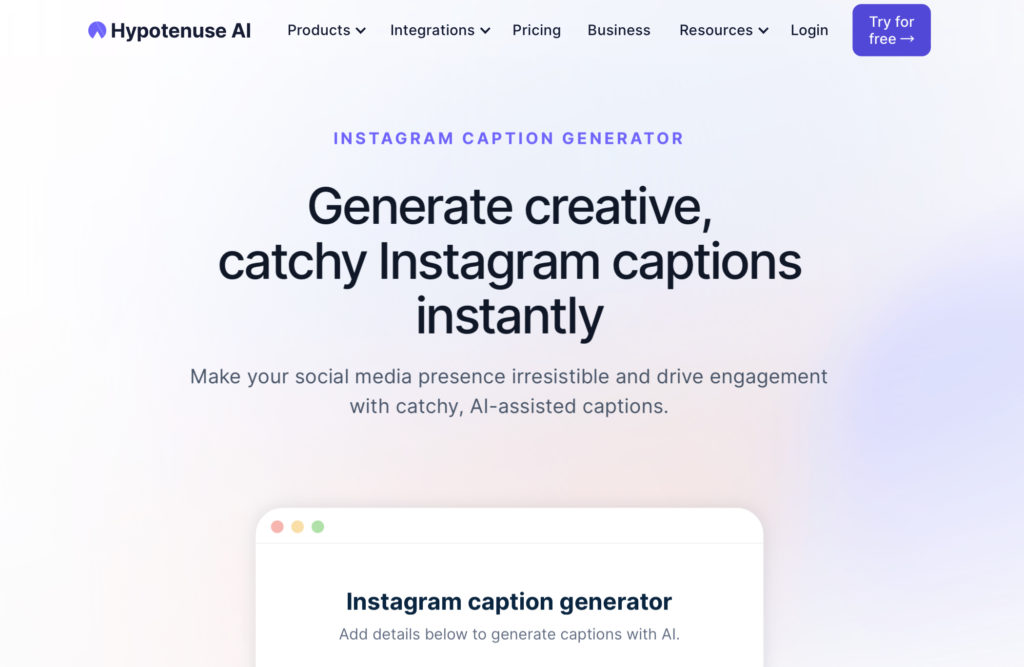 Hypotenuse creates humanlike original content for your brand. It also has a free trial plan where you can play around and get to know the tool a bit more.
6. Anyword:
Anyword is a pretty efficient tool that creates original content in more than 25 languages. This makes it a great alternative to jasper AI for businesses across the globe.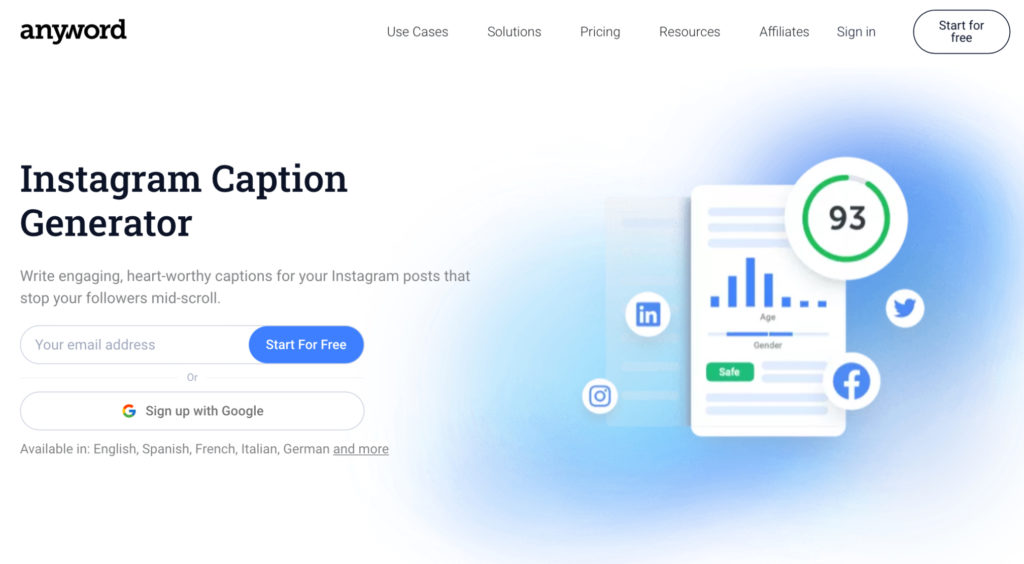 This tool has a great feature where it creates content with your brand's voice, this will help you keep a proper consistency for your brand and what it puts on social media. It also has an option where you can see how a caption will perform on a platform.
Coming to the pricing plans, offers a free plan where you get 1000 words per month. The Basic and Data-driven plans are also decently priced if we compare them with the quality of content this tool provides.
7. Copy.ai :
CopyAI is also an incredibly efficient tool, allowing you to generate high-quality captions in just a few seconds. This is a great way to spark creativity and inspiration, especially for those who are new to content creation or struggling with writer's block.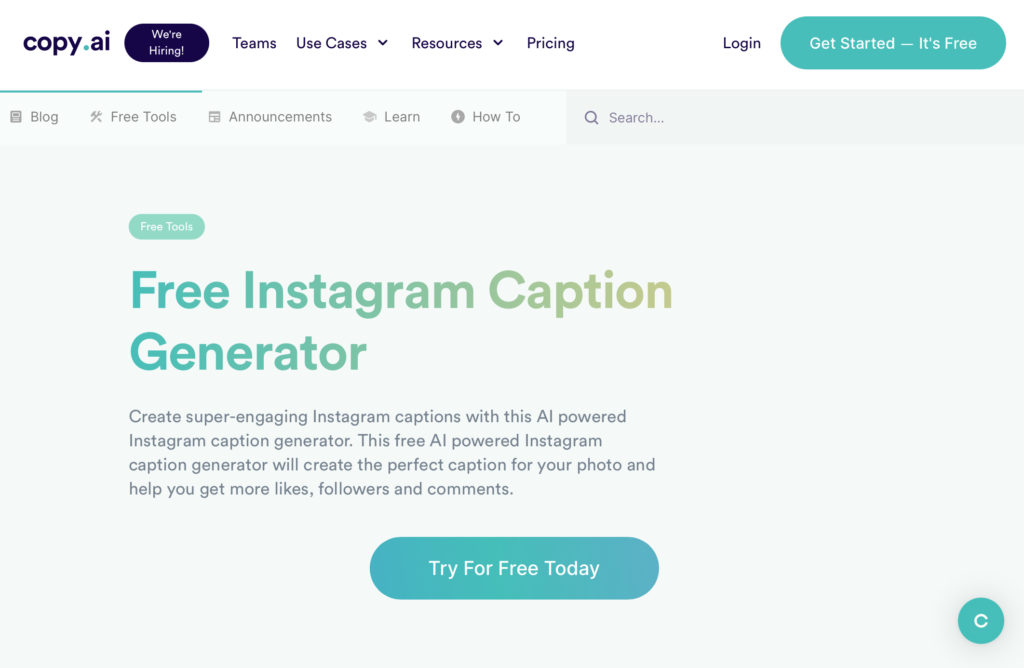 By automating the caption generation process, CopyAI can save you a significant amount of time and effort. Although this tool generates content from a database of previously generated captions, it still creates some pretty catchy content.
With this tool being free of cost apart from the pro plan, it makes a great alternative to all the other tools available. It is a good jasper.ai caption generator alternative if you're looking for some easy content.
Wrapping it Up
Jasper AI Caption Generator is a powerful tool that provides accurate and relevant captions for social media content. However, there are several alternatives available that offer similar or better features, depending on your specific needs.
When looking for a Jasper.ai content generator alternative you need to consider some factors. These factors are cost, accuracy, customization, and integration with other tools. Above all, each of these tools has unique features that can help you generate engaging and effective captions for your social media posts.
All things considered, the best Jasper.ai caption generator alternative for you will depend on your specific needs and budget. Take the time to research and test out different options to find the tool that works best for your social media marketing strategy. With the right caption generator tool, you can take your social media content to the next level and engage with your audience in a more meaningful way.
You might also like
Sell products on Instagram without a website
Edit text on Instagram reels