Instagram is very popular these days for social media marketing. With over 1.6 billion monthly users, there is a wide range of audience that can be targeted for your social media. If you are a candle business, then try these content ideas for candle businesses.
This blog will equip you with unique and new ideas to make your social media account attractive to a wide range of audiences. Let's understand marketing on Instagram and explore content ideas to promote your candle business.
Instagram content ideas for candle business
Along with posting often, it is also important to keep the posts engaging and polished. Let us look at how to create polished posts for your business page on Instagram.
1. Share product images
The very first posting idea for any business is the product images. When it comes to showcasing your products on social media, high-quality images are crucial to making a good first impression. The quality of your images reflects the quality of your products, so it's important to ensure that they are polished and visually appealing.
However, it's not just about the quality of the images; timing is also a crucial factor. It's important to post your content at a time when your audience is most active on social media. By doing so, you can maximize your reach and engagement.
To determine the best time to post your content, take advantage of social media analytics tools to track your audience's behavior. This will give you insights into when your followers are most active, allowing you to schedule your posts accordingly.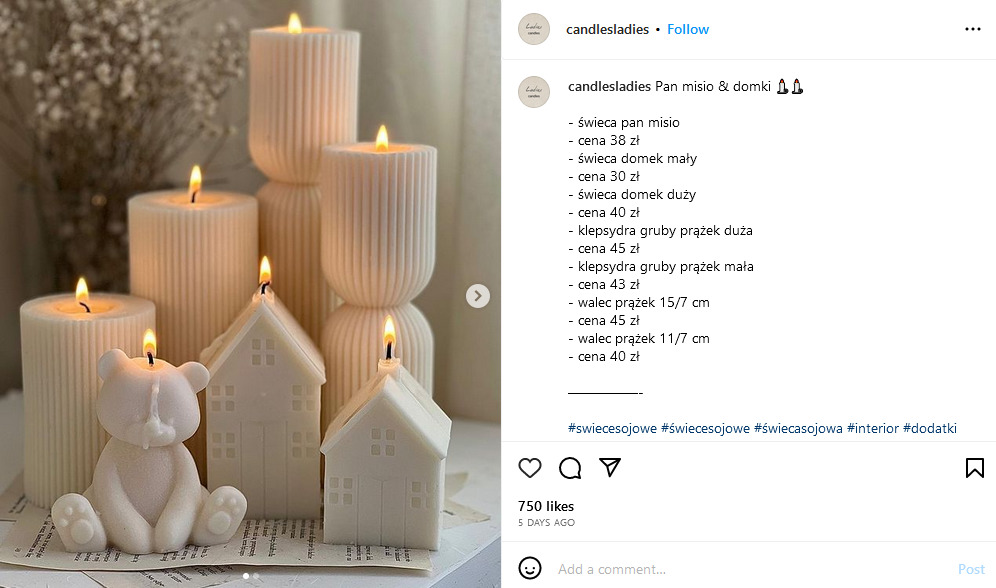 2. Candle making process
One thing that audiences truly enjoy is witnessing the process by which your business creates and produces its products. Show a glimpse of your candle-making procedure to give your followers an idea of how the candles are made.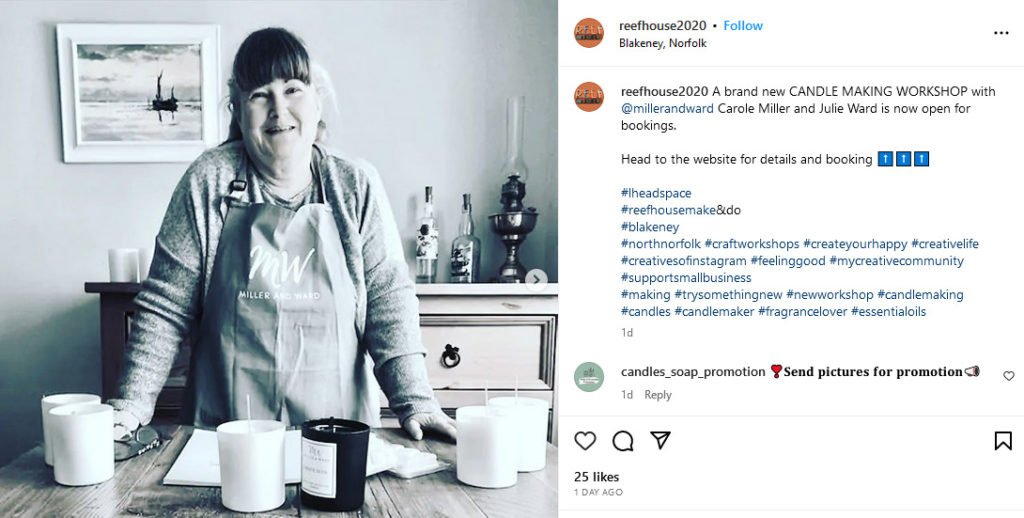 You can also post videos or reels on creating the candles or even the process of decorating the candles. This is sure to keep the audience engaged and also give them an idea of how the products are made with quality in mind. Try to use trending audio in the reels to get more views and insights.
3. Share benefits of candles
If you are in the candle business, then you might know about the various benefits of using candles. But a lot of people do not know how soothing the use of candles can be. Share the different fragrances that are available in your candle business and mention their uses and benefits. For example, lavender-scented candles are very good for anxiety and stress. whereas sandalwood candles are very good at converting a bad mood into a happy and refreshed one. Add all this to your posts to make people understand that candles are not just to be lit when it's dark!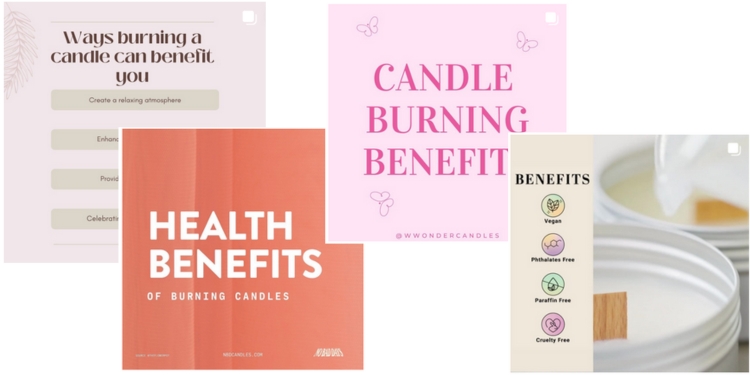 These candles can also be used as cozy decor for the winter. Candles can also be used as decor for your coffee tables or even side tables. Mention all of these benefits to make your candle sales reach new heights.
Did you know you can create Instagram content in a click with just a text input?

Check predis.ai to create social media content in seconds!
4. An insight into packing orders
Show your customers the packing scenes from your small business. When packing orders, try to film a video and post it in the form of reels. This will show the customers that you sell these products daily and also show them how popular your candles are.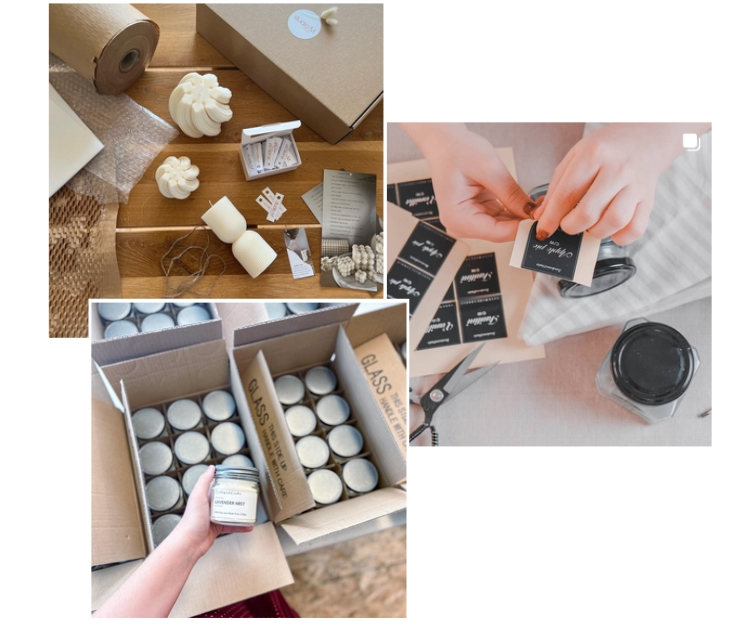 Keep the packaging aesthetics in line with your business and create a good-looking packaging video. This will catch more attention from new people and, hence, get you more orders.
5. Customer reviews
For any business to grow, it is necessary to display various positive customer testimonials. Hence, why not post these on Instagram to show how popular your candles are?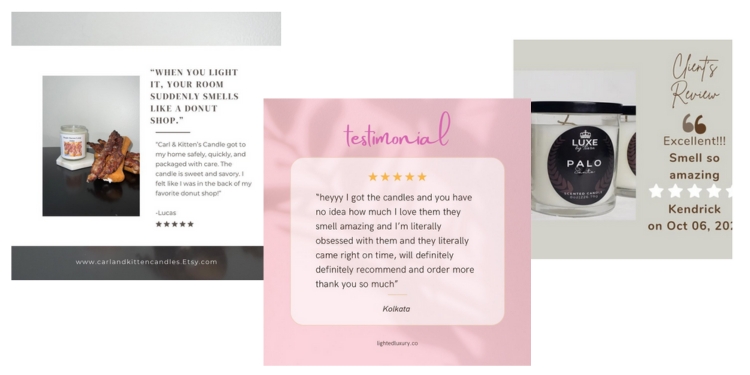 Try to use customer-sent images and feedback in your stories and highlights. Making this a story highlight will help keep it on your page and help you catch new customers. The trust factor for any business, for that matter, comes through customer reviews. Add these reviews to your highlights so people can discover them while checking out your page.
6. Seasonal and festive candles
There are multiple occasions where one can use candles as decor. Especially during Valentine's Day, candle sales get high. This is why posting about candles around these times is a great way to get your sales numbers up.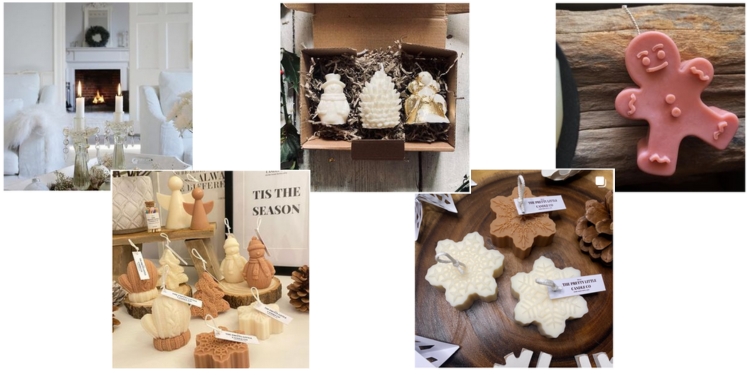 Post about how candles make a great ambiance for occasions as well as for different parties. Share on Instagram how candles can be the perfect decor for any festival. Be it Christmas or Easter, these scented candles can make the ambiance more cozy and festive.
7. Promote candles as a gifting idea.
One of the best gifts that someone can give to anyone is scented candles. These candles now come in different shapes, sizes, and scents. This makes it a perfect gift. Whether it is a birthday present, housewarming gift, or even a return gift, candles are sure to make the perfect and thoughtful gift.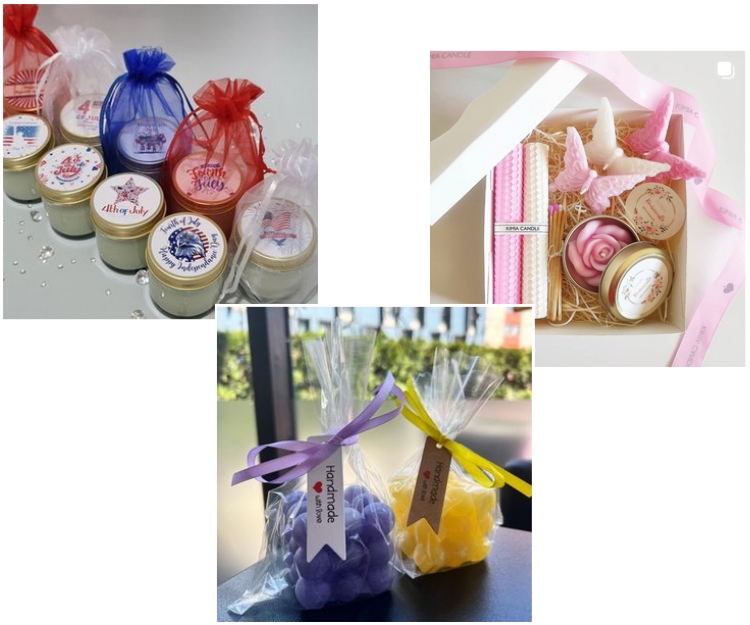 If you want to give something that the other person is sure to like but do not want to go over the top, then candles are the perfect gift to go for.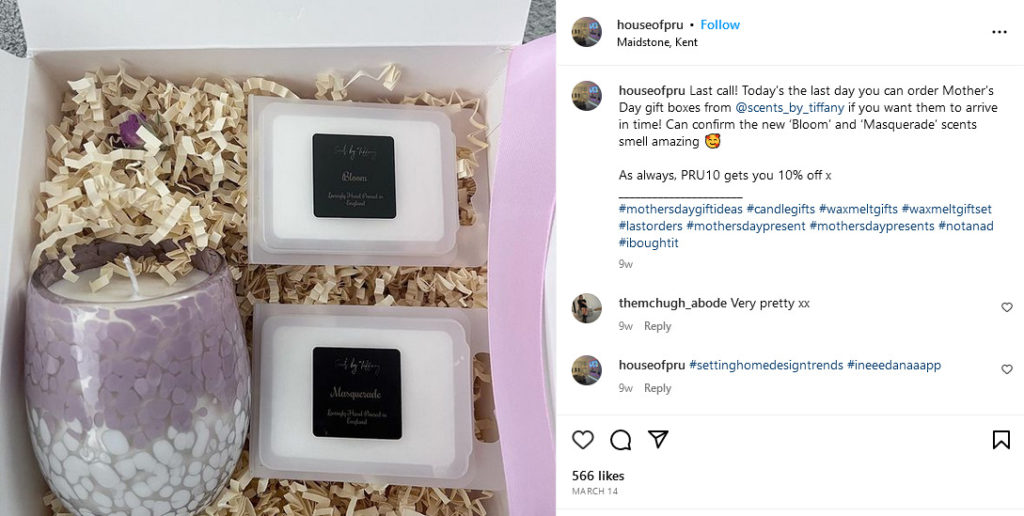 8. Giveaways and offers
Hosting giveaways is the best idea to get any small business targeted recognition. Simply create a giveaway with the desired rules, and you are good to go. The most common rule in giveaways is to follow the account and later share it with friends and on social media. This will make the followers share your posts and stories with their followers, and you can get a great deal out of the giveaway. You will get more followers this way, and more people will know about your brand and what you sell.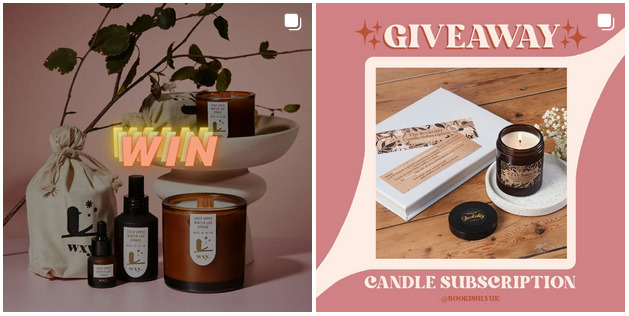 For your candle business, you can also share about the times when your items are on discount. This will attract more customers and give your account better engagement. Hence, it is good to offer discounts once in a while.

9. Behind the scenes
Customers are always intrigued by behind-the-scenes content on Instagram. Share about your workspace and creation process. This will help the customers or followers get an insight into what your daily routine looks like.

You can also share about the sales that they offer in stores (if you have a store) or about the product storage and packing videos. Reels are a great way to get more followers, so it is better to post enough reels in a week.
10. Collaborations
Try to collaborate with Instagram influencers and spread your content to a wider audience. You can collaborate with influencers who are willing to talk and share about the products they make. This is a great idea to get going with your social media marketing.
Why choose Instagram for social media marketing?
These days, social media marketing is all about creating content that is shareable and engaging. Instagram is one of the most popular social media platforms on the internet. And it's not just for entertainment; businesses can benefit from using Instagram as well. Here are some of the reasons why you should choose Instagram for your social media marketing
Visual content: With its focus on visuals, Instagram is the perfect platform for businesses that want to share beautiful photos and videos. And with the recent additions of Instagram Stories and reels, businesses now have even more ways to share creative and engaging content.
Good engagement: Instagram has good engagement rates for good content, which means that your content is more likely to be seen and shared by your followers. And with the ability to use hashtags and post location tags, you can reach even more people with your content.
Builds relationships: Instagram is all about building relationships. By posting engaging content and responding to comments, you can create a strong bond with your followers. This can lead to more customers and sales in the long run.
Wrapping it up
For any business to conquer the Instagram game, it is necessary to be consistent with the posting. Posting often with polished content is necessary to gain good engagement for your candle business. In this blog, we saw the top ten content ideas for the candle making business. We hope it helps you ace the Instagram game.
You may also like to read,
Top content ideas for November
Instagram post ideas for Easter
Viral content ideas for Instagram
Cost to hire a social media manager
How to leverage ChatGPT for social media management?