If you've reached this page, you're probably considering hiring a social media manager for your business and online marketing. While it may seem like an additional expense, investing in a skilled social media manager can yield significant returns for your business.In this blog, we'll explore the costs of hiring a social media manager and provide tips for maximizing your investment.
In US, the average cost to hire a social media manager in 2023 can be anywhere between $50 – $4000. The price depends on your social media targets, scale, and the type of employment (freelancer, full time employee, or agency). From understanding the key factors that impact social media management costs to identifying ways to optimize your budget, we'll help you make an informed decision about hiring a social media manager for your business.
Why do you need a social media manager?
There could be many reasons why you might need a social media manager. Maybe you're a small business owner who doesn't have the time to keep up with all the social media channels and messages pouring in. Or you're a large business with a global presence, and you need someone to manage all the different accounts. Whatever the reason, a social media manager can be a great asset to any business.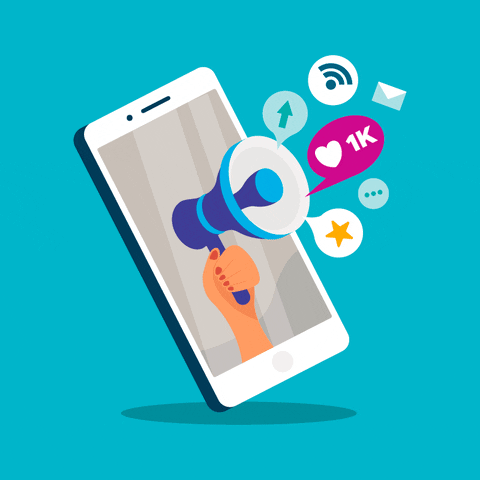 Having a skilled social media manager on your team can help your business grow a great deal by attracting interested and loyal target audiences. What's more, is that they can be the bridge between your business and its expression as they make sure clear messages are put forward which align with your brand image and vision.
What do social media managers do?
Social media managers are responsible for managing a company's or organization's presence on various social media platforms. This includes creating content, responding to followers' comments and messages, monitoring industry trends, and engaging with other accounts.
A social media manager can make a strong online presence, attract more followers, and ultimately drive revenue growth. They make sure that the content presented is consistent not only by frequency but also the tone and the content's alignment with the brand values. They can also help monitor your brand's reputation online and respond to any negativity.
In short, a social media manager can help you make the most of your social media channels and ensure that you're building a positive online presence.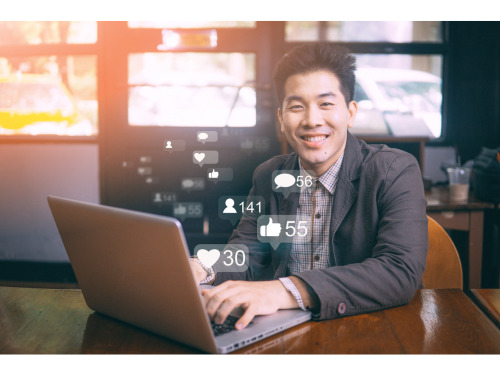 How to get started and plan social media management costs?
If you're new to the game, don't worry, we've got you. The first thing that needs to be remembered is that there is no one answer to how much you might have to invest in a social media manager.
Many factors rule into your criteria for hiring a social media manager. That might be their availability- if you want to hire them according to the number of hours they work per week, or their expertise and training, and even their location.
The pricing plans that the social media managers provide can also include the number of channels you expect them to handle if you want different content for different platforms and the quality and originality of the content required.
We will try to map these different variables to come up with a strategy.
Decide who you want to hire
Deciding whether you want to hire an employee, a freelancer or a marketing agency depends solely on the size of your brand, your budget, and your marketing goals. Let's break down every approach for your better understanding.
1. Hiring an employee
Hiring an employee on payroll can have both positive and negative impacts on your business. You can get an experienced employee to handle your accounts, ensuring no lag in communication and trust issues.
On the downside, however, there are costs associated with having someone dedicated solely to managing these tasks full-time; while this may bring added value, it could also take away resources from other areas, such as marketing or product development, if not managed correctly.
Glassdoor reports that social media managers may charge different salaries depending on their location. For example, social media managers in New York City, NY, USA, make an average of $65k per year. While for those in Tulsa, Oklahoma, the number is $50k. These variations in salary are likely influenced by differences in the cost of living between the two cities as well as the availability and quality of talent in each location. It's important to note that these salary ranges are just generalizations, and individual salaries may vary based on factors such as years of experience, education, and specific job responsibilities.
2. Hiring a freelancer
Hiring a freelancer may work out best for your business if you do not need long-term management. However, a potential drawback of hiring freelancers may be that their social media management role may only be a side hustle. This could lead to them not diving as deep into your brand image and producing creative content as you might want to.
On average, freelance social media managers may charge between $10 and $100. Social Media Managers on Upwork cost $14–$35/hr. That's anywhere from $4000-$7000 per month. One potential disadvantage of hiring a freelancer is that they typically work independently rather than as part of a larger team.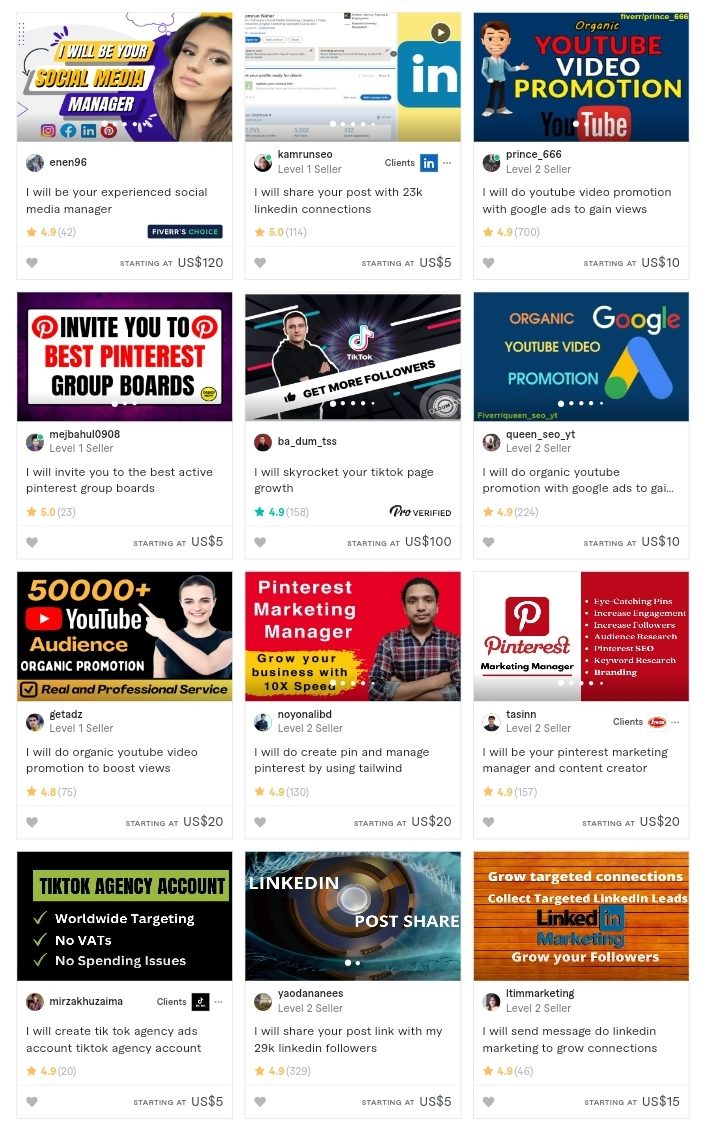 Fiverr, a global online marketplace is a good place to start looking if you think freelancer services suit you the best. You can find the right social media manager for you to achieve your business-specific or even platform-specific goals.
3. Hiring a digital marketing agency
Hiring a digital marketing agency could be the way to go if you're looking for a long-term solution with a group of dedicated individuals. Digital marketing agencies have the added benefit of dedicating one whole team solely to one particular client or business. Lyfe Marketing has social media management plans ranging from $750-$1550 per month, in addition to custom-made plans to cater to the needs of client businesses.
4. Using a Digital Marketing Software
Using social media management software can cut down the work and time it takes to curate content for social media while still delivering quality and creativity. Most social media management software uses AI to create quality content while using the brand language, analyzing current trends, and providing insight-driven strategies.
Prices of such tools range from $0 (free plans) to $1000+, depending on your custom needs. For example, Predis.ai offers a free plan and paid plans ranging from $25-$126 per month, whereas Sprout Social has plans ranging from $249-$499 per month.
With Predis.ai you can generate entire social media post including the creative, carousel, video, captions, and hashtags with the help of AI.
Now, let's move on to the next section and explore the key contributions that a social media manager can bring to a company.
Decide role and work
Clearly explain the role and work that you want your social media manager to undertake. This will help you plan out the budget range you want to dedicate to social media management so that you can look for social media managers within that range
1. Content Creation
Simple content creation may cost less when in the hands of single employees or freelancers. This may vary across the platforms you use and the number of posts you make. Sprout suggests that TikTok, followed by Facebook, costs the lowest, ranging from $100-$175 per post, while video content platforms like YouTube and Instagram may cost anywhere from $100-$500 per post, reel, story, or video, and rightly so.
According to The Washington Post, an average American viewer watches TikTok for 80 minutes a day — more than the time spent on Facebook and Instagram combined. This makes video production an important trend in social media marketing
2. Advertising on social media
Advertising on social media is a great way to reach potential customers and build brand recognition. It can be an effective, affordable tool for businesses of any size.
The cost of advertising on social media varies greatly depending on what type of campaign you want to run and which platform you use for your ad campaigns. On average, most companies spend anywhere from $4000 to $7000 per month on their campaigns; however, this number can vary significantly based on budget constraints as well as desired outcomes from each campaign effort put forth by the company's or organization's marketing team or the agency partner they have hired.
Having an expert in place who understands all aspects of running successful ad campaigns across multiple platforms will help ensure that your business gets maximum value out of its investment in these initiatives.
3. Management of platforms
The prices for platform management will vary according to the number of profiles and platforms a social media manager or agency handles. The average cost to hire a social media manager for this would be between $100-$4000 per month. Furthermore, engagement through messaging and mentions, which need prompt responses, the size of your online community, and the features you use will also influence the price.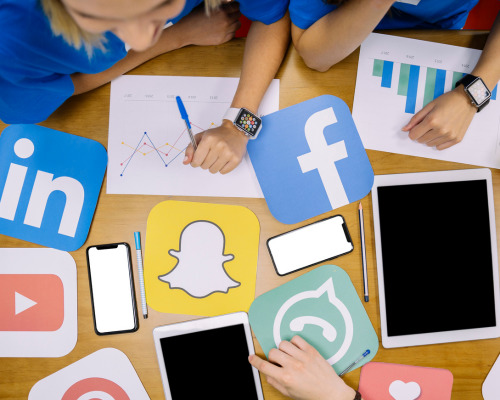 Social media management platforms are incredibly important for businesses and organizations. They allow you to manage your social media presence easily, create content tailored to your target audience, track engagement metrics, and measure the success of campaigns. With these tools in place, it's easier to build a solid online presence and reach new customers or followers. Taking advantage of these platforms can help you stay ahead of the competition and ensure your message is heard loud and clear by those who matter most!
Wrapping it up
Now that you've got some of the know-how, it's time for you to create a hiring plan and find the right social media manager for your business.
Do your research, and decide whether to hire a single person or a team. Find individuals who are a good fit for your business. Take the time to interview candidates and ask for examples of their work. And once you've found the right people, be sure to give them the freedom to be creative and experiment.
The best social media managers are those who can think outside the box and come up with new and innovative ideas!