Did you unmute your friend from an Instagram story by mistake or for some other reason? Here in this blog, we will be discussing in detail how to unmute someone's Story on Instagram.
Muting someone's stories reduces your interest in them. If you Unmute their stories that will improve involvement because if you see their stories may gain their interest in you. You may choose to mute someone's Instagram stories for a variety of reasons. you want to limit your story feed to a few people, such as family and close friends. You don't think a person's Instagram story brings any face value to your life then or Instagram experience. Or there are some things you want to avoid.
While you cannot unmute postings on a computer, you can do so on a mobile device. You may unmute an user's story for many reasons, you may want to save the aesthetic story shared by your connection. You could now be wondering how to unmute story on Instagram for that specific account so that they resume appearing in case you change your mind. Well, there are several methods to go about it, and it is simple. To unmute stories on Instagram, go to the stories. Scroll to the end of the stories. You'll see all the muted accounts, greyed out. Long-press the account then, select Unmute Story.
What happens when you mute someone on Instagram?
When muting someone on Instagram, you have two choices: either mute their posts-image or stories, or both. Any posts made by the person you have muted will not show up in your feed. In contrast, when you muffle a person's story: 1. The story will transfer to the bar's end. 2. When something is posted, a vibrant ring no longer appears. 3. When you switch between stories, it won't start playing immediately. 4. By visiting the person's profile or the stories bar at the end, you can still view it.
How to unmute someone's story on Instagram?
The following are three ways to remove someone from muted stories, refer the tutorial to unmute Instagram stories:
1. In the Instagram Feed
Open Instagram on your smartphone.
Go to the stories at the top of your feed. Scroll to the end of the stories.
You'll see all the muted accounts here, greyed out with no colorful ring around them.
Long-press the account for which you want to unhide stories. Then, select Unmute Story.
2. Unmuting Instagram story through visiting the person's profile
Go to the account's profile page.
Tap on the small down arrow on the 'Following' button. A pop-up menu will show.
When you select 'Mute', another menu will appear.
Toggle the button next to the stories to turn off 'Mute'. To show that their stories are 'on' the button should glow blue.
Or, you can go the story in the top left corner of their profile. Open the story. Then, in the top right, tap three dots and select 'Unmute story'.
3. How to Unmute Instagram Story through settings
Go to your Instagram profile.
Open 'Settings' icon from the menu.
Tap on 'Privacy' on the following screen.
Select 'Muted Accounts'.
You'll see a list of all the profiles you've muted on Instagram thus far. It will also say whether you have muted any news, posts, or both.
Tap the account for which you want to unhide stories.
It will link you to the user's profile.
Tap 'Following', then 'Mute' and 'switch off' the Stories toggle.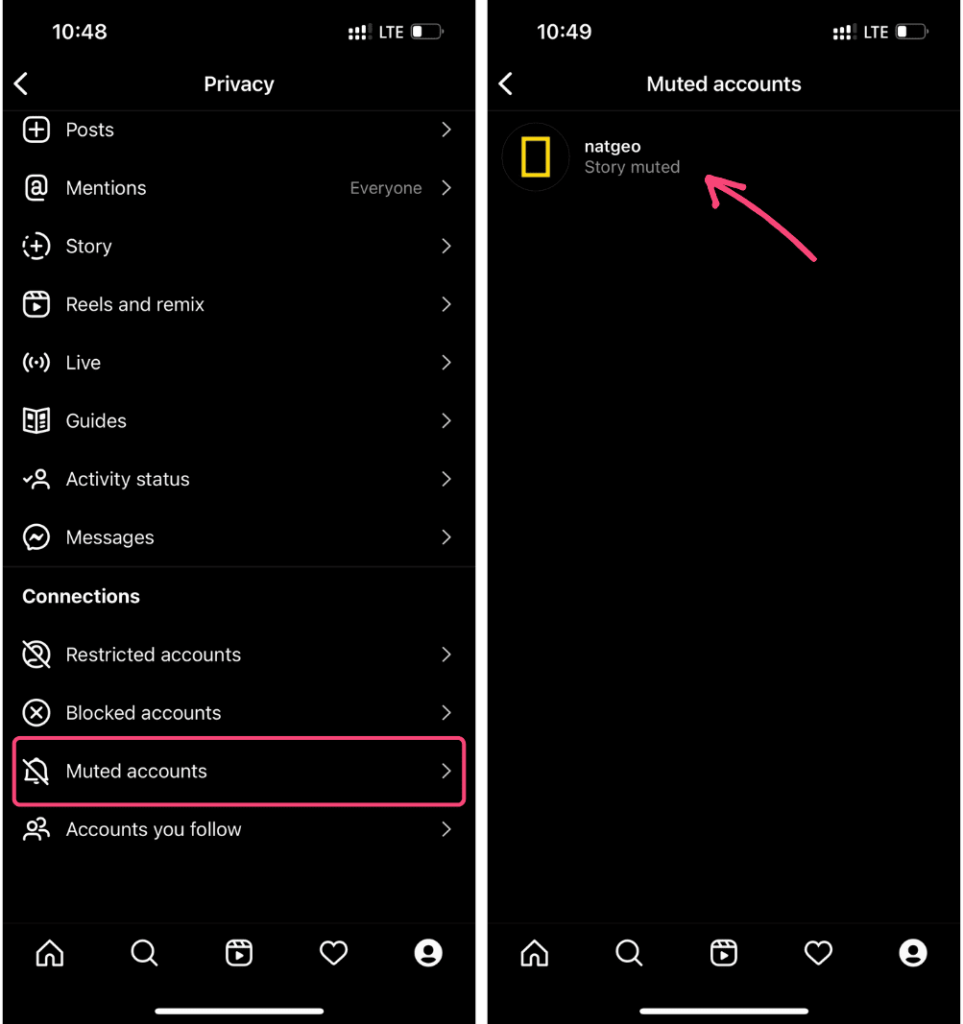 What if you have an older version of Instagram?
The above unmute options will not work if Instagram is still running on an older version of your browser. To unmute a profile, go to that profile. This option will come on screen, "You have muted [username]'s below the person's bio. The word "Unmute" is next to this note; tap it. And presto! You'll be able to see their most recent stories once more!

To sum it up
Since early 2020, Instagram has been experimenting with muting users' stories. The feature, which was initially rolled out to a small group of users, allowed people to prevent others from hearing the audio on their stories. The idea behind the feature was to give users more control over their experience on the platform. However, the feature was met with mixed reactions. Some users found it helpful, while others felt that it was intrusive and unnecessary.
This is good news for those who prefer to use their stories with audio. It gives users more control over their content and ensures that everyone can enjoy the full experience of Instagram stories.
If you are used to friending and following people randomly, you are sure to get bombarded with stories. If you're someone who likes to keep their social media usage to a minimum, and like Internet privacy, you may have muted some people's Instagram stories. But what if you're missing out on something interesting? Here's how to unmute Instagram stories.
If you go to your list of friends on Instagram and tap on the three dots next to someone's name, you'll see the option to mute their stories. To unmute them, just tap the same three dots and select "Unmute." Now, you won't miss a beat of what your friends are up to and never face such a situation again!
There are three methods that you can use for Android and iPhone/ iOS to unmute Instagram stories. Their stories can be muted, and they won't even be aware of it. It is simple and quick to unmute their stories if you want to hear from them again and receive updates. I hope you now understand how to unmute the stories you chose to hide before. Stay tuned for more articles like this.
Since we are here, Are you looking for something much more revolutionary which will even help you make content! Sign up for Predis.ai today!

Manage your social media channels and also improve engagement by designing interactive posts within a few clicks.