What is an Instagram business account? In 2016, Instagram unveiled Business Profiles. Since then, a lot of companies have converted their personal Instagram profiles into business profiles. Given that Facebook now owns Instagram, the change appeared inevitable. Instagram emphasizes the visual component, often acting as a Facebook extension, and this is especially true for commercial accounts and advertising.
It's simple for anyone to switch their personal profile to an Instagram business profile, which offers you access to more Instagram features. By switching to an Instagram business profile, you may now save hours each week on your Instagram marketing because you can now plan posts directly to Instagram.
However, there was some opposition to the modification. Many companies realized that their Facebook pages had lower organic reach than individual Facebook profiles. They were concerned that Instagram will experience the same thing. In actuality, an Instagram Business Profile does not seem to carry the same negative connotations as a Facebook Business Page. If you keep sharing high-quality content on Instagram, you probably won't notice much of a drop in organic reach.
If you would convert your personal profile into a business profile then you have to sacrifice these two features:-
1. Keeping your profile or post private.
2. Linking many Facebook profiles.
To turn off a business account on Instagram, go to your profile, Open Settings. Tap on Account. Tap on 'Switch account type'. Select the account type and you are done.

These features might be useful for personal accounts, but they wouldn't be of any use at all for business accounts, which is probably why Instagram removed them.
A business typically has quite different motivations for running an Instagram account than a person, even a solopreneur. You share details of your life with your loved ones on your own Instagram account. A company maintains an Instagram account to grow its following and, ideally, attract consumers. You could still wish to use a personal account if you run a business for your non-business activities.
How can you switch your account to a Business account?
It is free and simple to convert an existing Instagram account to a business profile. Simply follow the steps listed below:
Log in to your Instagram account.
In the top right corner of your profile, click the Menu.
Select Settings, then click Account.
Scroll to the bottom of the page
Tap on 'Switch account type'.
Choose the type of account you want.
Now, enter your company's contact details.
Then click Done.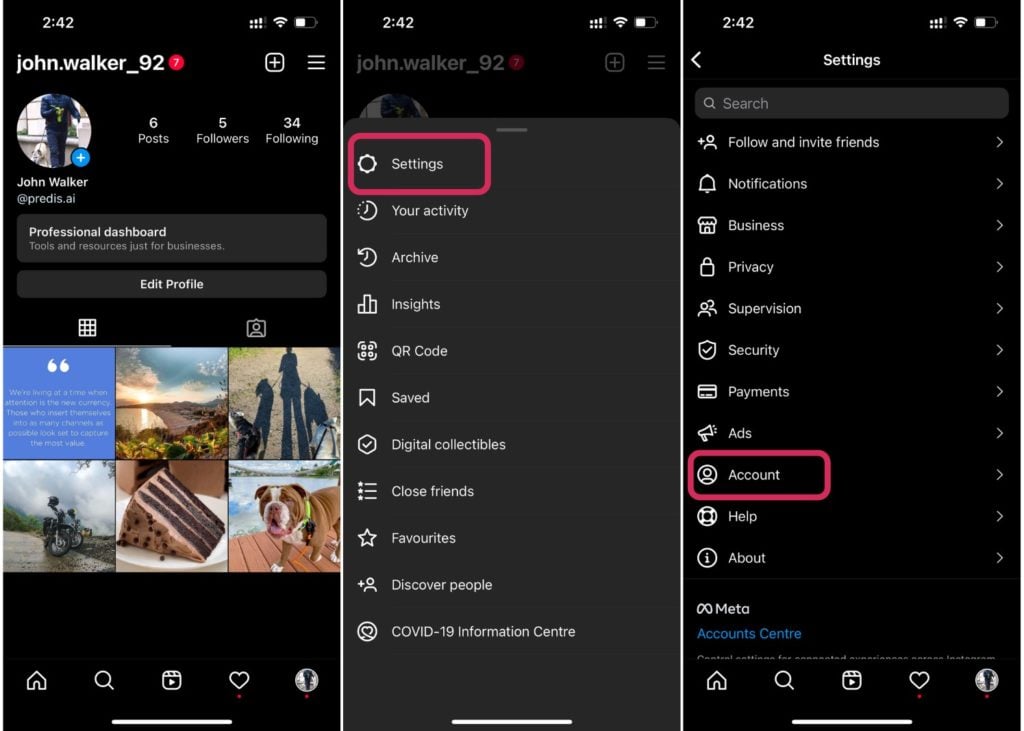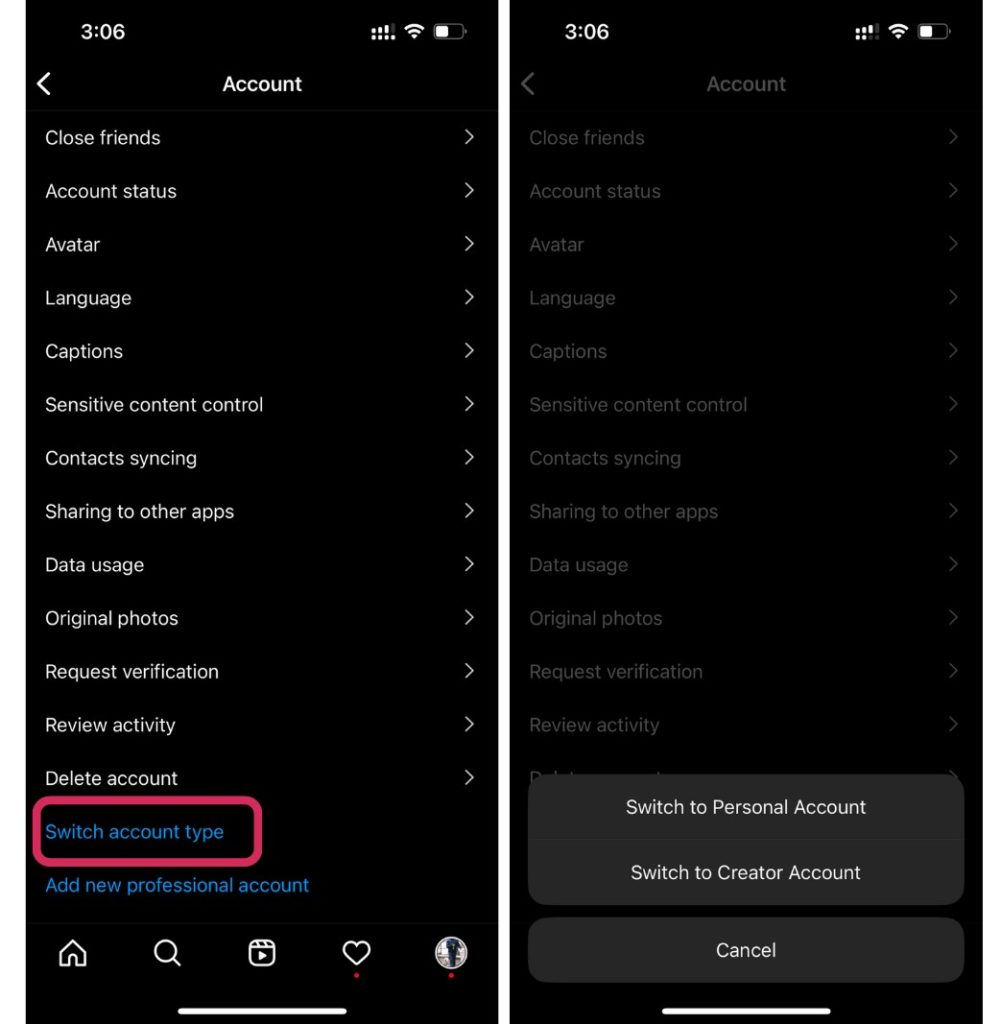 Ways to turn off an Instagram Business account –
Switching back to a Personal account:
Open Instagram on your phone if you wish to return to your personal account.
Now go to your profile and click the Menu button in the top right corner.
After that, click Settings, and then click Account. Click the 'Switch account type' button.
Select the account type you want.
Note: Your Instagram insights data will be deleted each time you return to a personal account.
Switching back to a Personal account through web browser:
Login to your Instagram account on web.
Go to your profile and click on the 'Edit Profile' button.
Scroll down and click on the 'Switch to Personal Account button'.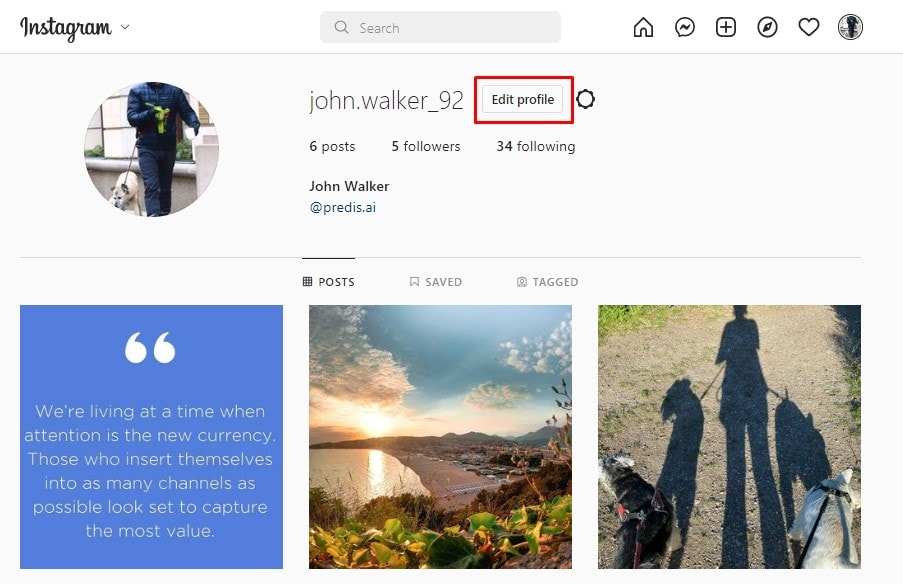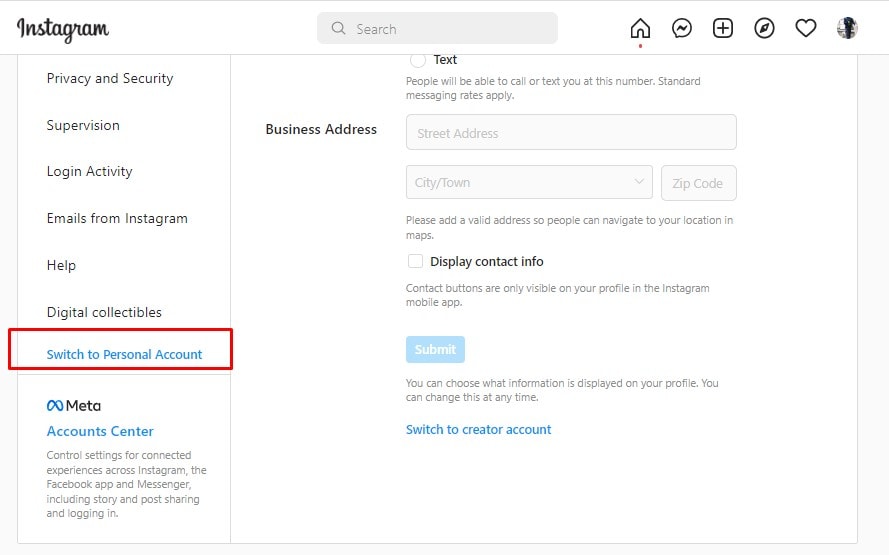 Deactivating Business account
For whatever reason, sometimes it's necessary to temporarily suspend your Instagram account. Thankfully, you don't have to immediately delete your entire Instagram account to make those pictures and videos disappear.
Deactivated Instagram accounts are simply not searchable, cannot be edited, and are completely invisible to other users, until you activate them again. Although no longer viewable, all photographs, comments, insights, and other activities have been saved.
You can momentarily deactivate your Instagram business account if you're unsure whether you want to delete it or just take a break. Then follow below mentioned steps:-
After logging into your Instagram account on a desktop, go to your profile page and select Edit profile from the menu at the top of the page.
Select 'Temporarily deactivate my account' at the bottom of the page that appears.
Deactivating account through mobile app
Go to your profile, open the menu on top right corner.
Tap on 'Settings' then tap on 'Account'.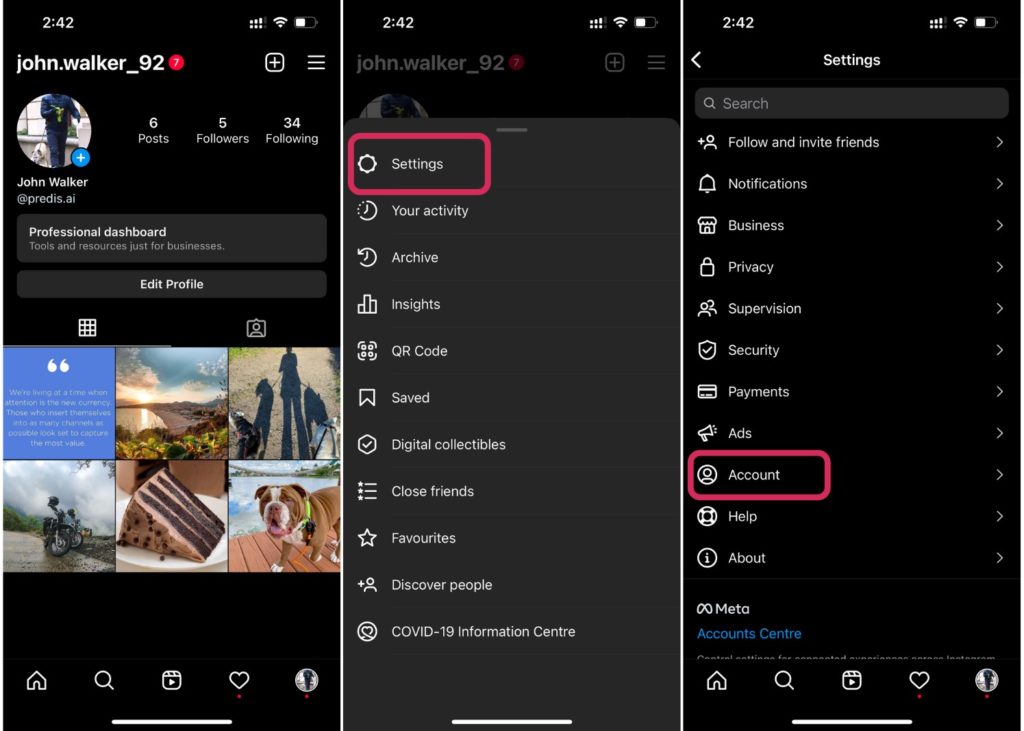 Scroll to the bottom and tap on 'Delete Account'.
Tap on 'Deactivate Account'.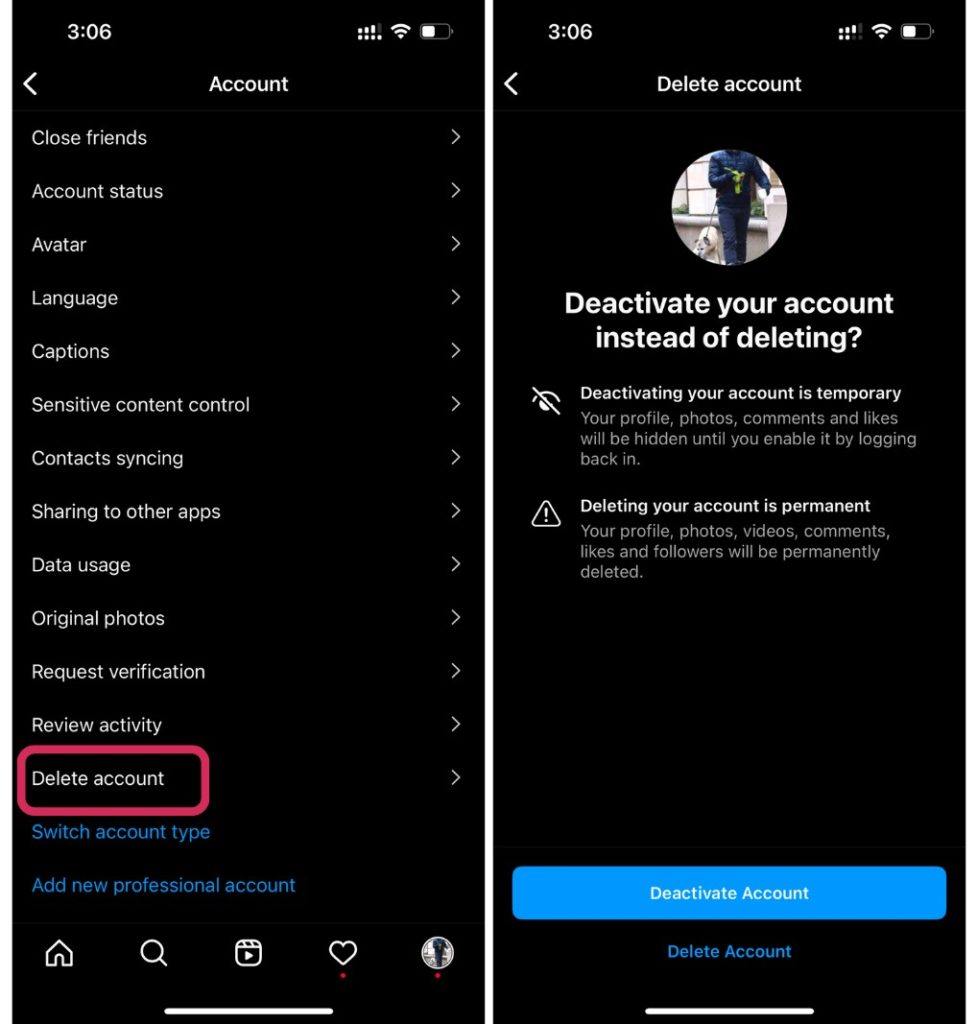 To reactivate your account later, just open the Instagram app and sign in again with your username and password.
Permanently removing Business account:
Visit the Instagram website on a desktop or mobile web browser and sign into your account with your username and password.
Go to your profile, tap on menu.
Open Settings and then open Account.
Tap on Delete Account, then tap on Delete Account.
You will be prompted to enter your password again after selecting your deletion reason. Click the blue Delete [Account Name] button after doing so.
You must give a justification for why you were deleting your account. Instagram warns that it will take a month before all of your data is completely removed. Your account will just be concealed from the public view until that time.
Wrapping It Up
A business account on Instagram is a great way to promote your business and connect with customers and potential customers. There are a few things to keep in mind when setting up your account, such as using branded hashtags and creating beautiful images that represent your brand. You'll also want to make sure you're using relevant keywords in your profile and posts so that people can find you easily. Once you have your account set up, start sharing great content that will engage your followers and help you achieve your business goals.
There are a few reasons why you might want to switch from a business account to a personal account on Instagram. Maybe you're no longer using the account for business purposes, or maybe you just want to simplify your social media presence. Whatever the reason, the process is pretty straightforward. First, go to your profile and tap the menu icon in the top right corner. From there, tap "Settings." Scroll down to the "Account" section and tap "Switch to Personal Account." You'll be asked to confirm that you want to make the switch. Once you do, all your business account information will be deleted and you'll be switched over to a personal account. Of course, if you decide you want to go back to a business account later on, you can always follow the same steps and switch back.
Frequently Asked Questions
How do I get more traffic to my business account?
You're fortunate! There are a lot of methods to use Instagram to expand your business. If you offer goods, you can put up a store on Instagram so that customers can easily make purchases right away. Additionally, you may use targeted advertising to assist you to find your future clients by providing them with useful information. Do not neglect the content either! Make feed articles, reels, and stories that will engage, amuse, and educate your audience.
I have a small business, what should I post on it?
A small business can easily share beautiful images of things that are important to them. The brand of the company is created through this, and it may be highly appealing.
Seek opportunities to post images of your workplace. Or try to concentrate on a product for a week and all of its applications. Another option is to concentrate on a satisfied client and show them utilizing the product. A corporation with hundreds of employees may not always be able to manage this kind of situation with ease.
You're in a terrific position; all you need to do is identify the content that matters to your followers and start sharing.
When to post on my Instagram, for more traffic?
In general, people prefer to browse Instagram in the afternoon. Everyone is essentially turning off their devices in the morning as they get ready for work. In other words, you have a choice between sending out some artfully composed images of your office at 9.15 am and meeting with total silence or delaying till 2 pm and receiving the attention you deserve.
What are Hashtags?
Hashtags on Instagram are relatively simple to use and have practically become a need for companies. Try to come up with one before you start using Instagram and make your business's hashtag the one you use the most. Of course, you may use other hashtags (and you will), but pick one that accurately describes your company or tagline. It functions well on Instagram because, if done effectively, you can create a hashtag that people will remember and link with appealing visuals. You can search for the best hashtags on Instagram using the Predis.ai Instagram Hashtag Generator.
Since we are here, Are you looking for something much more revolutionary which will even help you make content!

Sign up for Predis.ai today! Level up your social media by creating interactive posts within a few clicks.