In the past, Instagram has always been positioned as a platform that doesn't require any paid marketing. God help you if you make this statement in the presence of any Instagram handle manager today. From late 2019 onwards, brands and influencers have witnessed an alarming drop in organic reach on Instagram. If you're active on Instagram and haven't heard about this, you may have been living under a rock.
There's talk of this everywhere with the very vocal influencer community crying foul. A lot of users now believe that Instagram ads are now the only way to keep up/increase reach numbers and engagement rates and that organic content just isn't going to perform well.
Never forget that to win over something you should dig deep in its roots. And the Instagram algorithm is definitely working in the background handling everything.
Understanding Instagram's Algorithm
Algorithm is basically a set of instructions provided to carry on the procedure to solve problems. Instagram uses this algorithm to perform a computation where it can analyze what is the most enjoyed content by its users and provide them with feeds according to their interest.
Foundational Aspects of Organic Reach Strategies
Complex sorting system
As you know, Instagram's global usage contributes to a wealth of posts. Here comes the instagram algorithm where it handles all the complexity of sorting out the posts as well as to determine which post will appear in the users feed and in what order. Fresher content are likely to get on th top notch.
Affecting factors
The algorithm will check on several factors as to how popular a post is.The large numbers of likes, comments and shares suggest that the post is a gem. The connection of the poster and use is taken into consideration, post by your family and friends will tend to be on top. Also, fresh stuff is the top priority.
Happiness matters
The main aim of instagram algorithm is to provide its users with content which have the most value for. It will make sure you receive those posts which excites you even if its just about some super cute furry animals.
Factors that affect your reach
Instagram will observe the timeline of your post taking into consideration how recent it is.
Encourage engagement on your posts, try making your post interesting and interactive.
Develop a tendency to give proper response to the comments, DMs and likes on your posts.
Make use of relevant hashtags that match your content, do not go vague on it.
Make a habit of posting consistently so your users can get fresh posts.
Use the most trending and latest sounds so that more audiences can get attracted to your post.
Always try to understand the basic analytics of your posts
Adapting to Algorithmic Changes for Better Reach
In the past Instagram used to show its posts in a chronological order where the most recent posts appeared first. You can imagine reading a well maintained logbook. Back in those days the posts were not sorted out based on the factors of engagement rate or user relevancy.
But along with time, the Instagram algorithm got smarter providing you with content which is not only recent but also the ones based on the factors such as relationships, engagement and relevancy.
Now this changing aspect of Instagram algorithm gradually resulted in making it tough for smaller accounts and lesser known posts to be seen. This might also be a reason that some of you may feel your posts are not reaching a larger audience even after getter more likes as it did before. 
What is Organic Reach on Instagram?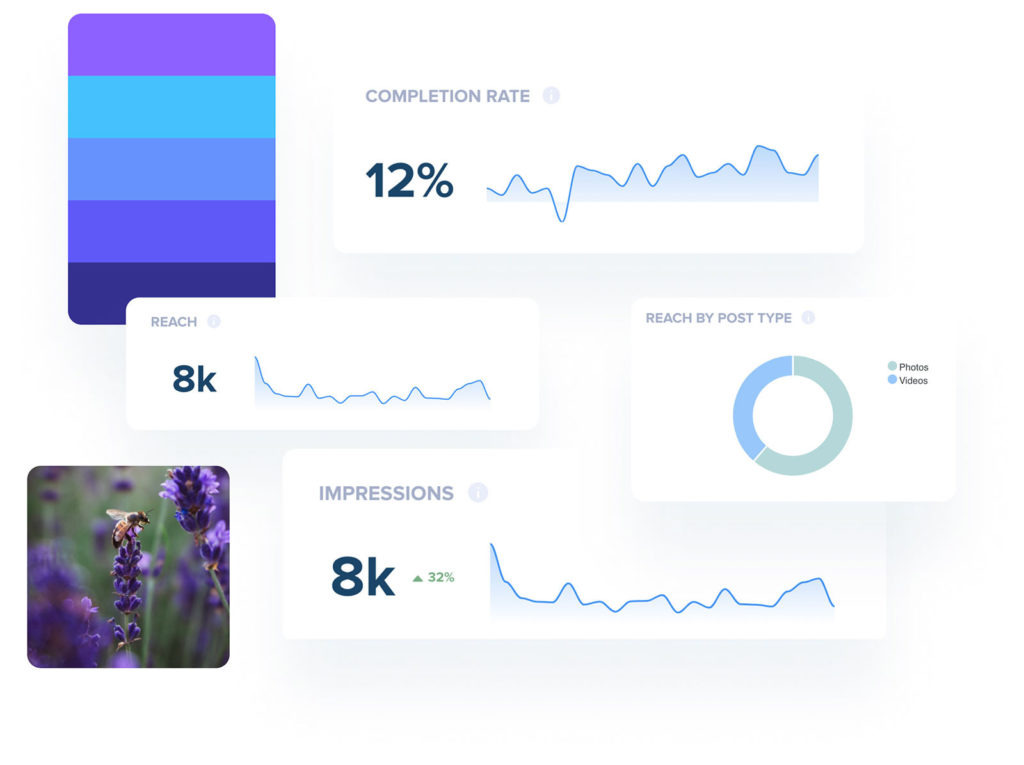 So basically, organic reach in Instagram means that your content posted is viewed by A large number of people without paying a single dime for your promotion.
Understanding the Diverse Viewership of Organic Reach
Now these are the people who daily explore Instagram via hashtags, recommended contents or just casually scroll their feed coming across your content. This is where the algorithm collects data of how your content is actually pleasing its users and if so, your feed will get a better push by the algorithm.
Nurturing Engagement within Your Organic Reach
If at all your posts are able to reach a large number of people, the algorithm will look into the engagements performed on your post. All the likes, comments and shares which you get will be taken into consideration. This interaction process going on your content and posts helps to review the depth of engagement.
Amplifying Brand Visibility in the Organic Reach
your brand becomes more visible when the number of unique viewers are on an increase. The more your brand is visible, the more recognition it will get. Thus building credibility.
Investigating the Decline of Organic Reach on Instagram
Some of the top reasons for the decline in Instagram's organic reach are – to increase ad spending from users, an increase in competition from new social media apps like TikTok (good news is that TikTok ban in India contributes to one less social media competitor for Indians), and the introduction of new content formats.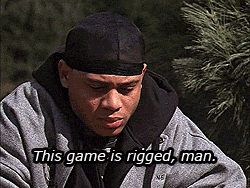 This drop in organic reach has been constant but has varied greatly from handle to handle. A quick glance at any popular online forum like Reddit will more than adequately indicate the magnitude of this problem. While some individuals are reporting minor, sustained declines, others are reporting overnight drops in reach by up to 90%. All of this can be definitely handle by simply understanding the concept of organic reach on Instagram, causes of decline, and strategies you can use to increase organic reach.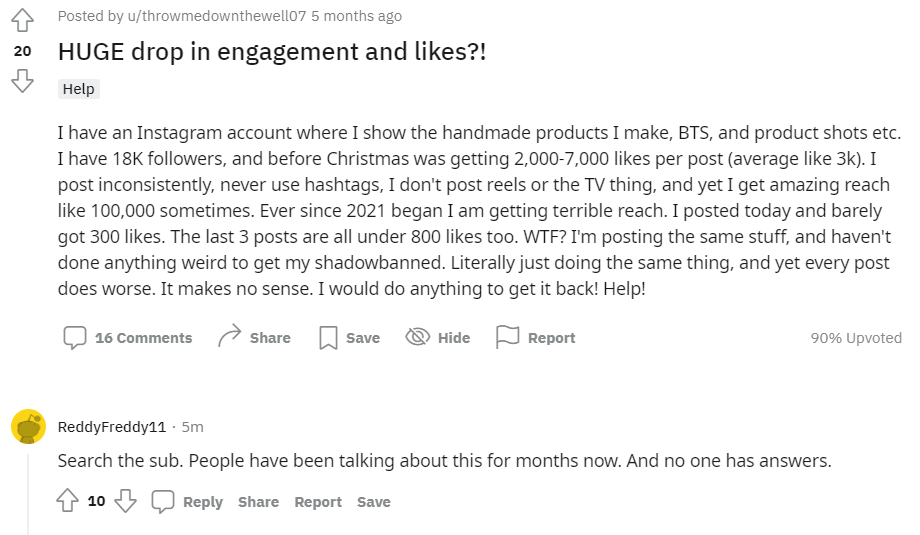 Financial Implications Organic Reach on Instagram
This is probably the most obvious reason for the decline of organic reach on any platform. Sometimes, we tend to forget that Instagram is a profit-maximizing business as well. Those who run Instagram are making a lot of decisions in line with maximizing revenue. Its management would probably strive to make its earnings-per-user figure as high as possible, even if this means sacrificing organic growth. They've been changing the Instagram algorithm subtly and gradually, to avoid sudden shocks and backlashes.
This forces users (with a growth intent) to rely on paid ads to keep Instagram's organic reach numbers up and to direct adequate traffic to their websites. Organic content just won't cut it anymore.
This is the bitter truth and it's really a demotivator to create content, but we're completely at the mercy of Instagram.
In fact, there was a very similar phenomenon observed with Facebook between 2013-2014. A study conducted by Ogilvy revealed that the average organic reach of content posted by brands on Facebook pages decreased significantly, from 12.05% to 6.15%. All this in a span of just 5 months!
Rising Competition: Navigating the Social Media Landscape
The time people are spending on social media is now divided between more apps, giving less time to Instagram alone. It follows that this will translate to lower organic reach, as people are now less likely to see your posts.
1.3 billion people use Instagram whereas the number of TikTok users are 1 billion. TikTok is used by at least 63% of teenagers whereas 73% of teenagers are using Instagram. This stats alone shows us how TikTok has been competing against Instagram. The fact that TikTok's is affecting Instagram is no understatement, and it is no speculation either.Instagram has shown a lot of competitiveness to provide its users with similar options. It launched reels in july 2020 when tik tok was officially banned in India so that the users can still make creative content for their growth followed by its launch in 50 ither countries in the following month.
There was a time when the newly launched social audio app "spotify" was considered as a competition but now at the present time both spotify and instagram have realised making bond is a better option. Spotify has now officially formed a partnership with instagram allowing its users to share their songs on instagram stories.
Another platform that's taken off since its years is YouTube Shorts. While not a distinct platform of its own, it builds on the short-form video content popularized by TikTok. Creators are making full use of this by uploading portrait videos less than a minute in runtime. The difference is YouTube shorts will let you create a short up to 60 second providing better video quality as it has a high resolution and frame rates than Instagram which will let you create a reel of 90 seconds.
Effective Strategies to Boost Your Organic Reach
So now you know it is not getting easy to increase your organic reach on Instagram. Here i am providing you with some amazing strategies that will help you to increase organic reach.
Crafting Compelling Content for Improved Reach
Though there is a decline in the organic reach of Instagram, do not yet think that you will have to start selling out for ads. Always remember that your content posted should not only reach a larger audience but also boosts a positive engagement on your posts.
1. Elevating Reach with High-Quality Visual Content
Instagram is a visual platform and hence posting high quality appealing photos is a must. Photos and pictures are also a means of conveying a message and telling your story to the world. Make sure you post vibrant photos which acts as a visual treat for your viewers and also conveys your message at the same time. This will gradually help in better engagement.
2. Compelling captions
A good caption can prompt your audience to engage with your post increasing your reach. Try to make entertaining captions. Captions which you create acts like a little chat with your audience thus creating engagement. You can also ask questions, share anecdotes which will allow people to respond to your post.
3. Use relevant hashtags
Hashtags can help in increasing the visibility of your post because they act as a search label. Try to use popular hashtags related to your niche. Hashtags that are relevant to your content will help your posts reach a larger audience, so always understand the purpose of your post before you use hashtags. Our free Instagram hashtag generator tool which is equipped with premium APIs and strong features will be of great help here
4. Leveraging Stories and Reels for Expanded Reach
Instagram has provide us with amazing concept of reels and stories, so why not make a proper use of it that will help us to boost reach.
5. Exploring the Potential of Reels for Content Reach
We've spoken a lot about the importance of Instagram Reels on this blog before, but it really (Reely?) cannot be emphasized enough. The popularity of the short video format has grown exponentially since TikTok's launch (remember when it was called Musical.ly?). Part of this is because of our shortening attention spans; long videos now will only do on YouTube. Instagram knows this, which is why the button to access Reels is smugly located at the bottom-center of your screen, which is where your thumb will naturally hover.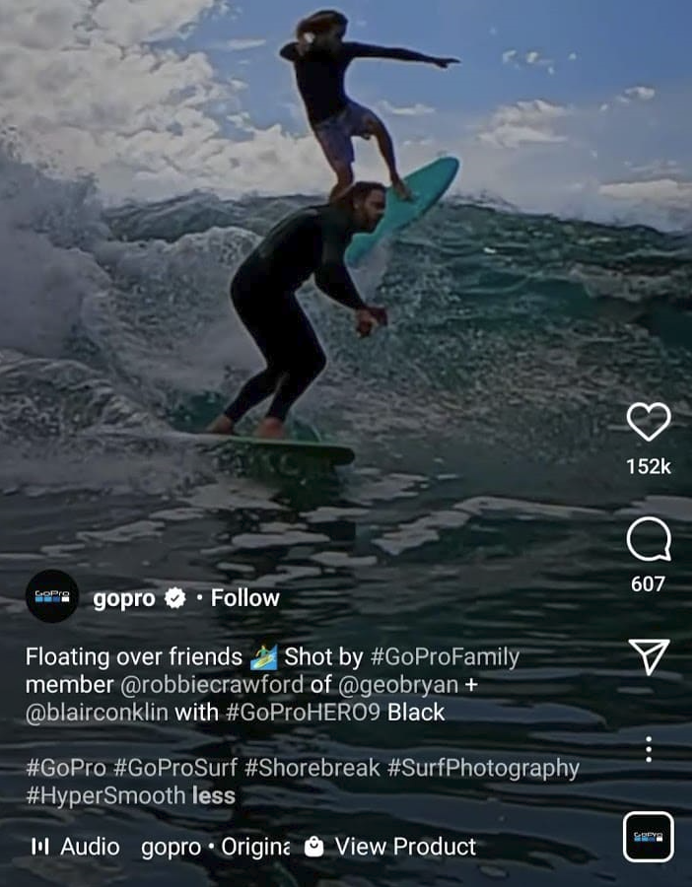 Undoubtedly the best thing about Reels for marketers is that your videos will be visible even to users not following you. As long as you use the right hashtags, and your videos are engaging and unique, you can reach a much bigger portion of your target audience than with conventional posts. The number of Reels posted by an Instagram profile also ties in with how the algorithm works, so that's a double win. It is no exaggeration to say that an account with a mere 100 or so followers, can easily reach over 1000 people through Reels. Read that again.
Keep your Reels short and engaging. Use appropriate and plentiful hashtags and create content around topics that are trending. Scrolling through Reels sections of different accounts. This will help you get a clearer idea of the topics that are trending. It'll also make you aware of any challenges/movements/songs that users are making Reels with. Reels on trending topics can bring in a lot of engagement!
6. Instagram stories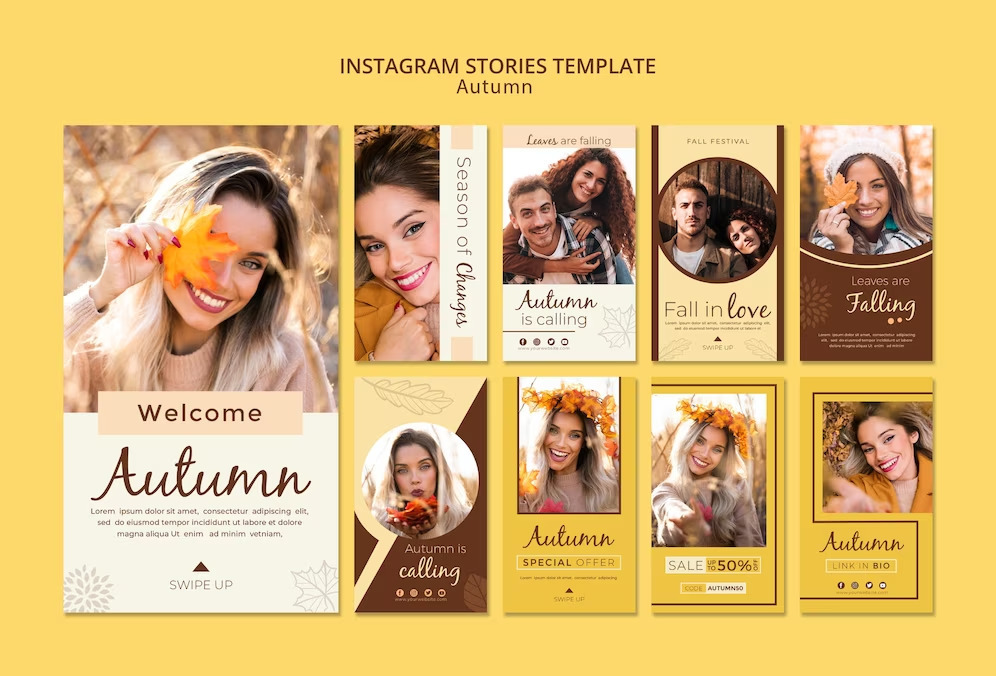 Instagram has facilitated easy access to stories by displaying them at the top of users' feeds, ensuring high visibility. Consider them as your personalized slide shows, allowing you to share thoughts creatively. No need to be as formal as you would be in a regular post; feel free to doodle, add stickers, and include fun facts.
The fact that it is right at the top of your page, makes you visible in front of more people. Everything that you add to your story will not only reach to your friends and followers but also to various other people showing them your plans which in turn gives them an opportunity to see explore more about you by visiting your profile.
The Importance of Consistency in Content Posting
Remember that being punctual with your post will help you go a long way.
Regular posting
Posting regularly can help you maintain your visibility in your audience's feed. The content posted has a tendency of becoming obsolete quickly and this is where your regular posting will help you overcome this obstacle. The posts you make regularly will always result in providing fresh content for your audience.
Optimal posting time
other than posting regularly, try to identify when your audience is actively using Instagram and schedule your posts accordingly. Try to post minimum 3-5 times per week. The optimal posting time varies for every user. Always post content which is interesting and engaging, your audience might turn away if your content lacks interest.
The Influence of Videos on Organic Reach
Videos get you more engagement period.
If you're posting a video, and a person sees it, they'll probably watch it for at least a few seconds before deciding whether they like it. Other than reels, Instagram has live videos and stories as well. So now you can go live with your audience, showcase little flashes of your daily activities on stories as well as make mesmerizing content through your reels. Coming back to live videos…. It can actually work wonders with your followers.
Go live! Instagrammers love watching Live videos for varying reasons, but perhaps the most obvious one is that Live videos bridge the gap between the physical and virtual world. By watching a live stream of something that may potentially be going on in another part of the world, it gives them a feeling of 'being there' and being a part of the proceedings.
This is a part of the reason why the viewership of IG Live has increased so much during the pandemic. Going live is also a way of showing your audience what happens behind the scene in your workplace/home etc. to reveal a more human side of your brand, while simultaneously increasing your Instagram engagement.
Collaborating with Influencers to Broaden Your Reach
One of the most popular ways to fast track Instagram growth is collaborating with other influential Instagram personalities. Make Stories, posts and Reels together so their audiences are exposed to you and your content as well.
In the early stages of growing an Instagram account, it is hard to make a convincing case for yourself when you're reaching out to big influencers for collaborations. It's a good idea to first collab with smaller influencers; they are more likely to return a positive response, and usually have a more engaged audience.
As your account grows, you can start reaching out to bigger influencers, and they'll be more likely to want to work with you!
Invite your followers to engage with your content
This is a huge aspect of social media marketing in general. There are many ways of doing this without sounding tacky or desperate for followers. You can use fun polls and MCQs on different aspects of your brand in your Instagram Stories (Pro tip: push your Stories and posts when your audience is most active on Instagram. This is called the optimal posting time). You can also invite followers to tag their friends and peers that the post may be relevant. This is another way of reaching an audience that isn't in your follower base.
When you're done trying these, run a contest!
Contests effectively engage your audience by providing incentives. Ensure your contest offers something people care about, such as a chance to win an iPhone. Incorporate contest 'tasks,' like tagging you in their own story or featuring your products. This way, your product and handle gain exposure to their followers.
There's really nothing that can cause a buzz like a well-developed contest.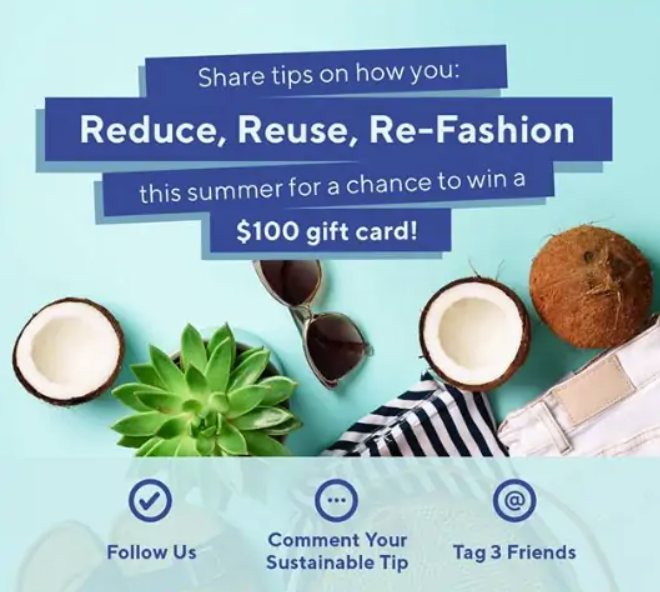 Optimize your posts with Predis.ai
Use Predis.ai's Post Improvement feature to predict how your posts will perform before you push them out. You can gauge the overall expected performance through an engagement indicator, and get suggestions based on:
Posting time and date
Whether your creative will resonate with your audience
Caption length
Number of hashtags
Recommended hashtags

This is done through analysis of your handle, audience and performance on previous posts. The AI uses these parameters to assess what works for your handle, and what doesn't. If this sounds too good to be true, we get it. See for yourself with the 7-day free trial!
If you've hit a roadblock, and are unable to figure out what to post on Instagram, check out Predis.ai's Content Calendar feature. With a small input from your side (basic information about your business/handle/industry), you can get fresh, unique post ideas with suggested creatives. Bid adieu to your writer's blocks, and keep your followers hooked with great new posts.
---
So reach on Instagram is dying; surprise, surprise. While this isn't great news for social media marketers and influencers, it's definitely not the end of the world. If you used these tips in your content strategy, we'd love to know how they worked for you. For possible reasons why your hashtags aren't working, read this detailed guide. If you have tips that worked wonders for your own handle, let us know! Follow us on Instagram for more social media marketing tips and updates.
Let us know of any great Instagram bio ideas you may have, we'd love to hear from you! Share your opinions in the comment below or refer to the tips in the article. Also, don't forget to check out this article on evaluating the content that works best for your handle!
---