Social media is a perfect place for businesses and entrepreneurs these days to promote their products and services. The various features that Instagram and Facebook have introduced have greatly improved the way a business can progress digitally. You can literally go from Zero followers to thousands of followers, and the same goes with sales through social media. Therefore we are here with the best social media post ideas for home decor businesses. These ideas are designed to captivate and engage your target audience, allowing you to showcase your unique products and create a strong online presence. Without further ado, let's explore.
Social media post ideas for home decor:
With our curated content suggestions, you can effectively showcase the aesthetic appeal, functionality, and versatility of your home decor offerings while simultaneously building a loyal community of followers.
1. Before and After transformation
If you are in the home decor business, then you definitely know the magic different home decor items can work on any space. Post about the before-and-after transformation of any space with your products.
This will help the followers understand better how your products could be life-changing! Try to focus on making the changes seem obvious so that followers are aware of the difference good home decor can make.
2. DIY home decor
We have seen DIY home decor all over the internet. It is certainly not new yet. But very effective. You can always post about different DIY ideas for your followers and viewers. DIY ideas are an interesting topic to keep social media fresh with posts and videos. You can never go wrong when posting about DIYs.
For example, show the audience how a simple vase can be worked on creatively to make it look different and unique.
3. Seasonal decoration
We are all aware that home decor stands out well when done with the seasons in mind. It is only a matter of a few things that can be added to make your seasonal decorations seem appealing and interesting. A small addition of a wind charm or a dream catcher can make your spring decorations look absolutely stunning. Try to come up with ideas based on the seasons to keep the charm of home decor alive.
4. Home decor tours
If you are a home decor business owner, there are times when clients will share pictures of your decor transforming the whole room. Try to upload such pictures to stories and save them as highlights to let people know how tremendously beautiful the home decor looks. Giving tours of virtually decorated rooms with your products can make a great reel, which will get a lot of attention on Instagram and Facebook. After all, don't we all love looking at decor inspiration to know exactly what we want?
5. Styling tips
There are lots of home styling tips that are never-ending. Share tips for styling a home. This will help customers recognize which of your products will suit their homes the best. It is essential to show people how your products can be used to decorate different regions of the house. For example, the best placement of different furniture and home decor items can be dealt with in these posts.
6. Color palettes
When it comes to decorating, there is a fundamental and essential step that serves as the foundation of any design endeavor: selecting the perfect color scheme or palette. The significance of deciding on a color scheme cannot be overstated, as it sets the tone and establishes the overall aesthetic direction for your decor and furniture choices.
Post about the various color schemes and palettes to understand which furniture and other decor items will suit them. For example, brown walls go well with green elements in decor.
7. Organizing home decor
Decorating a home may initially appear straightforward, but as one delves into the process, they soon realize the complexity and potential challenges that arise. Right from placing the furniture to decorating the walls or even the tea table, it can get a little tough to understand where to put different home decor pieces gracefully.
Try to post solutions for these situations. There are multiple ways in which decor can be used. Let your followers know how to do the same. This will get you more engagement and help you build a good social media account as well.
8. Trendspotting
There are thousands of decor items on the market these days, especially when it comes to trendy home decor. Going with trendy home decor is the best way to keep up with the decor game these days. Show your viewers and potential customers how these different trending decor pieces can be styled and help them create a trending decor list in your carousel posts. Posting a reel of trendy home decor is also a good idea.
9. Q&A session
As a business owner, it is important to interact with your followers and profile visitors. You can use the Q&A sticker either on your stories or ask the viewers to comment with their queries on the post. You can later answer those queries and keep the account interactive.
10. Festive Decor
We all love celebrating different occasions and festive seasons where we can add a little extra spark to our homes. But this can get a little messy if there is poor knowledge of how decor works.
Help your followers by posting about which items can be used to decorate which places. For example, during the holiday season, we provide insights on decorating a Christmas tree in a way that strikes the perfect balance, avoiding both excessive and inadequate decoration.
11. Different decor styles
There are different styles of decorating themes that one can have in their home. For example, Bohemian style is one such versatile and appealing style to decorate your home in. Posting about these styles and how one can make them work in their homes is a good way to post on social media.
12. Outdoor home decor
Home decor also means including the balcony, terrace, and backyard in the decor region. Therefore posting ideas to decorate these areas is a good way to be unique with your posts. You can help the viewers by showing them different decor items that can be used to decorate the outdoor areas of the house. For example, the kind of furniture that can be used in these areas can be a topic that can be touched on.
13. Eco-friendly home decor
There are multiple ways in which eco-friendly decor can be done in our homes. Let your followers know that your practices for manufacturing different home decor items are eco-friendly. This will attract more attention to your profile and help you get more customers over time. In the long run, it is better to post these kinds of things on social media.
14. Pocket-friendly home decor
One of the great post ideas for home decor is budget-friendly home decor. Isn't it just amazing if the decor items are good as well as pocket-friendly? Post your items that are under a particular budget and let the viewers decide which one they might want to get for their homes.
15. Minimal home decor
Aren't most of us into minimal decor these days? Therefore, posting about how minimal decor can lift the decor of the home is quite a good idea for posts on social media. Show the followers the different items in your decor collection that will add a minimal glow to their houses. This will work as a pretty great reel, obviously adding the most trending audio.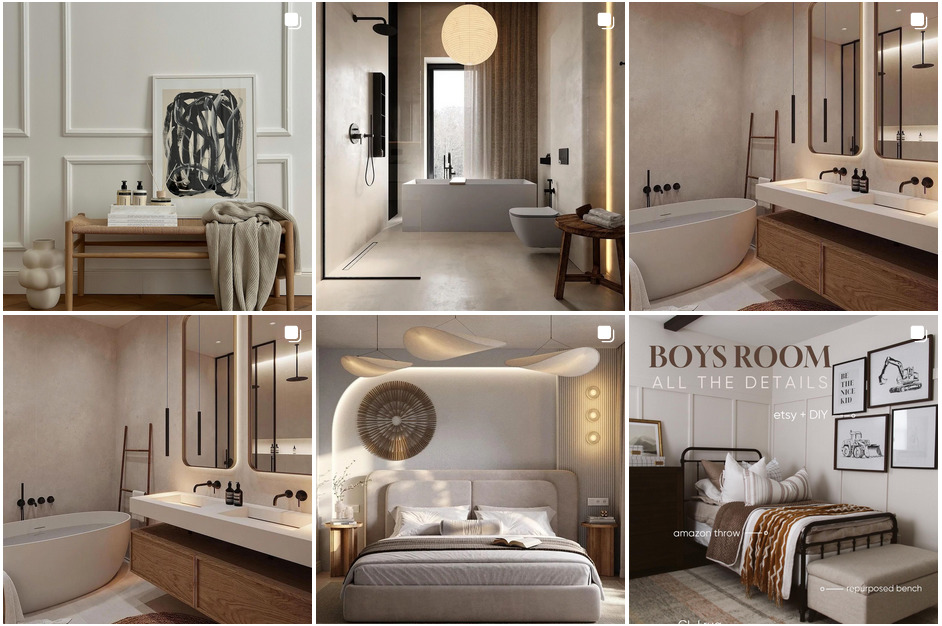 Before You Go
Managing a business can be exhausting, especially when you have to juggle multiple tasks simultaneously. The time-consuming rituals of searching, planning, and creating engaging social media posts can drain your energy and hinder your productivity. But worry no more! Predis.ai is here to revolutionize your social media game.
By utilizing Predis AI and leveraging these carefully curated post ideas, you can effortlessly transform your social media presence. Engage your audience, attract new followers, and build a strong online community, all with minimal effort on your part.
You may also like,
Social media post ideas for cryptocurrency
Skincare content ideas for Instagram
Instagram content ideas for Baking business