Shikha Gupta, a nutritionist by profession, uses Instagram to share tips about living a healthful life and beating autoimmune diseases. Her Instagram handle – nutritionist_shikha_ has about 3k followers and she has made 572 posts to date.
It's 2021 and Instagram users are engaging only with the best content. Given this, it is difficult and time-consuming to create high-quality posts every time. Shikha too was in exactly the same boat. She also wanted to understand why there was a lower engagement on some of her posts and what can be done to improve them.
Discovering Predis.ai for Instagram Posts! 😍
Shikha discovered Predis.ai through one of our webinars and found a panacea to all of her Instagram problems in one platform. She has been using the platform for about a month now and she's totally loving it.
Shikha says, "Predis.ai has all the features that would help Digital Marketers and Influencers craft better and engaging Instagram posts, thus generating more engagement." 
According to her, the features she uses for Instagram Posts are:
Engagement Indicator – Know how well your posts will perform on Instagram before publishing them and get suggestions to improve them.
Hashtag Recommendations – Get hashtags most relevant to your creatives and captions.
Caption Ideas – Get "ready-to-post" Instagram captions written by Predis' AI to cure your writer's block.
Competitor Analysis – Decode your competitors' strategy by knowing what content works for them and what doesn't.
Acing her Instagram Game with Predis! 😎
"Earlier I used to check the Best Time to Post from the Instagram app, but it just shows when most of my audience is active. Moreover, the time from the app doesn't translate to a higher engagement." Shikha pointed out. "On the other hand, Posting Time suggested by Predis.ai is on point and it actually brings higher engagement to my posts."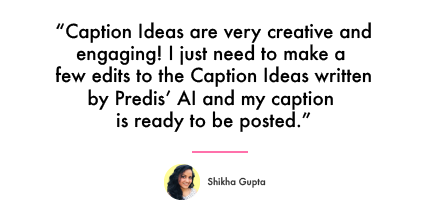 Hashtags play an important role in amplifying the reach of your posts as they expose your posts to a larger audience. "As important as hashtags are, manually finding the best hashtags for each post is painful and takes too long.", she says. "Predis.ai suggests me hashtags that are most relevant to my caption and creative. The tool also shows the reach of each hashtag which is cherry on the top. I just have to select the hashtags that I like from a pool of recommended hashtags and I am done!"
On asking how Predis.ai's competitor analysis helps her, Shikha said, "Competitor analysis is a pretty good feature. It helps me chalk out my strategy based on what content is working for my competitors and what is not. The feature also helps me reinforce my beliefs on what type of content is working. It is great to have some data-driven validation for my assumptions."
Towards a better Predis 🚀
While talking to us, Shikha suggested some features that would add more value to Predis.ai. "Reels were introduced by Instagram and they're pushing it a lot. Hence more and more Digital Marketers/Influencers are incorporating them into their Instagram Strategy", she told. "Adding support for Reels in both Engagement Indicator and Competition Analysis would increase the adoption of the product."
She also suggested we put a tutorial video on the Predis' website so that new users find it comfortable to use the product after watching the video. It would also help them to make use of the platform's features to their fullest.
TL;DR
Predis.ai helps Shikha craft better Instagram posts, faster and helps improve her productivity.
"Crafting the best version of Instagram posts feels just so easy with Predis.ai," says Shikha. "The tool saves a lot of my time in crafting posts that I can now invest in creating my overall strategy."
Don't forget to like, share, subscribe to our Instagram, Facebook, Twitter for more ideas.