Artificial intelligence (AI) is expanding possibilities in almost every sector. Social media marketing is no exception. The ever-changing landscape of social media platforms makes it difficult for firms to make the most of social media marketing. As a result, marketers are turning to AI-based solutions to collect and analyze real-time data to optimize ad plans. In this post, we'll see as an agency how to leverage AI social media tools.
Indeed, the market for artificial intelligence (AI) in social media is predicted to reach $2.2 billion by 2023, with a compound annual growth rate (CAGR) of 28.3% from 2018 to 2023. Marketers can use machine learning and AI to gain useful insights into buyer preferences, automate tasks, and make smarter decisions to achieve a higher ROI.
What is artificial intelligence?
The capacity of computers to simulate intelligent human behavior using algorithms and historical data is known as artificial intelligence. It essentially uses machine learning to learn all there is to know about a process.
Then AI utilizes that information to handle activities more effectively and to make forecasts, suggestions, or judgments that would typically require human effort and brainpower.
For example, artificial intelligence technology can collect information on potential customers such as the items they enjoy, when they like to post on social media, how they use their accounts, and even what kind of material they interact with.
It can decide which marketing message is most likely to resonate with your target audience after examining this information. Consider how Netflix, Hulu, and Amazon propose episodes and movies based on your watching history – that's AI in action.
According to research, artificial intelligence can increase corporate productivity by 40%. This smart technology can help your social media marketing efforts. Using artificial intelligence, you can improve everything you do, from content planning to social media analytics.
Benefits of Using AI-powered Social Media Marketing Tools
Machine learning, picture recognition, natural language processing (NLP), and deep learning are all examples of artificial intelligence technology.
Artificial intelligence can assist you with anything from understanding clients to automating interactions. As a consequence, many companies and marketers are turning to artificial intelligence-powered solutions to enhance their marketing efforts, save time, and achieve better outcomes.
When AI technologies can generate interesting descriptions, calls to action, voice over and graphics for your commercials, you no longer need to strive. These technologies are capable of producing Facebook and Instagram advertising that is optimized for clicks and conversions.
Using AI in social media marketing has a lot of advantages, including
Simplified management and marketing procedures.
Insights about user behavior are quite valuable.
Increased productivity and efficiency.
User experience has been enhanced.
User involvement has increased.
Better performance analytics for smarter marketing.
Target-specific content.
Decreased marketing expenses.
Greater return on investment.
6 Ways Agencies Can Make the Most Out of AI Social Media Tools
There is no doubting the value of social media in business. More than half of the world's population (58.4%) currently uses social media. This makes it the world's largest focus group, with a theoretically limitless pool of consumers. If your company isn't on social media yet, now is the time to start.
Keeping up with the demand for material, on the other hand, isn't always simple. You must come up with fresh subjects for entertaining posts. You should also make sure to publish at ideal times to obtain the greatest response. It's all a little disconcerting, but here is where AI thrives. AI technology can assist all workers, whether they are in the office or working remotely, in improving their social media effectiveness.
Let's take a look at some of the ways AI can make your life simpler.
1. Content creation and management
Content is what engages your audience with your brand. Creating material for your social media accounts might take hours, and you'll still need to distribute it, handle conversations, and monitor its performance.
Within minutes, AI social media tools can understand your brand's voice, and what kind of material appeals to your audience, and make relevant posts with proper hashtags and links. It can arrange for those points to be sent out at the best moments for maximum interaction.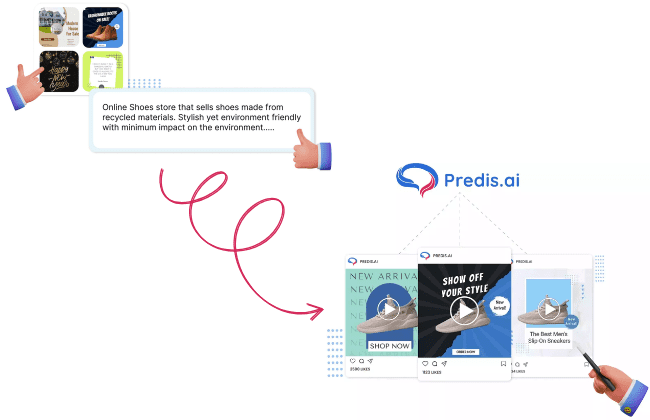 AI Tool like Predis.ai can generate entire social media post with image, caption, hashtag, video, carousel with just a short text input.
Artificial intelligence can go beyond standard audience settings. This means you'll be able to find and target more high-quality leads and prospects.
You can also use AI to monitor the effectiveness of your social media postings to determine what kind of material produces the greatest outcomes for your company. These insights will enable you to generate content that your audience finds helpful and interesting constantly.
2. Improving customer experience
People want to do business with companies that give excellent customer service. Like using a free chatbot for a website, that can enable you to close customer queries quickly and improve customer service. Customer satisfaction and retention, on the other hand, start with getting to know your consumers.
You will be able to grasp your audience's preferences and become closer to them by implementing artificial intelligence in social media.
This allows you to generate content, target advertisements, and make modifications to your goods or services that improve the customer experience. To give the finest client experience on social media, you can detect problem areas and address them right away, as well as react to concerns and complaints quickly.
3. Gathering insights through social listening
Artificial intelligence has aided in the incorporation of technologies like social listening, which can analyze social media postings at scale, listen to what people are saying about your company, and assist you in identifying emerging trends or new demographics to target.
People can be utilizing your goods and services in ways you did not expect. Knowing such use cases will allow you to promote your company in new ways.
AI-generated consumer insights can help you strengthen relationships with your audience while also improving brand reputation and equity.
4. Competitor analysis
If you want to remain ahead of the competition, you must keep an eye on them and find out ways to outperform them. Predis.ai Competitor Analysis can give you meaningful insights into your competitor's social media performance.
AI-powered analytics can assist you in properly and swiftly analyzing your competitors' social accounts. You can track their reach, engagement rates, conversion rates, how their consumers perceive them, and the techniques that are working for them.
With this data, you'll be able to tweak your social approach to enhance engagement and conversions.
5. Social media advertising
Natural social media activity will only take you so far. This is when commercial advertising enters the picture. Many social media platforms provide built-in advertising systems that companies can utilize to boost the effectiveness of their marketing efforts.
When AI technologies can generate interesting descriptions, calls to action, and graphics for your commercials, you no longer need to strive. These technologies are capable of producing Facebook and Instagram advertising that is optimized for clicks and conversions.
AI can also assess the success of your advertising and give suggestions to improve campaign effectiveness and produce greater outcomes.
6. Uplifting Your Visual Content Strategy
Did you know that some graphics often generate more interaction on social media than others?
Brands like REVOLVE, Unilever, and P&G use visual intelligence systems to evaluate and anticipate how their photos and videos will perform on social media before they upload them.
These AI social media tools evaluate patterns and forecast how your audience will respond to photographs based on their theme, composition, color palette, texture, and other factors. Using these analytics, you can determine the graphics that your prospects are most likely to connect with and boost the social reach, impressions, and engagement of your content.
7 Powerful AI Social Media Tools For Agencies
Agencies are increasingly turning to AI social media tools to help them get the most out of their marketing efforts. AI tools offer a range of benefits, from increased user engagement and refined content targeting to streamlined management processes and valuable insights about user behavior.
AI can also be used to create basic posts and discover new audiences and trends based on sentiment analysis.
We've compiled a list of the best AI social media tools for agencies.
1. Predis.ai
Predis.ai is a powerful AI-based tool that can help agencies in social media marketing. It offers numerous features to help agencies maximize their marketing efforts and drive better results. Predis.ai provides agencies with suggestions based on factors like caption length, number and type of hashtags used, type of creative, and date and time of posting.
Predis.ai also carries out comprehensive competitor analysis, giving agencies insights into what is working for their competitors and how to use that data to their advantage. This tool is also effective in generating high-quality visuals for products and services. By using artificial intelligence, agencies can create visuals that not only look appealing but also resonate with their audience.
Overall, Predis.ai is an invaluable tool for agencies looking to maximize their social media marketing strategies. With its AI-based features, agencies can make better decisions and create more effective campaigns.
2. Sprout Social
Sprout Social is a powerful tool that helps agencies in social media marketing. With its robust analytics, engagement, and publishing capabilities, Sprout Social provides agencies with the ability to manage all their social profiles from one platform, giving them access to comprehensive data and insights about their performance on social media.
Additionally, Sprout Social offers agencies an easy way to collaborate with coworkers or clients by providing features to measure ROI, listen to customer feedback, and address specific concerns promptly. From managing profiles from a single platform to gaining valuable insights about their audience and performance, Sprout Social helps agencies effectively manage their social media presence and maximize ROI.
3. Brandwatch
Brandwatch is a powerful tool that can help agencies in social media marketing. It allows them to track billions of conversations happening online, including blogs, news, forums, videos, reviews, and images on sites like Twitter, Facebook, and other social networks. This data helps agencies gain insights into consumer trends, identify influencers, and better understand brand perception.
Brandwatch also helps agencies in content marketing by providing metrics on relevant influencers who can help amplify their content. It provides data on the types of content that are performing best, allowing agencies to make informed decisions about what type of content to create and share.
4. Mention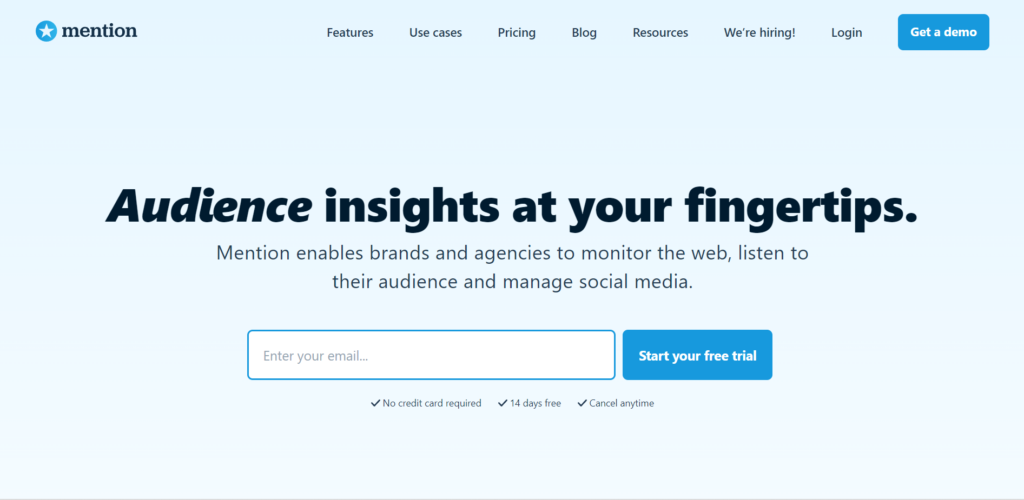 Mention is an AI tool that helps agencies in social media marketing. This platform enables brands and agencies to track media and social media data, which can be used to increase brand awareness and traffic. It provides insights into online conversations, enabling customers to compare and analyze the data and then create content based on this information.
Additionally, Mention helps marketers to understand which headlines, words, and images in posts lead to the most engagement with the audience. Mention's AI technology also streamlines marketing efforts by allowing for the automation of personalized and relevant messages. This ensures customers are receiving tailored experiences that are more likely to result in sales.
5. Sprinklr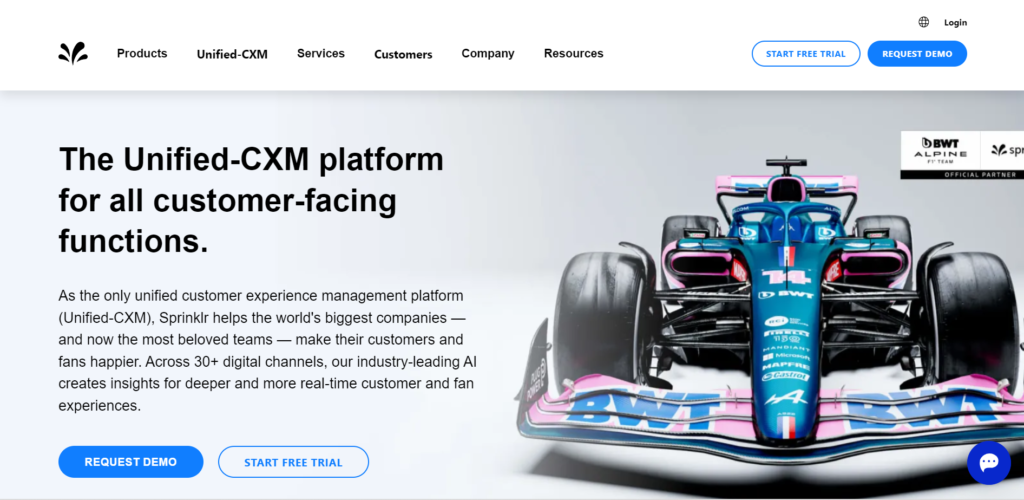 Sprinklr is an AI-driven tool that can help agencies in their social media marketing efforts. This powerful platform provides numerous features and functions that can help businesses to improve their brand engagement, generate leads, and reach new audiences on busy social media channels. Sprinklr also offers a planner that can be used by the entire department to store information about campaigns, events, and daily social media publishing.
It can help with automating certain tasks, such as content curation, scheduling, and analytics, which can free up valuable time and resources for other important tasks. This allows businesses to optimize their social media marketing efforts and make sure their content reaches the right audience at the right time.
6. Hootsuite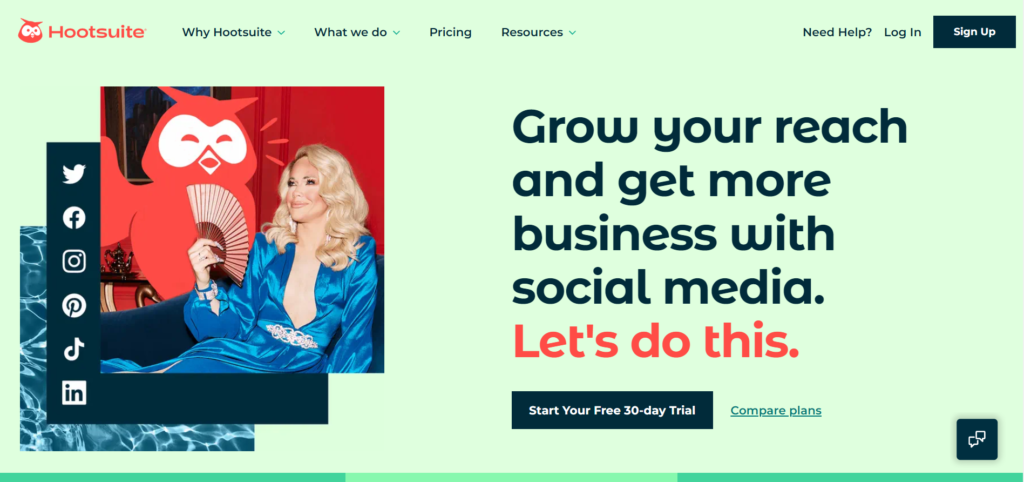 Hootsuite is a powerful tool that helps agencies quickly and effectively manage their social media marketing campaigns. It provides a comprehensive suite of features that can help improve the efficiency of the campaigns, such as scheduling posts in advance, monitoring multiple social media streams in one place, easily viewing analytics data, and using the Hootlet plug-in to share information with others.
Agencies can also use Hootsuite to optimize their social media presence by filling out profiles in their entirety, using hashtags, creating valuable content that solves followers' problems, using images, and including calls to action.
7. Zoho Social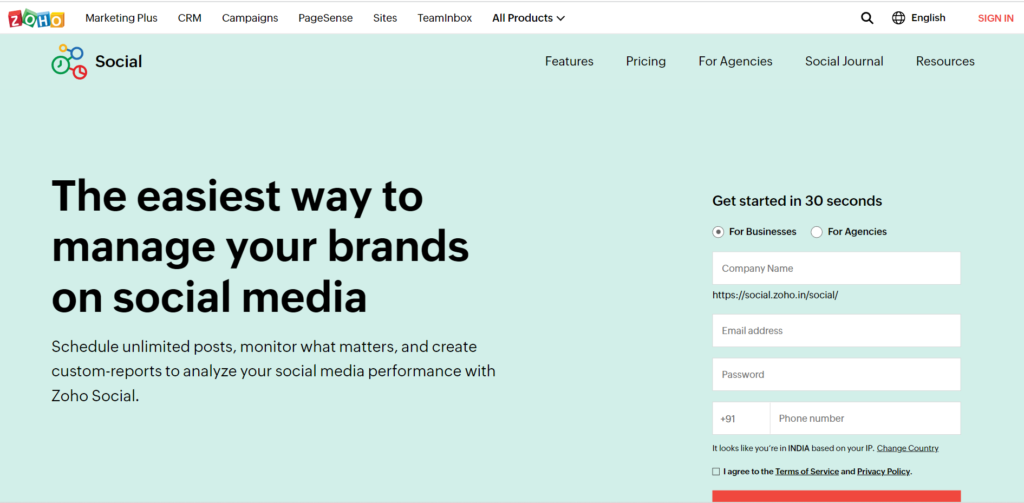 Zoho Social is a social media management tool that helps agencies in their social media marketing endeavors. It provides a comprehensive set of features that allow agencies to effectively manage their online presence and promote their brand. With Zoho Social, agencies can monitor keywords, engage with customers, create reports, collaborate with teams, and schedule posts on multiple social media channels.
One of the key advantages of using Zoho Social is that it provides agencies with a single platform solution for all their social media management needs. This allows them to easily meet their social media goals and objectives. Additionally, Zoho Social can help businesses increase brand awareness, generate leads, and build customer loyalty.
By leveraging these AI-powered tools, agencies can improve their client's online presence and create more effective campaigns. With the right tools and strategies in place, agencies can maximize their impact and see greater returns.
Wrapping It Up
The market for artificial intelligence in social media is anticipated to exceed $2.1 billion by 2023. AI is increasingly being used by organizations to manage different elements of their day-to-day operations, including actions on their social media marketing platforms.
If your organization is serious about utilizing social media to engage with consumers, create leads, and promote your brand, artificial intelligence (AI) can fuel your strategy, take it to the next level, and provide you with a competitive advantage in your sector.
You can utilize the unprecedented insights provided by these technologies to boost productivity, find new trends, reach a larger audience, determine what works for your niche, monitor your success, and improve your campaigns in real-time.