There is no denying that providing exceptional content is essential for building a strong online presence. While there are many brilliant copywriters out there who can create engaging and fascinating content, AI copywriting software has also helped to take things to the next level.
AI writing software not only allows you to generate high-quality content up to ten times quicker, but it also assists you in overcoming writer's block and writing effectively in a variety of foreign languages.
Because of advancements in AI technology and machine learning, many bloggers, copywriters, and marketers have recognized the potential it offers to help enhance their writing and are now using tools like Jasper and Copy AI on a daily basis.
This post should help you select which of these sophisticated AI copywriting tools is best for you. We'll compare Copy AI vs Jasper side by side so you can decide which one is better for you.
How To Choose the Best AI Content Writer?
In the writing industry, AI assists marketers and artists in a variety of ways. It helps with long-form writing, and brief production and even includes a variety of templates for their copywriting requirements.
So, how can you choose the best copywriting helper for yourself?
Here are some characteristics to consider:
1. Diversity of Templates Available
Most copywriting tools have AI templates for various content categories. The more use cases that are offered, the more probable it is that you will discover outputs that meet your exact requirements. When deciding between two tools, consider the number of templates offered.
2. Ease of Use
There were few AI-driven writing tools available a few years ago, except for SEMrush and Ahrefs. Because these technologies were created particularly for marketers and agencies, the majority of us are fresh to this world. As a result, it is critical that we hunt for an SEO and writing tool that is simple to use.
3. Factual Accuracy
Another important consideration when selecting an AI technology is factual accuracy. Because these technologies create automated information, the two tools' factual accuracy may vary greatly.
Given that the findings might have a substantial influence on your SEO through the EAT criteria (Expertise, Authority, and Trustworthiness), use software that can offer factually accurate results.
4. Pricing
Pricing for AI tools can vary greatly based on a variety of criteria, and it is not necessarily the case that the more expensive, the better. As a general guideline, use a copywriting tool that provides enough AI-generated content to meet your monthly word count requirements. Make certain that the software you choose fulfills your value quotient and falls within your budget.
5. Supported Languages
The internet was formerly dominated by those who could read and write English. Vernacular languages now have a healthy audience.
To achieve momentum, most businesses attempt to capitalize on this potential by creating copies in other languages and adjusting them according to local tastes and preferences. So, choose a solution that allows you to produce content in many languages, preferably the most popular ones.
6. Free Trial
Given the quick technical advancements and considerable advancements in what copywriting tools can achieve, a free trial has become another important consideration when selecting the finest software for yourself.
It's also rational to understand what you're paying for before handing over your cash. If you've compiled a list of tools to consider, prioritize those that provide a free trial so you can try out the features.
7. Form-based or Editor-based
AI writing tools are often divided into two types: form-based and editor-based. Form-based technologies enable users to enter data to generate results.
Editor-based solutions, on the other hand, are more collaborative and allow users to generate content themselves or utilize AI to write for them. You can select a tool based on whether you want AI to handle everything or to collaborate with you on your writing demands.
Copy AI vs Jasper: Comparison Table
S.No.
Features
Jasper
Copy AI
1
Type of Content Generated
Blogs, social media content, email copy, ad copy, website landing page content, AI images, SEO content, video descriptions
Email copy, business plan, follow-up email, long-form blog content, ad copy, eCommerce copy, sales copy, website copy, and social media copy.
2
Content Quality and Speed
9/10
7.5/10
3
Templates and Use Cases
50+ Templates
90+ Templates
4
Language Supported
25+ Languages
25+ Languages
5
Plagiarism Checker
Yes
No
6
Grammar Checker
Yes
No
7
Pricing
$24/month – $49/month
$49/month
8
Free Trial
Yes (Credit Card Required)
Yes (No Credit Card Required)
9
Reviews & Ratings
G2: 4.9
Capterra: 4.8
Trustpilot: 4.8
G2: 4.8
Capterra: 4.7
Trustpilot: 4.5
What is Copy AI?
Copy.ai is a marketing copy generator that specializes in creating blog titles, headlines, social media captions, email subject lines, and more. When it comes to short-form marketing content, the tool is one of the most popular Jasper alternatives.
The following user groups are more likely to benefit from Copy AI:
Ad Agencies: Copy AI fits well within the requirements of ad agencies seeking a powerful tool for creating ad descriptions, social media posts, and more, thanks to its capacity to develop a range of AI-based marketing content.
Freelance creators: If you are a freelance creator, particularly a copywriter, Copy AI has substantial qualities that can help you create relevant copies with little input.
Small and medium businesses: Copy AI is a viable partner for small and medium-sized enterprises thanks to a multitude of collaboration capabilities and a deluge of AI templates.
What is Jasper AI?
Another AI content tool is Jasper AI (previously Jarvis, originally Conversation AI). The tool specializes in creating content and copy that increases conversions and ROI.
The following are the types of people that are most likely to profit from adopting Jasper AI:
Entrepreneurs: If you are a company owner, Jasper features over 50 templates to help you develop different content for all of your marketing requirements.
Agencies: Boss Mode, for example, enables agencies to develop content 5x quicker and fulfill deadlines with more ease.
Freelance creators: Jasper AI provides various tools to let freelancers create blog post outlines, generate copies, and more in minutes.
Detailed Comparison: Copy AI vs Jasper
Both Jasper and CopyAI provide a wide range of helpful content-generation features. Let's have a look at the characteristics of both of these tools.
1. Copy AI vs Jasper: AI Writing Capability
GPT-3 powers both of these systems (Generative Pre-trained Transformer). OpenAI created the system, which employs over 170 billion factors to produce astounding outcomes.
The AI process of these two tools is almost identical, but Jasper AI offers Boss Mode and other capabilities to accelerate the process.
2. Copy AI vs Jasper: User interface
When it comes to UI, Copy AI is bare bones. In comparison, Jasper AI developer places a greater focus on design and includes a plethora of templates to assist you in developing various content kinds.
Individual tastes determine who wins. Copy AI is the way to go if you like a simple user interface and are OK with minimal functionality. Jasper, on the other hand, has a more user-friendly interface.
3. Copy AI vs Jasper: Content Type
Copy AI and Jasper both allow short and long-form content generation. CopyAI provides a number of long-form modules, including Write Blog Intro, Write Blog Section, and others. It also features a Blog Wizard Mode, which allows users to create initial drafts in minutes. Jasper, on the other hand, provides Recipes and Command tools that allow you to automate elements of long-form content write-ups.
While there isn't much to distinguish these tools in terms of short-form content development, Copy AI provides more choices to assist users with long-form content generation, but its outcomes are sometimes poor and lack factual accuracy, whereas Jasper does not. So Jasper also wins this round.
4. Copy AI vs. Jasper: Supported Languages
Copy AI now supports over 25 languages, up from the previous 11 languages. Jasper AI, on the other hand, allows you to produce content in over 25 languages, including Spanish, German, and English.
Another tie. It is impossible to choose a winner unless you are seeking the extra languages that each tool provides.
5. Copy AI vs Jasper: Plagiarism Check and SEO
While neither Copy AI nor Jasper features native plagiarism checking, the latter does offer Copyscape integration. It implies that people who wish to verify the paper for plagiarism may do so by paying Copyscape's fees. Copy AI, on the other hand, does not integrate with any other plagiarism detectors.
Given that neither tool natively supports plagiarism detection, they are reasonably comparable. However, the advent of Copyscape as an integration implies that our preference is for Jasper.
6. Copy AI vs Jasper: Third-party Integration
Copy AI, as has been the norm, is strict in its approach and does not support third-party integration. In contrast, Jasper only provides third-party connectors for its GPT-3 module. Users may, however, combine the Surfer and Copyscape modules.
Jasper AI is the obvious winner in this category since it provides third-party integration with Surfer SEO and other services.
7. Copy AI vs. Jasper: Community and Customer Support
Customer support is one of the most crucial factors to consider when selecting an AI-powered solution. You don't want to be yourself in a rut with no one to get you out.
So, for starters, neither tool supports live chat. They do, however, provide support centers and tutorials to assist their consumers.
If you still feel the need to contact their staff, Copy AI has a contact page to answer your questions. Jasper, on the other hand, gives an email address and guarantees a prompt response. Furthermore, they have a vibrant Facebook group where you may get rapid solutions if needed.
Again, determining a winner in this scenario is tough. Both are quite accommodating when it comes to responding to consumer inquiries.
8. Copy AI vs Jasper: Content Tone and Output
During our testing, we discovered that Copy AI's output was highly stiff and prone to overselling. Jasper's output, on the other hand, was more free-flowing and genuine, with no hint of a machine-like undertone.
Again, this is a tough decision, but Jasper's natural tone makes it a better partner for the majority of use scenarios.
9. Copy AI vs Jasper: Pricing
Copy AI Pricing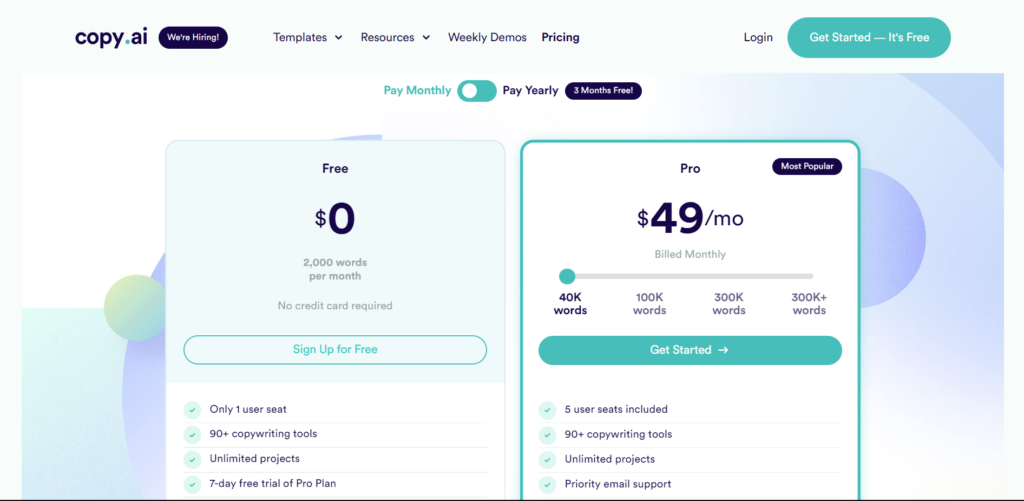 This AI tool has three pricing options, which are described below.
1. Free Plan: If you're seeking a free copywriting tool, Copy AI has a free plan that includes the following features.
2000 words per month
One user seat
25+ languages
90+ copywriting tools
Unlimited projects
7-day free trial of the Pro plan
2. Pro Plan: This is Copy AI's premium plan, which costs $49 per month ($35 per month when billed annually) and gives you access to 40K words to produce content. You will also receive the following benefits:
Five user seats
Unlimited projects
25+ languages
Access to 90+ copywriting tools
Priority support
Access to our newest features
Premium community
Copy AI provides a seven-day money-back guarantee. If you are dissatisfied with their tool, you may request a refund within seven days of purchase and receive a full refund.
Jasper AI Pricing
Jasper AI has three pricing options, which are described below.
1. Starter plan: This is Jasper's most cost-effective plan. It is appropriate for individuals who need to generate short text. Its pricing plans start at $24 per month with a monthly word limit of 20,000 and go up to $332 per month with a monthly word limit of 320K.
The Starter plan includes the following features.
20,000 words credits per month
6000 character lookback
50+ copywriting templates
25+ supported languages
Unlimited user access
Unlimited projects
2. Boss Mode: This is the best plan for anyone who wishes to generate long-form content such as blog posts, stories, novels, and so on. Pricing plans range from $49 per month with a 50,000 words limit per month to $500 per month with a 700,000 words limit per month.
With the Boss mode, you'll have the following features.
50,000 words credits per month
3,000 character lookback
Command Jasper
Recipes
SEO mode
Plagiarism checker
Grammarly basic
50+ copywriting templates
25+ supported languages
Priority chat support
3. Business Plan: This is a plan designed specifically for big organizations and enterprises.
Jasper AI also provides a free 5-day trial with 10,000-word credits.
Our Verdict
We find it tough to choose a winner between Copy AI and Jasper. So, in general, the selection would be based on your individual use case and how you want the tool to perform. During our testing, we discovered that Jasper consistently produced higher outcomes across categories. Jasper clearly outperforms Copy AI, especially in copywriting.
However, when it comes to long-form functionality, Copy AI outperforms Jasper. However, since it often provided factually wrong information, we would choose to trust Jasper AI if given a choice between the two.
So, who is the winner? What is the difference between Copy AI and Jasper AI?
We'll accept Jasper's side since its combination with Copyscape and Surfer SEO allows customers to acquire SEO-optimized, plagiarism-free content without having to copy-paste text between tools. Furthermore, the selection of copywriting templates accessible with Jasper is significantly wider than that available with Copy AI, and the outputs were more to our taste and more likely to connect with the audience.