As technology advances at a fast rate, what used to take hours can now be completed in a fraction of the time. Writing blog content has become much simpler, particularly for those who are overburdened with dynamic activities, such as founders, entrepreneurs, and content marketers.
AI Writers are now a thing. Yup! It's official: this is the future.
Have you ever considered how your writing style will evolve? The future has arrived. Artificial intelligence is currently capable of producing a vast volume of information, and its capabilities are expanding by the day.
An AI writer, also known as an artificial intelligence writer, is a tool that can create any sort of content. An artificial intelligence writer is a realistic answer to all of the nuances involved in writing blog or website content.
In this blog, we will make a side-by-side comparison of two very popular AI writers: Jasper vs Copysmith.
What features to look for in an Ideal AI content writer?
We understand how AI writers give several advantages to enterprises, including time and money savings. However, if you begin your search for the best AI writing assistance, you will discover that the market is swamped with several possibilities.
So, what's next? How can we choose the best AI Writer out of all the options?
You will want help to make a better educated selection since you want the AI content production tool to perform the hard work for you.
To do so, you must first grasp what makes an AI content writer a "must-have." The good news is that you don't have to be concerned since we've got you covered.
1. Content Output Quality
It is critical to understand that most AI authors use numerous AI engines, such as OpenAI's GPT3. And the good news is that they can produce high-quality human-like stuff.
2. Ease of Use
The simplicity of use of the greatest AI writer is one of the most important elements to consider. Different tools need varying degrees of competence to operate; some instruments are simple to use, while others necessitate more knowledge. As a result, you should inquire if the user or team needs any prior knowledge to utilize the AI authoring tool.
3. Personalization
AI content creators should provide you with a tailored experience. And how does this occur? The availability of multiple niches enables you to create high-quality long-form content that is tailored to a certain set of viewers.
4. Factual Accuracy
Despite the fact that AI is learning, it still produces more creative than accurate information. This can be a significant issue for consumers since it can have a direct influence on your SEO through the EAT factors (Expertise, Authoritativeness, and Trustworthiness). As a result, you must choose an AI writer capable of producing factually accurate articles.
5. Pricing
When looking for an AI content-generating tool, think about options that will fit your budget and deliver adequate value. A competent AI writing tool will create a lot of content (words) for the money you invest.
Jasper vs Copysmith: Comparison Table
S.No.
Features
Jasper
Copysmith
1
Type of Content Generated
Blogs, social media content, email copy, ad copy, website landing page content, AI images, SEO content, video descriptions
Long-form blogs, blog ideas, product descriptions, ad copies, social media content
2
Content Quality and Speed
9/10
8/10
3
Templates and Use Cases
50+ Templates
35+ Templates
4
Language Supported
25+ Languages
100+ Languages
5
Plagiarism Checker
Yes
Yes
6
Grammar Checker
Yes
No
7
Pricing
$24/month – $49/month
$19/month – $59/month
8
Free Trial
Yes (Credit Card Required)
Yes (No Credit Card Required)
9
Reviews & Ratings
G2: 4.9
Capterra: 4.8
Trustpilot: 4.8
G2: 4.3
Capterra: 4.3
Trustpilot: 3.3
What is Jasper AI?
Jasper AI is a new service that claims to generate high-quality content for any website in a timely manner. To decide the sort of content you need, Jasper examines your landing page, keywords, and competition. Jasper then utilizes this information to quickly create SEO-optimized content.
Its document editor has all of the tools you need to create quickly.
You can use the tool to produce articles, tales, blog entries, and landing page content. It can also summarize large chunks of content, such as eBooks or reports, in minutes, saving you from having to go through it all yourself.
So, who should be making use of Jasper's writing tool?
Bloggers that are having difficulty creating fresh content on a regular basis
Owners of small businesses that wish to write unique product evaluations
YouTubers looking for clean, one-of-a-kind titles and descriptions for their videos
Social media managers who wish to make amazing social media posts rapidly
SEOs, affiliate marketers, and anybody else interested in writing blog posts
In a word, if you want to generate better content automatically while saving time, you should consider Jasper.
What is Copysmith?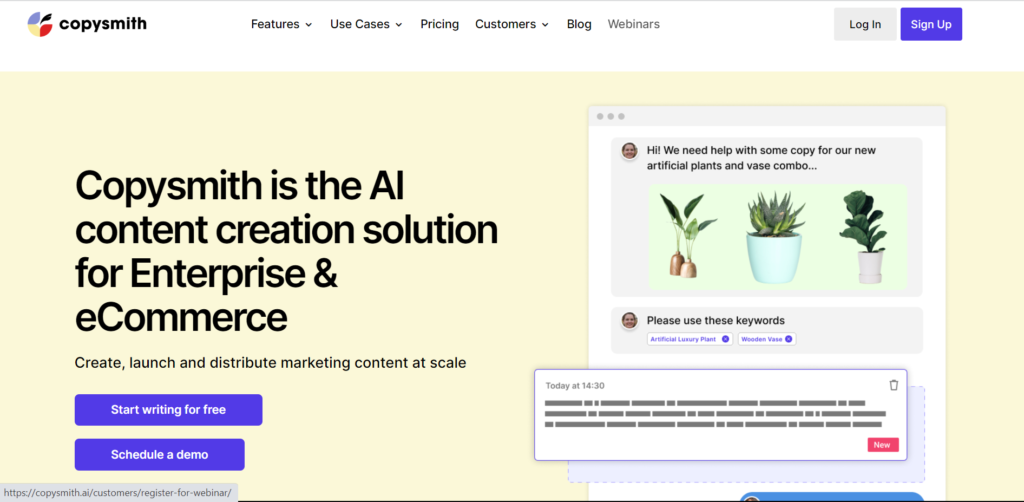 Copysmith is another AI copywriting tool with a plethora of capabilities. It can manage teams, schedule posts, and automate social media duties so you don't have to.
Copysmith has been around for a while and provides a variety of services, such as post-scheduling, team management, and social media job automation.
It has a plethora of features, such as scheduled posts for Instagram, Facebook, Twitter, and LinkedIn; an unlimited number of team users with customizable roles; one-click scheduling of content to multiple accounts (which is useful if you want to schedule the same content on multiple channels); and simple tracking tools to monitor the performance of your content.
Copysmith is ideal for:
Marketing firms
Freelancers
In-house teams developing marketing content
Site owners managing many websites and eCommerce owners that need to create content rapidly.
It specializes in rapidly scaling content. Copysmith, in contrast to other AI writing tools, concentrates on long-form content for blog writers with their unique 'Article Writing Assistant,' which assists you in breaking down the information and then expanding on it.
Detailed comparison: Jasper vs Copysmith
We will go through some of the most significant differences to help us decide which one is superior.
1. Jasper vs Copysmith: AI Writing Capability
Copysmith.ai and Jasper AI are AI-powered copywriting tools that are sweeping the writing world by storm. While these super tools vary in many ways, they both use Generative Pre-Trained Transformer 3 (GPT-3) technology.
When it comes to GPT-3 technology, it has been dubbed the "future of AI text production," and why not?
OpenAI's AI language generator has shown to be fairly excellent in terms of its capacity to translate a wide variety of information in many languages.
Furthermore, it is an update to GPT-2, a language generation model that was suspended because it produced excellent but phony content.
This fundamental weakness has been fixed in GPT-3, which also includes 175 billion parameters compared to GPT-2's measly 1.5 billion, making it the world's most powerful language generator.
As a result, key users of this technology, Copysmith and Jasper AI, are at the top of the AI content-generating food chain.
Jasper AI, in addition to GPT-3 technology, has a distinct AI engine that provides it an advantage over Copysmith.
The Jasper Boss Mode AI component allows users to directly instruct the tool to produce content rather than providing a set of template phrases.
For example, a user might use the Jasper Boss mode command to produce Instagram advertising by saying something like, "Jasper, compose an Instagram ad for my fashion company."
2. Jasper vs Copysmith: User Interface
Copysmith's user interface is well-designed and simple to use on mobile devices and desktop computers. Its user-friendly design also allows you to create various folders and access different templates, lessons, files, and news updates.
Jasper AI also has a simple but professional user interface. It is open to everyone, even first-time users, and includes templates to help in content development.
Jasper AI's improved functionality and overall better user experience place it as the clear winner in terms of user interface and experience.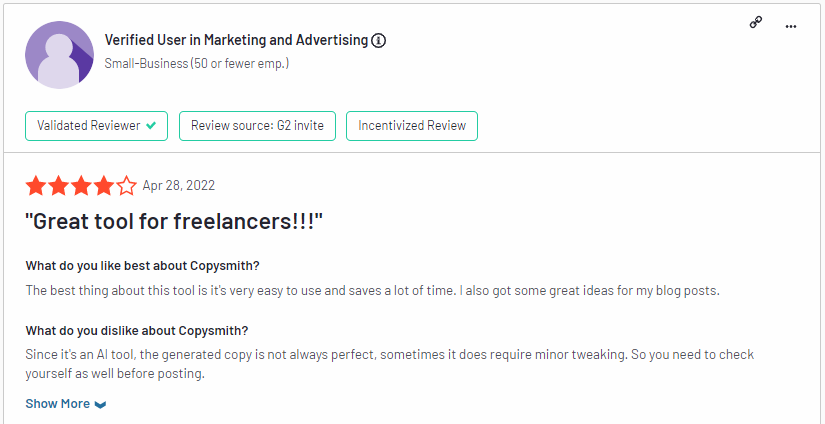 3. Jasper vs Copysmith: Supported Content Types and Lengths
Jasper AI and Copysmith develop both short-form and long-form content (social media captions, Instagram advertising, slogans, emails, blog posts, and landing pages).
However, there are certain details to consider. Jasper provides superior long-form content, but it is only available to those on the Boss Mode plan.
It is also worth noting that Copysmith's Starter plan comes with just 75 credits, which equates to around 40,000 words.
Users with higher pricing levels may work on an endless number of words.
Although Jasper doesn't offer any plan with unlimited content generation capability.
4. Jasper vs Copysmith: Supported Languages
Copysmith can write content in over 100 languages, but Jasper AI only supports a little more than 25. (including English, Portuguese, Spanish, German, French, Japanese, Russian, Italian, Dutch, Chinese, and Polish). As a result, the superior software in this field is quite obvious.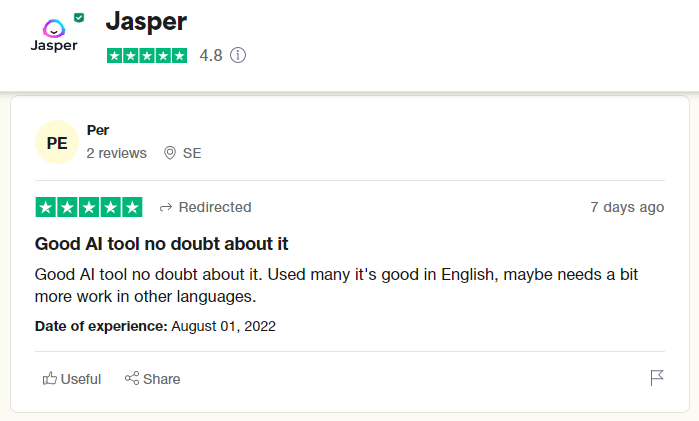 5. Jasper vs Copysmith: Plagiarism Checking
Copyscape is provided by Jasper AI for plagiarism detection, but CopySmith has an in-built plagiarism detector.
There are various more companies on the market that provide similar services. You must, however, understand how to utilize them and make use of the information they supply.
6. Jasper vs Copysmith: Grammar Checking
Grammarly, a prominent grammar checker, is integrated with Jasper AI, allowing users to review their writing for spelling and grammatical problems, sentence structure, and tone of voice before posting it online. Copysmith, like Jasper, offers this service to its consumers.
As a result, it is a more trustworthy tool for content providers who wish to ensure the correctness and quality of their work.
Because Jasper AI works with Grammarly, it is one of the greatest grammar checker software solutions accessible online. This integration is only available in Jasper; hence it is our top choice.
7. Jasper vs Copysmith: SEO Capabilities
Jasper works well with Surfer SEO for optimizing content for SEO using natural language processing (NLP) keywords. You may, however, turn it off when necessary. Users can also choose their own emphasis keywords and certain websites for distribution using Jasper.
CopySmith lacks these tools; instead, if you want to optimize your content for SEO, you must use a separate plugin like Frase. Furthermore, Jasper AI has many more characteristics that make it superior to CopySmith.
8. Jasper vs Copysmith: Pricing
Here's an overview of how the pricing of both tools compares.
Jasper Pricing
Jasper AI provides its users with three pricing options, which are described below.
1. Starter Plan
The Starter plan is suitable for those who are new to AI authoring tools. In addition, if you want an AI writing tool to create short-form content such as headlines, product descriptions, brief product reviews, Facebook advertising, and so on, Jasper's Starter plan is an excellent choice.
The Starter Plan allows you to write 20,000 words every month. It begins at $29 per month and rises to $399 per month (for 3,20,000 words per month).
2. Boss Mode
Boss Mode is for you if you want to produce extensive articles and get the most out of Jasper. This strategy can be used to create long-form content such as blog posts, emails, social media content, and much more.
The Boss Mode allows you to write 50,000 words every month. It begins at $59 per month and rises to $600 per month (for 7,00,000 words per month).
3. Business Plan
This plan is essentially a customized plan provided by Jasper AI. This plan includes bespoke word/user bundles, payment options, and the onboarding and support required to grow with Jasper. This strategy covers everything in Boss mode.
In a word, the Starter plan is ideal for people who enjoy short-form content, while the Boss Mode is ideal for those who prefer long-form content.
These Jasper pricing plans are backed by a 5-day money-back guarantee.
Copysmith Pricing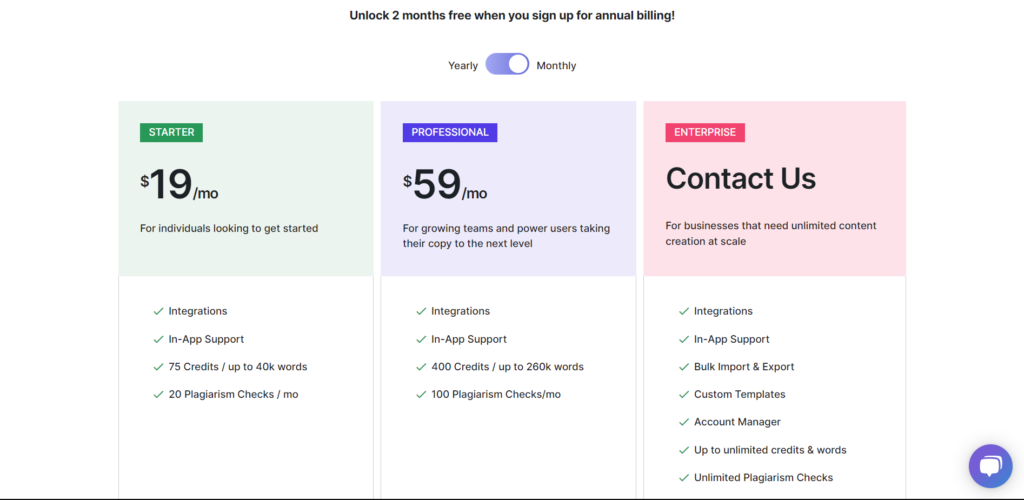 Copysmith has a three-tiered pricing structure:
1. Starter Plan
Its Starter plan, which costs $19 per month, includes 50 credits, 20 plagiarism checks, a chrome extension, exposure to 35+ templates, and copy in 100+ languages.
2. Professional Plan
The $59/month professional subscription includes unlimited checks, 100 plagiarism checks, long-form blog production, third-party integrations, in-app chat assistance, and other premium features.
3. Custom Enterprise Plan
Finally, its unique enterprise plan (premium plan) is designed for enterprises and businesses that want greater flexibility and generate a large amount of content.
There is no set price plan for this; you must contact their support staff for a personalized estimate.
Copysmith provides a free 3-day trial with no credit card needed.
Our Verdict
If you want your content to be created automatically, Jasper AI and Copysmith are the finest AI copywriting tools on the market. However, there are a few key distinctions to keep in mind.
Jasper is the greatest option for individuals who prefer an easy-to-use interface with no extra learning curve. It also allows you to collaborate with other authors.
If you wish to work with a professional writing staff, Copysmith should be your tool of choice. Not only can you interact with other people, but Copysmith can also manage large projects with up to twenty authors. Furthermore, you may choose from a range of plans to locate one that meets your requirements.
To summarize, both of these AI copywriting software packages can make creating content a lot simpler and quicker. They produce excellent content and give the impression that it was written by a person.