A hashtag generator also named hashtag finder, is designed to search for appropriate hashtags for your posts. You enter a keyword (or even paste an image or a link to your post) and an Instagram hashtag tool automatically selects accurate hashtags for you. It's a simple strategy: you get hashtags, and your posts collect likes.
If you have been researching tools to search for hashtags, then you may have inevitably come across Predis, Bigbangram, or Inflact hashtag generator. As three of the most popular hashtag generator tools, all three tools come packed with features to help you with your tasks. But which is the right tool for your business?
Let's find out.
In this article, we are going to do a Predis vs Inflact vs Bigbangram comparison across a handful of different parameters.
But before diving into features, firstly, let's look into what exactly these tools are
What is Predis.ai Hashtag Generator?
It is considered one of the best hashtag generators that use a hashtags search system based on Artificial Intelligence.
Predis.ai is a unique hashtag generator for those who choose both an intuitive interface and efficiency. Its AI-based system helps you enhance your post-performance without your efforts.
What is Inflact Hashtag Generator?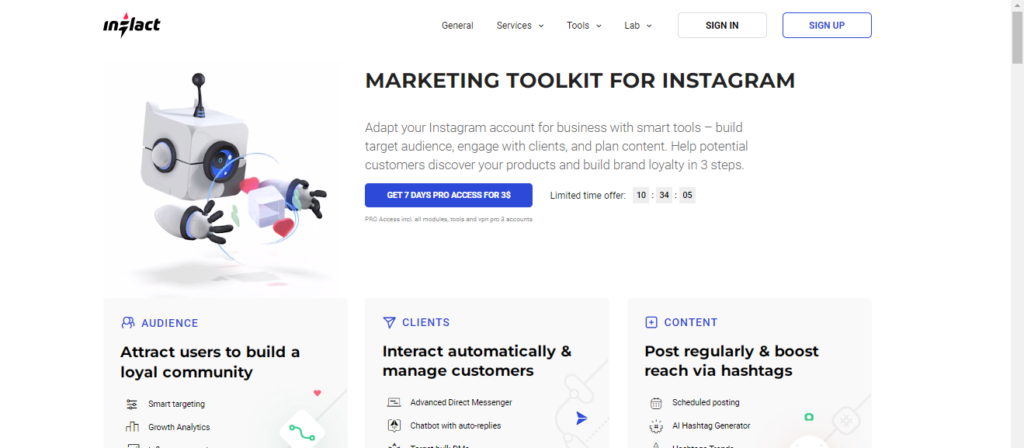 Inflact hashtag generator is a tool with which you may create hashtags using a simple interface and low cost. It includes the basic features of any hashtag maker.
What is a Bigbangram?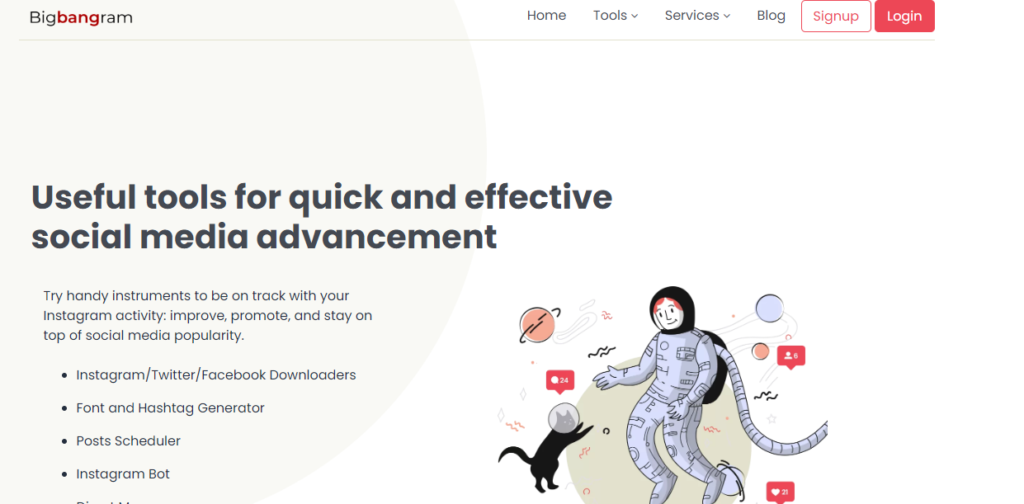 It is a multifunctional Instagram tags generator that will not only increase the popularity of your posts but also increase your post engagement.
Comparison between the Predis.ai vs Bigbangram vs Inflact Hashtag Generator
AI-BASED HASHTAG RESEARCH
Predis.ai
The Instagram hashtag generator should not be a waste of time – Predis.ai uses AI to find hashtags for social media. Unlike Instagram or some other popular hashtag generator tools which only show results for one keyword, Predis.ai understands the complete phrase and shows the best hashtags.
Inflact
Inflact is a Hashtag checker to research hashtags for social media with the help of AI. You can simply upload your picture, which you are going to share, and the system will automatically suggests frequent, niche and average hashtag combinations for you.
BigBangRam
With the help of BigBangRam, you have the opportunity to use a keyword but also insert an image or a post link to the handy Instagram hashtag generator. With the help of an analysis program, it will give you a clear result that you may even copy and paste into your Instagram posts.
Find The Best Hashtags And Grow your Engagement Rate
Predis.ai
With Predis.ai, you will be able to see different types of hashtags suggested by Artificial Intelligence, look at their sizes and take an informed decision on the type of hashtags to select. Doing this makes sure you always get the best performing hashtags at your fingertips.
Inflact
With the Inflact hashtag generator, you can apply relevant hashtags to improve the engagement of your posts. Hashtags are a free Instagram marketing tool – people are likely to follow and become your loyal customers. Proper hashtagging won't bring crazy likes count in seconds, but the result will be everlasting if your content is good.
BigBangRam
With BigBangRam integrated automatic system, you get the best hashtag results in seconds. The generator developers make constant updates to the system so that quality is ensured every time.
Get quality hashtags in a few clicks
Predis.ai
With Predis.ai Instagram Hashtag Generator, you can increase your Instagram engagement and follower count. Based on the keyword you input, it can automatically generate lots of quality hashtags. All just with a single click!
Inflact
Utilize the graphs, metrics, and statistics provided by Inflact for each hashtag. Consider word difficulty, trending keywords, the most recent posts, and some of the most popular ones from your search. Choose the hashtags where your image has the best chance of ranking.
BigBangRam
With BigBangRam, a thorough hashtag analysis is available in a paid version that enables you to study every hashtag characteristic, including which categories are the most challenging, which ones are the most popular, and which ones will increase the popularity of your posts.
How to use Predis, Inflact and BigBangRam
Predis.ai
How to use:
You may use it without registration and get a range of hashtags:
Type in a keyword or paste a photo
Tap the "Generate hashtags" button.
Copy the necessary hashtags.
Insert it on Instagram.
Inflact
How to use:
Type in a keyword or paste an image or a post link.
Press the "Generate hashtags" button.
Click on the desired hashtags by adding them to the right window.
Copy selected hashtags, press the "Copy" button and paste them on Instagram.
BigBangRam
How to use:
Type in a keyword or paste an image/link.
Press the "Generate hashtag" button.
Copy the necessary hashtags.
Paste-on necessary places.
Some of the pros of using Predis.ai over BigBangRam and Inflact hashtag generator
Predis.ai works on Artificial Intelligence system
A quick hashtags finding tool
Continuous software updates
A keyword/image search
Offers the most appropriate and exact hashtags
Automatically finds accurate hashtags
User-friendly hashtag classification
For more social media tips and updates, follow us on our Instagram!