Have you been asked to share your Instagram profile link but don't know how to copy Instagram profile link? Don't be concerned. You're not alone.
Instagram is one of the most mobile-friendly social networking sites available. It was built primarily for use on phones and mobile devices, as seen by its mobile app's better features and easier-to-navigate layout as compared to the desktop version.
However, since Instagram is so focused on mobile devices, it does not function like a typical website, making it difficult to find the URL for your Instagram account. Fortunately, the procedure is not as complicated as you may believe. In this blog, we will share the different ways to copy the Instagram profile link from your phone and your desktop. So what are you waiting for?
Let's dive in!
How to Copy Instagram Profile Link of Your Own Profile Using Phone?
Unfortunately, Instagram does not provide a simple method to access or share your own Instagram profile URL on mobile applications. However, there are solutions for finding, copying, and sharing Instagram profile URLs. This strategy works for both personal and professional profiles.
Instagram's website URL (i.e., www.instagram.com), a forward slash (/), and your username comprise your Instagram profile URL. So, if your Instagram username is predis.ai, your profile URL will be www.instagram.com/predis.ai. This link can be copied and pasted into many social networking applications.
There are two methods to discover your Instagram username if you don't know it.
Find Username From Your Profile
To access your profile, open the Instagram app and touch on the profile image icon in the bottom-right corner.
Your username will be shown at the top.
Make a note of it and attach it to www.instagram.com/ to create a link to your Instagram profile. For example, www.instagram.com/predis.ai will be our profile URL. Then, copy and paste this URL anywhere it is needed.
Find Instagram Username Using the Edit Profile Feature
Another option is to go to your profile page and click the Edit profile button. The username will be provided in the Username box. Long press and copy it. After that, paste it at the end of https://www.instagram.com/ to get your Instagram profile link.
How to Copy Instagram Profile Link of Your Own Profile Using Web Browser?
Instagram is available as a web app. You can use any desktop browser or a mobile browser on your smartphone.
Log in to your Instagram account by visiting www.instagram.com on a PC.
Go to Profile from the menu after clicking on the profile image icon at the top.
Simply copy the URL that appears in the address bar now. That is the URL to your Instagram profile. You may share it on WhatsApp, Twitter, Reddit, YouTube, or wherever you desire.
How to Copy Instagram Profile Link of Somebody Else's Profile?
Fortunately, copying and sharing someone else's post or Instagram profile link is simple. There are links to personal accounts as well as Instagram sites.
In the mobile app, open the Instagram profile whose link you want to copy.
Tap the three-dot symbol at the top and then tap on Copy profile URL from the option that appears.
The URL will be copied to the clipboard on your phone. You are free to paste it anywhere you like.
Similarly, you can copy the URL from your PC. Open the Instagram profile whose link you want on a PC browser. Then, copy the URL that appears in the top address bar.
How to Share Your Instagram Profile Using QR Code?
Instagram has a native tool for creating a QR code for your profile. You must share this QR code with others, who will scan it to visit your Instagram profile.
Go to your profile screen in the Instagram app by tapping on the profile image icon.
Select QR Code from the menu by tapping the three-bar symbol at the top.
Your QR code will be displayed. You may either capture a screenshot, download or share it with others by clicking the Share option.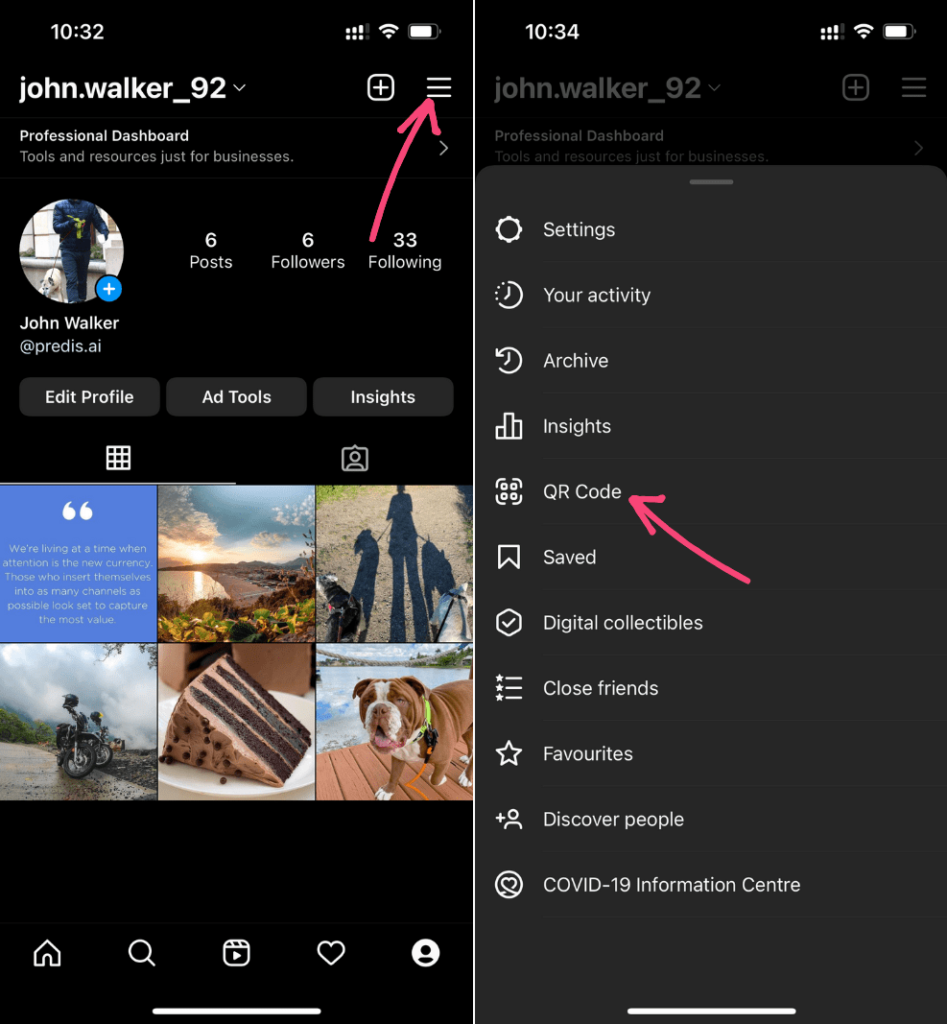 By touching on the button at the top, you can change the background style of the QR code. Similarly, you may flip between the different styles by tapping on the screen.
How to Share Instagram Profile Link in Instagram DMs?
You can share an Instagram profile in a message in two ways.
Method 1: By Simply Copy-pasting the Link
Copy your own or someone else's profile link, as discussed above.
Then, go to the Instagram chat page where you wish to share the link, and click on it.
Hold your finger on the type area and pick Paste from the menu. The profile link will be copied and pasted. To share it, click the Send button.
Method 2: By Using the 'Share Profile' Feature
To share, open the Instagram profile.
Select 'Share this profile' by tapping the three-dot symbol.
Your following list will appear, with the most recently contacted individuals at the top. Find the person you want to send the link to and click the 'Send' button next to their name. You can use the search to locate the person you're looking for.
How to Share Instagram Profile Link in Instagram Story?
By Simply Copy-pasting the Link
Follow these steps to share an Instagram profile in your story. Essentially, you must include the profile's URL in your IG story.
Using any of the ways listed above, locate and copy the Instagram URL.
Make a new story now. Tap the '+' (Add) symbol on the Instagram main screen and then choose 'Story' from the menu.
Capture a fresh image or choose one from your collection to serve as a background for your story. Customize the story to your desire.
Tap the 'Sticker' icon, then choose 'Link' from the menu.
Copy the profile URL you copied previously and click the 'Done' button. The story should then be published.
Wrapping It Up
As you can see, Instagram is a little strange when it comes to URLs in general. Some URLs are straightforward to share and copy, while others (such as your own profile URL) lack a clear "copy" option.
Your profile URL can only be copied using a browser; however, other profile URLs can be simply copied using the mobile app and a web browser on a PC or laptop.
Posts, whether they include photos or videos, are effortlessly copied in the app or on a browser. All you need to know is how to accomplish it. If you don't believe you'll ever need to copy URLs on Instagram, you'll be surprised.