Facebook is a well-known social networking platform where users may publish their status updates and upload images and videos.
On Facebook, people may make a story and share them with their followers. On their Facebook stories, users can share videos, images and posts. Facebook stories are accessible for 24 hours.
It allows you to select your favorite old photographs and videos, organize them into themed collections with names and cover photos, and then display them on your page, much like Instagram Stories Highlights. You may wonder how to add highlights on Facebook?
You can add or remove any updates from story highlights on Facebook by following these steps:-
1. Open your Facebook app on android or if you are on a computer or laptop then open the Facebook website.
2. In the top left corner, there is a profile picture icon.
3. Now, scroll down until you see story highlights.
4. Then, click on story highlights and select Add New.
5. Here, you can see your stories, now select the stories you want to highlight, and click on Done.
6. Give a name for your highlights.
7. Then finally tap on Save.
What is the Facebook story highlight?
Without a doubt, the social media world is constantly changing. Before we realize it, new fads with corresponding hashtags start to arise, and new subjects start to dominate our chats. Similarly to this, modern social media functions have evolved into necessities.
It is Facebook stories, a tool that was first made available in 2016 and has since become essential for almost everyone. You can share content using this function which expires after 24 hours.

A compilation of old stories organized into groups can be found in your Facebook profile's "Story Highlights". It can be first perplexing because the story highlights and featured photos have combined. You can give these highlights a title, a cover image, and slideshow playback.
It is an excellent way to store stories on your profile so that people can always find them again by using this feature. These can save a lot more time than finding your previous stories, which is one of their main advantages. This is ideal if you need to enlighten your audience quickly or if you want to share a lot of content but don't want to spend time selecting just one piece for a post. Want to remind your audience of an upcoming event? When you want to remind your audience without posting a story of your daily events, you can just add them to the highlights.
Additionally, these story highlights can provide a more intimate means of communicating with your audience. This is partly because you do not have to worry as much about what you share is completely polished and detailed because these story highlights remain until you remove them. A lot of content producers utilize these highlights to engage with their audience more personally by providing them with an inside glimpse at their brand, life, organization, or personality that is otherwise impossible to obtain. Your viewers will identify more personally with you whenever they check your profile.
How can you create Facebook story highlights?
On the Facebook app, there are numerous ways to make Facebook highlights. With the help of this procedure, you can make a highlight when a recent story is still active on your profile.

How to create Facebook highlights from stories:

1. Launch the Facebook app on your smartphone.
2. Select "Create Story" from the menu.
3. After creating your story, click "Share to Story".
4. At the top, tap on your story. The star icon is located at the top.
5. Put the title here.
6. Choose the cover image. If you would like, select more pictures.
7. In the top right corner, press the "Done" button.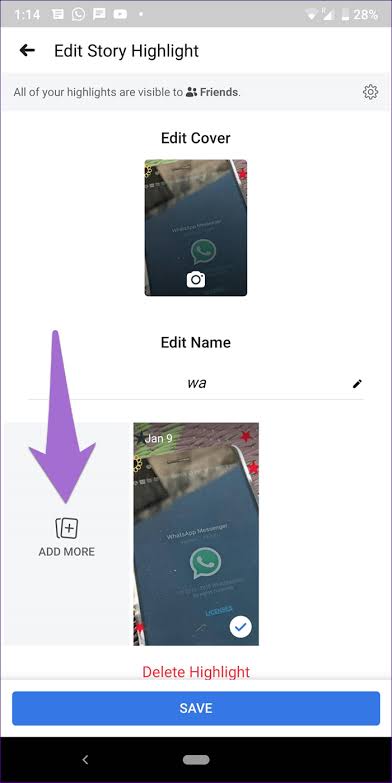 How to delete or edit Facebook story highlights?
Here are the steps to delete a story highlight:
1. Start your phone's Facebook application.
2. Tap on your profile photo in the top left corner of your News Feed to access it.
3. The most recent story highlight will always be displayed first. You can check how many people have viewed your profile story highlights once you've created them. Until you delete them, story highlights remain on your profile.
4. Select your story highlight by scrolling down to Story Highlights and pressing and holding.
5. Then click on Edit Highlight or Delete Highlight and proceed as directed.
Wrapping It Up
One of the great features of Facebook is the ability to share your stories with your friends and followers. You can use the story highlights feature to share your favorite stories from your news feed with everyone who follows you. Simply click on the story you want to share, and then click the "Share" button. You can also add a comment to your story before you share it. Your followers will see your story in their news feeds, and they'll be able to like, comment, and share it just like any other story.
Facebook's new Story highlights feature allows you to choose your best Facebook Stories and showcase them on your profile. This is a great way to show off your best content and keep it front and center for your friends and followers. Here's how to set up your own Story highlights:
Go to your profile and click on the "Edit Profile" button.
Scroll down to the "Story Highlights" section and click on the "Create Story Highlights" button.
Select the Stories that you want to add to your Highlights and click "Add."
You can rearrange the order of your Highlights by dragging and dropping them.
When you're finished, click "Done."
Your Story highlights will now be visible on your profile for everyone to see. So make sure to choose wisely and showcase your best content!