A successful social media manager must know the top AI tools on the market to succeed. The rise of artificial intelligence (AI), along with the availability of numerous AI tools, is making it possible for you to enhance the effectiveness of your social media management efforts significantly. It will be the purpose of this blog post to explore 14 AI tools that every social media manager should consider.
With tools like these, you can streamline your workflow, improve engagement, and drive better results for your social media campaigns through everything from content creation to analytics and automation.
Here are the top AI tools every marketer should use,
Predis.ai
Brandwatch
Flick
Grammarly
Buffer
Midjourney
Publer
Audiense
FeedHive
Synthesia
Murf.ai
Mention
Peppertype
Buzzsumo
Let's see the tools in detail,
1. Predis.ai
Predis.ai is among the top AI tools that generate and analyze content in the best way for social media. It covers every requirement of businesses, influencers, bloggers, or individuals for a seamless social media presence. It provides a wide range of free and affordable premium services. Let's see all those advanced features you can have in one place.
Features
As your social media manager, Predis.ai handles everything from creating memes and trending reels to scheduling your posts. Let's have a look at some features Predis.ai currently serves with.
Get content ideas.
It helps you with the e-commerce content.
It can create content calendars for you in a minute.
Get in-built AI chat to get post ideas, content outlines.
Establish your brand identity by getting personalized designs.
Generate memes, posts, carousels, shorts, reels, videos.
Schedule posts in a click.
Create highly converting ad copies.
Pricing
Predis.ai provides several price options, starting from $0 to $139 monthly, and you can get started with any plan for free with no credit card required. Also, you will get 30 posts free. Check the official website to know more.
Reviews
Having 300,000+ users in 80+ countries says it is all about the success of Predis.ai. Many businesses love Predis.ai, especially for its AI capabilities.
2. Brandwatch
When building your brand, there is no comparison to Brandwatch, trusted by the world's biggest brands. With its advanced AI resources, it works as a market researcher, social media manager, analyzer. It is compatible with virtually all social media platforms.
Features
Brandwatch allows you to use its influencer marketing tool compared to other platforms, and its consumer insight analysis is the best part. It has a long list of features. Have a look at those briefly.
You can access consumer insights from 100 million online sources and over 1.4 trillion posts through its consumer research tool.
Access live data reports and real-time display through its Vizia tool.
Brandwatch does influencer marketing for you by discovering and building an influencer network. It helps you run a successful campaign.
Plan, schedule, edit, and post across multiple networks and channels.
It creates Facebook, Instagram, and LinkedIn ads within Publish.
Collaborate on social media campaigns by sharing notes, assigning labels, and using approval flows.
Create a customizable landing page for your Link in Bio and redirect users to your website pages.
Store and repurpose assets from your content library. Connect it to your Cloud Storage and DAM.
Custom links can include tracking UTMs and vanity URLs.
Give access to external agencies to keep your collaborative processes smooth.
Manage Publish on the go with an intuitive iOS and Android app.
Monitor interactions by channel and post.
Pricing
Book a meeting and discuss your price. It offers prices ranging from $800 to $3000 and a free trial.
Reviews
Brandwatch's already worked with brands like Unilever, Toyota, Nestle, Carlsberg, etc. It's recognized as a leader by industry analysts and customers.
3. Flick
Regarding social intelligence, Flick offers a pocket-friendly social AI service that works best as a hashtag tracker. It is also an organized and intuitive service that offers user-friendly highlights and features.
Features
Here are some of the features that Flick currently offers.
Find, manage, and analyze hashtags.
Schedule your content ahead of time.
It works as your social media analyst.
It gives you content ideas and outlines.
It gives you amazing caption ideas.
It has training and content resources that help you in social media management.
Pricing
Check out the affordable schemes Flick offers with annual payments. You can save 20% with a yearly payment. All plans have a 7-day free trial. You can cancel at any time.
Reviews
Users say Flick allows them to be efficient with their time. It's affordable, user-friendly, and best for hashtag research. It is widely used by influencers these days.
4. Grammarly
Grammarly is vastly popular as a writing enhancement AI tool. It allows you to get browser extensions and real-time writing suggestions. It supports more than 500000 websites and apps. Put it among the top AI tools for your English improvement.
Features
Grammarly helps you achieve more through effective communication. Below are some features.
It accelerates your writing as per your requirements.
Gives you content ideas.
Expedites your e-mail replies.
Detects plagiarism.
Pricing
You can use it for free without access to premium features. The bigger the team you can add the more discount you can get. Check Grammarly's official site to get a personalized plan.
Reviews
More than 30 million people currently use Grammarly. It is trusted by thousands of organizations such as Expedia, NYC Department of Education, Databricks, The State of California, Atlassian, etc. worldwide. It protects your data with its responsible AI innovation.
5. Buffer
Buffer helps with affordable AI marketing tools for small businesses. It is the official marketing partner with industry leaders like Meta. With the help of Buffer, many businesses and individuals increased their social growth across all networking sites like Facebook, Instagram, LinkedIn, Shopify, Google, etc.
Features
From increasing your followers to reviewing your posts, Buffer handles it all for you and saves you time. Let's check out some features below.
Plan, collaborate, and publish thumb-stopping content.
Analyze social media performance and create reports.
Navigate your comments and engage with your audience.
Build a customized landing page in a minute.
Create more with buffer AI assistance.
Suggest click-worthy content.
Publish your posts.
Pricing
Buffer offers various price models named Free, Essentials, Team, and Agency, starting from $0/month to $120/month. With the Agency plan, you can access 10 channels. The rest of the plans are for a single channel. You can save 2 months' payment by yearly billing. You can start free without a credit card and cancel the plan anytime.
Reviews
Buffer currently has 140000 monthly users. It has been on the favorites list of small businesses for over 10 years.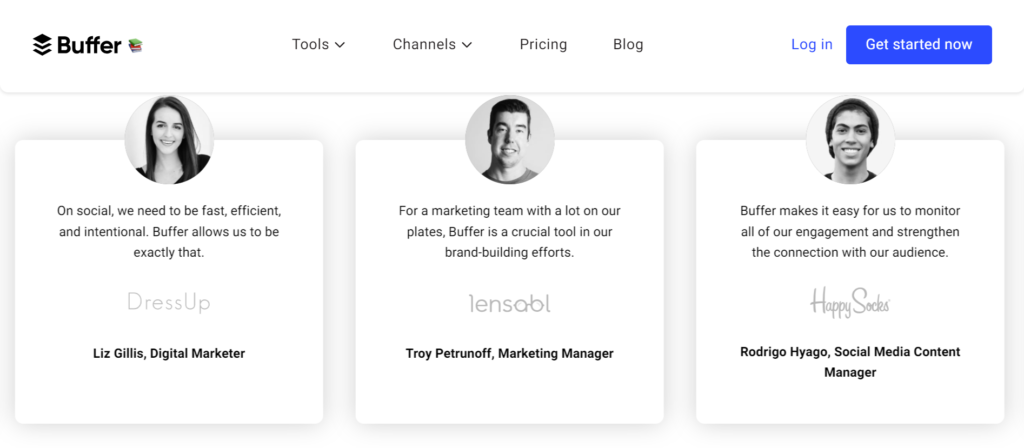 6. Midjourney
Midjourney is a stunning AI tool designed by a small team of a few geniuses. Give it a short text description, and it will create detailed, realistic, and amazing imagery, designs, and characters for you.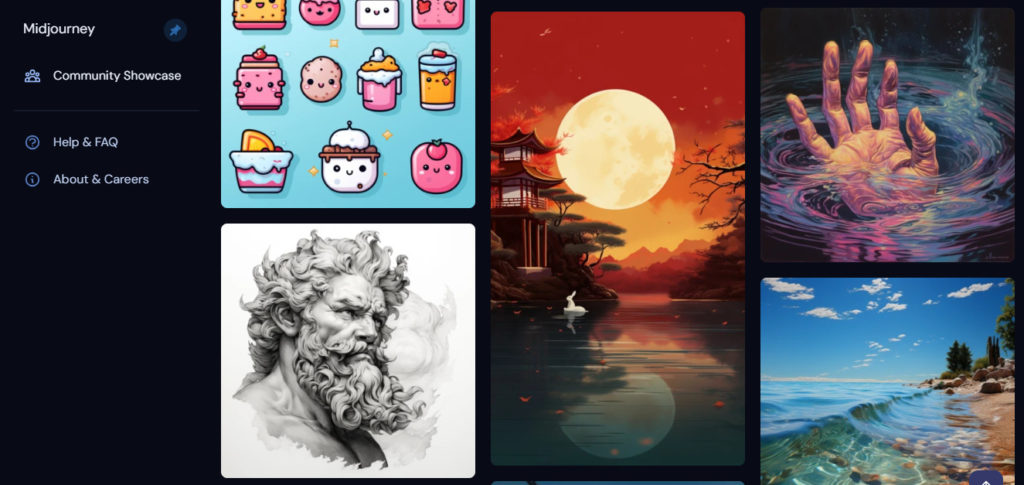 Features
Midjourney is an AI art generator. It works with machine learning technologies like Dall-e and Stable diffusion. By installing the app you can access Midjourney BOT, private chat. You can use the app and work in an organized way through the chat. Below are the features it provides currently.
Generate an AI image by giving a prompt.
You can set the images in sequence.
You can get variations.
Regenerate.
Edit lighting, orientation, and ratio of the image.
Use your image and edit with AI.
Pricing
Midjourney currently has no free plan. Price starts from $10 to $120.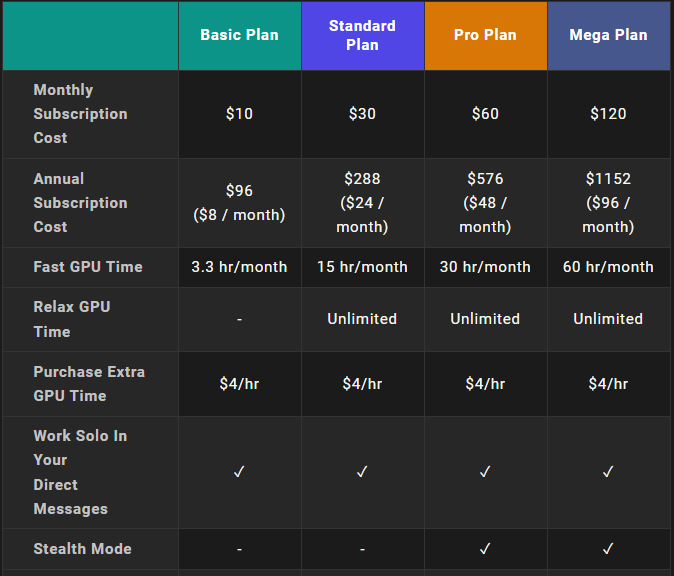 Reviews
Midjourney is loved by artists around the world. It has been used by renowned magazines, newspapers, books, etc. Click here to see what people talk about it.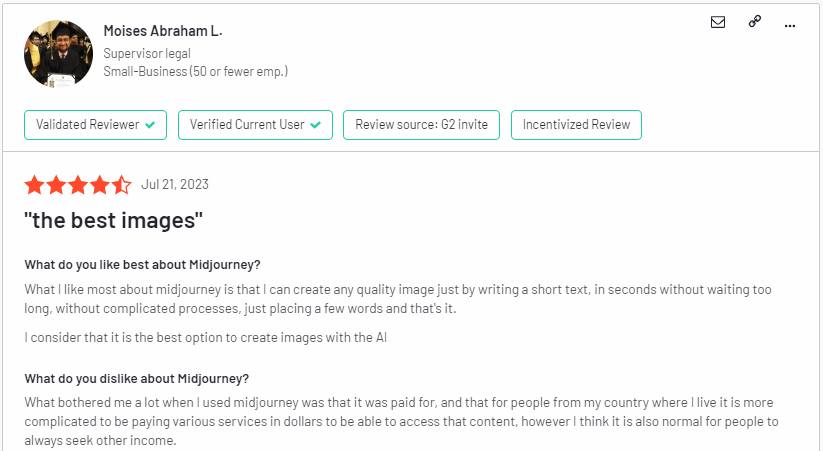 7. Publer
Publer helps you analyze, collaborate, schedule posts, and so much to your social media posts, all at an affordable price, and it works for Facebook, Instagram, LinkedIn, Twitter, TikTok, Pinterest, YouTube, WordPress, Google Business, Telegram, etc.
Features
Publer has a great many features. Have a look at them briefly.
Link in bio.
Content calendars.
Collaboration with other members to manage multiple brands.
Browser extension.
Social media analyzer and report generator.
Creation and preview of posts in real-time.
Scheduling up to 500 posts.
Recycling of top-performing content.
AI assistance.
Media integrations.
RSS feed.
Photo and video downloader.
Pricing
Pricing starts from $0 to $21 depending on the features or facilities you are having, and you can save 20% by taking the plan annually. Check the official website of Publer to get all the details.
Reviews
Publer's craze has been increasing as a social media manager because of its advanced AI functionality at an affordable price. Businesses nowadays consider it on the list of top AI tools.
8. Audiense
Audiense is the best consumer data analysis AI platform among social media marketing providers. The platform is built with rich digital consumer intelligence solutions to empower audience strategies and marketing tactics. Audiense has acquired Soprism, Affinio, and Tweetbinder to widen its data source.
Features
Audiense functions in two main categories: Audience intelligence and Twitter marketing. Below are the functionalities.
Audience intelligence:
META consumer data analysis by SOPRISM.
Consumer segmentation and cultural insights analysis through which you can identify influencers worth partnering with and more.
Affinio graphical analytics.
Demand intelligence by BETA helps brands track trends, understand the trajectory of demand, and gain insight into their social audience profile, which can be used to create audience-centric targeted campaigns.
Twitter marketing:
Access Twitter management tool with deep follower analytics.
Twitter analytics tool by TweetBinder.
Pricing
Check price models for audience intelligence as well as Twitter marketing. You can get started for free and request a demo.
Reviews
Audiense bagged 2000+ brands and agencies as clients including Apple, Manchester United, Pepsico, Deloitte, etc. with its advanced customer segmentation and best-designed audience analyzer.

9. FeedHive
FeedHive is another affordable social media management platform powered by AI. You can access some top AI tools in this platform that simplify many complicated social media activities. It has one of the best user interfaces and many advanced features.
Features
We have mentioned some main features below. Apart from that also FeedHive takes care of almost every small need to grow your social media existence.
Scheduling posts.
Engage with your followers directly from FeedHive.
Use AI assistance.
Analyze your follower's activity and engagement.
Collaborate with your team and clients.
Host FeedHive on your domain with your logo and brand.
Instagram grid preview.
5000+ AI-generated inspiration templates.
Create follow-up comments on your best-performing posts triggered by a pre-defined condition.
Keep your group members engaged by planning and scheduling posts to your Facebook groups.
Pricing
FeedHive price plans start from $19 to $299 monthly. Save up to 30% on a yearly subscription. You can sign up for free.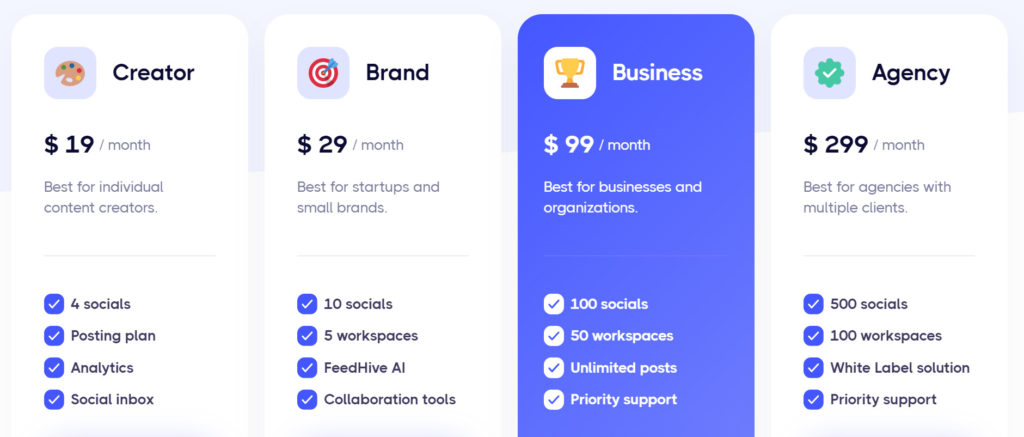 Reviews
FeedHive is trusted by 20000+ businesses, agencies and content creators. Check what people say about it.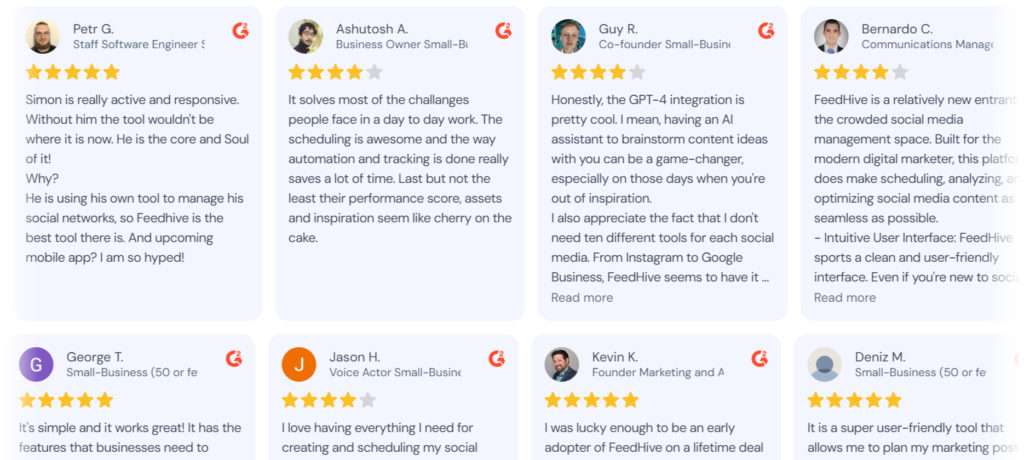 10. Synthesia
Synthesia is the number 1 AI video-making platform in recent times with the end-to-end functionalities of a video maker. It's a team of genius AI researchers and entrepreneurs who built a secured and SOC2-certified system to generate 100% AI videos without the need for any real shot.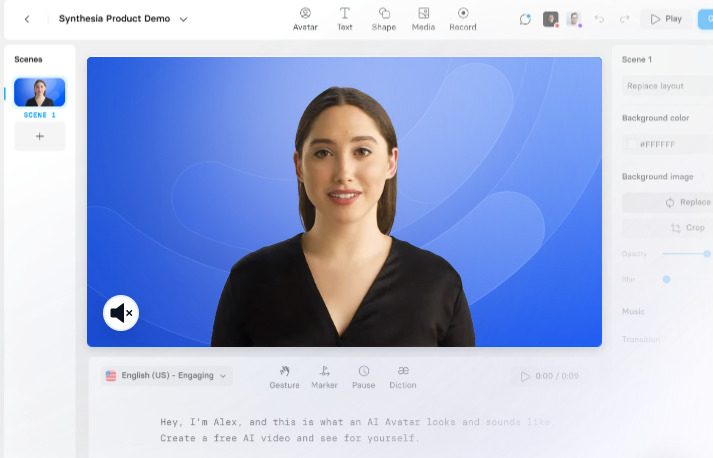 Features
Synthesia has innumerable features in AI avatar & voices section, Media & Integration section, Sharing, Export & Security section. Let's have a look.
AI avatars & voices:
Choose from 150+ AI avatars.
Create videos in 120+ languages, accents and voice tones.
Convert your text to professional voiceovers in minutes.
Create your own custom AI Avatar and Add gestures to your avatar.
clone your own voice and pair it with your own custom AI Avatar.
Media & Integrations:
Automatically create video scripts with ChatGPT-like prompts.
Record short videos of your screen.
Get access millions of royalty-free images, videos, soundtracks, icons, shapes and more or upload your media to the video.
Automatically add closed captions to your videos.
Import your PowerPoint presentations and add professional voiceovers on top.
Get feedback, add comments and edit in one place.
Select from 65+ video templates.
Animate video elements easily by tying them to your script with a marker.
Sharing & Exports:
Embed your videos and automatically update them with new versions.
Download HD videos.
Upload your logo to brand your Synthesia share page, add a 'call-to-action' button.
Security:
Get a fast and secure log-in for everyone in your company.
Pricing
Synthesia is offering two plans currently. It starts at $30/month and the other is custom pricing. Book a demo to get your personalized scheme. You can access numerous features with both plans. Check Synthesia website to get price comparisons.
Reviews
Synthesia is working with 50000+ leading companies like Johnson & Johnson, PWC, Xerox, BBC etc. People consider it on the list of top AI tools and the best video maker in terms of cost and time efficiency and quality. Have a look at a few reviews.
11. Murf.ai
Choose Murf.ai as your text to voice AI tool. Get high quality voice-over service with your desired tone, pitch and pause in 20 languages. You can sync images, videos, and presentations with your voiceover. Many renowned brands like Phillips, Toyota, Oracle, Honeywell, Pepsi are using Murf.ai to save their time and cost spend on expensive recordings.
Features
Creative, Corporate, or Entertainment, there is a Murf voice for every creator. Use voice-over for your podcast, YouTube presentation, Spotify ads, product demo and so on. You can control your voice-over sounds, time them perfectly and preview them with its amazing features. Check once briefly.
120+ text-to-speech voices.
Murf API.
Canva add-on.
Voice cloning.
Voice-over video.
Voice changer.
Google Slides add-on.
collaborate with your team on projects.
Pricing
Murf.ai offers very affordable price plans starting from $0. You can start without any credit card and access many features.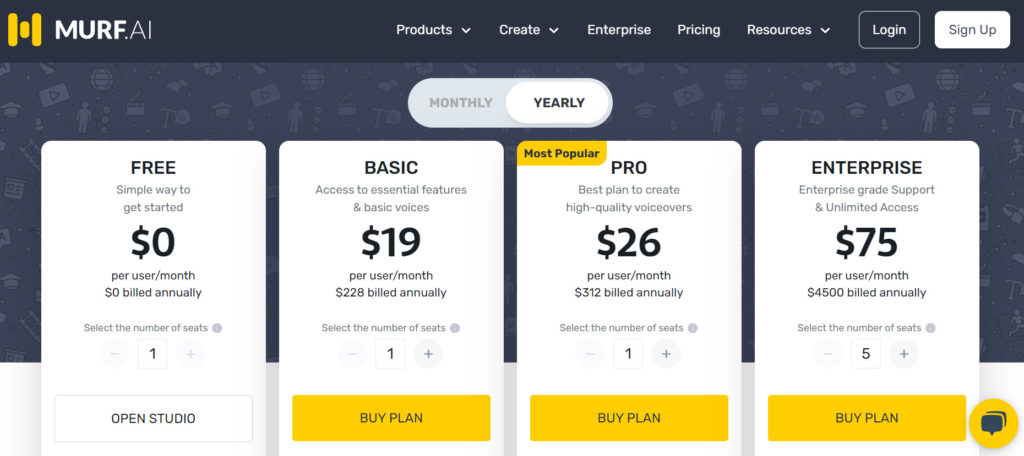 Reviews
People are loving it for its realistic voice-over service which is being used for e-learning videos, advertising, podcast and all. Many features can be accessed without taking the pro plan.
12. Mention
Mention enables brands and agencies to monitor the web, listen to their audience and manage social media. Brands like Microsoft, Riyadh airport are using Mention to engage their audience and grow their brand. Mention works on Online media monitoring, Social media listening, competitive analysis, Brand and social media management.
Features
Mention built some truly effective features that are helpful to businesses and influencers.
Basic alert feature.
Standard alert feature which is more flexible, powered by Boolean operators.
Easily monitor over 1 billion sources
across the web daily.
Filter and analyze posts from multiple data sources.
Pricing
Mention offers you 14 days free trial with no credit card required and you can cancel it anytime. Paid plans start from $41 to $149 and you can have custom pricing by requesting a demo.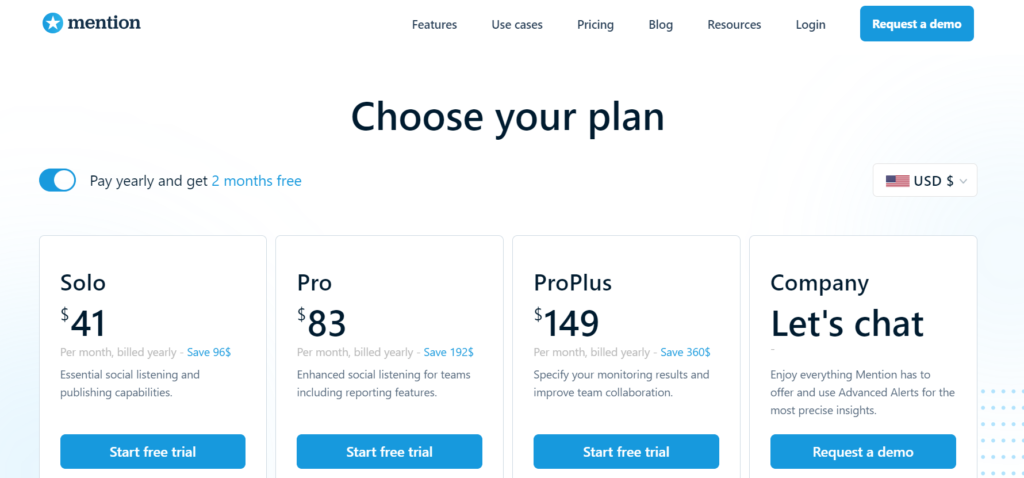 Reviews
750,000+ marketers are growing their brand online with Mention. Let's see what they are saying about Mention. Check out the official website for more.
13. Peppertype
Peppertype currently is one of the best AI content marketing tool with SEO assistance, text editor, plagiarism, grammar checker and so much more. The platform brings data, teams and content together to prove and improve content ROI. Brands like Amazon Pay, P&G, Unilever, Reliance Retail, Axis Bank, Lenskart etc. trust the content marketing strategy Peppertype offers.
Features
Let's have a look at some features Peppertype has.
Unified tracking.
Let your teams communicate, collaborate, and create on the platform in real time.
Get a holistic view of your content and track your progress on the dashboard.
Use a state-of-the-art AI platform to fuel your organic traffic needs.
Analyse competitor's winning strategies and improve your content performance by getting data and insights.
Find the right keywords.
Choose relevant topics.
Track position changes.
Curate talent network.
cover content types ranging from SEO blogs to videos, all in multiple languages.
Start creating and distributing content at scale with on-demand expertise as per your niche.
Get competitor's content research reports.
Pricing
Peppertype offers a free trial. Its price plans start from $35/month for 1 user to $199/month for 5 users. You can have a personalized scheme or enterprise plan by contacting them.
Reviews
2500+ companies and 120000+ creators around the world create impactful content that drives revenue and fosters growth with the help of Peppertype.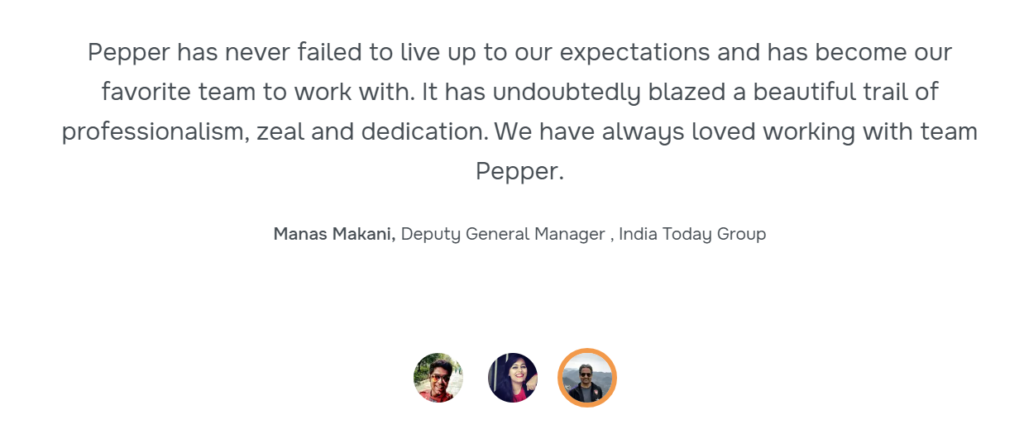 14. Buzzsumo
Buzzsumo is another popular content marketing platform. It helps you to benchmark your performance by competitor intelligence, helps you with content strategy, protects your brand by crisis alerting, helps sharing by digital PR, influencers marketing, video marketing. You will get to explore its resources like blog, webinar, case studies, testimonials, research and insights, wellbeing hub and API docs for developers.
Features
Have a look at some current features offered by Buzzsumo.
Content discovery with SEO insights, forums, distribution tips.
Content research.
Find influencers.
Monitoring brands, topics, competitors and products.
Chrome extension.
Build internal reporting tools.
Enhance public web applications.
Reporting software and client dashboards.
Publish, track content performance.
Pricing
Buzzsumo offers you 30 days free trial and its price plans start from $199/month to $999/month. The enterprise version can be accessible up to 30 users. You can save 20% by paying annually.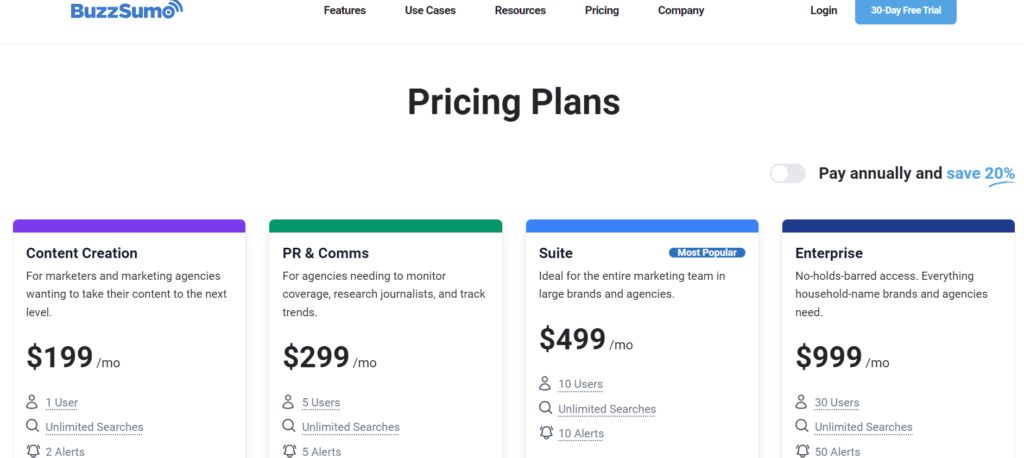 Reviews
The world's market leaders like Expedia, The Telegraph, Hubspot etc. are using Buzzsumo. Check out the official website for more insights.

Conclusion
Incorporating AI tools into your social media management strategy can greatly improve your efficiency, creativity, and overall results. From content creation to analytics and automation, the 14 AI tools mentioned in this blog post offer a wide range of capabilities to help you stay ahead in the ever-evolving world of social media. Experiment with these tools and find the ones that best fit your needs and goals as a social media manager.