People of all sexual orientations have encountered several forms of discrimination in society and the workplace. That is why, now more than ever, it is critical to support the LGBT community. This Pride Month, let us celebrate their rights without discrimination with Best Pride Month Social Media Posts Ideas.
LGBTQIA+ is an acronym that stands for lesbian, gay, bisexual, transgender, queer, intersex, and asexual people. For decades, people, particularly workers under this umbrella phrase, have faced discrimination and shame. It is also past time for leaders to recognize and accept LGBT people with pride and dignity.
June is Pride Month, a time for LGBTQ+ people all around the globe to accept their real selves, reflect on their hardships, and celebrate their triumphs.
Countless companies will once again demonstrate their support for the LGBTQ+ community on social media. This includes using rainbow-colored logos and cover photographs, tweeting #pride hashtags, and developing advertisements that include gay individuals.
The issue is, how can companies demonstrate true support for the LGBTQ community?
Before you and your social media team begin thinking about the best Pride month social media posts ideas, please ensure that you have finished reading this piece. You'll learn how to design and execute a campaign that respectfully honors the LGBTQ+ community.
What is Pride Month?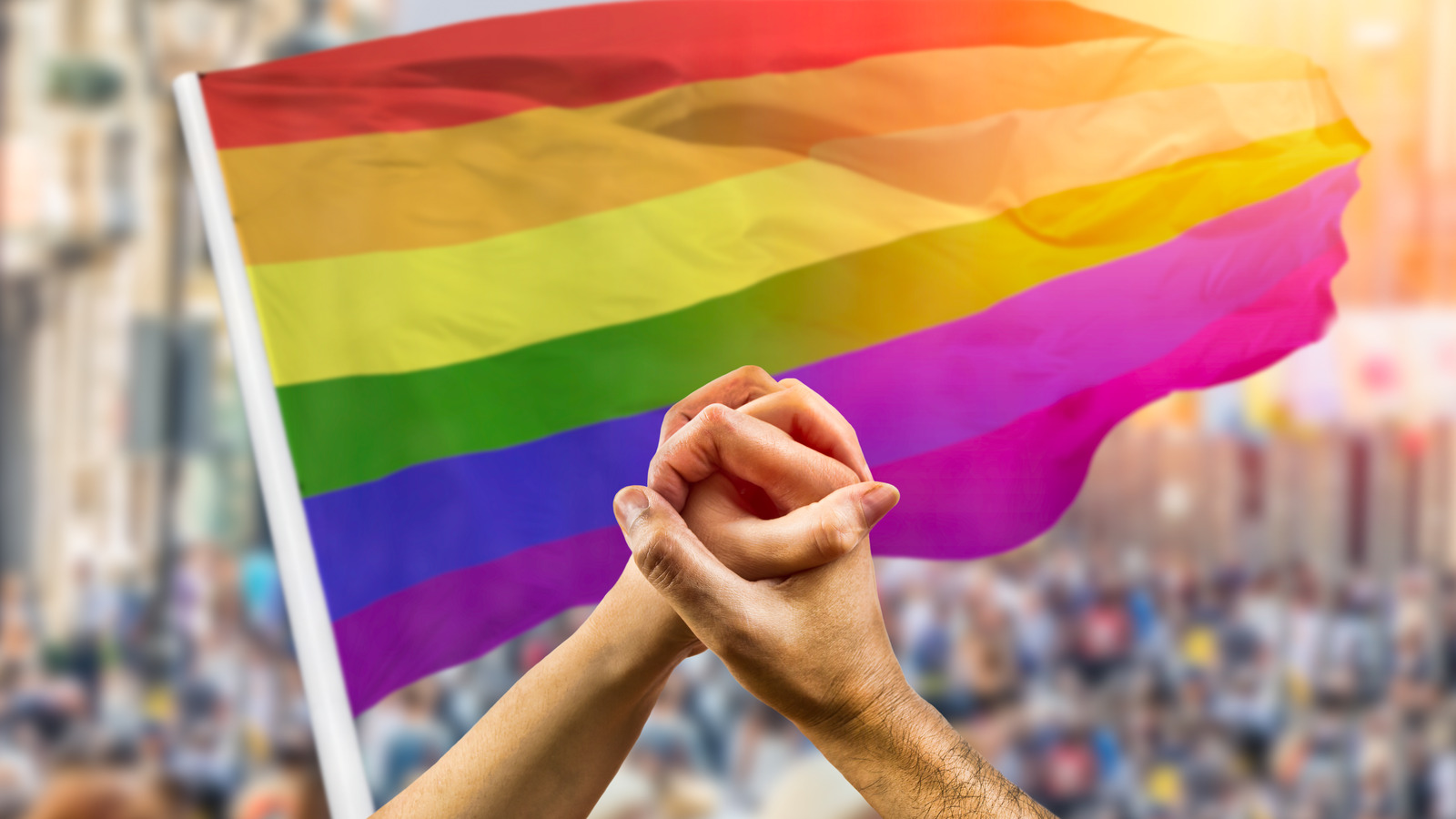 The origins of pride month, or LGBT pride, may be traced back to demonstrations in New York City. On June 28, 1969, demonstrators responded against the Stonewall riots in Greenwich Village.
Every pride march thereafter has been a homage and a monument to those who responded against police violence in the pursuit of homosexual rights, collectively known as the Stonewall riots.
Pride is a celebration of one's identity, gender, color, sexual orientation, and any other minority. It is a battle for human equality, tolerance, and acceptance. It also refers to the accomplishments of community members in achieving equal rights.
The month of LGBT Pride is also known as LGBT History Month.
Best Pride Month Social Media Posts Ideas
We've compiled a list of some of the best Pride month social media posts ideas. So get started! Here are the best methods for your company to participate and wave the rainbow flag with significance.
1. Create Pride Month Social Media Posts with Meaningful Action
It's critical to remember to follow up on your social media postings with relevant activity. After all, deeds are more powerful than words. Furthermore, research indicates that customers are paying attention to whether firms are taking genuine action to advocate for the LGBTQ population.
Whether your organization chooses to give to a worthwhile nonprofit that supports the LGBTQ community, hold a volunteer day, push for legislative change, or do something else, keep in mind that social media postings are just one component of a meaningful Pride campaign!
2. Educate your followers
We've stressed the significance of understanding Pride. It's now time to share your expertise with your followers. A quarter of the global population still considers being LGBTQ+ to be a crime. It is still stigmatized, and your company should be trying to change that this Pride Month.
Many people still don't look beyond the rainbow flag when they think of pride, so educate your audience on why it exists and how you can show your support for the LGBTQ+ community.
Microsoft nails it with its pride post on the lack of Latinx characters in cinema. Arthur (a Microsoft employee) speaks out in a personal and introspective manner. To keep on brand, they included appropriate hashtags as well as the hashtag #microsoftpride.
Try using Predis.ai to create ready-to-post images, captions, and hashtags entirely with the help of AI.
3. Donate to a cause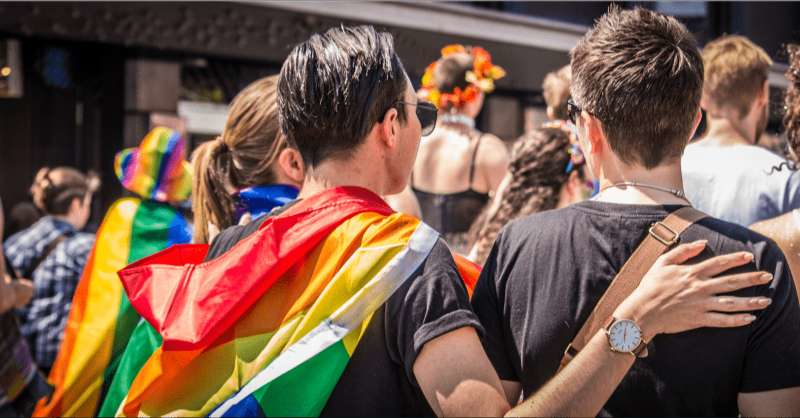 Hashtags like #loveislove are helpful, but now is the moment to put your words into action. Donating to LGBTQ+ charities and charitable groups has far-reaching implications. Combine the two, but merely developing a Pride product or social media post will not make as big of an impact as infrastructures that are put up to actually assist.
Contributing as a brand is a powerful approach to gaining the trust of your LGBTQ+ audience. Donate to them as your brand, and you'll be in a better position to persuade your own fans to do the same, like Converse, has donated a good amount to the cause over the years. This not only helps monetarily, but research suggests that individuals who post about contributing online are more inclined to support these organizations in the long run.
4. Promote user-generated content
One of the reasons Pride Month is so powerful is because it promotes joy and acceptance. The theme of the month is embracing your genuine self. What better way to do this than to empower individuals to create their own content based on your brand?
UGC-infused social marketing experience a 50% increase in engagement, so inspire your followers to promote your business via their own creativity using a branded hashtag or a dance fad. It will promote natural development and spread pride.
5. Share Pride Month Quotes on Social Media
A strong quotation has the ability to educate, move, and inspire others. Quotes on social media are also very "shareable," particularly if the audience connects with your message.
Share quotations from LGBTQ+ activists, historians, entertainers, and others throughout Pride Month. To stylize the quotations, use your company's trademark colors and fonts to represent your organization's personality. This will also make your posts seem more coherent on your Instagram grid and other sites.
6. Share Some LGBTQ Recommendations This Pride Month
Explore Pride Month by viewing, reading, and listening to films, books, and music by LGBTQ filmmakers, writers, musicians, and others. Then, share your best photos on social media! This is an excellent approach to sharing interesting and useful stuff with your audience.
You can even make this post more interactive by utilizing Instagram story polls, creating a TikTok with your suggestions, or just asking your audience a question in the post description. For example, "What is your favorite LGBTQ artist's song?" Or, "Can you recommend a queer-friendly book that you couldn't put down?"
7. Share the History of Pride Month and LGBTQ
Instead of utilizing Pride Month to market your company, try using it to share information with your followers. Your audience will notice that you actually care about the history and meaning of Pride in this manner.
On social media, here are several ways to share the history of Pride Month:
Post a video on the history of Pride Month, such as this 6-minute-long Buzzfeed video: Why Is Gay Pride Month Celebrated in the United States?
Feature a notable LGBTQ+ innovator, author, or scientist and tell us about their life and achievements.
Share some interesting information about Pride Month that you discovered. For example, did you know that Massachusetts was the first state in the United States to allow same-sex marriage in 2004?
8. Collaborate with LGBTQ Content Creators
Content makers can now pivot rapidly to capitalize on ever-changing internet trends while pushing their brand to their followers and fans.
During Pride Month, consider employing and partnering with an LGBTQ content producer. Depending on your company model, you may do this in a number of ways, from offering affiliate connections to funding LGBTQ+ content producers.
9. Share Your Company's DEI Goals or Strategic Plan
If your organization has particular DEI activities that benefit LGBTQ+ workers or community members, Pride Month is an excellent opportunity to publicize them.
For example, maybe your firm sponsors a charity that promotes LGBTQ youth programs, and you want to highlight the work of this group. Or maybe you'd want to publish your company's supplier and vendor standards in order to foster diversity. Take Adobe's summit, Coke for e.g.
Some businesses may desire to provide information about the advantages they provide to their workers, such as transgender-inclusive health insurance coverage or adoption and surrogacy assistance.
Wrapping It Up
During Pride, the most effective approach to promote your company is to use social media sites such as TikTok and Instagram. But bear in mind that keeping the dialogue open and active is critical to development.
You'll be well on your way to helping LGBTQ+ populations with creativity, sensitivity, and understanding if you utilize inclusive language and actually do your homework.
It takes more than just posting rainbow-themed photographs and using hashtags like #lgbtqpride and #loveislove to show your support for Pride Month on social media. If you're serious about being an LGBTQ+ ally, the actions outlined above can help you get there.
However, you should make it a point to be available to them all year, not just in June.
We hope you liked our list of best Pride month social media posts ideas.
If you need assistance creating the ideal social media plan for this year's Pride Month, Predis.ai is here to help! Just visit Predis.ai, give a short description and the AI will give you customized social media posts, captions, hashtags. You can post directly using the special day posts feature.