DigiTech Solutions is a digital marketing agency that specializes in helping small and medium-sized businesses grow their online presence. With the increasing competition in the market, the company was looking for a solution that could streamline its social media management process and save them time and money. That's when they discovered Predis AI – a powerful AI-based social media management tool.
Predis AI has a suite of features that make it the perfect solution for DigiTech Solutions. The tool allowed them to ideate, create, and schedule all their social media posts in one app, eliminating the need for multiple software tools. This saved them time and reduced their expenses as they no longer had to pay for many subscriptions.
But before diving into how the features incorporated in Predis helped DigiTech to scale its business by 10X, let's understand the problem statement in more detail.
Because there are high chances and trust me on this, you might be facing similar challenges. You don't know yet.
Understanding the Problem Statement
How to make a digital marketing agency act in a more lean and efficient way.
Disconnected Workflow (Scaling problem)
This is by far the biggest problem that any digital marketing agency on this planet faces today—too many creatives for too many campaigns and too many platforms to publish on.
What this leads to is an incoherent approach toward streamlining the entire process of content publishing. Stuck in this cycle of creating and publishing, the founders don't get enough time to figure out how to scale the business.
Lean Processes lead to Scalable Businesses.
The way digital marketing agencies work today is completely against the ideology of lean processes. Despite having a plethora of SaaS tools to help you with your processes, there is no one-stop solution to address the problem of this industry.
Providing an end-to-end solution for digital marketing agencies.
Disappearing Margin
What this barrage of SaaS tools aimed at fragmented solutions has done is that today on average a digital marketing agency pays a subscription for 7 different tools.
If you want to scale your operations, you will have to move to a costlier version of these tools. Or, an enterprise version of each of them. Bigger hole in the pocket!!
In the midst of this window shopping for SaaS tools, your profit margin takes the biggest hit. In a competitive industry like this, the profit margin is the only moat you can create for your business.
What you need: One tool to rule them all!
What digital marketers need today is a single tool that understands and emulates their workflow and helps them in streamlining operations without making a big hole in their pockets.
The following are prices to manage a single brand with currently available tools.
| Purpose | Tool | Basic Plan |
| --- | --- | --- |
| Video Generation | invideo | $30/month |
| Copywriting | Jasper.ai | $49/month |
| Graphic Designing | Canva | $12.99/month |
| Hashtags Generation | AI Hashtags | ~$10/month |
| Publishing/Scheduling | Hootsuite | $99/month |
This amounts to somewhere between $150 – $200 just to manage social media for a single brand. These plans will keep getting costlier if you upgrade to enterprise accounts.
Organic is Dead
You have seen your organic reach dropping as the day progresses. Virality is gone for static posts and all these posts do is serve as a placeholder.
Yet, we understood from our initial observations and survey that digital marketing agencies spend more than 80% of their time designing and creating these static posts.
There are some scattered automation solutions available but they still need you to do most of the work and they charge hefty prices for this half-baked solution.
What marketers need today is complete automation of static and repeatable posts. This will not only save a huge amount of time but will also reduce the cost of running the business by 50%.
Customers are getting more aware
In this age of virality and bilk information consumption, you can't keep your customers with obsolete approaches.
7 out of 10 customers today are not willing to compromise on their social media reach. Business owners are acknowledging the power of social media and disruptive marketing is becoming mainstream.
Satisfying these customers won't be easy for sure but would be impossible if you pitch them ideas like
1. Three posts a week
2. Marketing for the sake of brand presence
What customers want to hear today is more of a strategy that will put them in front of their customers. They want to hear terms like Instagram Reels and YouTube shorts. Providing all these while still being cost-effective is crucial to your survival as a digital marketing agency.
You must have seen images like the one below doing rounds on the internet.
And also remember how ChatGPT created a storm of screenshots on social media.
Although most of it is irrelevant to your business and requires different tools to get something like this, you can't deny the fact that the average consumer is getting more aware of what AI tools are capable of. They are going to start questions pretty soon.
And to answer these questions, you need a tool that can bring all of these tools together in one single application and integrate it with your social media workflow.
While looking for a single software that can take of their entire social media workflow, DigitTech stumbled upon Predis. Once they got on a call with us and understood the intuitive workflow management, it was love at first sight!
In the past year, we were able to automate most of what DigitTech used to do manually, and that too without any steep learning curve.
How Predis helped DigitTech
One-stop solution for everything social
We built Predis after doing an elaborate survey of social media marketers and one of the biggest challenges we figured out was – the lack of an end-to-end workflow management tool.
This is exactly what we set out to solve with our powerful AI which is trained to reduce the time you spent on creating and managing your campaigns.
When we introduced this to DigiTech, they were skeptical at first as they hadn't seen anything like this but numbers speak for themselves. In the past year of using Predis, DigitTech has been able to onboard 2x clients without having to hire a single extra employee.
The workflow management freed them from manual tasks such as posting on different channels or downloading the creatives from a separate app and then copying cations & hashtags from another app. Predis intertwines everything.
They had to give a single-line input based on their client's needs, and Predis did everything for them. This opened a world of opportunities for them as they could now spend more time meeting new clients and understanding their pain points in a better manner.
This is how the end-to-end workflow management works inside Predis.
Multi-channel Automation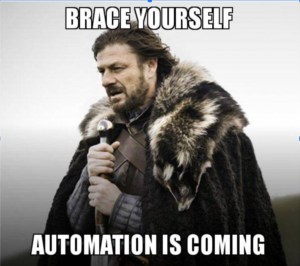 This seemed like the logical next step while building Predis. Once you create your post and it has all the elements (captions, creatives, and hashtags), why should you go to some other app to post it?
DigiTech had the same problem where they were shelling out a huge chunk of money into scheduling tools as their account size grew. As we discussed above, having good profit margins is critical in this business.
Predis allows you to post on all social media channels. All it requires is a one-time setup to connect your social media accounts to your Predis account, and with one click every new post gets scheduled or posted. As you deem fit!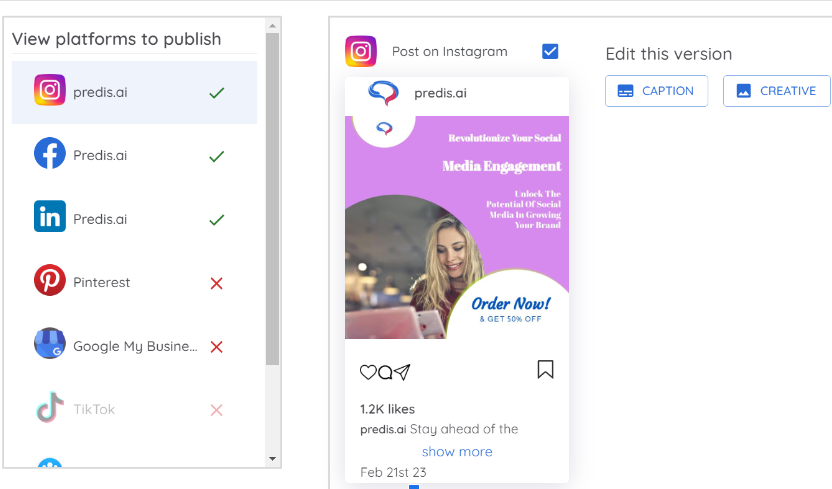 Organic Automation on Steroids
Have you ever changed captions and made small edits on an older post to reuse it again?
It is the most boring thing to do. But believe me when I say that 80% of the time social media agencies spend doing this stuff again and again. And again and again!!!
When we showed our feature of "Create More" to DigitTech, and I am being super modest here, they were flabbergasted.
With one click you can generate a new post – with new captions – with new images – based on your last input to the AI. And you can do this again and again and again!
That's the power of AI that DigitTech was able to leverage and automate so much of their boring stuff making their operation efficient like never before.
The WOW Factor
We all have to agree that social media marketing is where Tech meets Showbiz!
You can be the most tech-savvy but if you don't have the panache, you won't be able to woo new clients. This is especially true in today's world where AI is making it super simple to generate spectacular posts and designs in a matter of seconds.
Take for example, what Predis does in 30 seconds – generate ideas, create captions, generate designs, find hashtags – used to take an entire day for a social media marketer to do.
But if you are ready to spend a few minutes polishing what you generate with Predis, you can bedazzle your clients without having to hire the next Picasso.
This is exactly how DigiTech used Predis for scalability. They trained their account managers to use Predis and to create posts that speak to the customers. Since it only takes them a few minutes to come up with a polished social media post, they are able to negotiate a better price with their customers in effect increasing the firm's profitability.
Predis has been pivotal in the journey of many digital marketing agencies in the past few years. Solving the problems that were at the core level of operations made Predis a natural fit for these agencies. Agencies like DigiTech have not only scaled their operations but also have become pioneers of a new revolution in digital marketing that Predis has started. Join us on this journey and let's make marketing awesome again!