As we know all too well, in today's digital age, almost any brand, business, or professional needs a robust online presence. It works not as a complementary marketing strategy but as one of the main strategies today. This includes therapists! Social media platforms, specifically Instagram, have played a vital role in growing awareness of mental health. When people watch relatable mental health content, it gives them a chance to connect with each other and reduces the stigma around mental health as a field hence a planned Instagram marketing strategy is a must for Therapists.
For therapists, Instagram stands out as a powerful tool. It has the potential to market a therapist's services, engage with potential clients, and raise awareness about mental health in their own unique ways. In addition to that, having a strong social media presence humanizes therapists in comparison to the traditional word-of-mouth approach, which might make them unapproachable.
With cost-effective and easily accessible social media platforms, marketing for therapists also crosses all geographical boundaries, reaching people from all walks of life. This helps break down the barriers of stigma and makes mental health support feel more approachable. Moreover, the combination of thoughtfully created content on social media and therapists can help viewers establish trust and credibility and open up meaningful discussions around mental health topics.
Below is a brief overview of what you can expect from this blog:
Getting the Instagram basics right (whether you're new to the game or an existing user)
Instagram marketing strategy for therapists:

Define your target audience clearly.
Make the most of Instagram's features.
Create content buckets.
Grow your audience
Getting the Instagram basics right
First impressions may not be the last impression, but on Instagram, they sure do matter a lot! As a therapist, your Instagram profile is the digital doorway to your practice. Potential clients will form an initial opinion about you and your therapeutic approach based on an overview of your Instagram profile.
Creating a profile that leaves an impact on the viewer while not intimidating them too much is crucial. It should communicate your expertise and be approachable and relatable. Whether you're new to Instagram or an existing user, here are some essential tips for your Instagram profile:
Username:
Remember to keep your username simple and professional. Most professional users consider using their full name, including their profession, for example, @Dr.JaneSmithPsychotherapy. On the other hand, you can also use the name of your organization; an example is @headspace, a popular meditation and mindfulness app.
Profile picture:
One of the first things that visitors to your profile will see is your profile picture, which is a visual representation of you on Instagram.
It's best to choose a clear and professional headshot with a warm and welcoming expression. Use a photo that makes you seem approachable and kind. To create branding consistency, use your logo or a recognizable symbol associated with your practice.
Write a compelling bio:
Having a clear bio helps the viewer get a brief introduction to who you are. Introduce yourself as a therapist, your therapeutic approach, and your philosophy.
Identify your target audience in your bio. Specify the types of individuals or issues you primarily work with (e.g., anxiety, couples, adolescents). This helps you attract the right clients to your practice. You can also include a call to action in your bio, inviting visitors to contact you or visit your website for more information, or schedule an appointment. This can be as simple as "Contact me to start your journey to better mental health."
Link to your website and contact information:
Instagram allows only one clickable link in your bio, so make sure to use it wisely. Link to your website or a landing page with more information about the different services you offer. Make sure to also add your work contact information, such as a phone number and email address. This way, your potential clients can reach out to you directly.
Remember to periodically review your profile and make necessary updates. A well-crafted Instagram profile can make a significant difference in attracting the right audience and converting them into clients. It serves as a gateway for individuals seeking support, making it crucial to create an authentic representation of your therapeutic practice.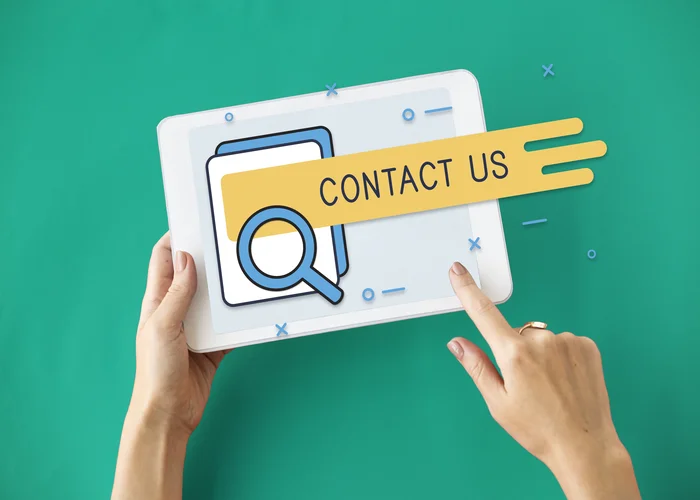 Instagram marketing strategy for therapists
As the previous sections have outlined, having a solid presence on social media is crucial for therapists in today's digital age. However, simply making posts may not help you reach the targets you're aiming for. It is essential to cut through the noise to get to the right users.
For this, it's important to follow four main strategies:
Define a target audience
Make the most of Instagram's features: posts and stories, IGTVs, and reels.
Create content buckets.
Focus on growing your audience through collaborations, advertising, and promotions.
Now let's dive into these strategies!
#1: Define your target audience clearly
Without defining your target audience, your resources would be misplaced, trying to reach out to the wrong demographic. By understanding the specific demographic, interests, and needs of your potential clients, you can tailor your content and messaging to resonate with the right audience.
1.1 Create a brand identity.
A well-defined target audience will, in turn, help you create a strong brand identity that aligns with the values and preferences of your ideal clients. For a consistent and cohesive brand identity, create a signature visual style and tone of messaging. This will aid in establishing trust and familiarity with followers.
Additionally, it will help foster a sense of connection. This makes potential clients more likely to engage with and seek therapeutic services from someone they perceive as relatable and trustworthy.
1.2 Pay attention to interaction and engagement!
Encourage your followers to interact through likes, comments, and shares. This will help create a sense of involvement and active participation. Responding promptly and thoughtfully to comments and direct messages will make you seem more approachable as well. This will directly strengthen the therapist-client relationship.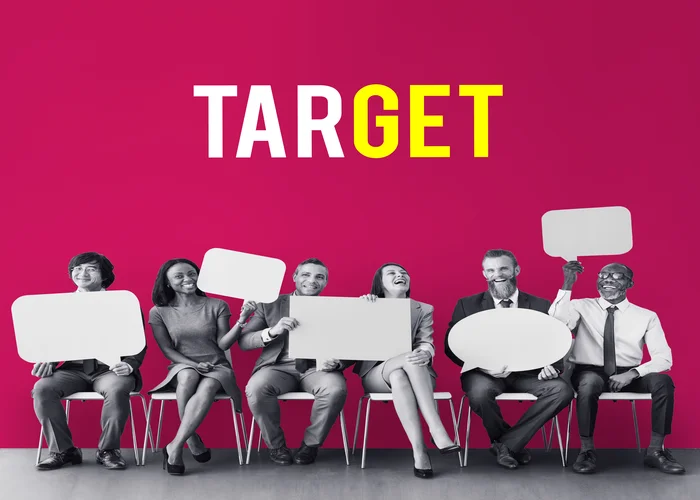 #2: Make the most of Instagram features
Instagram, as a platform for marketing, provides a wide range of features to use. From posts that will last on your feed to stories that will disappear in 24 hours, it's all up to the users to put their best creative foot forward. Having the features available on Instagram helps not only with engagement and interaction but also allows you to put out some thoughtful content.
2.1 Instagram Stories, Posts, and Lives
Boost engagement through interactive content such as polls and quizzes on Instagram stories. Instagram Lives can incorporate a Q&A session strategy, which invites followers to actively participate and share their thoughts. By fostering a two-way dialogue with your audience, you, as a therapist, can gain valuable insights into your followers' needs and preferences. In addition, this will also allow you to continuously refine your content strategy.
2.2 Go beyond the basics: IGTV, reels, and highlights
IGTV offers an opportunity to create longer-form content, such as therapy tips or in-depth discussions on mental health subjects. Embracing the creative potential of reels will allow you to produce short, entertaining, and educational videos to capture the attention of a broader audience. Lastly, leveraging the Highlights feature to categorize and archive important content ensures that valuable information is easily accessible to both new and existing followers.
#3: Create content buckets
Content buckets help you organize your content with regard to different features and diversify your marketing strategy. They are categories or themes that group together similar types of content, ensuring a well-rounded and engaging feed. Creating content buckets for your Instagram goes hand in hand with making the most of all Instagram features.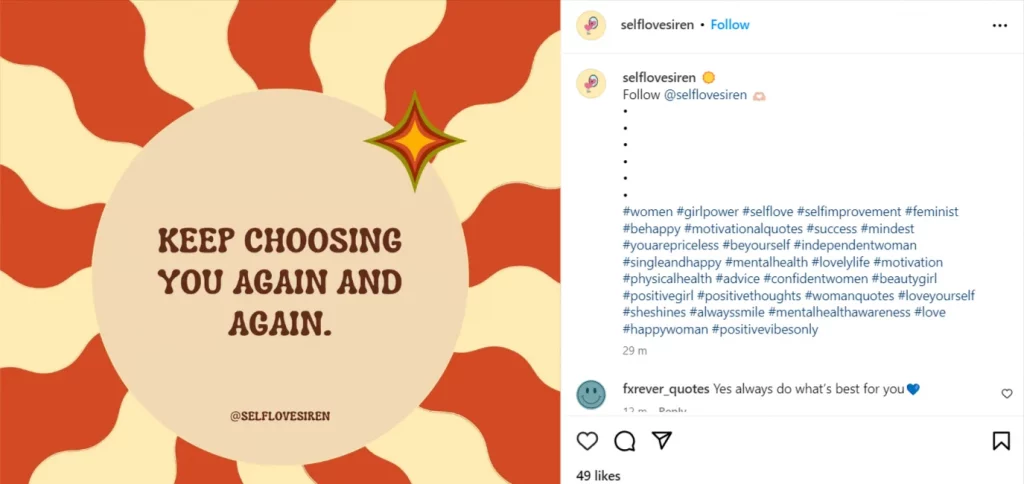 Here are 8 content bucket ideas for you to tailor to your own style!
Focus on awareness and education: Use your main feed and create informative graphics or carousel posts. You can also use IGTV to create longer videos and delve deeper into specific mental health-related topics.
Share some inspiration: Share motivational quotes and affirmations through visually appealing posts in the main feed. These can also be incorporated into stories or reels to inspire and uplift the audience.
Self-care and check-ins: Share self-care tips and strategies through posts in the main feed or short, practical videos in Reels. Instagram Stories can also be utilized for quick self-care reminders and recommendations. You can also conduct frequent check-ins with your followers using Instagram Story and its features, such as polls. Here, your followers get the chance to rate their well-being. Provide followers with resources based on their responses.
Behind-the-Scenes Glimpses: Use Instagram Stories to offer a peek into the daily life of a therapist, your therapy space, or your preparation for sessions. This humanizes your image and strengthens your connection with followers.
Mental Health Comics or Illustrations: Create or share mental health-themed comics or illustrations that convey important messages in a lighthearted and relatable manner.
Therapeutic prompts: Share prompts that evoke expression through, say, art or journaling. Encourage your followers to create and share their artwork, or incorporate prompts into their own journaling practice.
Therapy Myth Busters: Address common misconceptions about therapy or mental health in the form of carousel posts, using factual information to debunk myths.
Mental Health Book Recommendations: Recommend books on mental health, self-improvement, and personal growth. Create visually appealing graphics with brief summaries of each recommended book.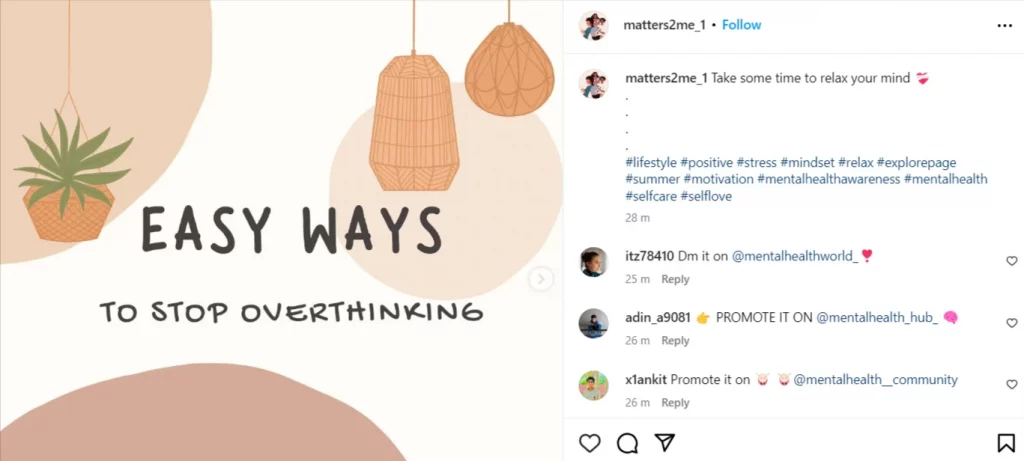 #4: Grow your audience
You can effectively grow your audience on Instagram by implementing a well-rounded approach. This approach should focus on three aspects crucial to growth:
Valuable content: Creating informative and relatable content that resonates with their target audience is key to attracting and retaining followers. Consistent posting with a mix of educational posts, motivational quotes, and interactive content will keep the audience engaged and coming back for more.
Engagement: Engage with your followers by responding to comments and sending direct messages. Actively participate in conversations and work towards building a sense of community and trust.
Strategic networking: Collaborate with other mental health professionals or influencers and participate in relevant hashtags and challenges. This way, you can expand your reach to new audiences.
It is important to remain authentic and approachable while adapting these techniques. This will help you organically grow your audience, establish a meaningful presence on Instagram, and make a positive impact on mental health awareness.
Wrapping up
It seems essential to now smartly make use of the dynamic platform that Instagram offers to therapists. Instagram marketing for therapists offers an opportunity to reach individuals in need of support and guidance. By understanding the importance of defining a target audience, creating a strong brand identity, and leveraging various Instagram features effectively, therapists can develop a captivating online presence that resonates with potential clients.
Related articles
Automate Instagram Content Creation With the Help of AI
How to Promote Restaurant on Instagram