Instagram is a social networking platform that prefers visual content over textual, thus distinguishing it from other social platforms. In 2023, leveraging Instagram Carousel Strategies, it remains the premier way to to promote your business/ account. Sometimes you may feel that one post is not sufficient for your day as you have more stuff to share. This is where Instagram carousel comes for your rescue.
Instagram has released a lot of new features throughout the years including stories, reels, live sessions as well as carousels. These features allows you to personalize your feed and enhance interactions. Instagram carousels seems to be one of the simplest things to employ to boost your engagement. this carousel feature has the best engagement rate to any other post category. According to recent reports carousels including photos and videos have an engagement rate of 2.3% whereas image posts have 1.74% and video posts have1.45%.
In this blog, we will discover how to use the Instagram carousel for creating more engaging content on Instagram.
What is an Instagram carousel?
An Instagram carousel is a collection of images and videos that are displayed in a single post. This makes it an excellent method for conveying stories that may necessitate the usage of more than one picture. In addition to photos and videos you can include Long panoramic photographs by breaking and adding it to the carousel.
For instance, you can use an Instagram carousel to display before and after photos of a DIY project, an outfit, or a place. You can also display step-by-step photos providing a recipe. Furthermore, you can emphasize on various parts of a recent vacation you have been to.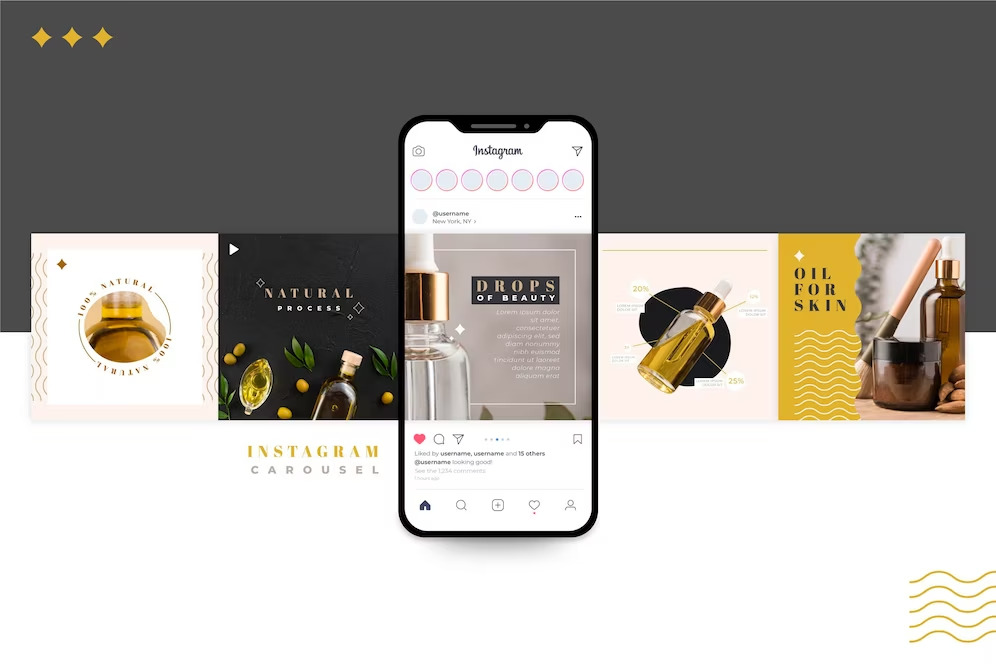 How can Instagram Carousel Strategies boost up your business's social media strategy?
People in the social media sphere frequently inquire, "Do Instagram Carousel Strategies outperform other posts?" In a nutshell, the answer is yes. The interactive nature of carousels encourages your audience to spend more time on one post. This allows them to explore other slides where they are likely to like, comment and share your post, amplifying reach.
For example, think that you own a cosmetics firm and intend to showcase your new lipstick range. Without a doubt using the Instagram carousel strategies feature will work wonders where you can create multiple posts in one carousel. Now you get to post a new lipstick shade on each slide, attracting your customer towards the post. Eventually sliding through all the posts they will be tempted to comment and share it with friends getting more engagement.
Dimensions for Instagram carousel posts
Before creating your post, you need to know about the optimum sizes and formats for your images and videos. Instagram carousels, like any other post, have standard dimensions. Here are the various sizes for pictures and videos in a carousel post.
Instagram Carousel Sizes for Images
Landscape carousel size: 1080 x 566 pixels; 1.91:1 aspect ratio
Portrait carousel size: 1080 x 1350 pixels; 4:5 aspect ratio
Square carousel size: 1080 x 1080 pixels; 1:1 aspect ratio
Instagram Carousel Sizes for Videos
Length of video: 3 seconds to 60 seconds
Video formats: .MP4 and .MOV
Aspect ratios: Landscape Carousel – 1.91:1; Square Carousel – 1:1; Portrait Carousel – 4:5
Maximum Video Size: 4GB
Creating An Amazing Instagram Carousel
Creating an amazing Instagram carousel strategies involves more than just selecting a few photos or videos. Take into consideration the story you want to convey, how the images will work together, and your caption for best Instagram Carousel Strategies results. Here's a step-by-step guide on how to do it:
1. Choose your theme:
Before making a carousel first thing you need to do is select a proper theme for your carousel. Theme is like a core idea or a storyline that will ultimately tie all your carousel posts together. Decide whether your carousel is a showcase of a product, a tutorial or a story that you intend to present. Selecting proper theme will give you clarity of how to take next steps.
For instance, imagine you are a fashion brand and you want to showcase your winter collection. So obviously you will be showcasing coats, mittens, scarves, hats that are the winter essentials. Eventually you will select a proper theme for your collection such as "Fall-winter collection."
What if you want to share your success story through a carousel post? what you can do is, share different milestones, challenges you faced as well as the success achieved by your business. Such a carousel will resonate with inspiring entrepreneurs where your brand will be considered as a source of inspiration.
2. Selecting High-Quality Images and Videos for Instagram Carousel Strategies:
The quality of your content within your Instagram Carousel Strategies plays a pivotal role in shaping your brand's perception among your audience. As you know that Instagram is flooded with amazing feeds, you really need to make an outstanding impression with your carousel. Focus on creating eye-catching content or else your feed will be passed on in a sea of similar things.
Never forget "First impression is the last impression" while selecting photos and videos for your carousel. Remember that in today's visually driven world what matters most is clarity, sharpness and overall aesthetics of your content. This will definitely lead to an impactful impression on the first sight. Moreover, be sure your photos or videos are not grainy, pixelated or lackluster. This type of mistake can heavily affect the professionalism and appeal of your brand.
3. Arrange your content:
While making a carousel you should take into consideration that your photos and videos are arranged in a proper order. Here are some arrangement orders from which you may want to choose one relevant to your posting strategy:
Chronological order: If you intend to show growth, transformation or a step by step process, try to follow a chronological order. This is basically like a picture of evolution from beginning to end.
Importance sequence: Your first post to follow an importance sequence should be most impactful to grab your audience's attention. Furthermore, provide details in the next slide that deepens their interest.
Story Arc: If your content is narrative, try using the story arc order. Here you can begin with an impactful introduction followed by key moments and finally leading to a climax.
Problem solution: if your content is based on providing a solution to the problem, start by addressing the issue. Gradually provide steps or visuals to the solution.
Gradual complexity: if the content of your carousel progressively becomes more complex, start with basics and gradually move towards the advanced concepts. This process will allow your audience to grasp complicated ideas.
Emotional journey: when you plan to evoke emotions through your concept, start with visuals arousing curiosity. Then, move towards excitement, empathy finally providing a satisfying resolution.
4. Add captions and hashtags:
Using captions and hashtags for your carousel will help to provide more information about the topic you intend to post. Moreover, adding a caption allows you to deliver proper circumstances and insights surrounding your post. For instance, if you showcase a rainbow, your caption can describe the location, colors of the sky and conjuring feelings. Thus building an emotional connection with the audience and providing depth to your content.
When you tag someone in your post it creates wonderful engagement opportunity. Here, the concerned person will view the post with amazing possibilities of likes, shares and comments. You may also resonate tagging as extending handshake in the digital world. Tagging business profiles may help you land with a collaboration from a business when you tag their product.
Never leave hashtags. In fact, hashtags act like a map through which relevant users may reach your post making it more repertible. For example, if your account relates to fashion industry, you may use hashtags such as #outfitoftheday #summercollection and so on.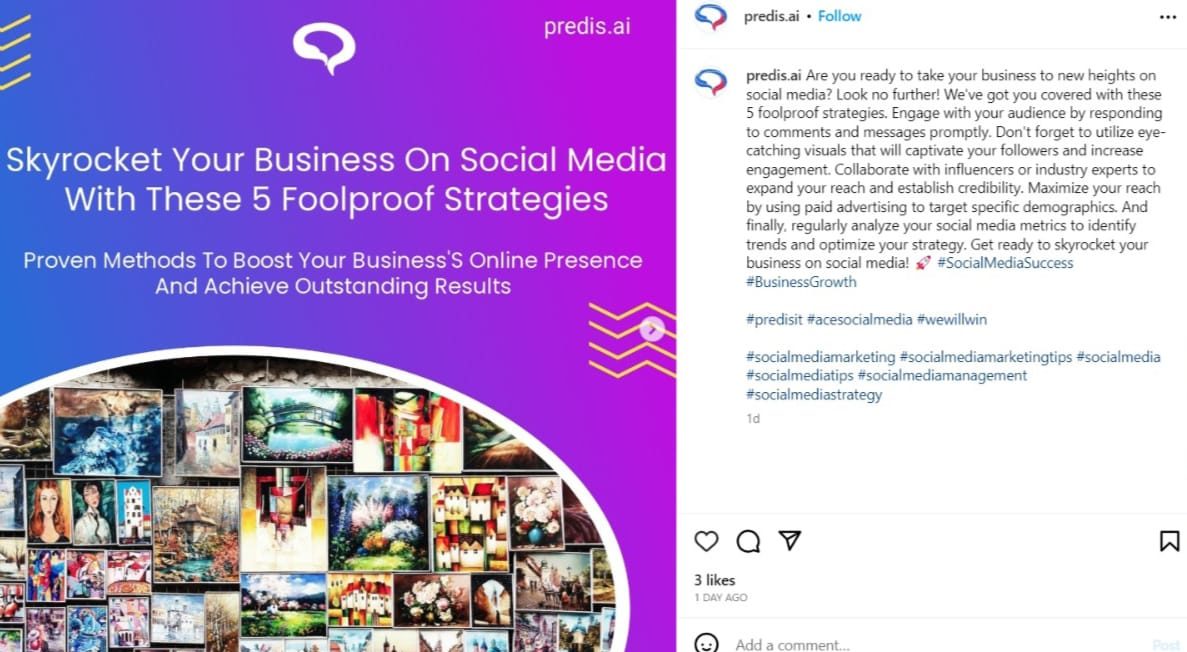 5. Preview and post:
Once you are ready with your carousel make sure you preview it to avoid any mistakes or corrections. Without a doubt Previewing will help you to see how your carousel will be posted with the photos and caption. Once you are satisfied with the overall looks you can go ahead and post it.
Tips for effective Instagram carousels
Creating an Instagram carousel is only half the battle. To make sure your carousel stands out and engages your audience, consider these tips:
The first slide of your carousel should start with a strong image or video which can grab attention within first sight.
Make sure all of your content is related and relevant to one another and tells a cohesive story.
Use high quality photos and videos for professionalism so the content looks polished and help building a sense of trust.
Experiment with different types of content, like photos, videos, and graphics. This will keep your audience intrigued and provide them with different choices.
Make proper use of captions to provide additional context and information for your audience. This will help them to get a better understanding of your content.
Engage with your audience by asking relevant questions related to your carousel theme to spark a conversation. Try to encourage them to comment by asking their opinion on the subject.
How to use Instagram carousel for better engagement?
Unleash the potential of instagram carousels so that you can display your unique expressions. Instead of posting 10 images in a single post you can use carousels which helps you share your story prominently. You should use a blend of videos and photos in your carousels as they help to boost the engagement rate of your post.
Use Carousels As Your Engagement Boosters
Make it worthwhile for users to scroll through your Instagram Carousel posts. While you're at it, utilize your caption to tell users to swipe left. Prompts like "swipe to find out more" or "swipe for a surprise" may seem overly apparent, yet they work. Some Instagram accounts exploit the promise of a revelation to get users to connect with their posts.
Upload Before and After Of Your Projects
Display your makeovers instead of incorporating 2 images in one by sharing high-quality before and after images using Instagram Carousels. These type of posts are helpful in a range of businesses, from beauty salons to home improvement projects. Instagram Carousels are a terrific method to demonstrate how your product or service improves something.
Consider changing the order of before and after photographs when posting this type of content, i.e., end result photos first, then prior images. It's always great to get people to follow you on Instagram with visually appealing content.
Provide Educational and Helpful Content To Your Audience
Instagram captions are helpful for long-form text and explanations, but they lack the visual impact. So when you intend to present intriguing information, you should create textual pictures and publish them in an Instagram Carousel post.
No matter how attractive statistics or data points are, you may face difficulty convincing folks to read through your caption. So the best method is to try using basic visual pictures to highlight a few crucial topics.
Since Instagram is a visual platform, photos and videos are the best way to keep users from scrolling past your post. Posting high quality photos will eventually lead your user to read the caption as well as scroll your profile page for further information.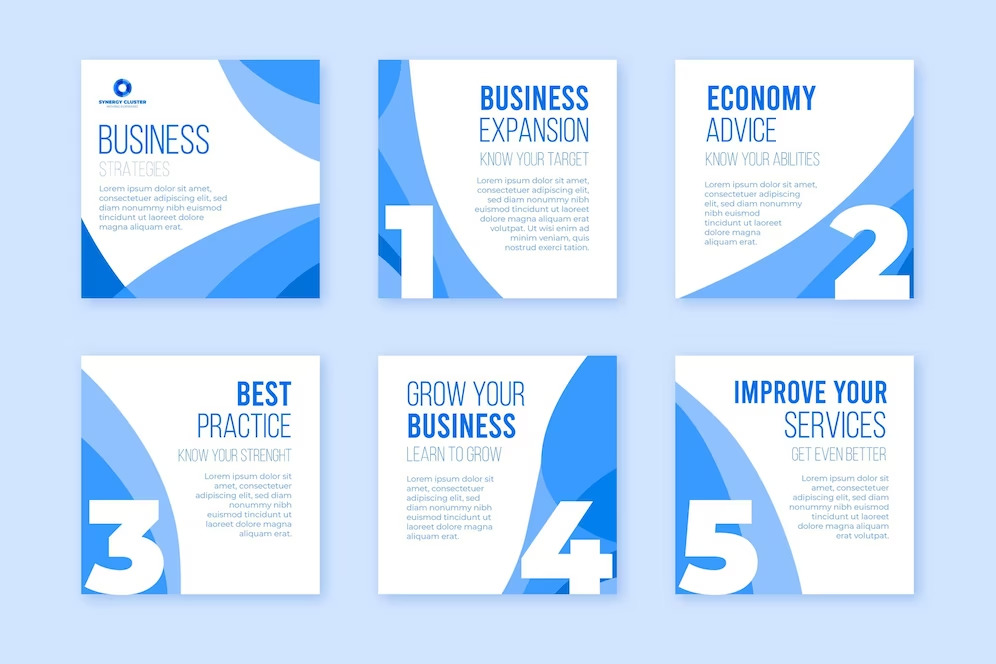 Share Step By Step Tutorials
Instagram carousel is you best buddy to display long how-to materials which doesn't go along with reels and description.
Tutorials are an excellent approach to demonstrate the things you sell. Provide step-by-step instructions on utilizing a specific function using still photos, short videos, or a combination of the two. Tutorials aren't simply valuable for time; they're also worth saving. And you want users to press the small banner button beneath your post to save it for later because saves count toward your Instagram engagement statistics.
Tutorials doesn't have to be just product-focused. You ca find many business accounts that utilize Instagram Carousels giving instructions on topics ranging from beauty to technological hacks.
Unveil Your Behind-the-scenes
Everyone enjoys a quick peek behind the curtain right? However, behind-the-scenes photographs aren't always Instagram-worthy. You can share the polished end result alongside pictures and videos of the process using Instagram Carousel posts.
Instagram Carousel posts are frequently used for "Instagram versus reality" content. However, Real-life does not resemble the neatly edited finished result. Therefore, Show your audience the modified photo alongside the original version. This will provide them with the relatable content they seek.
Since bloopers are popular among viewers, you should definitely create this type of content to please your audience using Carousels. Eventually these posts will work wonders to boost your engagement.
Explore The Power of Reused Content
Why work so hard to create outstanding content if you're just going to utilize it once, right? Instagram Carousels are an excellent method to reuse content like blog articles, webinars, and events.
As you know it's a real challenge to promote textual content on Instagram. However, you can make use of Carousels to generate textual picture teasers such as blog posts. Finally, send readers to your link in your bio to read more.
This is also an excellent method to reuse long-form information like white papers or novels. these refer to textual pictures that offer highlights and perform well as stand-alone content. Consider how much information you can repurpose by putting together a multi-image series. 
Boost Your Engagement By Giving Shout Outs To Your Followers
Social media should never be used as a one-way street. Including user-generated content on your account is one of the finest methods to engage with your audience. In fact, People love shout-out from their favorite brands and influencers, and Carousels are an excellent way to do this.
Brands can shout their own praises all they want, but nothing beats a client testimonial. Make use of those positive ratings to your advantage by including roundups in Instagram Carousel posts. For instance, Photos of people utilizing your products have a more significant effect.
Consider this: aren't you more interested in how an ordinary person utilizes a product than someone paid to market it?
However, not all user-generated content must be promotional. It's not always necessary to hype up your followers, give them shout-outs, and congratulate them for being your fans.
Wrapping It Up
Creating a carousel for your company's Instagram accounts aids in the creation of compelling adverts and provides a different appearance than your normal post. Carousel posts entice viewers to swipe and see additional material about your company's products and services.
Instagram allows you to share content in a variety of ways. While it may be tempting to limit your content types to single-image posts and the Instagram Story, doing so will also limit your Instagram reach. Therefore try to make your content more interesting by including some Instagram Carousel posts.
–This post was originally published in 2021, and has been updated for accuracy and relevance.
For more social media tips and updates, follow us on our Instagram!
You may also like,