In the past, content writers needed to have a firm understanding of grammar, spelling, and punctuation to produce high-quality content. However, this is no longer the case with the advent of artificial intelligence (AI). AI content writers are able to produce error-free content at a much faster pace than human writers. In addition, they can also customize their writing to match the target audience's needs and preferences. As a result, AI content writers are in high demand by businesses and organizations that need large amounts of content quickly and efficiently. Let's see which is better in terms of AI content generation, Anyword vs Jasper.
If you're looking for a content writer who can help you create content that is both informative and engaging, then you may want to consider getting an AI content writer. AI content writers can utilize artificial intelligence to help them understand what users are looking for and how to best serve them with content. This can result in more relevant and engaging content than traditional content writing techniques. If you're looking for a way to improve your content marketing strategy, consider using AI content writers. Here's what you need to know about AI content writers and how they can help you create better content.
Uses of AI content writers
why would you want to use an AI content writer? There are actually a few benefits to using AI for your content needs.
First, AI content writers can churn out a lot of content in a short amount of time. If you need a large amount of content generated quickly, an AI content writer can be a great solution.
Second, AI content writers can help to improve the quality of your content. By using artificial intelligence, content writers can help to ensure that your content is free of errors and is grammatically correct.
Third, AI content writers can help to save you money. If you outsource your content writing to a human writer, you will have to pay them for their time. However, with an AI content writer, you can get high-quality content without having to pay per word.
What to look for while choosing an AI content writer?
There's no question that AI content writers are becoming more and more popular. But what should you look for in an AI content writer? Here are a few things to keep in mind.
First, AI content writers should be able to understand your target audience. They should be able to analyze your audience's needs and write content that appeals to them.
Second, AI content writers should be able to produce high-quality content. The content should be well-written, accurate, and informative.
Third, AI content writers should be able to keep up with the latest trends. They should be able to write about topics that are trending in the world of AI and provide valuable insights.
Fourth, AI content writers should be able to work with other members of your team. They should be able to take direction from you and collaborate with other team members to produce the best results. If you're looking for an AI content writer, be sure to keep these things in mind. With the right AI content writer on your team, you can produce high-quality, valuable content that will appeal to your target audience.
Quick comparison between Anyword vs Jasper
Feature
Anyword
Jasper
Types of content
generated
100+
50+
Free Plan
yes
no
Credit Card
Required for Trial?
no
yes
Price
20k words for 29$ per month
35k words for 40$ per month
Languages
Supported
30
25
Mobile App
no
no
Web App
yes
yes
Free Tools and
resources
no
no
Ideal for
freelance copywriters, solopreneurs, small teams
Content writers, marketers, copywriters, SEO folks, book authors
API
yes
no
Inbuilt Grammar
check
no
yes
Inbuilt Plagiarism
check
no
yes
Chat Support
yes
yes
Email Support
yes
yes
Community
7000+
50,000+
Customer Ratings
G2: 4.7/ 5
Trustpilot: 4.8/ 5
Capterra: 4.8/ 5
G2: 4.9 / 5
Capterra: 4.8 / 5
Trustpilot: 4.8 / 5
What is Anyword?
Anyword is a powerful artificial intelligence tool that can help you with a wide range of tasks, from writing articles to managing your social media accounts. It's an AI assistant that is always learning and improving, so you can be sure that it will be able to help you with whatever you need. Whether you're a busy professional or a stay-at-home parent, Anyword can help you free up time for the things that matter most to you.
Who is it for?
What is Jasper?
Jasper.ai is an artificial intelligence company that specializes in providing AI services to businesses. Founded in 2016, Jasper ai is headquartered in San Francisco, California. The company's mission is to make artificial intelligence accessible to everyone. The company was founded in 2014 by four Carnegie Mellon University students: Shreyas Venkataraman, Abhinav Saxena, Alexandre Liton-Lifschitz, and Anish Das Sarma.
Jasper ai offers a range of AI services, including natural language processing, computer vision, and predictive analytics. The company also offers a platform that allows businesses to build and deploy AI applications. Jasper ai is backed by a number of well-known investors, including Andreessen Horowitz, Google Ventures, and Salesforce Ventures. Jasper is an artificial intelligence that can be used to improve your productivity.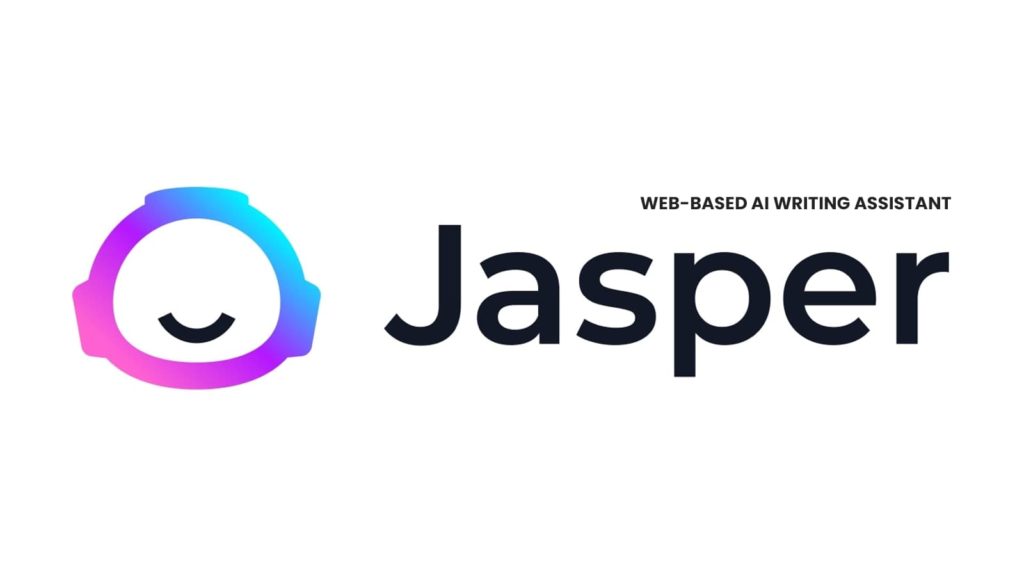 Who is it for?
Detailed comparison between Anyword vs Jasper content writers
1. Types and quality of content generated:
Anyword –
The content quality of Anyword is second to none, and the site offers a wide variety of features that make it an excellent choice for online writers. First, the site offers a variety of templates that writers can use to create their own unique style. Second, Anyword content quality checks each piece of content for grammar, spelling, and style errors. This ensures that each piece of content is of the highest quality. Finally, the site offers a wide range of tools that writers can use to improve their writing skills.
Anyword writes good content at decent speed, although it can produce repetition of content. Content creators who have used it have been blown away by its ability to improve their work.
The type of content that can be generated with Anyword is over 100 types with some examples as below –
Follow-up emails,
Blogs,
Meta Description,
Landing Page,
Ecommerce product descriptions.
Jasper –
Jasper is a cloud-based Artificial Intelligence (AI) tool that can be used to help improve your website's search engine optimization (SEO). The tool is designed to help you optimize your website content for the search engines.
One of the best features of Jasper is its ability to help you optimize your website content for search engines. The tool will analyze your website's content and then provide you with a report that outlines the areas where your content can be improved. For example, the report may highlight areas where you need to add more keywords or where you need to make your content more readable. It is fairly good with the type of content generation at a fast speed. There might be repetitions at times.
The types of content that can be generated with Jasper are as follows –
Blogs
email copy
ad copy
website landing page content
AI images
SEO content
video descriptions
2. Anyword Vs Jasper Reviews:
Anyword –
Reviews on G2 claim Anyword to be fast with content generation. A lot of people indicated that the tools are very productive and time-saving in terms of content generation. Some reviews also show it to be user-friendly. Some people however mentioned that the refreshed content has less number of words and the AI also messes up the content but in rare circumstances.
Capterra reviews have also shown it to be very effective in generating blog outlines. Some even claimed it to be a must-have tool. Although a review claims it generates wrong content at times that needs correction. Overall, like any other AI tool, this tool also has a downside but with more effective positive features.
Jasper.ai –
According to the reviews in G2 for Jasper, the content quality is fairly good. The speed of the content generation is also remarkable. Some downside of the AI writer mentione din reviews was how it does not produce good length of content on not so popular topics. There is also repetition of content at times.
In the reviews by Capterra, the content is generation is quite good and fast. The reviews also show how responsive the whole team is on any issues that may arise while using the AI writer. There are some unrelated information sometimes when searching on a topic. Also they might generate confusing and unrelated words that might need correction.
3. Pricing:
Anyword –
When looking at the pricing, Anyword has a free trial package as well as a free plan. Free plans are very beneficial for people who need to generate content only sometimes or for people who are just starting to use AI. This way they can learn the proper way to use and decide which plan to choose from in near future. Through the free plan one can generate around 1000 words per month in English language alone.
Looking at the pricing for the various plans, the basic plan is 29$ per month letting one generate 20,000 words in about 30 languages. Whereas the Data-driven pack will cost 99$ per month for 30,000 words. The best part about these plans is that there are multiple seats available making them affordable for companies. On subscribing, one gets two months free on both plans.
As per the reviews on G2 and Capterra, Anyword users claimed that this AI writer having a free plan is always a plus point. Although many said that it would be better if they provided more credit words in the free plan. The plans were fairly priced as per some while the rest suggested that the prices were high for the number of words provided in the plan.
Jasper.ai –
In Jasper, there is no free plan sadly but only a free trial. There are two plans to choose from. The basic plan costs 49$ per month with 35,000 words per month. By using this plan you can generate content in over 20+ languages with a member limit of 5 people. In the Boss plan, one can generate 100,000 in 20+ languages with no member limits. the cost per month is 99$. The same plans cost 40$ and 83$ when subscribed to for a year.
Jasper is best for people who need regular content on a daily basis. Price wise Jasper is better than Anyword as it provides more word for the same price. If your requirements do not fit into any of these plans, you can even customize your own plan and make it even more compatible for use.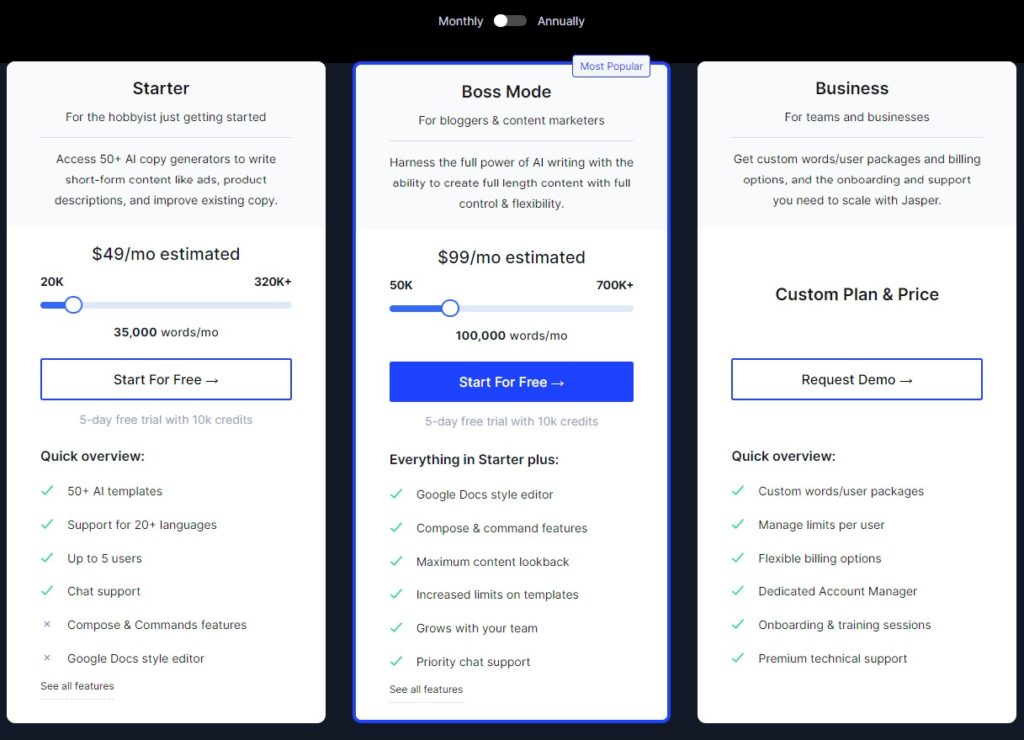 Based on the reviews, the prices are very good comparing to Anyword, as there as more credit words for almost the same price. The prices might have seemed high as per the reviews. But considering the more number of word credits it's a fairly good price. Another downside as per the reviews is that there is no free plan available.
4. API:
Anyword –
Users may simply produce site content, advertisements, social media material, email subject lines, and SEO content with the use of Anyword's API. Predictive Performance Score, Custom Keywords, and Text Personalization are just a few of the services offered by the API. The Anyword API is perfect for organizations like marketplaces, agencies, and vendors who wish to enable AI content creation for their users.
Jasper.ai –
Jasper currently does not have API.
5. Extra tools and resources | Anyword Vs Jasper:
Anyword –
Anyword falls behind Jasper in terms of extra tools. This AI content writer does not have extra tools that one can use. They do have resources and chat support that can be checked on the website. They have blogs to help you understand how to use the AI writer and also answers frequently asked questions.
Jasper.ai –
When it comes to Jasper, they have an art or image generator which can be used to create ads, thumbnails, and illustrations. They also have video series to help one understand how to use the Jasper AI, content writer. They also have blogs to help with content generation using AI as well as on how to make content, headlines, and bios for social media.
Our verdict
Anyword vs Jasper AI content writers are both efficient tools with fairly good speed and generation of good quality content. The AI content writer that is better will depend on the expectation from these AI writers.
In terms of pricing there are better plans at Jasper with almost same price range as Anyword also giving you more word count per month. If you want a free plan and do not want to invest on the AI writers, then it is always better to choose Anyword as it has a free plan.
If API are also a considering factor then it is better to go for Jasper. Overall, Jasper is better than Anyword for blog writers, long content generators and for ads since you can also generate image using their API. If you want around 20,000 words per month then it better to go for Anyword. Both the AI writers are equally efficient with the only major difference being the price range.
Another thing to note is that Jasper has over 50+ templates and Anyword does not have any templates. It is recommended that one choose the AI writer based on their budget, requirement, work demands and the number of words needed per month. Another major factor is that Anyword does not have a Grammar corrector as well as plagiarism checker which are present in Jasper. Jasper.ai is the better option when seen in terms of good quality content at a decent price. Hope this blog answers your Anyword vs Jasper? which is a better AI content writer question!