Many of us don't know how to make a JPEG transparent using a background remover tool for Free. We think it needs to be done using complex software like Photoshop, however, it is very easy using a Free online tool. The two popular file formats used to store photographic images known as JPEG (Joint Photographic Experts Group) and PNG (Portable Network Graphics).
JPEGs typically use lossless compression, meaning that the image data reduce in size without any degradation of quality. PNGs, on the other hand, usually use lossy compression where some degree of image data reduction happens occurs, resulting in a decrease in visual quality.
What is a JPEG File Format?
The compressed image files are known as JPEGs (Joint Photographic Experts Group). JPEG was developed in 1989. It is a standard compression format for still images. Digital cameras, mobile phones, scanners, and other image capture devices use it. Digital photography, mobile photography, photo printing, and digital media are a wide variety of applications
The most common lossy compression algorithm is JPEG 2000. A JPEG is a 2-dimensional image file, with each pixel represented by a number. Lossless compression preserves all the information in a JPEG file. While lossy compression reduces the size of a JPEG file without losing any information.
What is a PNG File Format?
Portable Network Graphics (PNG) is a bitmap file type that compresses images for portability. PNG is used for sharp graphics. Note that if you save a graphic or screenshot as a JPEG and compress it heavily, you will usually end up with a smaller file size than the compressed PNG. It supports 8, 16, and 32-bit colors and can store multiple images together in a single file. PNG files are more compressed than JPEG files. JPEG and PNG are two common image file formats.
They are also not optimal options for photography, as JPGs are much smaller than lossless PNGs, with minimal quality loss. JPG also provides superior compression with virtually no loss in perceived image quality. The advantage of using PNG is that PNG is an open format that uses lossless compression.
What is a Transparent image Format?
A transparent image format is an image format that allows the user to view the underlying image data, giving the image the appearance of being transparent.
A transparent image format is a file format used on the World Wide Web to display images. While most web browsers are capable of displaying PNG and JPEG files. They only allow those formats to be displayed as cut-outs (or "windows"). Rather than opening up another new tab or window for downloading the image from its original location on disk.
What this means for website operators is that you want your users to be able to download large images without having them open multiple tabs or windows in their browser. Then you need to use a transparent image format like PNG instead of JPEG.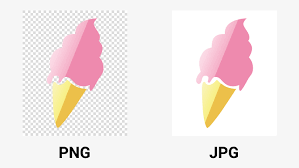 Why would you want to use a transparent image format in your work?
One reason is that transparent images are used to add a layer. For example, you could use a transparent PNG file as the background layer for an HTML document. This technique gives your page a more dynamic appearance and can help to distinguish it from other web pages.
Transparent image formats are a useful way to add visual interest to otherwise static images.
It is necessary to understand the basic use for JPEG and PNG images. Images which are clicked from a camera, or simply photographs should be saved as JPEG. Graphics, vectors, computer generated images should be saved as PNG.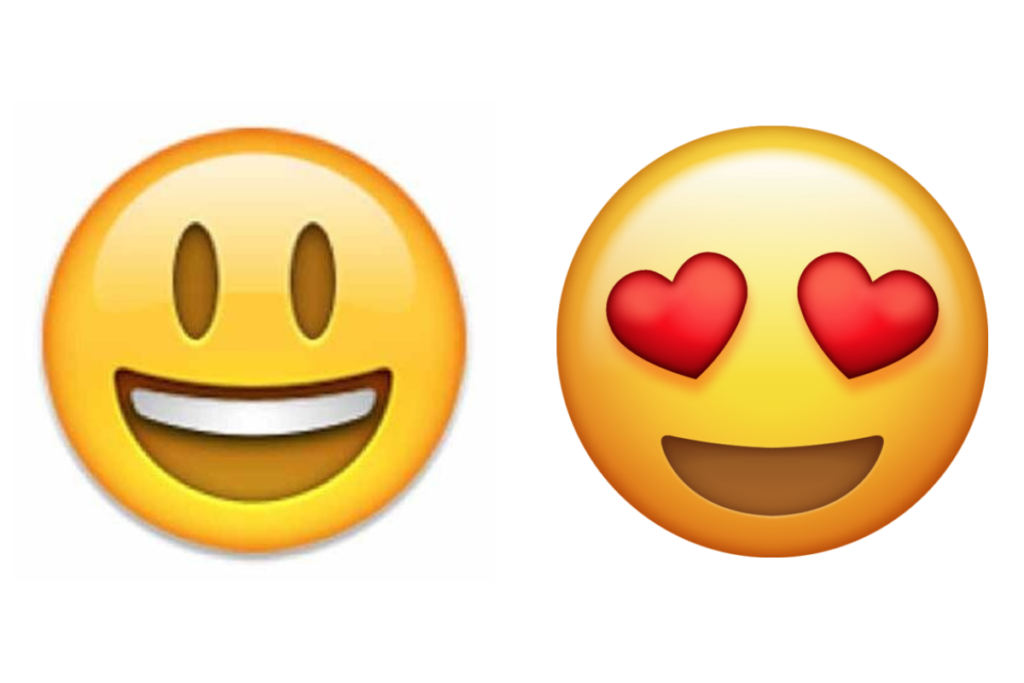 The image on the left is a JPEG image. It can be clearly seen that the image is pixelated and blur. The image on the left is wrongly saved as JPEG, which should have been a PNG.
The image on right is correctly saved as PNG. As it is PNG, the sharpness and image quality are maintained.
How Do I Convert a JPEG File Into PNG?
Step to convert a JPEG File Into PNG is –
Name your JPG file and click save and convert the JPG image to a PNG image.
Select PNG from the file format list to change the format in which the image will be saved.
OR
Alternatively, on Windows, you can right-click the image in File Explorer and open it with Paint.
Then click File in the toolbar and click Save As.
Or open the Paint application and open the file there.
Likewise, you can convert a PNG image to JPEG format. In Paint on Windows by opening the file in the application.
Clicking File, then clicking Save As, and clicking JPEG Image.
In many cases, you may not need to convert files, as most programs can open JPG and PNG files. Whether you are using Mac or Windows, you can easily convert PNG to JPG with Convertio online file converter. You can easily convert PNG files to JPG using software built into your Windows or Mac computer. You can save PNG files as JPGs using Paint, the graphics program included with Windows.
Benefits of converting a JPEG file into a PNG format
There are several benefits to converting a JPEG file into a PNG format. Since JPEG and PNG are both popular image formats, you can use them in different ways depending on your needs.
The image is complex because a PNG file contains more information than a JPEG file. PNG is the largest image type for large images, often containing information that may or may not be useful, depending on your needs. If the focus is on image quality, PNG is by far the best format.
What is the Importance of Converting JPEG to Transparent PNG?
Images are very important in any electronic media. JPEG image files use lossy compression to reduce file size, but this process can sometimes cause images to become blurry or transparent. If you're adding images to your website, you'll almost always want to use PNG or JPG. For images with clear lines, we recommend sticking to the PNG format. Choosing a JPEG or PNG file depends on the content of the images.
The importance of converting JPEG to transparent PNG is that it can reduce file size. Transparency can be a useful feature for images, and converting JPEG images to transparent PNGs can help you achieve this.
How safe is it to use a free online image editor in my browser?
Many people use free online image editors to make alterations to images for personal or social purposes. However, there are many dangers that can arise from using these editors without taking the proper precautions.
Some of the most common risks associated with free online image editors include identity theft, computer viruses, and spam email attachments. It is important to be aware of these risks before editing any photos, in order not only to protect your files but also to safeguard yourself from potential embarrassment or financial losses.
Some editors also provide automated features, such as whitening teeth or removing wrinkles. Although many online image editors are safe to use, there are a few that are not. If a user is unsure if an online image editor is safe, they should always consult the website's safety guidelines. These guidelines will outline the specific safety measures that the editor takes to protect users and third-party websites.
One Free tool that you can use without any worry is the Predis.ai Background Remover. The tool is completely free and safe to use. It is one of the tools that is quick, free, and accurate in removing unwanted background from your images as it uses Artificial Intelligence.
How to Get Rid of Background in Your Photos With an AI-Powered Background Remover?
There are moments when you realize that pictures with a white background just don't look as good as photos without one. Sometimes, this happens because of events or memories you want to commemorate in photographs, and other times it may be due to an aesthetic preference for photos with less white space.
Images can be very important in any presentation or website. However, if you don't have the time or skill to resize and crop your images yourself, there are many photo editing programs available on the market today that can help remove backgrounds seamlessly.
What is Predis.ai Background Remover?
Predis.ai Background Remover is a Free Online tool that uses artificial intelligence to identify the elements in a photo that is in the background and removes them.
Just upload any image within the size limit
The AI will remove unwanted background and give you the processed image
You can download the image with a click!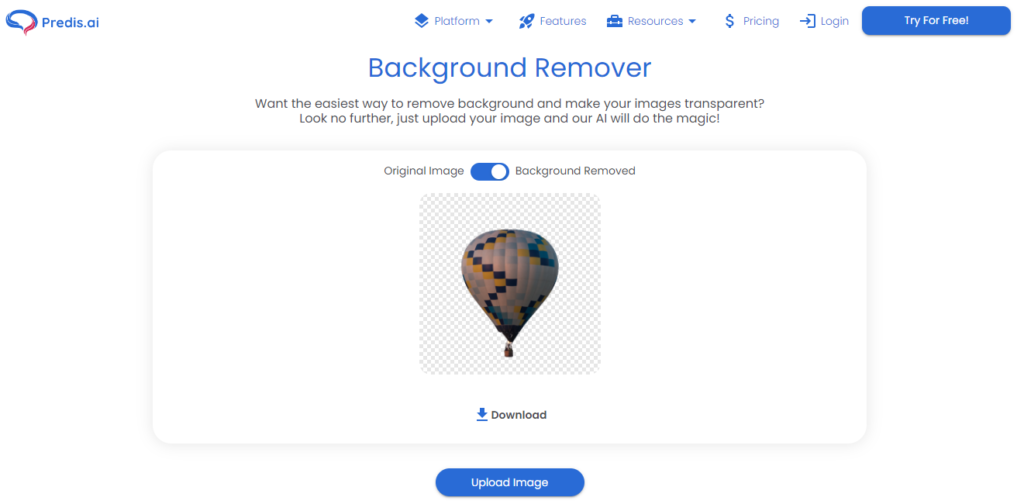 How does the background remover work?
The tool works by analyzing a photo and selecting the elements that it needs to remove. Once selected, the editor can start the process of removing them. The AI identifies the main object and its edges thereby removing the background. Depending on the complexity of the photo, the editor can give varied results.
Wrapping it Up
PNG images are larger than JPEG images because they retain all the information in the file before and after compression. PNG and JPG are file formats that allow you to transfer images for use on the web and in printing. For websites, social media, and your other digital projects, PNG is the best format. Predis.ai is the best online tool to convert JPG to PNG, without image quality loss.
For more social media tips and updates, follow us on our Instagram!