The new year is a time to look forward to fresh beginnings. This is the time of year when marketers create incredibly imaginative new year social media posts ideas to get people to buy their products. Brands might also be interested in creating new year social media competitions in order to keep their clients connected to their brand or to retain brand awareness on such a crowded night.
But why is all of this significant? How can a unique New Year's Eve social media strategy attract new customers? Why is it essential in the first place? Let us learn more about this.
It is crucial for companies to wish their consumers a happy New Year's Eve, but they must also put their brand's name and philosophy into it. Another thing that companies do on important days is hold competitions. Many firms are developing innovative new year contest ideas on social media in order to attract new customers.
Everyone is on social media updating their status on their New Year's festivities. This is the moment for all brands to strike in order to capitalize on the opportunity. Customers are attracted to new year advertisements that include competitions. This appeals to them since they like winning something or sharing in their delight on a good day.
Top New Year Social Media Posts Ideas 2023
It's time to greet the New Year with heartfelt social media messages. New Year social media posts ideas might be the quantum leap you've been waiting for, whether you're utilizing this event for your business or smashing a New Year record for your social media following. Check out these New Year social media posts ideas to see how you may improve your social media presence.
1. Throwback Photos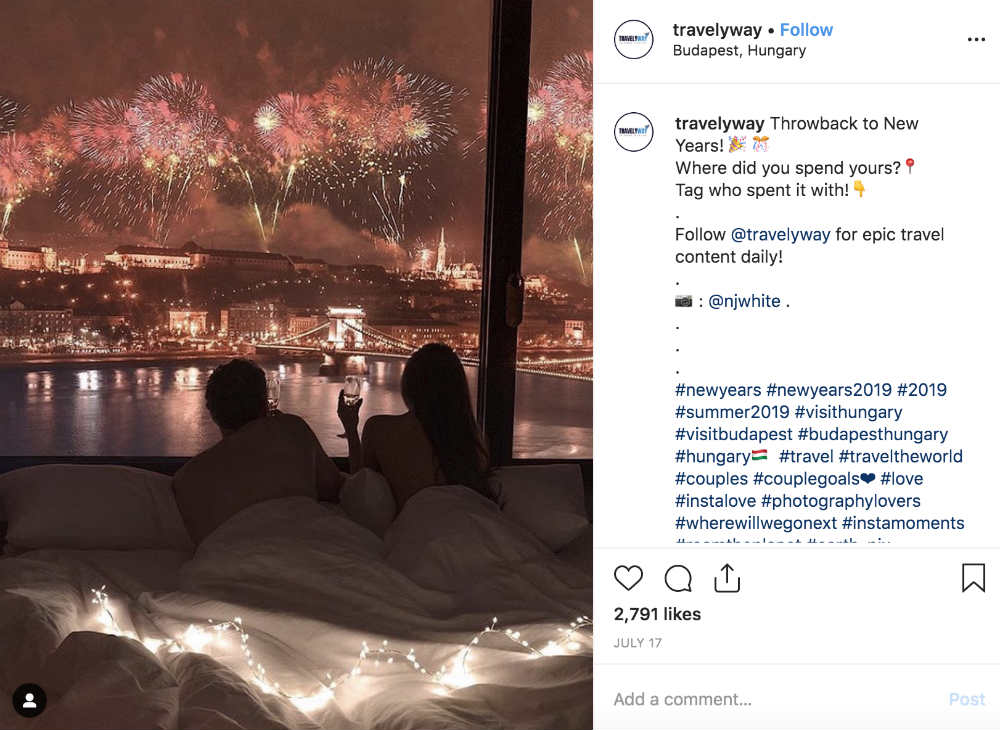 At some point in our lives, we've all experienced memorable and occasionally humiliating New Year's Eve events. Relive the good old days with retro images if you've captured them on camera.
This is an example of a couple enjoying valuable time together while watching the magnificent city fireworks. Overall, it's a one-of-a-kind photo with a strong emphasis on quality.
2. New Year Giveaway
What better way to ring in the new year than to give away some gorgeous, lovely things? This is a no-brainer if you're an e-commerce firm, but even if you're not, you can participate. Could you provide training or a free consultation? A day off or a discount on the services you provide? Or maybe simply a basket of things you know your target personas would enjoy?
Giveaways are a sure-fire approach to boost engagement and brand reach, and awareness New Year's Day is an excellent time to do a giveaway since it sets the tone for the year and taps into a mood of generosity that should endure until at least January 3rd. Getting the new year off to a good start with some old-fashioned charity is a tempting method to attract people to your social channels.
3. Share Tips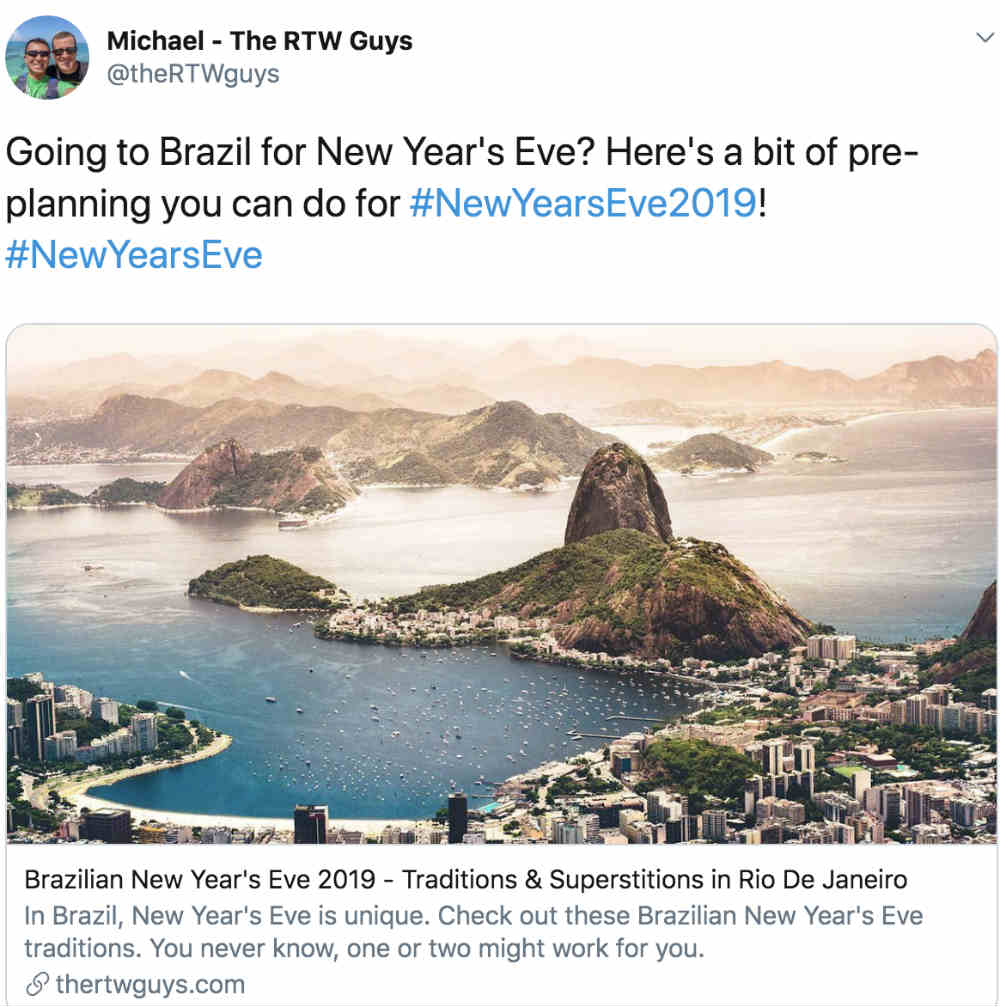 Some people are presumably on vacation in New York from halfway across the globe. The easiest approach to connect with like-minded folks is to share some of your techniques.
Here's an example from the travel blog of a married couple, Halef and Michael. But it isn't even the most intriguing aspect. Both bloggers have been traveling since 2008, and their ultimate travel aim is to visit every country in the world. Spend no more than $75 every day!
These recommendations will undoubtedly come in helpful for travel enthusiasts since going over the holidays implies higher rates.
4. New Year Countdowns
What is a New Year's Eve social media post without countdowns? New Year's Eve countdowns are a tradition for partygoers who like celebrating with others on this joyous occasion.
Of course, we chose one of the finest New Year's social media countdowns ever.
5. Special Announcements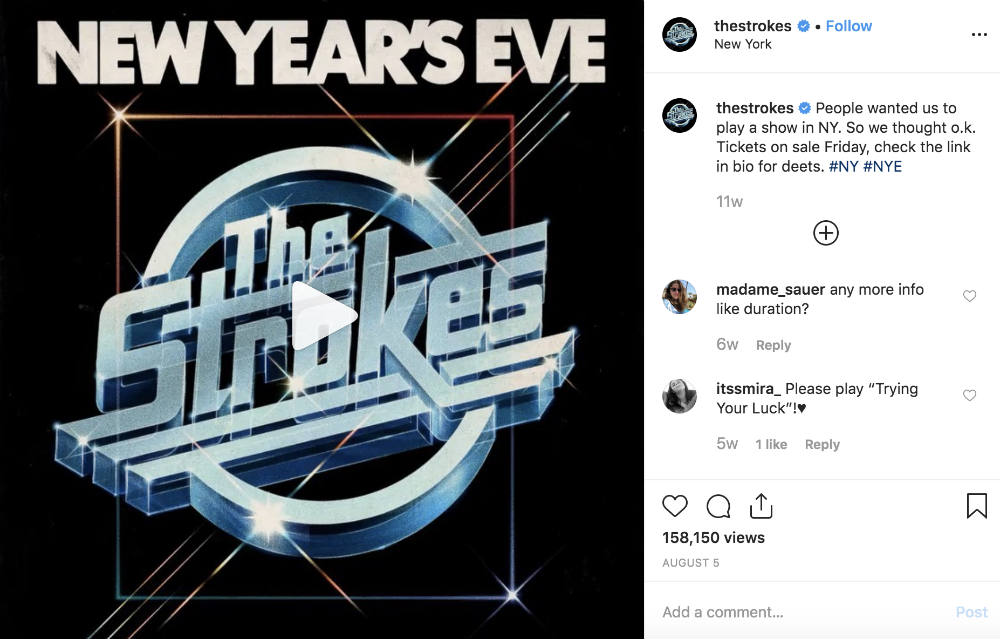 The majority of companies will certainly excite their audiences with spectacular New Year's celebrations. Make sure to make the announcement a few weeks before the event. Since most people will be off work over the holidays, it is a great time to promote an event. Furthermore, the additional holiday cash will entice them to go.
If you didn't receive the message, here's one that will make your New Year's Eve in New York particularly spectacular. You're very welcome!
6. Well Wishes
Beginning a new year brings about additional physical, mental, and emotional changes for the optimistic. Due to a slew of bad occurrences, some people may find it difficult to welcome the New Year. Nothing could be more motivating than wishing everyone a great year full of new adventures.
Here's an encouraging New Year's social media picture that will undoubtedly touch some broken hearts.
7. New Year Resolution Memes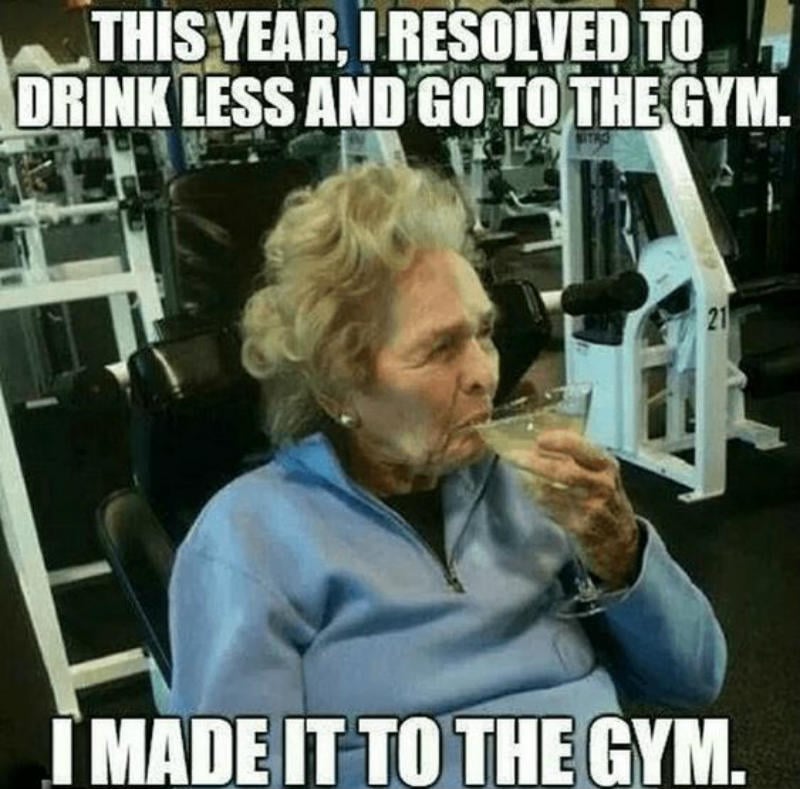 Welcome the New Year by letting go of the negative and embracing the positive. As a result, New Year's resolutions are made. But do we truly follow them? Most New Year's Eve revelers have acknowledged that New Year's resolutions are just a collection of pledges made to feel a little better about themselves and their bad habits.
What better way to make everyone feel better than to share hilarious New Year's social media memes? Have you ever wished to cut down on your drinking? Here's one meme that will most likely inspire you (or not).
8. Bitesize Content
If you're targeting a New Year's Day audience, bear in mind that they could be a little woozy from the night before (too much Auld Lang Syne with Auntie Jill and her deathly whiskey).
As a result, you should avoid overloading and overwhelming them with the content- too much information will make their brains spin. Create attention-grabbing images and/or Instagram-friendly movies that operate across platforms, like this one from Oreo.
9. Review Posts
You undoubtedly know your industry well and out, so your perspective on what's transpired in the last year will be useful. Why not compile a series of blogs on significant developments in the last year? These, like your company's annual round-ups, might take any shape.
Similarly, what are your projections for 2023? These postings are ubiquitous this time of year, but that doesn't mean you shouldn't make your own; after all, your own perspective will always be unique. If you have any suggestions for what will be huge news in 2023, let the world know.
10. Yearly Round Ups – New Year Social Media Posts Ideas
Is it part of your social media plan to participate in Throwback Thursday all year? If the answer is "yes," you'll understand how effective nostalgia can be in terms of building engagement. 'Throwing back' to incidents that occurred inside your business or outside of it (but were connected) is a terrific approach to humanizing your brand and providing a behind-the-scenes look at what you do.
Celebrate the end of the year by compiling a list of your company's accomplishments throughout the previous year. It can be a blog piece emphasizing your best portions, a video montage if you've had time to capture clips on your phone, or just a series of social postings highlighting your favorite events from the year during the Christmas-New Year period.
Wrapping It Up
The New Year heralds the start of a fresh year and everything that is new. Brands on social media usually take care to curate social media postings for the new year since it is the most significant special day of the year.
Brands utilize the new year to thank their consumers for their unwavering support and to wish them all things new and beautiful. It is the ideal approach to go ahead and begin an incredible year.
This article has summarized a few New Year social media posts ideas used by companies to engage with their consumers.
You may also like,
Social Media Post Ideas for November.