Profile views on TikTok can be quite a double-edged sword! On one hand, it's fun and exciting to see who's been checking out your profile, but on the other hand, it means that others can tell when you've visited theirs too.
If you're anything like us, it might leave a bitter taste in your mouth. But hey, fairness is essential in this world, right? TikTok aims to be just and impartial, and that's something they value.
Now, if you're curious about profile views and want to learn more before diving in, we've got you covered! We've compiled answers to the most frequently asked questions about TikTok profile views. So, you'll be in the know before making any decisions!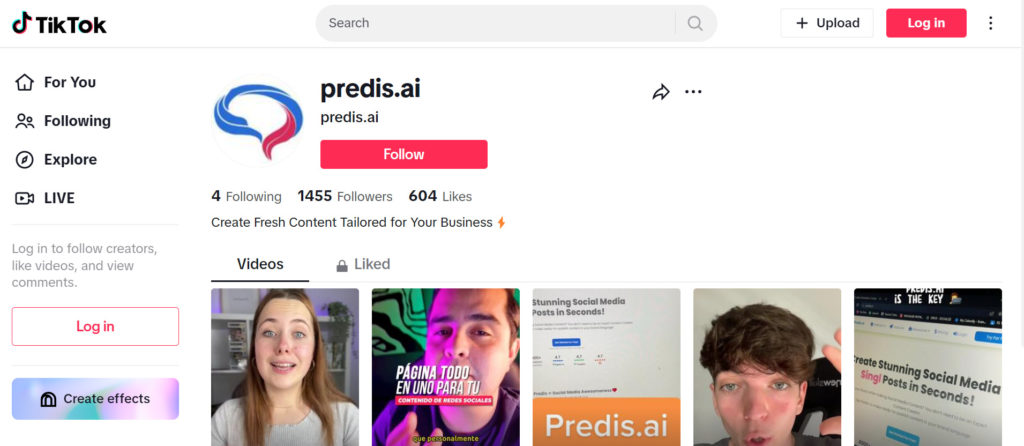 How Does The Feature For Profile Views Work?
Think of profile views on TikTok as a little like a two-way glass set up. When you enable this feature, you can peek at who's checking out your profile through the 'glass.' But, here's the catch: when you take a peek at someone else's profile, they'll also know about it.
Is that entirely fair? Well, not always. It might be a tad awkward for those of us who enjoy being silent lurkers on the app, innocently checking out profiles frequently. The profile views feature can put us in some embarrassing situations.
If you decide to turn off profile views, it's like switching to a one-way mirror. You get to see what's happening on the other side, but you remain hidden from view. However, on TikTok, it doesn't quite work that way.
When you turn off profile views, not only do you vanish from others' radars when you visit their profiles, but you also won't be notified if they visit yours.
Now, the Profile Views feature on TikTok compiles a list of users who visited your profile over the last 30 days. This list gets updated daily, so you'll have a history of visitors within that time frame.
What Happens When You Flip Off Profile Views?
Once you flip the switch and turn off profile views, you're basically saying goodbye to the thrill of knowing who's been checking out your profile. At the same time, you cleverly conceal your tracks while visiting someone else's profile. It's a sneaky move, but it works!
Not only does your current profile visit history vanish into thin air, but you also magically disappear from others' profile views list. It's like you've vanished into the shadows!
If you can resist the temptation to turn profile views back on for a good 30 days after your last profile visit, well, congratulations! Your visiting history becomes an enigma – completely irretrievable and untraceable. Your stealth mode game is on point!
How To Turn Off Profile Views On TikTok
Wanna keep your TikTok profile views under wraps? No worries, it's easy to disable them right from the TikTok app on your phone. Here's how:
Step 1: Open up the TikTok app and head to your profile by tapping on the Profile tab at the bottom right corner.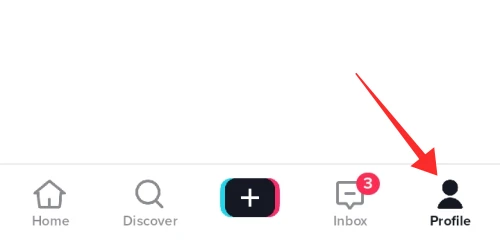 Step 2: Once you're inside your TikTok profile, look for the footprint icon (or the eye icon in older TikTok versions) at the top right corner. You'll find it to the left of the three-lined menu button.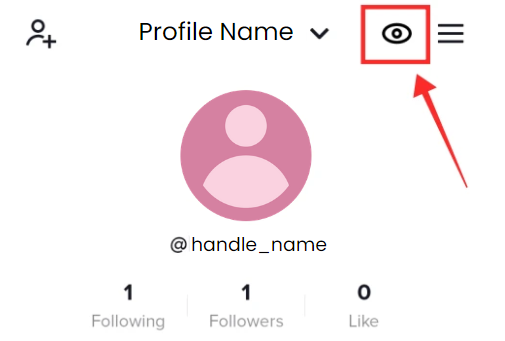 Step 3: Tap on that icon, and you'll be taken to the profile views screen. Now, look for the cogwheel icon at the top right corner.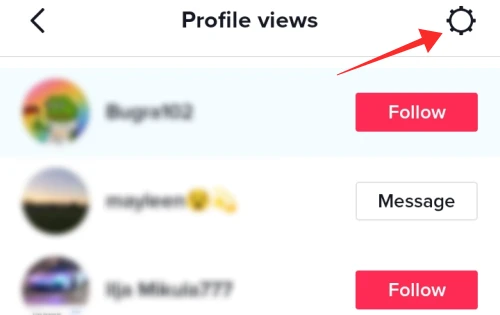 Step 4: Here's the magic step! Turn off the Profile view history toggle and then give that X icon a tap to close the screen.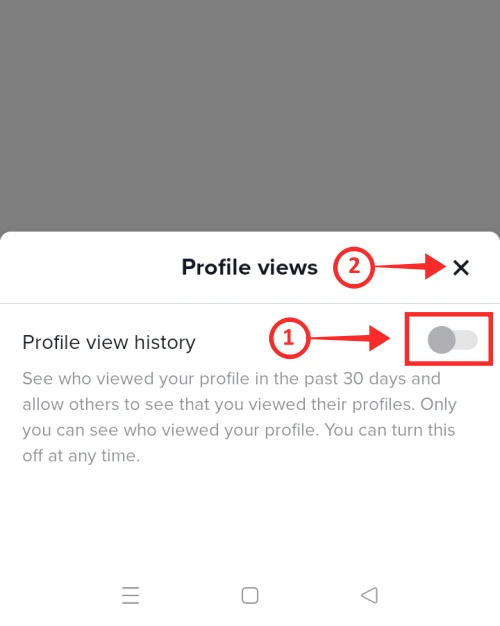 And voilà! Your profile views are now disabled. It's like you've vanished from the radar. If you ever change your mind, don't sweat it. Just tap "Turn On" to bring back the function whenever you like.
How To Turn On TikTok Profile View History
Want to know who's been checking out your TikTok profile? It's easy to enable profile views. Just follow these simple steps:
Step 1: Open the TikTok app on your phone and tap on the Profile tab at the bottom right corner to access your own profile.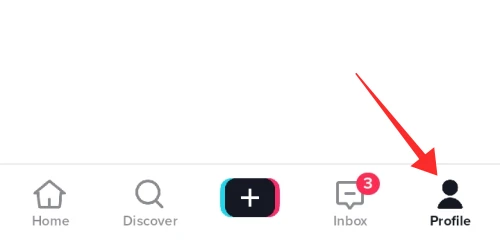 Step 2: Now that you're in your profile, spot the footprint icon (or the eye icon if you're using an older TikTok version) at the top right corner. It's on the left side of the three-lined menu button.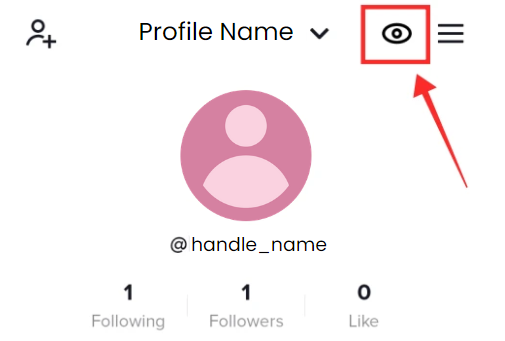 Step 3: Tap that icon, and a new screen will pop up. You'll see a button that says "Turn on" at the bottom. Give it a tap to enable profile view history.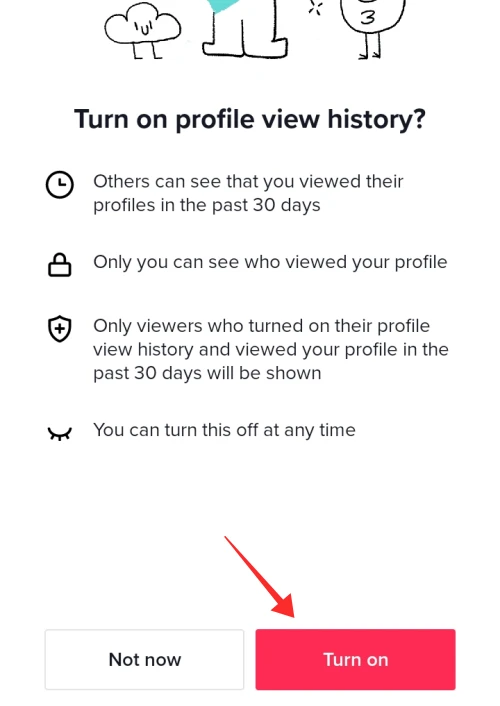 Step 4: Boom! You'll be taken to a page that reveals the list of folks who've visited your profile in the past 30 days. The most recent visitors will be right at the top, followed by those from earlier dates.
If someone has checked out your profile multiple times, you'll only see their name once, but you'll know they're pretty interested if they keep appearing near the top of the list.
Here's a bonus: You'll even get a notification in your Inbox when you activate this feature. Tap it, and you'll be whisked away directly to the visitors' history page.
Just remember, when you turn on profile views history, your profile will also appear on the visitor history of others who have this feature enabled for 30 days. So, it's a fair trade-off!
Why Use This Feature?
There are a bunch of reasons why TikTok creators might choose to turn off profile views. Let's take a look at a few of them:
Privacy and Security:
Keeping profile views off allows creators to enjoy a greater level of privacy while using the platform. It's like having a secret cloak of anonymity.
With this feature disabled, they can freely browse content and visit other users' profiles without revealing their identity. It's all about maintaining a discreet online presence.
Avoiding Reciprocation Pressure:
Turning off profile views is like a breath of fresh air. It helps relieve the nagging social pressure and anxiety that often comes with being visible to others on social media platforms.
With this feature disabled, you can roam TikTok freely, and no one will be wiser about your browsing habits. It's all about enjoying a stress-free experience!
Focus on Content:
Without the distraction of profile views, you can fully immerse yourself in the content that captures your attention. It's all about diving into the TikTok sea of creativity, without any unnecessary outside influences.
Authentic Interaction:
With reduced social pressure, you can engage and interact more authentically. No need to worry about perceptions or judgments based on your visits. You get to be true to yourself!
Conclusion
Enabling profile views on TikTok can be a game-changer if you're aiming to boost your visibility and engagement on the platform. Whether you're a content creator or just eager to grow your network, knowing how to turn on profile views opens up new opportunities for you.
So, why not give it a shot? Embrace the experience, keep creating awesome content, and share it with the world! The TikTok community awaits, and it's time to shine!
Related Articles
TikTok vs Instagram for Business
How to Add Music to Reels on Instagram