Behind the scenes account of our AppSumo launch preparation!
I promise this will have all our learnings from our AppSumo launch. But, before I start on this, a basic background about Predis.ai!

What we do – We have built an AI which generates social media posts for your business. Just give it a 1-liner about the business or your next campaign idea and our AI will make Social media posts. The generated posts will be complete with the creative, caption, hashtags, etc, and can be edited! Here is a small video of the process.
We launched the 1st version of Predis.ai on 15th April on ProductHunt. It was a big mistake 😂 I have already covered that here.

Immediately after the product hunt launch, we launched on a deal platform called Pitchground. I think the product was at an early stage and overall we had a limited reach and hence we did not generate much traction and got a limited quantity of users.

Not to be discouraged, we kept speaking to users and iterating. We realized that though were solving the problem of how can a post be improved, people were stuck at a step before that.
Speaking to users told us that their basic issue was proving to be "What content should they make?" Only once that was solved, will users want to improve on that!

With this in mind, we iterated towards the large goal of giving content inspirations that will evolve into social media posts. You can check our roadmap here to see the way we have evolved. We do keep it updated since our launch.
Crucial Problem Statements In Front Of Us
With the new pivot taking shape, we wanted to reach out to as many users as possible. This would hopefully expedite our product-market fit. Also, if we could generate some revenue on the side, we could also start performance marketing to get the SAAS flywheel in motion.😊
Like all early-stage startups, we had 2 problem statements in front of us (in the order of priority):
Find a lot of users who can try and also give us feedback.
Generate some revenue which can then be used to scale the user outreach further.

One way to solve it was by doing a Lifetime deal on AppSumo. We know that doing a Lifetime deal means forever liability for a limited sum of money. I will cover the logic in another blog post.
For now, Here is how we approached the AppSumo launch planning phase.
AppSumo Launch Planning phase
This was primarily done in the following steps:
Checking other deals and speaking to founders who had launched Appsumo deals and understanding their experiences.
Figure out AppSumo Marketplace vs AppSumo Select
Calculate the deal limits and the price of the deal.
Planning for marketing the deal – Facebook groups
Getting the marketing collateral in place.
Here are more details for each step.
1. Checking other deals and speaking to founders who had launched Appsumo deals and understanding their experiences.
We wanted to understand how have others structured their deals. We checked their features and limits and user reviews, questions, etc. Our approach was to look at deals in our industry – social media tools.
One basic realization was that most AppSumo users prefer unlimited access kind of deals. Apart from that, we realized that a lot of deals incentivize users to provide reviews on AppSumo. This would be useful in making the structure of our deal. We also spoke to some founders and got their views on Lifetime deals.
2. Figure out AppSumo Marketplace vs AppSumo Select
AppSumo Marketplace charges a 30% commission (5% if the user is 1st time AS user) and AS Select charges 70%-80% (whatever I heard). Exposure wise AS Select is at least 3-4X the exposure of the marketplace but is also pretty costly.
Cost-wise we have a recurring cost per usage and hence it would be difficult to sustain users with this. We got the same feedback from many founders who were on AS select and advised us to stay in the marketplace.
For us, the primary use case of the AppSumo launch was to reach out to a lot of users at scale to validate our Product-market fit. Revenue was the second consideration.
Another aspect was that waiting for AppSumo Select would have meant wasting precious time as AppSumo is fairly choosy on the Select deals and takes time to launch them.
Time to market was important for us and hence, we decided to go ahead with the Marketplace deal. We also decided to launch the same deal on our own product to try and save that 30% commission. I know it sounds cheap but that's bootstrapped founders for you. This anyways bombed 🙂
3. Calculate the deal limits and the price of the deal
This was the most tricky piece. After speaking to a lot of people and checking existing deals we realized that:
Users want as many features with maximum usage limits (potentially unlimited) as possible.
Its a one way street. Once you are live, cant reduce the features, deal limits. Doing so will result in severe backlash.
We also need to figure out how will you manage to support users forever. One needs to plan for 3-4 years in future and figure out the costs.
You are also expected to provide AppSumo users with all future updates.
Most of the AppSumo users > 80% DO NOT use the platform after buying the deal. I will show stats for it in the other blog.
The general trend is to incetivise users for reviews on AppSumo / other platforms. So there needs to be something which we had to offer on top of the deal features/limits so that users become more likely to write reviews.
Based on all this we decided to go for a fixed usage per month in our deal. The monthly number was decided on something which will let users make their monthly social media posts and also make sure we have a fixed liability to take care of each month.
Also, While we were launching the deal, there were a lot of cases of older deals discontinuing their products. This had resulted in a lot of trust issues with LTD founders. There was an uncanny similarity with some popular unlimited deals going bust and this was playing on our minds while structuring the deal.
4. Planning for marketing the deal – Facebook groups
Since we not going to get the AppSumo Select Loudspeaker, we had to blow our own horn everywhere😂.
This made us look for places where we could find the most LTD users. We realized that most of the Lifetime deal users were on Facebook. We could not find an active community on Twitter/Reddit. Our team curated a list of Facebook groups where the Lifetime deal community is the most active.
Then we proceeded with speaking to every group admin and asking them if we can promote our Lifetime deal on their groups. All of them were very generous in letting us promote the deal. We also decided to run giveaways on groups to further drum up the buzz. This is the list of Facebook LTD groups where we promoted our deal:
As I said, all of the admins were happy to let us promote the deal on their groups. The groups are not listed in any particular order. Though there might be other admins also in the group, I have listed the names of those admins with whom I was able to connect and get a response. There might be some other Facebook groups also which we missed.
Please understand that a lot of the Admins want the best for their group and will want to you offer the maximum amount of Lifetime deals in giveaways. I will suggest you check the group activities first and then start reaching out to the admins appropriately 🤓.
5. Getting the marketing collateral in place
This meant the following:
Get the website updated with the new features list.
Making sure you update the public product roadmap.
Getting welcome email automation in place (we had this already)
Writing the copy and making creatives of the deal page. Here is ours .
Making the Pinned comment and listing down all FAQs so that we can answer users fast.
Making sure our Knowledge Base was updated.
The AppSumo launch onboarding for marketplace products is pretty smooth and helps you onboard fast.
Since we decided to list on our website also, we had to build the workflows for that.
Though we had applied to be launched on the Marketplace on the AppSumo site around Late September, we got approved and Launched only on 29th October. This was because AppSumo had a lot of rush of deals trying to list in time for Black Friday.
We kept chasing them for updates and they did respond to us with some timelines. This was a blessing in disguise for us as, by that time, we were able to launch our Creative editor feature.
AppSumo Launch Day and 1st month Activities
Here is what we did:
Generate buzz on Facebook Lifetime deal groups.
Answer a lot of users on chat, Support emails, AS Reviews.
Revised Limits after hearing feedback from the community
Did webinars and Video reviews to generate buzz
Marketplace Vs Select realization
Ran Facebook AD to generate more Buzz
Chased AppSumo to get more visibility on the AppSumo Main Page.
Here are the details for each line item:
Generate buzz on Facebook Lifetime deal groups
We started by introducing ourselves in all of the Facebook groups and did giveaways on a couple of them. Here is the link to our most successful giveaway post. We generated a lot of comments, questions. There was an influx of users trying us out and we also got a lot of features asked in the comments. There was not a very appreciable uptick in the sales but I am sure we were successful in spreading the word.
We have also made sure to keep posting regular product/feature updates on all the Facebook groups. This is a good way to keep everyone aware of our progress and also helps us stay in the news. This is proving to be a good way in staying connected and we will recommend this.
Answer a lot of users on chat, Support emails, AS Reviews
This was definitely a good problem to have. This is why we had started this whole activity in the first place – to talk to a lot of users. Our preparation of writing down FAQs on the website, internal documents, and Knowledge base helped and we were able to answer all queries within a decent time frame.
Revised Limits after hearing feedback from the community
We originally launched our deal with 45 posts per month. There were a lot of asks from almost everyone that the limits felt low and we would be better off increasing them. Though our cost projections were not very favorable, we understood that this will need to be increased. Hence we increased it from 45 posts per month to 60 posts per month forever. This was a 33% increase and also increased our costs appropriately.
We went back to the community and were received well. I think people in the LTD community appreciate that founders are open to communication and that worked for us.
Did webinars and Video reviews to generate buzz
We did a webinar with Jenny Jones and helped generate some buzz after the AppSumo launch. In fact, After I shared the video on our social platforms, I had people personally messaging me saying they liked the discussion.
We also had some users reach out to say they liked the product and did Video reviews. Henry Hoe (Admin of a Facebook Group) also made a review video and this also helped a lot as we had some traction from there too.
Marketplace Vs Select Realization
After the initial AppSumo launch phase subsided, we realized why startups want to list on AppSumo Select. The AppSumo main page has a Tonne of organic traffic and getting to AppSumo Select means you mostly get to be on the main page and in their marketing communication and enjoy the most premium real estate.
Till the time we were on the New Arrivals list on Appsumo, we were getting a lot of traction. As soon as we were replaced by other new products, users had to actually go and search for us in the marketplace. This obviously meant that there was a decent decrease in the traffic.
Ran Facebook AD to generate more Buzz
While figuring out ways to reach out to more AppSumo users and tell them we exist, we came across a Facebook Ad by an AppSumo deal where they were just promoting their AppSumo launch. I mean the Facebook AD was just a promoted post and was pointing to the APPSUMO DEAL PAGE.
This would seem strange but we also observed the same thing. We had very few users buying the LTD from our site and most were comfortable in buying it from AppSumo. I understand this is due to the years of trust which AppSumo has built and hence it made more sense to just redirect users to the deal listing page.
We also boosted a post and ran it for a good 20 days. Just to make sure that the sales had some contribution from the Ad, we also turned it off as of now. We will make it live again to check the overall impact of the Ad.
This is something you can also explore. The only problem is that since you are promoting a different entity on your Ad, your Ad manager account can get banned and there is no way to track any CTR performance as the pixels are not in your control.
Chased AppSumo to get more visibility on the AppSumo Main Page.
We tried to reach out to partner support at AppSumo and ask them for some help in generating some more visibility. We knew that they do provide a lot of visibility to their AppSumo Select products and don't really promote Marketplace deals. However, there is no harm in trying😂.
Fortunately, they were very helpful. We are not sure we can name the representative here but if you are reading this – Thank you 🙂
We got covered on their official Facebook group and they also included us in their weekly update newsletter. The weekly newsletter did generate some traction for us! They also included us in some lists such as Hi-Tech tools
Here is some stuff we did not do in our AppSumo launch but you can try:
Offering massive incentives for reviews – You can just scroll on the AppSumo product pages and see the amount of incentivized reviews products there. The scheme is very simple – just announce that users will get a free code if they share an honest review on AppSumo. Having a lot of reviews does help as it makes the product more "trustworthy" to any new buyer. This theoretically has an impact on the total sales too. AppSumo might want to do a simple tweak – the review of a user who has refunded a deal disappears. This in itself will have a massive impact on the incentivization process.
All unlimited plans – This helps sales go through the roof for sure as this is especially received well by a lot of users and agencies. If you can manage your costs, this is something which you should look at. We did not do this as:
It basically kills all scope of future upsells.
There is no theoritical cap to the kind of usage users will do and hence the incurred costs and potential libility.
Changing plans later or adding a fair usage policy later is just a recipe for disaster as it will offend most people.
AppSumo Launch 1-month results
Here are how the results look like. Overall, we are happy with the way this has gone!
1. AppSumo launch has been a good source for us to reach out to a lot of users at scale
This is how our Daily Active users' graph looks like. For reference, we launched on AS on 29th Oct. As you can see, our DAU has doubled in the last 60 days.

2. We have got a lot of feedback from the AS community
We have been active on Facebook and it has helped in staying in touch with the LTD community. Here is how our Facebook group has grown in the last 60 days.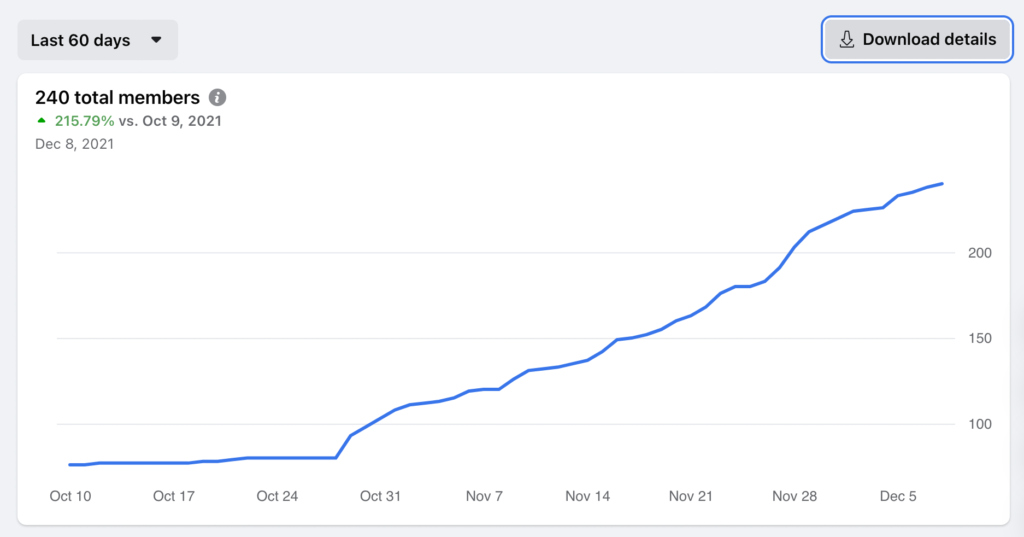 3. The BFCM was also super exciting for us as we sold a lot of codes via AppSumo
It would be safe to say that we sold more codes in 2 days than we did in the last 1 month. Here is how the graph looks like. I hope you notice the appreciable jumps in Codes sold and revenue in the 2 days of BFCM. Also, please note that since we get 70% of the revenue share, our cut is approx $30,000 which is what you see. Overall revenue is around $42,000 and looked better for the clickbait headline 😂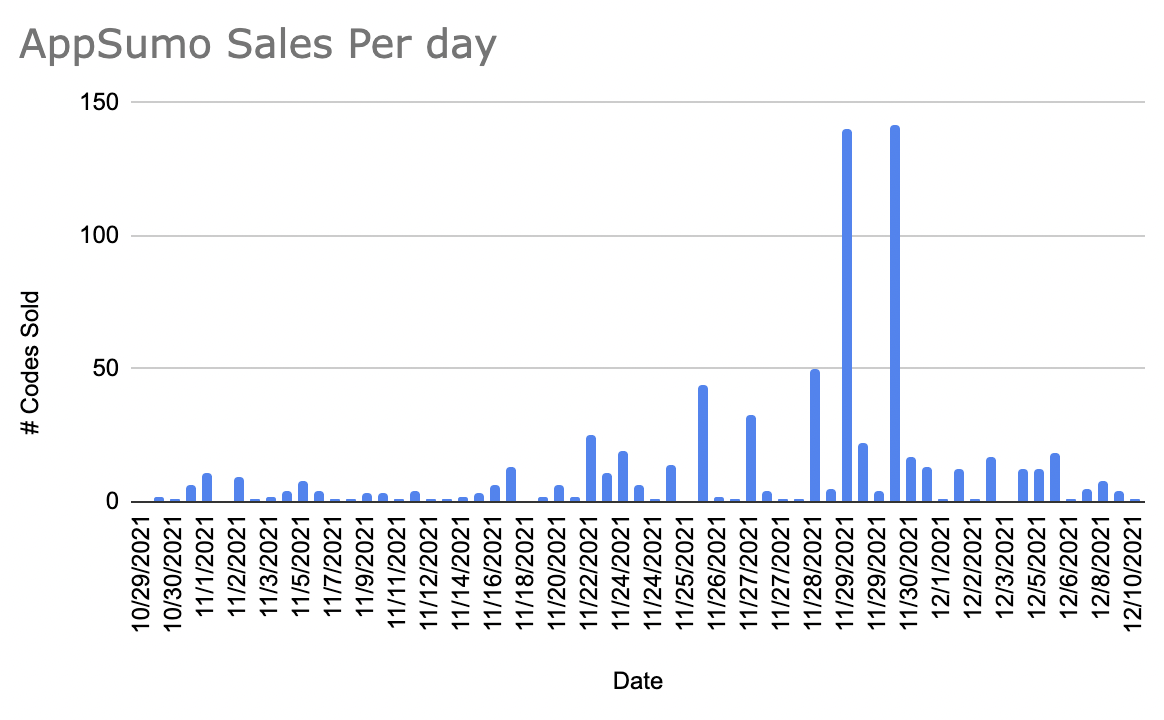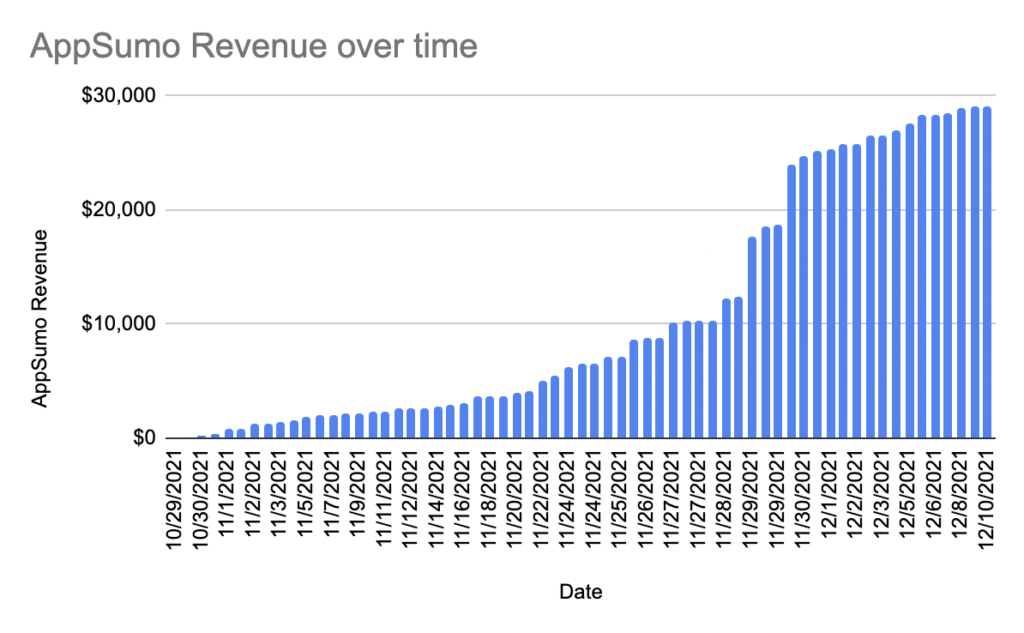 4. This influx of sales and users is helping us in the following way:
Our product roadmap is getting clearer as we see clear feature ask trends from users. This has given a good direction to the product.
Sharing the product updates on all groups also helps a lot as we get immediate feedback from users and points for further improvements.
We are blessed to have very vocal and affectionate users who are always promoting us 😊
Next Steps post the AppSumo Launch:
I hope this gives a good overview of what we did and where we are. As for us, I think we have a decent amount of validation for the product and are looking to focus on MRR generation. The community and users are very helpful and really give you honest feedback to help to shape the product for what they as users needs. The AppSumo deal will still be live till the end of February. I will keep you posted with the happenings by the end of the campaign 😊
Till then if you think you are stuck in creating social media content for your startup/business, please check us out. We might have the answer 😊