Are you annoyed by friends' uninvited tagging on Facebook? Tagging is wonderful, but when your friends begin tagging your name in too many irrelevant photographs and videos or just to get their photos or messages onto your Wall for your circle of friends to view, it becomes pretty frustrating. Naturally, you would wonder how to hide tagged photos on Facebook?
Of course, you can untag yourself from Facebook images, but in situations like this, prevention is always preferable to continual untagging. Unfortunately, there is no way to disable tagging on Facebook; however, there are options to modify how your tagged photographs and videos display on your Facebook Timeline.
If you don't want everyone on Facebook to see the images in which you've been tagged, you may hide them from your timeline. You may change your privacy settings and limit who can see the photographs. For example, you can restrict access to photographs or posts in which you've been tagged to Close Friends only.
Hide tagged photos on Facebook? The right ways:
There are two ways mentioned in this blog with which you can get rid of the issue of tagging by your friends or any other person. The two ways to hide tags on Facebook are mentioned below:
1. Edit the setting
To control who can view your tagged posts once they appear on your profile:
In the upper right corner of Facebook, click your profile photo.
Choose Settings & Privacy, then Settings.
Click Privacy then Profile and tagging in the left column.
Look for the option-Who can see posts that you're tagged in on your profile? Then, on the far right, click on the selection to change it.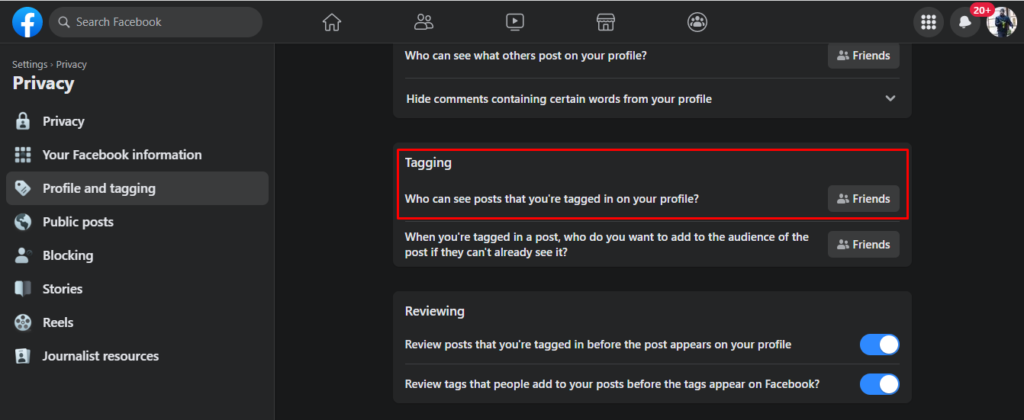 Choose the group of individuals (such as Friends) who should be able to see the posts in which you've been tagged.
2. Enable the reviewing option before tagging
You can also review photos and posts that you're tagged in before they appear on your profile in your tagging and profile settings.
Return to the Profile and Tagging area and scroll down to the Reviewing section. There are two alternatives:
Before they show on your profile, go over the posts.
Before your postings appear on Facebook, go over the tags that others have added to them.
Wrapping It Up
You may use Facebook's privacy settings to hide posts and photographs that other users have tagged you in. However, the photographs may still be viewable to their original audience in other areas on Facebook. They may only be removed from your profile. Facebook's tagging privacy options only allow you to hide tags from your profile. This means that when people visit your Facebook profile, they won't be able to see those posts.
However, the original audience is still able to see the posts. In other words, people can view them in places other than the News Feed or on the profile of the person who originally published them on Facebook.
Do you believe Facebook should expand its tag options? What kinds of alternatives do you want to see? Leave your opinions in the comments section below.
Frequently Asked Questions
1. Why aren't my images showing up in the 'photos of you' portion of Facebook, despite the fact that I'm tagged in them?
There are three possible outcomes.
You were either untagged by the image's owner.
Alternatively, the photographs in which you were tagged may have been deleted from Facebook.
The last option is that the image's owner has banned you on Facebook.
2. On Facebook, I unintentionally tagged someone. How do I get rid of it?
If On Facebook!? According to a new update, you can't remove a tag normally but that doesn't mean you can't untag someone first you need to open your FB account on the Facebook official app or Facebook Lite, then open that photo and tap on the tag option present on top right corner type the name of that person whom you want to untag, click on his/her name, untag and click save option.
3. Can you include a photo of yourself in a Facebook Album?
Being tagged in a photo, or just being in a photo, grants you no rights to download or duplicate that shot. You must obtain permission.
4. When someone untags a photo on Facebook, does Facebook tell the original photo uploader?
No. Keep in mind that they are not permitted to tag you again after you have untagged yourself. If they go back through their images and realize that you aren't tagged, they'll try to tag you (thinking they missed you by mistake) and discover that you purposely untagged yourself.
5. Would past postings from my Timeline Review reappear on my friends' timelines if I approved them?
No, they were already on your timeline. Your friend assumed it had been posted. They have no knowledge your tags are set to "approval only." If you choose to display it on your timeline, it will only appear in your feed, not theirs. Your friends who follow your feed will now see it. If too much time has passed, I will not repost any old tags.