In today's digital landscape, Instagram has emerged as the ultimate platform for business owners seeking to thrive. Its vast reach and engagement capabilities have made it a crucial space to establish and grow your business.
The exponential growth of photography pages on Instagram is a testament to its effectiveness in connecting photographers with a passionate audience. If you are a photography business, then we suggest you go through these post ideas for photography business.
Why use Instagram for business?
Instagram is a highly visual platform, and businesses can take advantage of this by posting product photos and videos, behind-the-scenes shots, and other visuals that would appeal to their target customers.
In addition, Instagram Stories provides businesses with a way to connect with their audience in a fun and informal way by posting photos and videos that disappear after 24 hours. This can be a great way to engage an audience or show off new products and services.
Moreover, multiple tools for Instagram can be used to grow businesses and make sales. Reels, stories, highlights, running ads, and various other tools are available to leverage Instagram in a good way.
Post ideas for Photography business:
If you are a photography business owner or even a freelance photographer, you know how difficult it may be to catch people's attention on Instagram. There are many photographers these days all over social media. Hence, it is important to post content that stands out, is unique, and is appealing to the crowd. Following are some content ideas for your photography account:
1. Stick to a niche
The first thing to remember while handling a photography page is to stick to a niche. You can be a product photographer, a freelancer, a fashion photographer, or even an event photographer. Instead of combining all these on one page, try to stick to one single niche and make your page distinctive based on that niche.
For example, if you are a fashion photographer, try posting about fashion and related content only on Instagram. Use hashtags that are related to your niche. This will increase your reach on the social media app, attract more people to your page, and get more clients interested in your services.
2. Collaborations
One of the best ways for photographers to circulate their work is through collaborations. There are a lot of photographers who have just started their businesses or are at the start of their careers. This accounts for the need to create a name for yourself in the world of social media. Hence, collaborating with fashion influencers, places, or other sources is a good way to let people see your dedicated work.
Once people see how good your work is through the collaboration posts, more people will reach out to you for your services. Collaborating with photography companies, influencers online, or even models will give you a polished content structure for your business profile on Instagram. To create a name for your brand or yourself in the world of Instagram, it is necessary to first show off your working skills and professionalism. This can be done through collaboration.
3. Product photography
The best way to make a name for yourself in the world of photography is to display your skills in product photography. There is a lot of potential in product photography, which is one of the most productive areas in photography. Post pictures that you have taken of any products. This could range from a product shoot that you have done to clicking pictures of various products to show off your skills on Instagram.
And you never know, if your content is good and it reaches the product owners, they might get in touch on a professional front. So, create great content, and don't forget to tag the company handles.
4. Behind the scenes
Instagram is filled with behind-the-scenes content at present. Also, a lot of people are intrigued by behind-the-scenes content. Especially when it comes to photography, people want to see the efforts and work that went into displaying pictures with such accuracy and precision.
Share the behind-the-scenes footage of your photography sessions. You can add it in the form of carousels, stories, highlights, and even reels. Do not forget to share your behind-the-scenes photos with the hashtag #behindthescenes. This will help you get a better reach on social media.
5. Client spotlight
Show off your clients on Instagram. Share images of moments while working with a client. The best way to create traffic on Instagram is through story takeovers. Let clients who are famous on Instagram take over your stories. Let the client communicate with the followers and give them an insight into how the process of being photographed is going on. You can also share the images of your client on Instagram and show your followers how amazing your work is.
6. Location features
You might need to be in many different places while working as a photographer. Try sharing the different locations of the stories. You can also make a reel with all the photography locations and add an aesthetic edit to it. Showcase with the followers the different regions that you were in for photography. This will add a different element to your otherwise mundane photographic account and also show off your photography skills.
7. Creative themes
Even though your account is professional, posting pictures with different themes seems like a good idea. The audience will tend to get bored if you keep posting content based on one theme. Remember, don't be confused between niche and content ideas. You cannot share only photos that you click. Get creative and find some content type that is out of the box. For example, post about the different ways to click pictures, ways to edit an image post-photography, how to check angles for a better picture, and so on. Adding different themes to your Instagram account will make it interesting, and your posts will engage more people.
8. Tips and Tricks
When it comes to photography, there are a lot of tips and tricks that many don't know. Why not share these on your Instagram page? There are a lot of things that you can post about. For example, you can post about what kind of backgrounds to use for which kind of shoot. You can also write about most people's photography mistakes and tips to correct them.
9. Before and After Edits
As a photographer, you very well know that photography isn't just about capturing. It is also about editing the captured shot effectively. Therefore, you can post the pictures in a before-and-after editing pattern. Every image looks polished after it has been edited. You can also show the audience a glimpse of how to edit the images effectively.
10. Q&A sessions
Along with posting reels and images on Instagram, it is also necessary to keep the audience engaged by interacting with them. A good way to keep the interaction interesting is to conduct Q&A sessions. You can post it in the form of stories and interact with your followers, resulting in good engagement on Instagram.
For example, you can use the Questions sticker in your story. People will drop in their questions, and you will have to answer them by replying to the questions on the stories.
11. Equipment Reviews
Being a photographer, you obviously require a camera to click pictures. Along with this, many other pieces of equipment come into use while capturing images. Posting reviews of various cameras and information about the equipment is a good post ideas for Photography business. Try to educate people on what kind of instrument to use when and where. This will be a unique idea for posting on Instagram. Adding these reviews as highlights or in the form of a reel is also a good idea.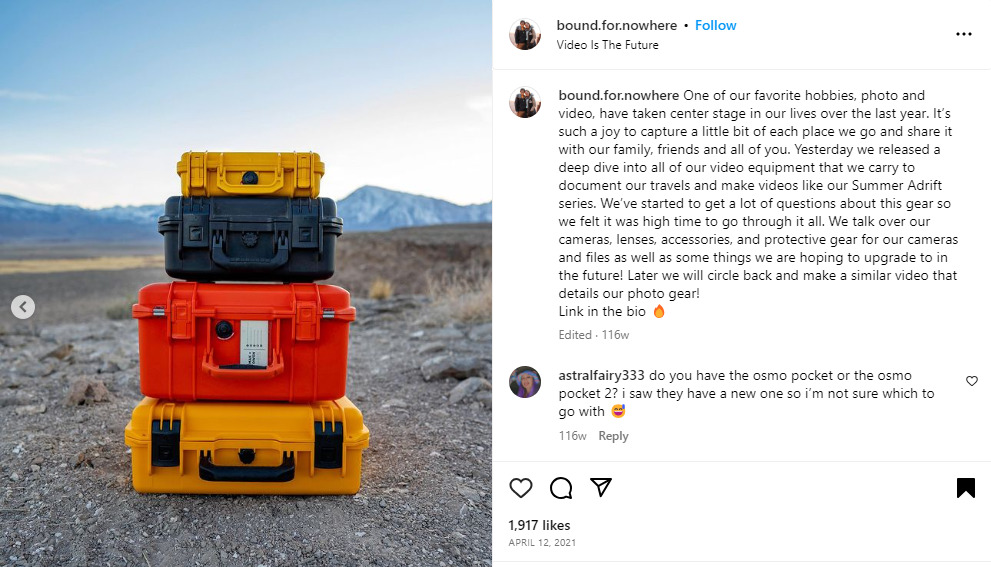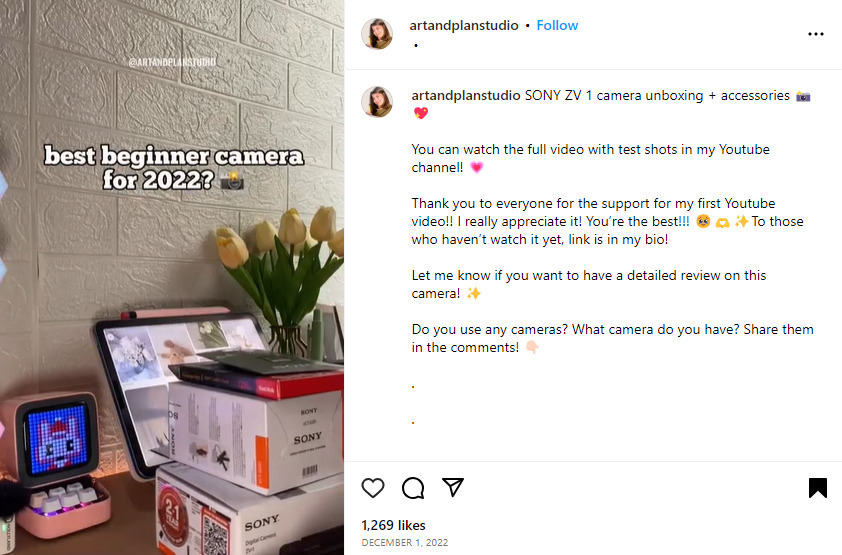 12. Photography challenges
People who use Instagram know that there are a lot of photography challenges on Instagram these days. Going along with these challenges is a good way to keep up with the photography community on Instagram. You can also create your own challenge, which can become a trend on Instagram over time. Make sure that you use the proper hashtags when posting about various challenges. This can be a unique idea for posting on Instagram and can get viral!
13. Going with Instagram trends
There are a lot of trends on Instagram. Every now and then, different trends start on Instagram. For example, recently, there has been a trend for people to post about the first photograph they took vs. the photographs that they have taken now. There are multiple trends like these on Instagram. The best way to go about Instagram trends is to keep an eye on them and post about them before they become old. It is important to look out for various trends when using Instagram and post them effectively.
14. Reviews from photographed clients
Over the course of time, there are a lot of clients that you must have photographed. It could have been a product shoot, a pre-wedding shoot, or even travel photography for travel pages. Sharing the various reviews from your clients is a good idea. This will help the followers get to know about your skills and also help them hire you for their next photography requirements. When talking about reviews, it is a major posting idea for any kind of Instagram business these days.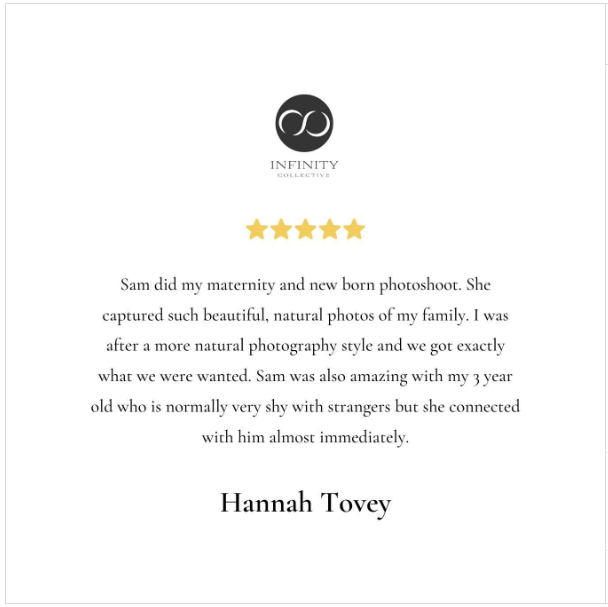 15. Photography workshops
Online photography workshops are a very good idea to engage with your followers. These workshops can be arranged like an event online. A lot of people interested in photography will be willing to join these workshops. This is also a good idea to get engagement from new photographers who are very new to this field. You can even share IGTV videos of the photography sessions. Going live and interacting with your followers and clearing their doubts is also a good idea to create better engagement.
Wrapping it up
If you are a photographer trying to get the best out of your Instagram page, then these ideas mentioned above in the blog for post ideas for photography business are a good way to go about finding content ideas.
You can choose various ways from the above blog to enhance your following and engagement. To do this, it is always better to post frequently. This can take a toll on many people because of the amount of time it takes to create content regularly and post it on time. Therefore, to make your life easier, use tools that will help you automate most of the time-consuming tasks.
You may also like,
Changing background of an image using AI.
The best Real estate meme collection.
Instagram content ideas for Cryptocurrency.
Best social media tools for Drop shipping.
Creating a group chat on Instagram.