"No matter how good you get you can always get better, and that's the exciting part."
Do you find yourself stuck in writer's block or running out of ideas? Predis.ai might just be the app for you. This article will discuss how you can craft quality Instagram posts using Predis.ai.
Step 1: Tell Predis the theme of the post you want to generate
To do this, first, navigate to 'Create Post' from the Predis app homepage. You can find it in the sidebar.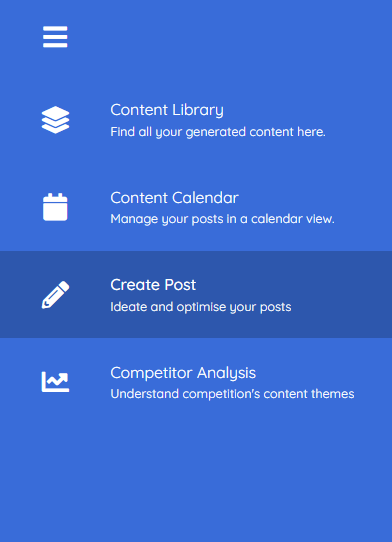 If you have not linked your Instagram business account, click here to see how to link it.
After you have navigated to Create Post (and linked your Instagram account), you should see the following screen. Enter a simple one-liner of what you want your post to be about. For this example, Predis was asked to generate a post about travelling in Europe.
You can also choose the theme of the posts that you wish to create. For this example, I wanted to create one promotional post, an educational one and an expert interview. I selected this in step 2, as seen in the image above.
Adding this input gave me the following post suggestions:
Step 2: Editing your creative
Clicking on any of the post ideas will take you to a screen that looks like this.
Here, you can choose from a variety of templates customised for your post idea. Clicking on 'Edit' (on the top right of your selected creative) will let you edit the template as you please! This in-built editor works just like any other drag-and-drop graphic design app.
You can customise everything on your creative, including fonts, shapes, backgrounds and text! You can also choose from thousands of high-quality images from Unsplash.
Step 3: Editing your caption
Clicking on the captions tab will allow you to edit the generated caption. Clicking on 'Generate More' will prompt the AI to generate more captions for your post.
It's that simple! You now have a caption that reads as a human wrote it and creative suggestions.
Step 4: Adding hashtags to your caption
If you want to add hashtags to your post, navigate to the 'Hashtags' tab and here you can sort out Predis' recommended hashtags by relevance and popularity. Check out what the hashtags tab looks like below.
You can learn more about how to using the right hashtags here.
Step 5: Viewing your engagement indicator
Apart from caption and hashtags suggestions, you can also navigate to the 'Suggestions' to check the estimated performance of your Instagram post using an engagement indicator. A few hashtags were added to the caption above, and here is what the engagement indicator displayed.
Engagement Indicator will indicate the post's performance relative to the performance of an average post in your handle.
Here are the possibilities:
Engagement Indicator is Red: Say your handle has an average of 1k likes per post. A red indicator will mean that the post will perform much lesser than that.
Engagement Indicator is Amber: This will mean that the post will perform slightly lesser than your average performing post. So, should get less than 1k likes.
Engagement Indicator is Green: This means that the post might perform better than your average posts!
Understanding Improvement Suggestions for Your Instagram Post
Along with the Engagement indicator, Predis will also throw some suggestions on how to improve the post engagement. You can expect the following types of suggestions from Predis.ai.
Day of week / Time of Day Recommendations:
Posting Hour Recommendation: Predis.ai is trained to understand the best time when your posts will reach most of your followers. It will also check for the time when the post will get the maximum visibility via the added hashtags. As you can see in the above example, the Posting Hour is recommended to be changed.
Posting Day Recommendation: Predis.ai also suggests what will be the right day to publish your post. The above example shows how we show if the day of the week is correct.
Improvement In the copy: Predis.ai will recommend the optimal length of your copy/creative. This will be based on the average post lengths of other posts with similar content and in a similar context. You can look at the content suggestions to pick at copy ideas and fine-tune them to be useful. Check more about Content Suggestions here.
Hashtags/Image based Suggestions
Adding More Hashtags: It is possible that sometimes, you need to add more hashtags to reach out to more audiences. In such cases, it will suggest adding more hashtags. For selecting hashtags, you can look at the Hashtag recommendations. To understand how Hashtag recommendations work, please check here.
Adding More Creatives: Predis.ai can suggest to you how many images should you have in your post. This can be a decider in publishing the post as a normal post or as a carousel.
Creative Appeal Score: We have trained Predis.ai on more than 50 million Images to understand if your image will be liked by your audience. As you see in the above example, the Added post creative was not good as it would appeal to only 26% of users. In such cases, it is recommended that you change the post creative and put something different with a better appeal score.
As you can see, between all of these AI-powered suggestions, you can easily make sure that your posts are tuned to generate maximum engagement!