AI that Understands Your Brand Language
Set your Brand Guidelines, generate Customizable Designs, Collaborate with your
team members and Integrate Predis.ai to your workflows.
Create Posts with AI for FREE NOW!
Say goodbye to generic text-to-image and text-to-video generators. Predis.ai generates social media posts in layered format that can integrate your brand guidelines in your posts. Now your posts will have:
Your Brand Fonts
Your Color Palette
Your Website URL
Your Social Media Identity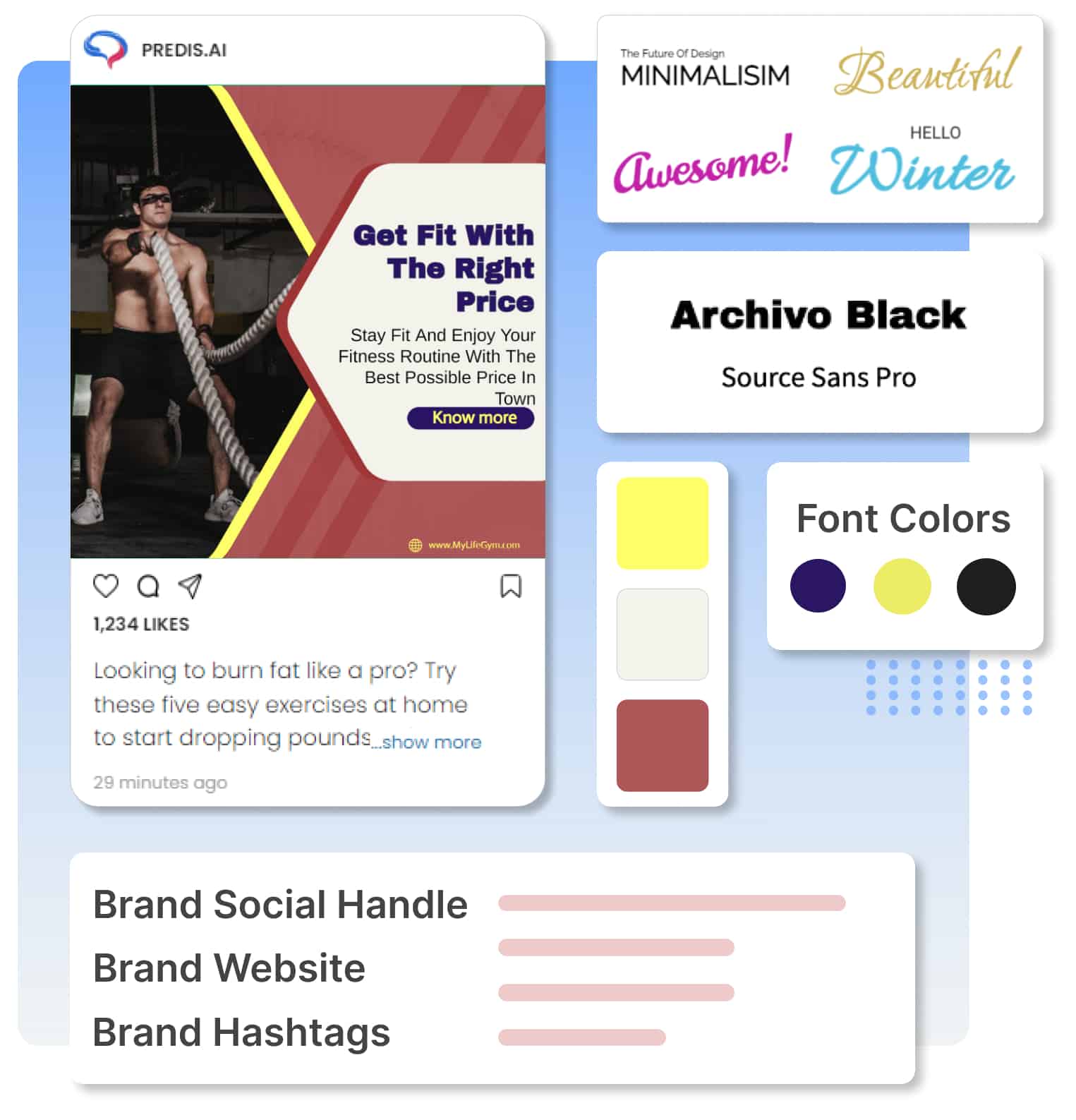 Join the party with your own templates. Upload your favorie templates from Canva/Adobe/Figma and let Predis.ai do the heavy lifting for you. Turn your design into a complete social media post in just one click. Save the template as a custom template and keep using it multiple times or add more if you like.
Creativity multiplies exponentially when projects are executed in teams. Onboard your team and collaborate with each other to weave a fantastic social media story - with AI. You can add as many team members as you want depending on your current plan and the add-ons that you have subscribed to. Share workspaces, manage edits, and work on multiple posts at the same time using Predis.ai.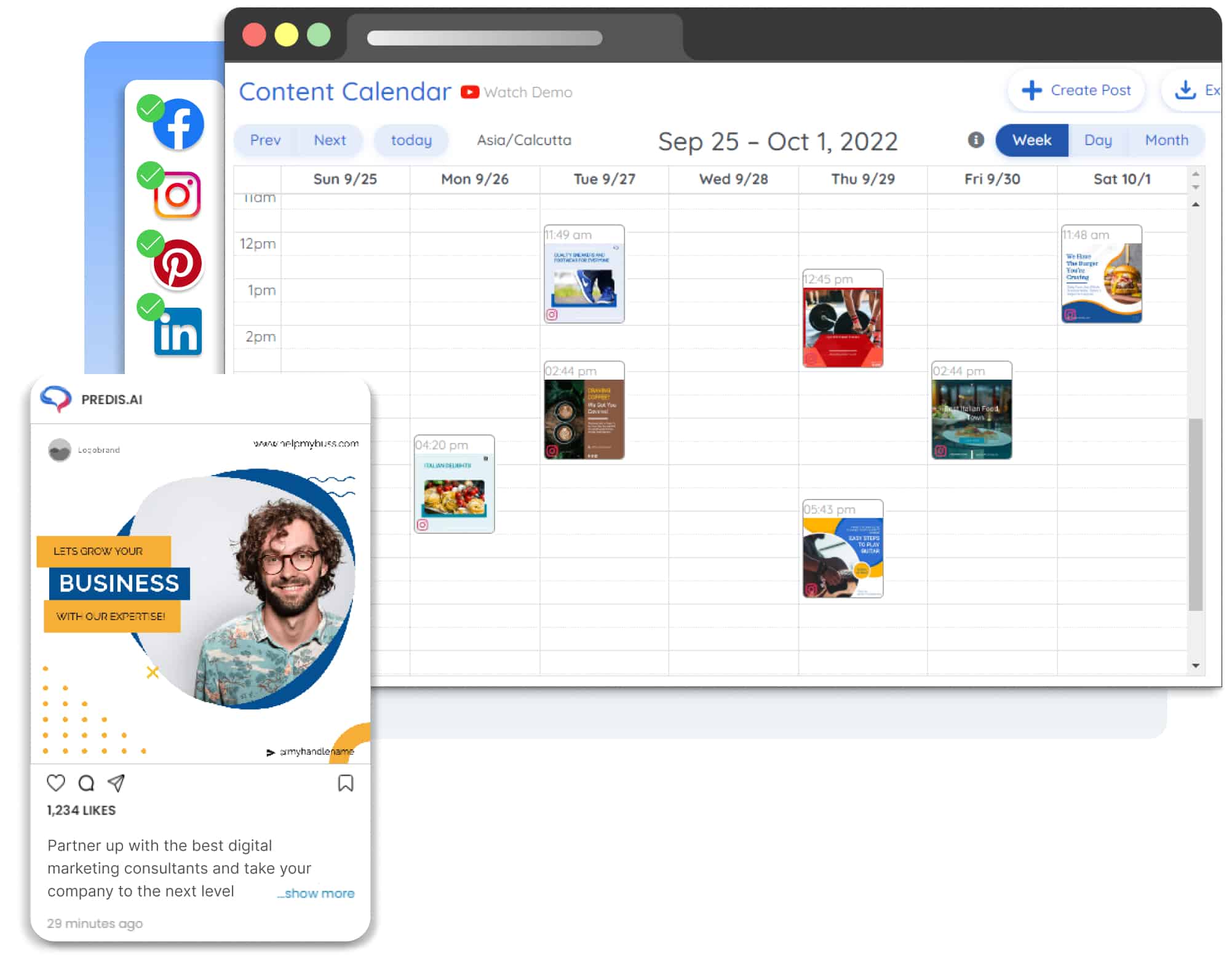 Now you can integrate Predis.ai directly into your workflow by subscribing to "Predis.ai Button" or getting "API access" from predis.ai. There are 2 ways to integrate with Predis.ai now:
1. APIs - Use our API to generate Videos/ Carousels/ Single image posts in your brand colors. Here are the examples.

2. Create with Predis.ai button - This is the easiest way to embed Predis.ai into any app and just take a few lines of code to have it up and running. Once done, users can then open Predis.ai inside your app (inside an iframe), create content and publish it back to the app. This is the no-code way to make apps AI-enabled 🙂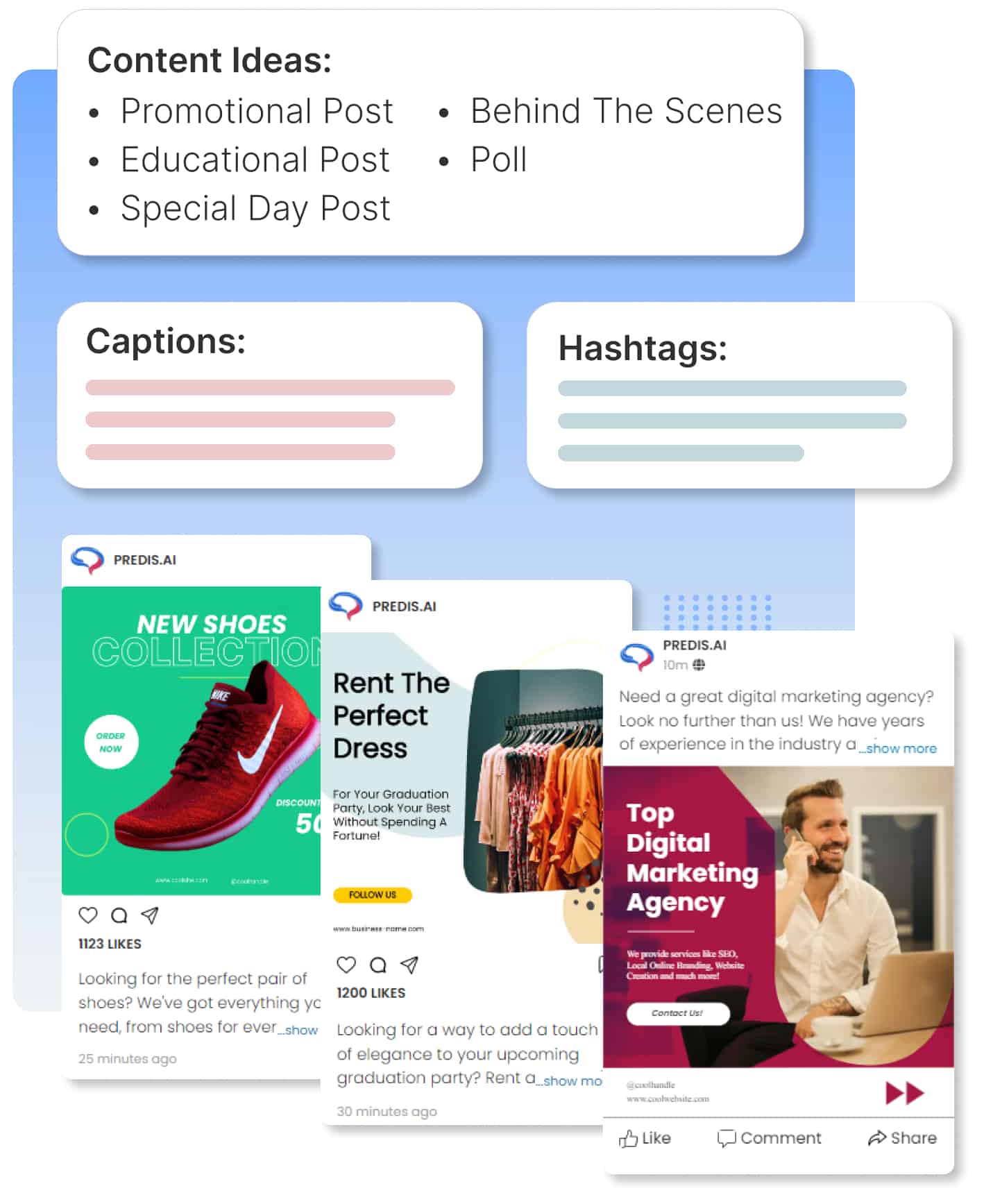 How it Works?
1
Managing Brand
This is just a one-time set-up that makes sure all your posts are generated in your brand language. Go to "Manage Brand" in the menu and you can set:
Your Brand Fonts
Your Color Palette
Your Website URL
Brand Social Handle
Brand Hashtags
Brand Logo (both for light & dark background)
2
Customising Designs
The process of creating a fully customized template is very simple and intuitive:
Click on "Manage Brand" and then click on "Templates" tab.
When you click on "Upload Template", you get options to create custom templates - Single Image | Carousel | Video
Choose the type of template you want to create
This will open a blank editor that you can use to create a custom template.
Once you are done with your design, click on "Layers" where you have the option to mark this template as AI-editable (only if you want to). This is super Important. Marking the component as AI-editable will make sure AI will make changes to this when generating new content.
Now click on "Save"
In the next screen the AI shows two versions of this template. Choose the one you like and click on "Save as Template"
3
Adding Team Members
Adding team members is also pretty intuitive and simple
Go to "My Account"
Under the "Team Members" tab, there is an option to invite a new team member
The invitation will go as an email invite to the invited person
The person then has to signup using your invite link and they will be added to your workspace
You can add as many people as you want depending on your current plan